All About Mom Episode 21 Brief Recap
Characters in this drama need to stop making their own assumptions to avoid misunderstandings because it's frustrating to watch. Sometimes they need to learn to listen to other people's explanation before judging and concluding based on a snippet of event(s) they see. Chae Ri's maturity continues to impress me as she's putting in extra efforts to win her future mother-in-law's heart despite all the harsh treatments she gets. She acknowledges her mistake without speculating nor making unfair judgement. If only she and Hyung Soon can spread some of their youth innocence to others.
Episode 21 Brief Recap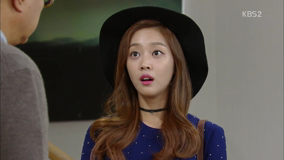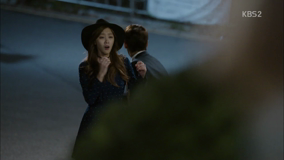 Either Cheol Woong can't read his daughter's facial expressions or he's a fool dad who completely trusts her. He even admits that he trusts her so he accepts Cahe Ri's explanation that she went back to her car after Chauffeur Lee dropped her off to grab her purse she left behind in the car. Where is Hyung Soon? This guy dashed off as soon as he realized Cheol Woong was waiting for Chae Ri outside, leaving his girlfriend to sweet-talk her father by herself. Chae Ri wants to tell her dad the truth but Hyung Soon talks her out of it knowing that Cheol Woong is still upset she and Jae Min didn't work out.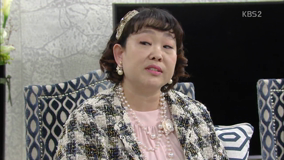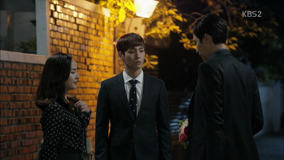 It's frustrating Nam Sook made her own assumption, accusing Jin Ae of two-timing only based on what she saw earlier and she naturally said "oppa" to the man who "proposed" to her. Even though Sang Hyeok figures out he embarrassed Jin Ae but he still follows her home, insisting he only wanted to cheer her up. Rejection is apparently not on his dictionary so Jin Ae boldly tells him she only has Hoon Jae in her heart, asking for his understanding that she can't and doesn't want to look at another man. He declares it won't change his mind nor heart even if she likes his rival in love.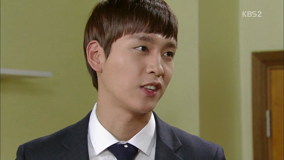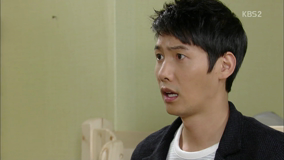 Hyung Soon blurts out what he told his sister's CEO when she was spotted at the neighborhood. He got a feeling Hoon Jae's hometown is in the city (not countryside as he repeatedly said) as he became their lodger because he likes Jin Ae. Hoon Jae is shocked, omg there'll be more misunderstanding 🙁 Then Hyung Soon tells him that the annoying guy came to see his sister again.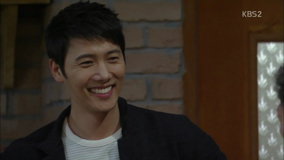 He rushes out but is stopped by Sanok who orders him to date Jin Ae in the living room because she's worried they'll get sick dating at night as the weather is getting cold. Her pride doesn't allow her to admit she gives her daughter a permission to date Mr Fix It but both Dong Chool and Hoon Jae can read her mind 🙂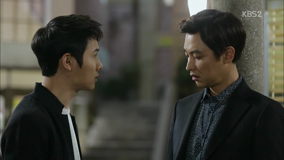 Hoon Jae saves Jin Ae from the ever-persistent Sang Hyeok. She arrives home looking really upset, making her parents wondering what happened and why she didn't go on date with Hoon Jae. Outside their home, this man is grilling Sang Hyeok about the flowers he holds in his hand, assuming Jin Ae rejected him. With a very serious tone he explains he will lose his patience if Sang Hyeok keeps giving Jin Ae a hard time! She's already got enough on her plate. He's only trying to be patient because he's Hyeong Kyu's friend. Talk about the right timing, Hyeong Kyu scolds his friend who keeps coming to his neighborhood. Knowing he loses against two people who're ganging on him, Sang Hyeok leaves.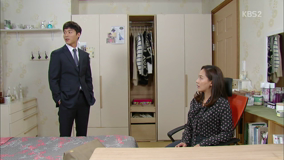 Sanok think Jin Ae is already tired on Hoon Jae but mom, please stop making your own assumption! And if your golden child wants to talk to her, it doesn't mean she committed a mistake. Sigh mom, you haven't changed. But an apple doesn't fall far from the tree. Hyeong Kyu accuses his sister told her CEO about their blood relations after Young Sun abruptly cancelled his contract signing. If Jin Ae didn't tell her, then she did a background check on her because she's dating her only son. But what else can he do now? Nothing. Hence he advises his sister to be extra careful because one very small mistake will cost her this very rare opportunity that she won't be able to get again in the future. Jin Ae explains she never waited and won't wait for a prince riding the white horse, she'll work hard to be successful on her own. He emphasizes she shouldn't foolishly throw away this precious gift that she got for free.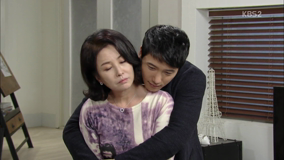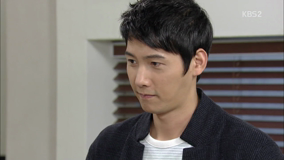 Hoon Jae is home to grab his clothes as it's getting colder now. He cutely backhugs his mom, apologizing. Young Sun begs him to move out, admitting she liked Jin Ae before she knew she's dating him. Although Hoon Jae is trying hard putting many good words about Jin Ae, Young Sun is still upset & disappointed especially because he refuses to move out.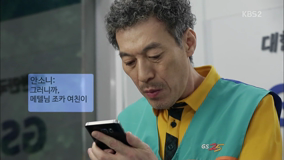 Dong Chool's mysterious chat friend is none other than blabbermouth Nam Sook aka Madeleine who tells him about her nephew's girlfriend's two-timing and how she feels sorry for her innocent nephew. OMG, he sympathizes back with her, not knowing they're talking about his own daughter. What is this craziness?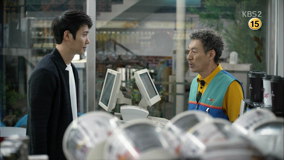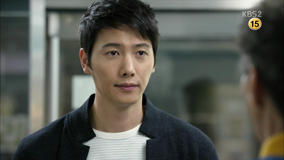 His chatting is interrupted by Hoon Jae who visits him. He asks what's going on between him and Jin Ae? After Hoon Jae admitted he made a mistake, Dong Chool peeks on his phone and sees what Madeleine's wrote earlier: two-timing so he asks if he's two-timing. He shakes his head. Then is it a money problem? According to Dong Chool, most problems in a relationship are usually caused by either money or (another) woman. But if it's neither, what happened? He advises Hoon Jae to persistently & earnestly apologizing to Jin Ae until she accepts his apology, using himself as the perfect example of a man living & being loved despite his wife scolds him every single day. Because men are different from women.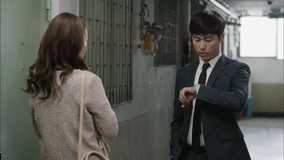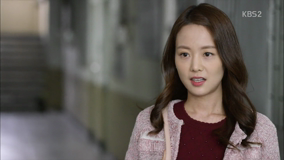 Hyeong Kyu picks up Hye Joo right on the dot but she's 3 minutes late according to him. Her watch is 3 minutes too slow 😀 He totally ignores Hye Joo who asks if he wants to have a simple breakfast if he hasn't had breakfast yet.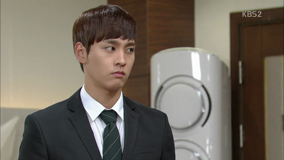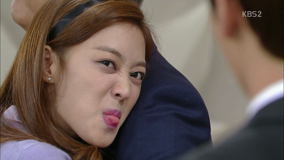 In another household, sharp-witted Chae Ri passes on Chauffeur Lee to her dad today knowing Cheol Woong always trusts her no matter how abrupt or believable her reasons are. Hyung Soon is suspicious his girlfriend is planning something, she replies his suspicion by sticking out her tongue.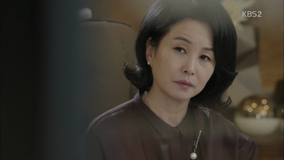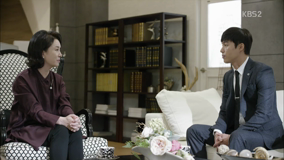 Young Sun continues sending Jin Ae for outside work today, instructing her to leave her office work to capable Secretary Gong. Jin Ae stutters as she explains what her CEO saw yesterday (of her accepting the bouquet) was just a joke. Young Sun assures her it's her private life so doesn't care as she orders her to leave. From her tone it's clear she's taking it seriously as it's not the first time she saw Jin Ae with that man. She maintains her composure when Hyeong Kyu asks if his blood relation with Jin Ae was the reason of her abrupt decision, explaining that Jin Ae didn't know he applied to this company. Young Sun replies it's not the case as it'll be good to work with her employee's family.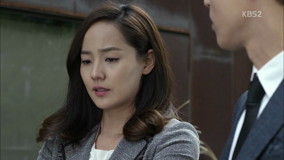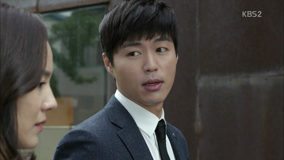 Based on her answer and facial reaction, his lawyer instinct tells him Hwang Young Sun doesn't like his sister. She's not the easy opponent for Jin Ae who finally has met her match. He cheers his sister up, please do not lose no matter what.

Chae Ri sent her boyfriend to earn more brownie points from her dad while she plans to get more brownie points from her future mother-in-law by lending a hand at their side-dish shop. But Sanok refuses to accept her help until she tells her family about her relationship! Sweet Dong Chool protects Chae Ri, cutely hides Sanok's phone as she's trying to call her family. Their little fight is interrupted by Yoo Ja who's here to clean up her new chicken shop nearby. Chae Ri proudly introduces herself as Hyung Soon's girlfriend. It's adorable she reacts the same way as Sanok over Yoo Ja's sarcastic remark! She will fight with anyone who insults her boyfriend! Then she hides behind Sanok who's annoyed and jealous over flirty Yoo Ja.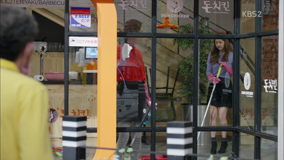 Sanok sends Chae Ri to clean up Yoo Ja's shop, thinking she'll leave Hyung Soon if they treat her harshly. Dong Chool feels bad they treat someone else's precious daughter harshly, wanting to switch place with crying Chae Ri. Awww…
Hye Joo is pleased the ajumma's divorce case is wrapping up nicely, she reached settlement with her husband. Creepy Kim Gwang Ryeol calls wanting to see Hyeong Kyu at his office alone (because he's a shy guy).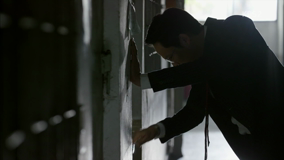 He's currently walking towards Hye Joo's apartment. Oh nooo 🙁 He tries few passcodes but still can't unlock the door. One annoyed neighbor comes out hearing the loud banging, he explains he forgot his passcode. Hyeong Kyu sends Hye Joo to do few errands for him to places far away from their office because a V…V…IP client is coming.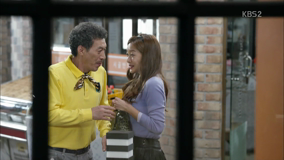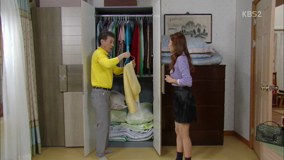 Kind-hearted Dong Chool helps Chae Ri to escape when Yoo Ja is talking on the phone, he takes her home & makes bibimbap for her. Don't worry, it's his lunch break so Sanok won't come home. She jolts in panic hearing a strange voice thinking it's Sanok but Dong Chool assures it's just a stray cat. Chae Ri's determined to fix Sanok's torn hanbok as it's most likely the start of Sanok's hatred towards her.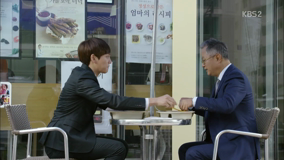 Hyung Soon offers to treat starving Cheol Woong lunch and his boss opts to eat at the small shop. He admires his chauffeur's honesty for returning 2000won extra change, thinking this trusty man can't lie and they need more people like him in our society. But he lies, Cheol Woong. As he's still a human. Nobody is perfect, you know.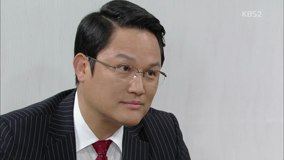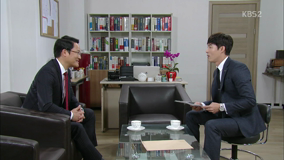 Gwang Ryeol hands huge list of his medical school seniors wanting a skilled lawyer for legal advice. He promises to be Hyeong Kyu's good friend from now on. Then he asks about his only one employee. His expression changes when Hyeong Kyu describes Hye Joo as very kind & sincere. Hmmm…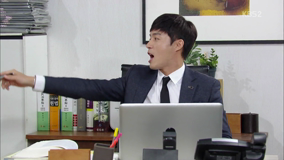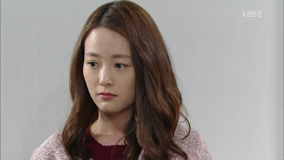 Hye Joo is back, cutely teasing Hyeong Kyu about his V… V… IP client. He replies the V…V…IP left. Lol. But then, Hye Joo smells a familiar hand cream scent. Because Hye Joo has to go somewhere else today, she opts to catch a taxi instead of accepting Hyeong Kyu's offer to drop her off, feeling sorry he's having a hard time taking a good care of her. She promises to pick up his call within 10 seconds.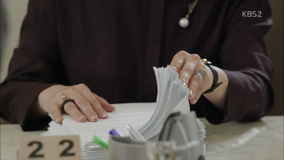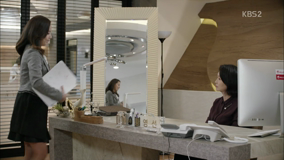 Jin Ae is an amazing employee, even Young Sun admits defeat and instructs her to stay at the office tomorrow to analyze the big pile of surveys she did today. But she's already planned to go to different stores in different region tomorrow so if her CEO allows her to do more outside work, she'll do it. Young Sun gives her permission.

Okay Nam Sook, you need to mind your own business! She calls Hoon Jae about Sang Hyeok's proposal! He stares at Sang Hyeok who immediately realizes he's bit by an eye beam insect.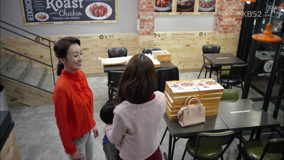 Hye Joo goes to her mom's chicken shop where Kim San helped a bit. The shop is looking nice, thanks to a special person who helped her. Despite complaining, she persistently cleaned up so well. Even Sanok agrees she did well & most likely had a really hard time. Seems like she hasn't seen Hye Joo for ages as she looks surprised (in a good way) when she greeted her. Because of Yoo Ja's never-ending bragging, Sanok believes Hye Joo is happily married with her hospital head husband.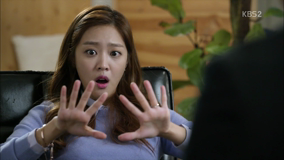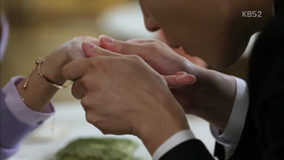 Chae Ri worked really hard that she now complains her fingers are are hurting. Sweet Hyung Soon massages & kisses her fingers, but it's too ticklish for her. Shamelessly I admit I love this couple 😀 Their fingers kisses are too cute for words. Chae Ri ya, you did get lots of brownie points today. Well Done. Moreover, she also has Sanok's torn shirt, a good chance for her to showcase her talent as a fashion graduate student.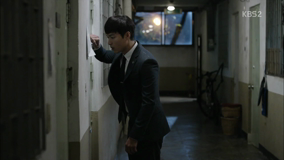 Worried Hyeong Kyu is making up a question and adjust his tone before he calls Hye Joo. But her phone is off! Lol. He gets annoyed she broke her promise of picking up her phone within 10 seconds. So before he gets off work, he calls her again. His worry grows big as her phone is still off. He dashes to her house, bangs on her door but nobody's there and he can't reach her. The same neighbor who's annoyed with loud banging & knocking today, comes out & answers Hyeong Kyu's worry. The house's ajusshi came earlier.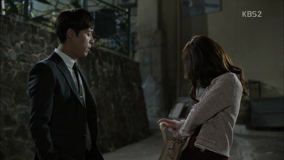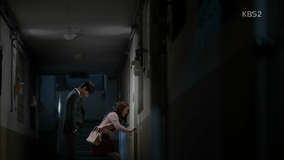 As he leaves her apartment complex, Hye Joo arrives. She left her phone at her mom's store! Aigoo clumsy Hye Joo. After he told her about the house ajusshi, she explains she only lives with her mother & Kim San. She's going to tell him the truth about Kim San's mother but he cuts her off, apologizing for breaking his promise asking about her personal life. Fully understand there're things a divorcee doesn't want to tell. He walks her home, as if he's walking home to his own home. As usual, she offers him to go inside to have some fruits but he refuses. Sigh. Asking himself what he's doing now.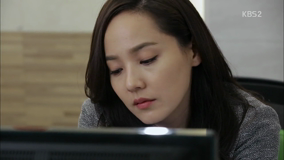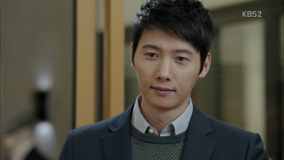 A deep big sigh from Jin Ae who's doing an overtime work. She whispers I miss him. Suddenly, she hears a familiar voice, me?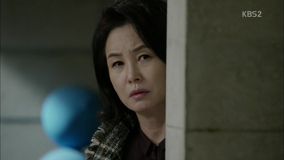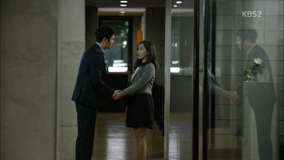 OMG Hoon Jae yaaa… He drags her out although his mom is still at the office. Both of them are having a really hard time so he doesn't care! He believes his mother is an open-minded person who wouldn't misunderstand her and Sang Hyeok. So don't worry, Jin Ae ya. His mother is creepily looking from afar, witnessing Jin Ae coldly walks away from Hoon Jae.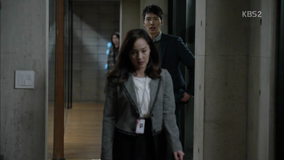 Her appetite isn't back yet, she's perplexed seeing her son looking so distressed & upset. Nam Sook cheers her up, advising that a son will become someone's else man when he has a girlfriend or a wife. Young Sun recalls Hoon Jae's promise to keep his mom as his number one… forever and his facial expression after Jin Ae walked away earlier.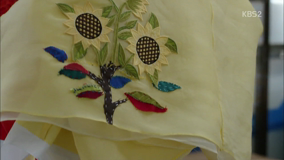 The next day, Chae Ri surprises Sanok with a classic style flower patch-up on her torn hanbok. It's more than Sanok expected though, she left it torn like that as she hasn't got time to take it to be stitched at the hanbok shop!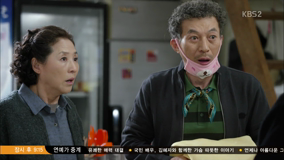 Suddenly, a visitor is coming. It's Jin Ae's CEO aka Hwang Young Sun. Chae Ri remembers she's author of the book her grandma was talking about. Young Sun is here to see the house that her son is living, introducing herself as Hoon Jae's mother! OMG. Sanok eyes widen. Jin Ae's CEO is Mr Fix-It's Mother!