All About Mom Episode 22 Brief Recap
It's true that when people change, it's actually their mask which fall off – showing their true colors. Hwang Young Sun tried to paint herself as a cool mom but it's far from the truth as she faces the reality about her son's living arrangement and his relationship with her own secretary. Despite experiencing similar painful love story in the past, she doesn't want to give up her ego & pride for her own son's happiness. It's all about her, her and herself.
Episode 22 Brief Recap
Young Sun drops the bomb in front of Jin Ae's parents who promptly escort her to see Hoon Jae's room. Who's taking care their shop? Of course Yoo Ja because Sanok can't trust Chae Ri (yet) who blurts out to Yoo Ja (who seems to know Young Sun) that she's Hoon Jae's mother. Then this young woman curiously follows them home.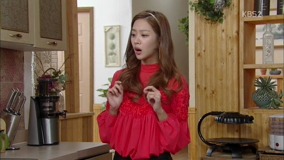 After seeing her son's small room that he shares with the maknae, Young Sun coldly refuses to sit on the pillow prepared for her. Dong Chool sweetly asks Chae Ri to prepare fruits for them, introducing her as their youngest son's girlfriend. In the kitchen, Chae Ri is wondering where the fruits are before making a mess, dropping things.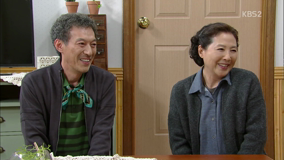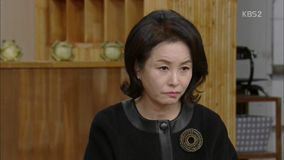 They are gratefully thanking Young Sun for doing lots of good favors for Jin Ae & taking a good care of her after the false accusation and her incompetence. It's her dream to be like her, even up to the point Sanok joked she'd one day become her daughter. Young Sun replies it's all due to Jin Ae's own skills. Then Dong Chool praises her for raising up her son well, saying many good words about him. They're pleased the situation works out well as she's in fact Jin Ae's CEO. Young Sun irks when they tell her about all the things he fixed for them (for free), thinking they took advantage of him and lied that his mom lived in the countryside.
But where is Chae Ri? Did she go to a farm to pick up some fruits? Well she's here. It's her first time cutting the fruit so it's… a mess. Dong Chool picks the prettiest one to give to Young Sun but she refuses to take it.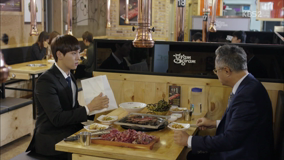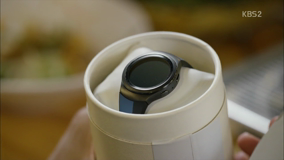 Cheol Woong is repaying Hyung Soon by treating him to a nice lunch & giving him an expensive watch (that someone gifted him) because he's his closest employee who helps Chae Ri. Hyung Soon is clearly touched with his nice gesture.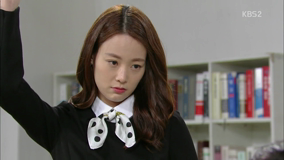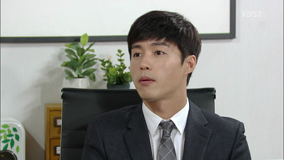 Hye Joo made a mistake in drafting the application for order payment form due to her lack of law knowledge so Hyeong Kyu advises her to raise her hand & ask him whenever she doesn't understand something. To help her, he assigns a supplementary class about this subject. No outside work, it's a study day with her boss aka Hyeong Kyu today. I love how excited she is to see the blooming flower and Hyeong Kyu's glance stealing at her.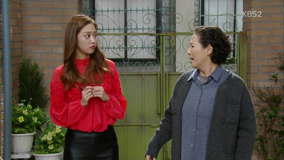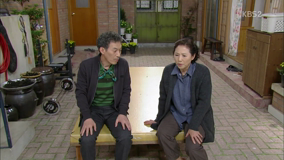 Young Sun can't hide her disapproval when Jin Ae's parents reveals about her son's close relationship with their daughter. She's looking down on them, it's frustrating to watch. Chae Ri sums up today's incident as a surprising twist! Cheerfully claps her hands, excitedly telling Sanok that she now has two wealthy future in-laws, hers and Hoon Jae. Sanok orders her to leave.
As a mother, Sanok understands Young Sun's heart. How can she accept the fact that her son now lives in a tiny room as a lodger? Now they find out the reason why Jin Ae and Hoon Jae have been fighting lately. Sanok notices Young Sun seems very distant & different. She was really nice with Jin Ae and even with Sanok (when they bumped into each other at the shopping mall) but she's changed drastically. Moreover, she didn't even know Jin Ae is dating her son! Dong Chool believes it's because Jin Ae wants to separate her private life and work so she didn't tell her boss about her relationship.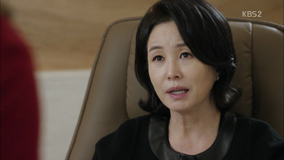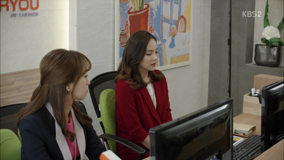 Young Sun's bad mood affecting her work and her work relationship with Jin Ae. She snaps at her, keep scolding her although she didn't make any mistake.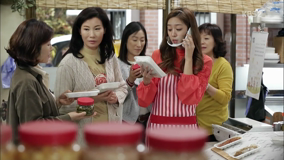 Chae Ri didn't go home as instructed, she's at the side-dish shop while Yoo Ja went back to her chicken shop. When Sanok arrives, she's shocked to find Chae Ri sold out $3 side dishes & gave $5 side dish for free. According to Chae Ri, it's a marketing trick – a generous seller will make grateful customers to return. While Dong Chool is appreciative of every small things she did (although she actually made a whole lot of mistake, including throwing away green onion's white bits), Sanok orders her to leave!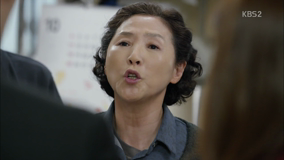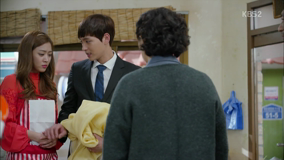 Just in time, Hyung Soon appears. Chae Ri hides behind her oppa who protects her while Sanok continues scolding her. Chae Ri bows her head, politely apologizes, promising she'll do better tomorrow. Sanok gives her a piece of blank paper to get her dad & grandma signing their approval to let her meeting Hyung Soon before she can accept her to return tomorrow. Dong Chool agrees with his wife, reminding Chae Ri about today's incident which may happen to her if she's dating without her elders' permission.
Of course Chae Ri can't hide the secret, she tells Hyung Soon about today's incident and the fact that Young Sun is far from the cool mom she portrayed on her own book. Chae Ri is shocked finding out her dad gave Hyung Soon a nice watch and treated him for a BBQ, he's never done it to other drivers. She suggests to keep things like this so her dad will not be surprised finding out about their relationship.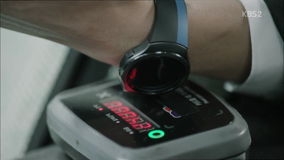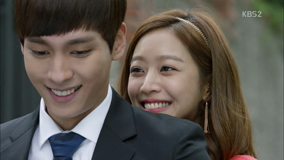 Gentleman Hyung Soon pays the taxi's ride with his new watch (PPL PPL :D) as he believes it's his responsibility to take care her financially outside work. Chae Ri cutely backhugs him as he leaves to go back to work, kisses him repeatedly. Love them so much.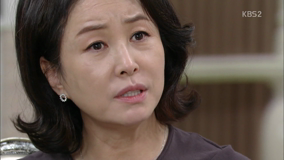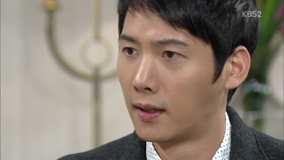 Young Sun explains she made an effort to accept Hoon Jae's choice to move out but she can't do it anymore after she visited the house this afternoon. Moreover, she's upset Hoon Jae only hides his relationship from her because they (people live in that house) all know. Sarcastically stating that she'd be happy too if she's them because there's no reason for not liking him. He even did chores for them! She doesn't care about Hoon Jae hurting Jin Ae's or those people's feeling when he moves out, she only cares about her own feeling! She raised him up, she made him an architect. Young Sun believes they are taking advantage of him, hoping for something big especially after knowing he's her son. But Hoon Jae refuses to move out. Sorry, Mom. Young Sun didn't even go to high school. She had a tiny clothing shop before her hard work paid off. So why is she putting down other people now?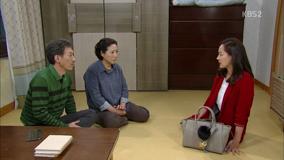 After working outside for two days, Jin Ae's feet are swollen. Worried Mom and Dad are staring at her feet as she's limping. Jin Ae realizes things have gone from bad to worse now as her parents unintentionally brought up about her relationship to her CEO. That's why she snapped at her earlier.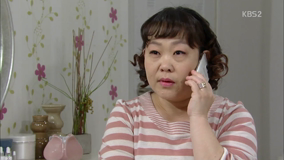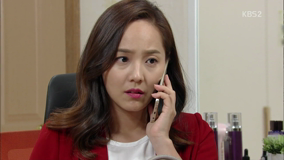 From Nam Sook, Jin Ae finds out what happened at Young Sun's house. Nam Sook asks her to change Hoon Jae's mind to return home. It's clear now Young Sun doesn't like her dating Hoon Jae.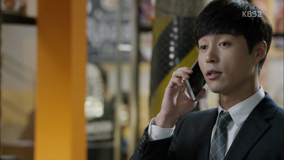 Hye Joo picks up her son at her mom's shop again today so Hyeong Kyu isn't dropping her off. Yoo Ja smells danger when she spots Hyeong Kyu walking home, so she panicky hides her daughter so he won't see him. He's currently standing outside their shop, calling Hye Joo who figures out he's nearby because his voice sounds so close but he brags his voice is so clear because of his latest model phone's quality. Kim San who spots him can only grins at his grandma. Cutie cutie.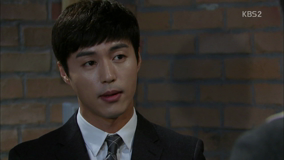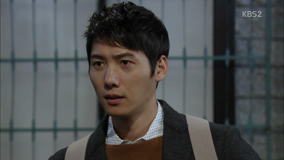 Hoon Jae is surprised learning about his mother's true colors from Hyeong Kyu who tells him about his cancelled contract & Jin Ae's continuous outside market research that's not a secretary's job scope. As her oppa, he doesn't want Jin Ae to get hurt. Sanok looks incredibly happy that Hoon Jae is a CEO's son and her golden child knew all along.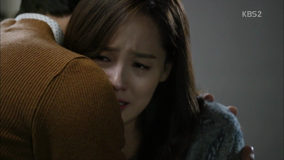 Observant Hoon Jae notices Jin Ae's feet are hurting but to protect him, she doesn't tell him the truth. He humbly put his jacket on the chair so Jin Ae won't freeze. Hoon Jae decides to end it… Oh No… then he continues, end this war because it's hurting him to see Jin Ae being so cold towards him. And who cares if she's a crooked woman as it could be the reason he started to like her. He promises to heal her wounds, straighten out her crookedness and be by her side. There's nothing he cannot do if he has her. Moreover, she also knows his past trauma. He vows for not disappointing her before sweetly whispering, I love you. Cries in happiness T_T I love you too, Hoon Jae.

After finding out Mr Fix-It is a son of a rich household, Sanok is overjoyed and fully approved their relationship. Even he looks more handsome & perfect on her eyes. She believes Young Sun will continue to help Jin Ae to reach her dream in her company. Dong Chool agrees, Jin Ae will live trouble-free live if she marries him. Young Sun's facial expression told them things aren't right however Jin Ae will figure things out as she always did in the past. Dong Chool's eyes are filled with tears, as he blames himself about his failure as a dad, making Jin Ae suffered a lot in the past. Sanok cheers him up, so cute.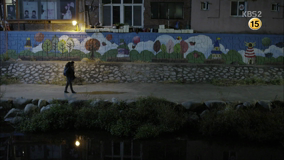 Sweetheart Hoon Jae piggybacks Jin Ae, promises to stick together like this from now on. He then whistles "The Ants Go Marching" to her. Maybe he just saw ants lining up in front of him? 😀

The next morning, Jin Ae is shocked finding out she's been promoted to a planning department and Young Sun has already hired her replacement. It's her dream to work in the planning department but it's so sudden. Young Sun advises it's due to her thorough market research & analysis hence she earned the job promotion however Jin Ae knows her CEO just kicked her out because she doesn't want to see her anymore. She swallows her anger & thanks Young Sun for this rare opportunity, vowing to win her heart again. Meanwhile, Young Sun vows to take her son away from her.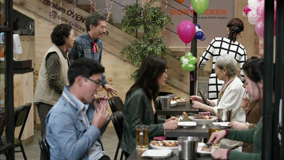 Lee Dong Chool, Sanok and Chae Ri lend a hand for Yoo Ja's chicken shop grand opening. She invited grandmother who makes a surprise visit, surprising everyone including Sanok who hides Chae Ri and with Dong Chool, help her to get out of the shop.

Hyeong Kyu's VVIP client asked him to watch his medical program tonight so he tunes in while Hye Joo is still at work. As soon she sees Gwang Ryeol's face, Hye Joo freaks out. She feels the blood rushing to her face as she's shaking in horror. Then she quickly runs to hide in the corner, covering her face. Hyeong Kyu turns off the TV, rushes to her side.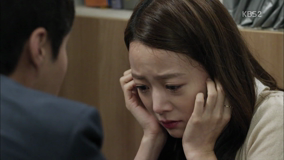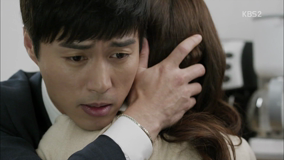 Although she keeps saying she's okay, Hyeong Kyu knows she's not. He hugs her so tightly, wondering what happened.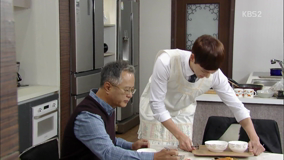 Chae Ri isn't feeling well today, Dad think she's overworking herself with her study while worried Hyung Soon think she's working too hard. Because the helper ajumma and her grandmother are not at home, Cheol Woong asks Hyung Soon to buy a porridge in which he offers to make it for her. He's impressed with Hyung Soon's cooking skill, telling Chae Ri that his future wife is a lucky one. Hyung Soon even made dinner for his boss, earning him more lavish praises. Way to earn more brownie points, Hyung Soon ya. He inherits his mother's cooking talent. Chae Ri peeks, overjoyed to see her dad and her boyfriend are getting along well. Hyung Soon even offers to stay overnight, making Cheol Woong feel better & relieved.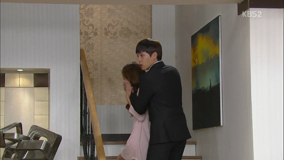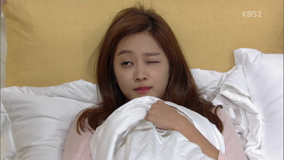 As soon as Cheol Woong retires to his room, Chae Ri wants him to go to her room giving cute signals that her dad is a deep sleeper so they won't get caught. She almost yells out so he quickly covers her mouth & takes her upstairs. She assures him her dad never comes to her room at night, begging him to stay with her as she's still having a fever. He sweetly sings a lullaby until Chae Ri feels asleep. But he's too sleepy himself…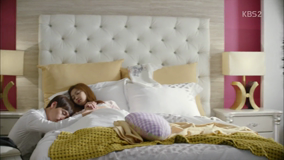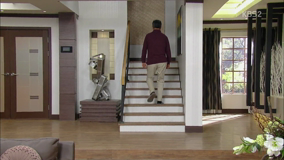 The night passes and it's morning now. He's sleeping in Chae Ri's room, holding her hand! Cheol Woong goes upstairs as Hyung Soon sweetly checks her temperature and is relieved it goes down. He then kisses her forehead as… his boss makes his surprise appearance.
Chae Ri clearly doesn't realize dad is here as she wakes up so happy to see her oppa here, then she holds oppa's hand. OMG.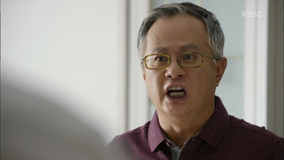 Cheol Woong yells out, calling Hyung Soon a bastard! Run for your dear life, Hyung Soon ya!
Comment
All About Mom recorded their highest rating to date, this episode broke 30% as the drama peels another layer of secrets (that viewers already know) to the parents. Young Sun's disappointed and disapproval reaction is understandable as she raised her own son herself with the expectation that he won't have to repeat the same painful path she experienced in the past and she wanted her son to have the best possible life. That's why she continues meddling into his personal life and business, hoping nobody will look down on him like Cheol Woong and his mom did to her. But she forgot about her own root and how hard work would change people's life to the better. Jin Ae isn't that much different with her, she has the same determination and persistence which will help her to be successful on her own merit. I don't like the way this drama turns Hwang Young Sun into a hypocrite. But like Jin Ae, I believe she's a good person who's forced to be a hypocrite because of the prejudice she received from Cheol Woong and his mother.
Cheol Woong is the next person who took off his mask when he spotted Chae Ri and Hyung Soon (whom he endlessly praised) together. It will not go well, especially because he trusted Hyung Soon so much and believed he'd never lie. Seriously Hyung Soon, why didn't you learn that lying will never solve any problem? It'll make things worse because you break the trust other people have on you! I feel bad for this couple because they are such endearing young couple who love each other so much despite their different social background. Hopefully Hoon Jae and Jin Ae can give them a few tips to survive the coming big storm. Talking about our OTP, I'm glad they resolved their war. It takes time to melt his mother's heart but with their strong love, nothing they can't do together.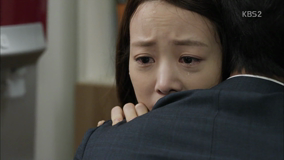 The scene-stealer this episode goes to Son Yeo Eun who gave her best performance during Hye Joo's anxiety attack. I'm still having goosebumps thinking about this scene as I'm typing this as I still remember clearly how shaken she was seeing the face of the man she'd never wanted to see again. Her lip quivered, tears filled her eyes and her voice choked up. Thank you Hyeong Kyu for turning off the TV, rushing to her side giving her a comforting hugs without asking any question despite your curiosity is up to the sky. Sometimes a simple comforting gesture is more than enough than any spoken words nor questions. Without realizing, Hyeong Kyu shows his love towards her by protecting her, this relationship progresses naturally. But will Sanok accept a single mother as her daughter-in-law despite knowing her and her mom well? Hopefully Sanok will not give Hye Joo a hard time as she already has enough on her plate and it is not a sin to be a single mother. She deserves to leave behind her painful past, turning over a new leaf – to love and be loved by a great man like Hyeong Kyu.