All About Mom Episode 23 Brief Recap
The maknae couple survived their first conflict and their relationship is much stronger now. But things get out of their hands when Chae Ri's strict father and grandmother are involved. Chae Ri's freedom is taken away. Her heart is ripped apart as she witnesses her father's and grandmother's true colors. Lee's family is being accused & judged unfairly by these rich people, showing that the worlds between the rich and non-wealthy are separated by a very thick line that it's almost impossible for anyone to cross between these two worlds.  Hoon Jae's and Jin Ae's relationship is still watched over by over-jealous Hwang Young Sun while Hye Joo reveals one of the biggest secret in her life to a very shocked Hyeong Kyu.
Episode 23 Brief Recap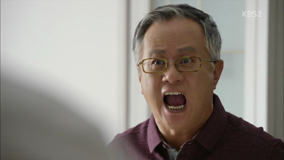 Hyung Soon isn't running away this time. He humbly bows & apologizes to his furious boss who clenches his fist very tightly, ready to punch him. Chae Ri hurriedly stands in front of Hyung Soon, telling dad that she's the one who held on to him so he couldn't leave – he didn't do anything wrong. Cheol Woong orders Chae Ri to stay in her room as he's interrogating Hyung Soon alone, wanting to know when did it start. Hyung Soon spills the beans, starting from pretending to be Jae Min to his confession that he really likes her and their break up after Chae Ri found out the truth.

Like Hwang Young Sun, Cheol Woong also blindly accuses him of holding on Chae Ri because she comes from a wealthy household. Chae Ri who heard her dad's yelling goes downstairs, telling him she's the one who chased Hyung Soon after their break up because she couldn't live without him. Sweet Hyung Soon defends her but Cheol Woong doesn't care! He gets angrier when Hyung Soon innocently confesses he will continue dating Chae Ri because he really likes he although he's lacking unfortunately Cheol Woong doesn't want to hear any more excuses. For him, his daughter isn't someone Hyung Soon can meet and date so Hyung Soon is fired from his job and is forbidden to see Chae Ri and his ex-boss again. Tearful Chae Ri begs dad not to kick her boyfriend out but he's too angry to think clearly right now.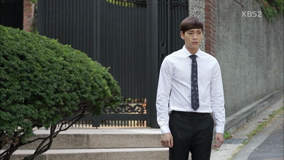 Chae Ri looks at Hyung Soon walking away from her house with a somber expression. 🙁 When can they meet again?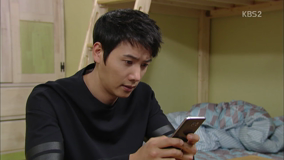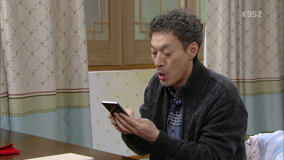 On the other hand, Hoon Jae wakes up feeling like he's in the Heaven right now. He made up with Jin Ae, his future MIL is treating him well, they survived the rough storm. Sweethearts Hoon Jae and Dong Chool try to protect Hyung Soon who didn't come home last night but Sanok and Jin Ae are overly-suspicious. The guys send SOS text messages to Hyung Soon, warning him that his mother is angry he stayed out last night.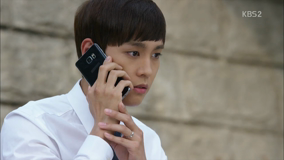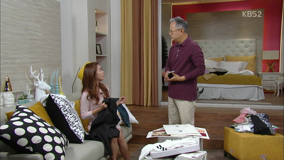 He gets their messages then Chae Ri calls him, worried because he left his jacket at her house. She won't be able to call him again, just then Cheol Woong snatches her phone, banning Hyung Soon for calling his daughter again. He quickly seizes her phone, laptop and tab; instructing her to stay at home until she changes her mind. Chae Ri is in disbelief over her father's overreaction, what's wrong of liking Hyung Soon?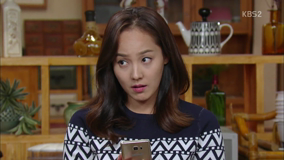 It's awesome to see both Sanok and Jin Ae don't buy over Dong Chool's blatant lie (about Hyung Soon), they're in such perfect harmony. Jin Ae believes the words of people who're dating shouldn't be trusted, cue to… Hoon Jae sends her a text telling her to lie so they can have a morning date now. Dong Chool sweetly helps his daughter lying to her mom after seeing Hoon Jae's text. But of course both Sanok and Hyeong Kyu can sense what these two lovebirds are up to because they're going to work early this morning, skipping their breakfast. Don't worry, they understand mornings are the only times Hoon Jae and Jin Ae can have their dates.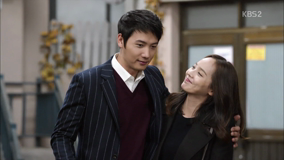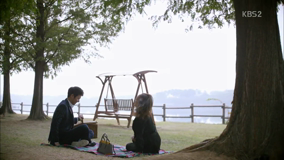 Romantic Hoon Jae prepares a morning picnic in the park nearby, he even made sandwiches in his room last night. As usual, he gives his jacket for Jin Ae as it's getting colder. Their morning date is so cute, he even think they're like newlyweds. They toast, affirming their love to each other. Hoon Jae: I love you Jin Ae as much as the sun in the sky. Jin Ae: as high as the autumn sky. Wow, he's impressed! 🙂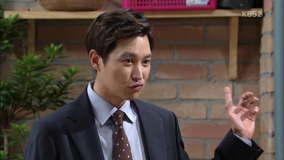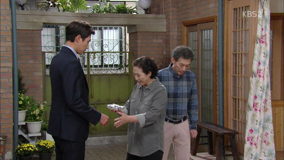 Poor Sang Hyeok though, he's lost! Sanok put more thorn in his heart by politely advising him to stop coming every morning. His expression is priceless realizing MIL is no longer on his side, wanting to know what Hoon Jae did to win her heart. Dong Chool reveals Sang Hyeok focused on the wrong target. Even if he treats Sanok to galbi forever, nothing will happen if Jin Ae's heart isn't moved. Sanok gives him a sweet potato to cheer him up 😀 (ah no, for his breakfast). Dong Chool advises to blame love if he wants to blame anyone.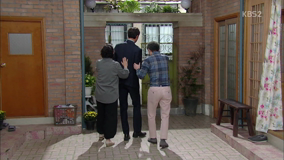 Sanok and Dong Chool push him out of their house where Hyeong Kyu reveals Hoon Jae's family. Sang Hyeok belately finds out the real reason why he lost.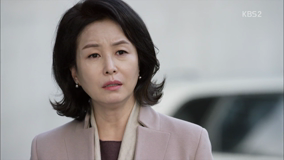 On the way to work, Jin Ae tells Hoon Jae about her promotion to the planning team. He drops her off right in front of the entrance, assuring her that his mother should used to it by now. But jealousy arises when Young Sun sees her son dropping her off, making cute faces. Jin Ae spots her jealous CEO so she greets the happy couple. Hoon Jae sweetly hugs mom, thanking her for appointing Jin Ae to the planning team, her dream job. He's too clueless to see the current situation and his mother's disapproval look. Meanwhile, Secretary Gong is shocked to find out her CEO's son and Jin Ae are dating!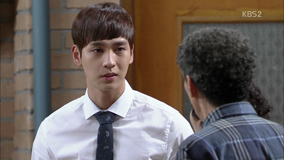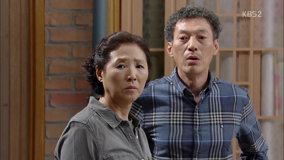 Hyung Soon is too tired and upset to talk, he locks inside his room while his worried parents are wondering what happened. They know it's about Chae Ri though.

Young Sun's bullying continues. She rejects Jin Ae's idea again then send her to do outside work again. Jin Ae bites her lips knowing she can't argue back. After the meeting finishes, Young Sun receives a lovely surprise from her son, a beautiful flower and his sweet love shot for his mother. But as she carries the flower bouquet, her employees are crowding around Jin Ae who also receives a bouquet from romantic Hoon Jae. Awww… She's jealous looking at Jin Ae's roses bouquet but she swallows her jealousy, putting a fake face congratulating her. Back in her room, she calls her "back-up plan" aka Yoo Hee who's currently in New York.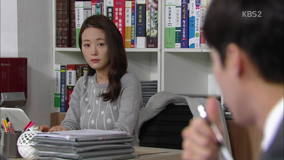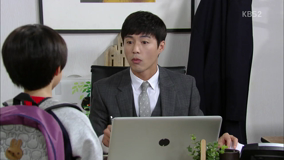 Hyeong Kyu is trying to figure out why Hye Joo got panic attack when he watched the medical segment about delusional mistrust of spouse leading to paranoid personality disorder by Dr Gwang Ryeol. He stares at Hye Joo who looks okay today, still refusing to tell him the truth citing it's her personal life. She shuts her mouth when he asks if it has something to do with that doctor. She assures him she'll be okay going to the court alone to do her work today but he's not that sure. Cutie Kim San surprises choco bread ahjussi after he saw mom leaving the office. He got called to the school again and begs Hyeong Kyu to come to his school pretending to be his dad, as a return favor of introducing a good employee to him. He promises to tell Hyeong Kyu what happened with his aunt if he comes to his school. Clever boy.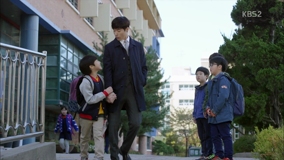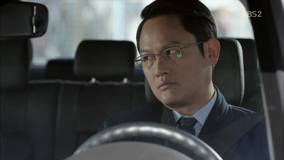 Kim San's teacher explains he's suffering from emotional instability and suggest his dad to take family counselling. To Kim San, Hyeong Kyu lies but he knows what his teacher just told him. In front of his friend, Kim San introduces him as his dad to support his lie that he still has a dad. He cutely drags his pretend dad to have his favorite black bean noodle. One of the kid notices he saw Hyeong Kyu before. And… the creepy stalker spots the pretend father-son duo together.

Cheol Woong is upset a reliable honest man Hyung Soon stabbed him in the back. He forces him to sign a contract for not seeing Chae Ri again. If he signs, he'll be cleared. But Hyung Soon refuses, promising to try harder to be a man suitable for Chae Ri. But Cheol Woong doesn't think so, Hyung Soon will never be good enough for his precious daughter. Now, and forever.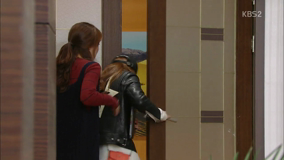 Chae Ri is hugging Hyung Soon's jacket. Her annoying grandma accuses Hyung Soon of seducing her first, disbelief when Chae Ri reveals it's hers. When her friends come to do school work, she defies the odds and the bodyguards guiding her house, successfully escape by disguising as one of her friend. She gives her luxurious clothes and bags to her gold-digger friends who initially refused to help her.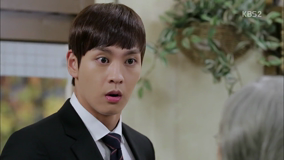 Chae Ri's grandmother pays a surprise visit to Sanok's side dishes shop to buy some of her side dishes. She complains about Chauffeur Lee but isn't saying much. Just then, Hyung Soon arrives! OMG. Grandma is speechless finding out he's Sanok's son, accusing them of conning her family. Sanok explains her son was trying to break up but the rude wench kept chasing him! Grandma is furious hearing Sanok calling her precious granddaughter a rude wench. So Dong Chool advises her to sit down, calm down and he'll tell everything.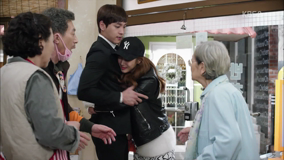 But… before they can reveal anything, Chae Ri is here! She hugs her oppa in front of her shocked grandma. Hyung Soon grabs her hands and they run away together while Dong Chool blocks the door so her grandma can't chase the couple who're hiding in the neighbor's yard. Outside, the bodyguards have arrived to take Chae Ri back home.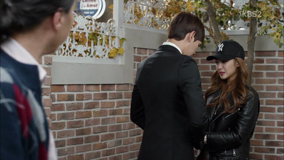 Hyung Soon can only hugs desperate tearful Chae Ri, their paths are now blocked – they can't even escape. What should they do now? The unhappy neighbor yells out. Knowing there's no other way out, Hyung Soon advises Chae Ri to go home and he'll find the way out to see her. He promises he will never give her up. This is really sad – the tragic Romeo & Juliet couple between a wealthy woman and a (not-so) lacking man.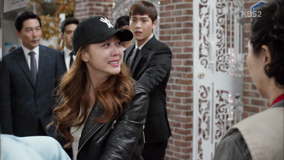 He holds her hand, taking her back to her angry grandmother, politely bows his head to apologize. Chae Ri refuses to let go her hands, begging her MIL and FIL to help her. But it's no use as grandma forcefully drags her away from her oppa. Their different social statuses tragically separate this innocent couple.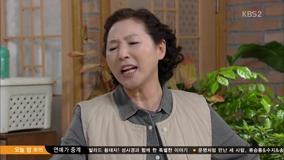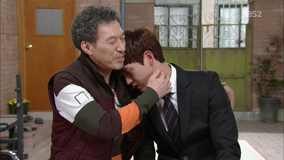 Sanok is furious Cheol Woong treated her precious son like a criminal! Scolding him for not listening to his mother's advice, she knew this incident would happen because this family also treated her like a dirt. Loving Dad Dong Chool asks his wife to watch over the store as he's taking a break here, but the truth is he wants to comfort his youngest son who experienced similar hard time like him in the past – kicked out & beat up by Sanok's 12 older male cousins. It's clear that he came from wealthy background but he chose Sanok and his love. Hyung Soon lays his head on dad's shoulder as Dad nods in agreement that fighting for a woman he (they) love is tiring. Dong Chool sweetly hugs his tired upset son.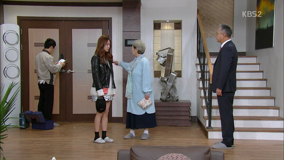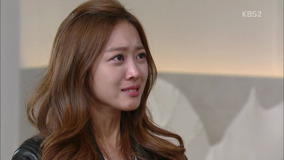 If only Chae Ri has a sweet understanding dad like Dong Chool, she wouldn't have to experience this heartbreak. Cheol Woong installs a system to lock the house's door from inside and Chae Ri cannot have the passcode. She's banned from going outside from now. Her school? She can just quit! Her friends? Nobody can come to her house. Chae Ri argues that his dad promised to like the man she likes even if he's the Frog Prince. But for Cheol Woong, The Frog Prince is much better than Chauffeur Lee!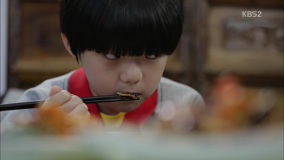 And if a dad like Dong Chool is Kim San's dad, he wouldn't suffer from emotional instability. The poor boy looks very scared, he doesn't even want hi creepy dad to touch him.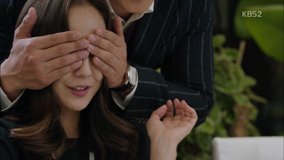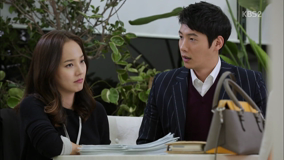 Another tiring day for Jin Ae who receives a nice surprise this evening. It's Hoon Jae whom she affectionately calls Fix-It Old Man 🙂 She refuses his kind invitation to have dinner at his mother's house, believing this tactic won't work especially after what happened today. It'll be hard for her to accept Jin Ae if he continues to put Jin Ae first. Hence she suggests him to have a date with his mother tomorrow.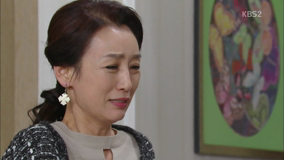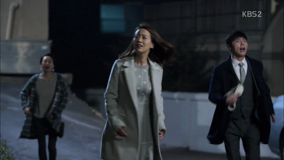 Thinking Hyeong Kyu is waiting to drop her off today, Hye Joo returns to the office although she could go home directly from the court. Suddenly, her mother calls as she couldn't find Kim San anywhere and his phone is off. Hye Joo dashes outside, follows by her mother & Hyeong Kyu who picks up her handbag she dropped.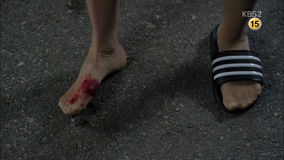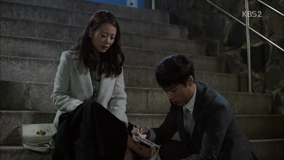 They yell out his name in the neighborhood but Kim San is nowhere to be found. She insists to find Kim San but after Hyeong Kyu points out her bleeding foot, she let him to pull out a broken glass from her sole and wrap it with the handkerchief his mom gave him this morning.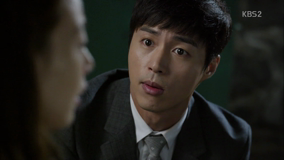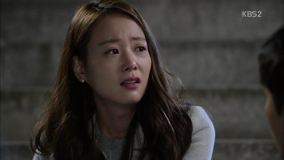 Frustrated Hyeong Kyu is wondering where are Kim San's parents and why they aren't contacting them. She reveals she's his mother! His eyes widen at her confession.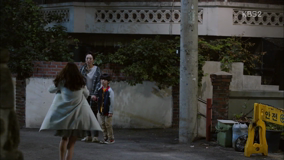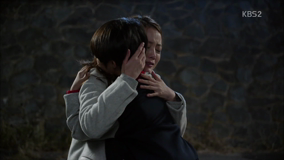 Suddenly, Yoo Ja yells out she found Kim San. He's safe thank God. Hye Joo limps running to hug her son, then scolding him for making her worried. :'( Don't disappear again, Kim San. 🙁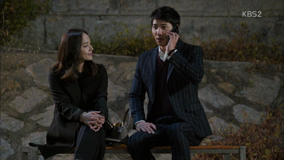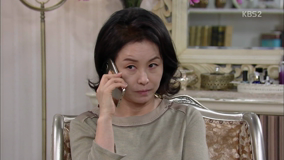 Young Sun is putting her guards up, thinking something's happened that her son suddenly wants to have a date (only the two of them – no Jin Ae) tomorrow. Hoon Jae promises he'll make time for her even if he's busy. Young Sun is happy so does Jin Ae who gives him a pat on his head (and messes his head) as he asked. Cutie. Young Sun prepares her best clothes to have a rare date with her son.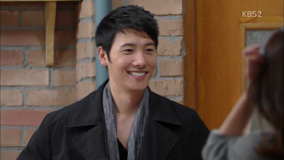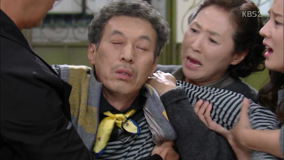 The next morning, he's dressed up, ready to have the perfect date with his mom. Dong Chool who just finished work praises his look, as he looks like an actor. 😀 Everyone can see Dong Chool isn't looking well although he keeps saying he's okay. He's struggling to walk, then he faints!