All About My Mom Episode 35 Brief Recap
December 14, 2015
|
Recap
The moment we've been waiting for… is here. The confrontation meeting between Jin Ae's mom and Hoon Jae's mom. Although both moms cherish their children differently, nobody can doubt the endless love they have for their children. After mistreating her daughter, Sanok breaks down in regret and guilt. Can she patch up their mother&daughter relationship before Jin Ae leaves home?
Episode 35 Brief Recap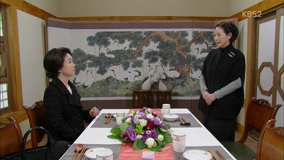 Sanok daringly refuses to sit down until she let out that Young Sun has been cruelly inconsiderate to Jin Ae and she's here to hear her apology. As a mother herself, Sanok understands where Young Sun came from but she would never say she doesn't like him to someone her children loves. Though she's kinda scolding Young Sun right now, she's here because she feels sorry for her only daughter who was unfairly mistreated since she was young. Sanok emotionally pours out her regrets she held inside for so long in front of Young Sun whom she hopes will cherish and love Jin Ae, because she couldn't do it herself. She is upset Jin Ae met a mother-in-law who really dislikes her T_T But Young Sun can't give the motherly love that only Sanok can give – Sanok understands it well too.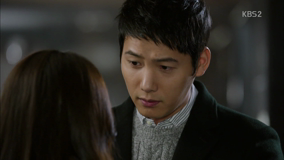 While Sanok is crying her heart out, Jin Ae who eavesdrops wants to burst in out of embarrassment (for her mom). But Hoon Jae (who magically arrived) stops her and drags her away. For him, it's great Sanok could finally let out the emotions, regrets, feeling she suppressed inside. Besides, they're family now so why is Jin Ae embarrassed?
Young Sun sincerely apologizes for being too selfish thinking her son is the only precious person in the world, forgetting the fact Jin Ae is someone's precious daughter too. She honestly confesses she doesn't have the confidence to completely change although she promises to make an effort. Sanok begs Young Sun to try & take time to know Jin Ae so she can discover the best in Jin Ae. In return, Young Sun asks Sanok to do the same for her son. She smiles proudly when Sanok praises him endlessly.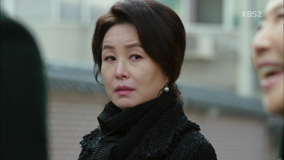 The moms' jealousy erupt when Hoon Jae treats Sanok lovingly and Jin Ae holds onto Young Sun's arm calling her Mother-in-law. While Jin Ae prefer to take a taxi (as she noticed Young Sun's cold face), clueless Hoon Jae insists on taking his mother-in-law home. Sanok believes she's sinned against Jin Ae and will do anything for her to get accepted by Young Sun.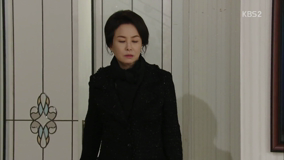 Young Sun arrives home defeated, realizing Sanok isn't the easy opponent. Well her cousin has already figured it out when they came to her house packing Hoon Jae's stuffs. Nam Sook believes Sanok is the winner here because her daughter is marrying a son of a rich family and her youngest son's wife is Jang CEO's daughter. This in-law overlapping (that only happens in KDrama) is amusing, it's also possible she'll get back with Cheol Woong. Anyway Nam Sook blurts out about Chae Ri's pregnancy.
Jin Ae believes now it's the right time to tell her parents about Hoon Jae's relationship with Chae Ri but she won't force him if he's not comfortable with it. He's still having a hard time accepting Cheol Woong, however he agrees to spill the beans. Because Chae Ri is pregnant, they decide to leave her out (for now).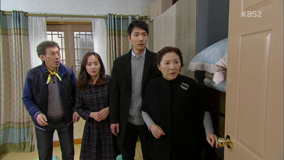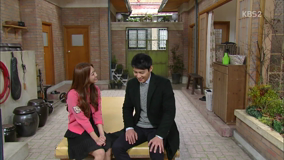 But she overhears their conversation! They're worried about her and her unborn baby but surprisingly Chae Ri digests this birth secret maturely. She understands Hoon Jae's reluctance of accepting Cheol Woong as his father because she'd do the same if she's him. Hoon Jae vows to be the best brother for her, making her happy because she now has someone to share her hardship with. Their situations are the opposites quite similar as Hoon Jae can't accept his father while their father can't forgive Chae Ri.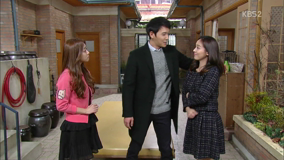 When Chae Ri complains about Jin Ae giving her a hard time, adorably Hoon Jae defends his wife 🙂 Of course she's number one for him.
Shockingly, Jin Ae wants to live under the same roof with Young Sun for at least one year so she can get closer to her. Obviously Hoon Jae disagrees but after a special coaching from Jin Ae, he reluctantly agrees.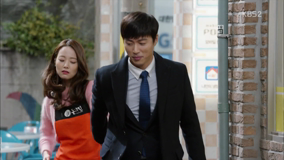 President Kim brought hungry minions to Yoo Ja's chicken shop, to help her and to relieve Hye Joo from her Sunday shift so they can go on a date. Eun Ok who smells money, is working tirelessly as well. While Hyeong Kyu drags Hye Joo out to discuss about work. Although Hye Joo knows he's lying, she still follows him out – making an excuse that she's going to pick up Kim San. But she's still wearing the apron and forgot to bring her bag so obviously she's also lying. There's no way Hyeong Kyu allows her to go back nor will he lend her bus fare, hence he holds her hand to drive her to Kim San's friend. Both of them cutely smiles 🙂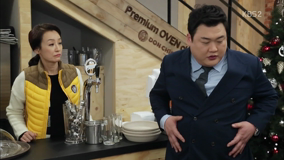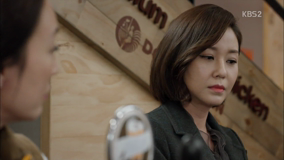 Meanwhile President Kim realizes his wallet is gone. Eun Ok pretends she knows nothing while Yoo Jae points out lots of things have gone missing from the shop.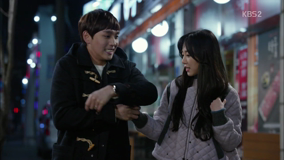 Eun Ok's daughter Aeng Doo flirts with married man Hyung Soon again after work but he put a stop before she goes too far. What about his jealous wife? She's not staying still of course. Dong Chool who experienced it before, can do nothing except feeling bad for his youngest son. Well Hyung Soon finally reveals he's married, making upset Aeng Doo drinks her medicine. Chae Ri spots her husband walking home with Aeng Doo and plans to catch him herself. Dong Chool nods! Feeling sorry that Hyung Soon will get caught soon 😀

Aeng Doo almost blurts out "mom" before calls Eun Ok eonni, introducing her as her cousin. When Sanok sees Eun Ok talking to her son, she comes outside – making Chae Ri abruptly changes her plan right away. She cutely greets her husband, nags she's unwell because she really missed him. Sanok is annoyed when Dong Chool praises Aeng Doo who looks like Eun Ok. Amusingly, both Chae Ri and Sanok telepathically connect – accusing these two women as two sly foxes.

Back at home, Eun Ok scolds her daughter for "working" again – stealing Hyung Soon's wallet. Did she forget their promise to the probation officer to live uprightly? Aeng Doo couldn't resist the money smell but her mom did the same too! It's hilarious both women stole the wallet they stole. Are they professional thieves or kleptomaniacs? Aeng Doo stares at Hyung Soon's pictures she secretly took, sighing that she wants to love too.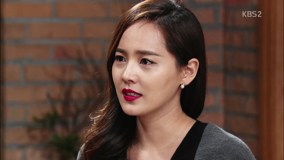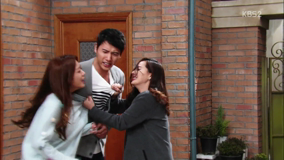 Because she's been watching too much drama, Chae Ri imagines the innocent tragic love story between her and Hoon Jae because in drama lovers can magically turn out to be half siblings! As usual Jin Ae is painted as the villain with her dark red lipstick – trying to break Hoon Jae and Chae Ri apart although Hoon Jae begs her to let him go 😀 What kind of filler craziness is this? ¯\_(⊙︿⊙)_/¯

Both Young Sun and Nam Sook are surprised Jin Ae will move in after her marriage. Young Sun disagrees at first (surprisingly, everything Jin Ae told him about what his mom would say to him, is spot on!). Young Sun is suspicious Jin Ae has been coaching him, of course she was. 😀 Hoon Jae successfully convinces his mother that he thinks the same way as Jin Ae and he can't leave her alone here. He moved out to the boarding house for his independence but now he wants them to live together. While Young Sun is falling for her son, Nam Sook quickly catches on this physiological war while Hoon Jae belately realizes he's trapped between his fiancée and mom's power game! 😀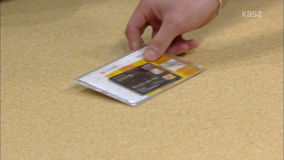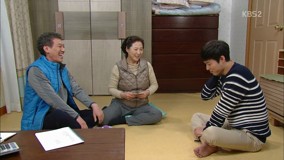 Hyeong Kyu surprises his parents by giving money card to pay for Jin Ae's wedding. Awww sweet oppa has matured so much <3 Dong Chool is moved, this is a miracle because their firstborn has never done this before.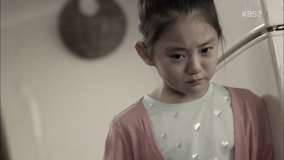 Sanok can't sleep tonight so she's sitting in the kitchen, recalling the tragic incident young Jin Ae accidentally dropped boiling pot, injuring Hyeong Kyu's foot. She was too busy working she left her two young kids at home. Dong Chool's mom scolded her – accusing her of trying to kill her first grandson 🙁 When young Jin Ae told mom that she's hungry, Sanok took out her anger to her little girl.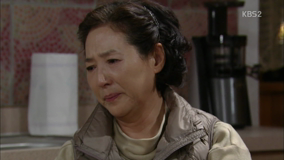 Jin Ae assures upset Sanok that she's not expecting anything because she's not her golden child, she's used to her mom's mistreatment for 30 years. Jin Ae teases mom she should try finding her birth mom like Hoon Jae before she gets married. Sanok smiles at her daughter who begs to have a drink. Sanok agrees to have one drink only then proceeds to make eggplant pancake (in the middle of the night!). Jin Ae is moved T_T When was the last time she had a proper drinking session with mom?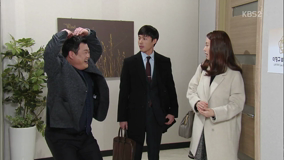 Feeling sorry for President Kim who's been standing outside in the cold for one hour, Yoo Ja let him in. When he introduces himself as mom's boyfriend to Kim San, the cutie boy blurts out he's not his mom's style 😀 Well President Kim drops her off at work, vowing to rescue Hye Joo from the shabby office ASAP. He even scolds Hyeong Kyu for giving his Hye Joo a hard time! Before leaving, he cutely gives the biggest heart.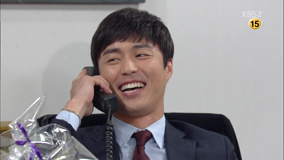 Hyeong Kyu's mood is ruined by President Kim and his own jealousy. He keeps scolding Hye Joo over very minor mistakes. When a delivery man delivers bouquet of flower, he erupts in anger! But the bouquet isn't hers, Choi So Yeon sent it to Hyeong Kyu! He's dying out of embarrassment. Wanting to find out if Hyeong Kyu has received her flowers, So Yeon calls the office (because she couldn't reach his phone). Hyeong Kyu bluntly reveals he doesn't like flowers but after he sees Hye Joo's glare, he makes her jealous by pretending to be happy with the flowers.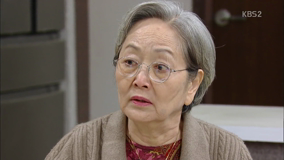 Grandma spoils her only granddaughter when Cheol Woong is at work. While Chae Ri digs in to the delicious spreads in front of her, curious Grandma asks her about Jin Ae's marriage. It's beyond her wildest dream that Jin Ae will become Young Sun's daughter-in-law. Chae Ri blurts out about daddy's hidden son and the fact that she felt so familiar with her half-brother. Chae Ri belatedly realizes Grandma hasn't been told!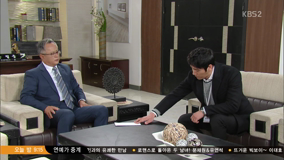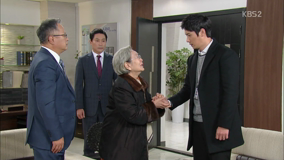 Despite Cheol Woong's attempt to give his son money for his wedding, begging him to accept it as if he receives it from his President, Hoon Jae still refuses. Just then, Grandma burst in! She's shocked to find Hoon Jae… her grandson… is here. She tearfully holds his hands T_T Cheol Woong begs his mother to pretend she doesn't know – for Young Sun's sake. Albeit she understands that Young Sun must really hates her, Grandma doesn't want to stay still. She has a grandson… he is Hoon Jae! She plans to handle this sensitive news very carefully.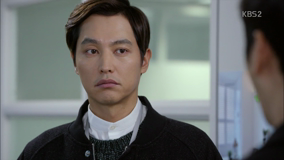 After escaping from Cheol Woong's office, Hoon Jae is now facing the hyena who's just back from overseas business trip. He missed out on his first love's wedding announcement and he couldn't take Jin Ae away due to Hoon Jae's injury. 😀 But he coolly admits defeat. He's envious Hoon Jae wins Jin Ae's heart, begging him to take a good care of Jin Ae – make her happy. He won't stay still if he sees Jin Ae drops a single tear Awwww… such a sweetheart. He then attacks him cutely but he doesn't even use his strength. Love their bromance!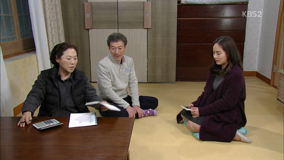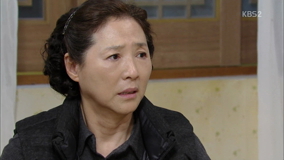 Jin Ae is touched her older brother who kept saying he doesn't have any money, secretly opened & put money to a saving account for her wedding. Sanok is shocked when Jin Ae reveals she's going to live with Young Sun, especially that it's Jin Ae's idea! Jin Ae begs mom to take care this living arrangement because it is her life, her marriage while Sanok who suffered living with her mother-in-law, criticizes her daughter's decision. Jin Ae points out Sanok has been so temperamental lately, doesn't she want to see her daughter happy? But Sanok doesn't want her daughter to walk right into a fire! If Jin Ae doesn't want to listen to her mom's advice, just do whatever she wants!
Everyone's becoming sensitive lately because Jin Ae is getting married and leaving soon – the painful memories about the past are coming back and haunting them. While Jin Ae is grateful Hyeong Kyu put aside his savings for her, but she still can't forget about their fights in the past.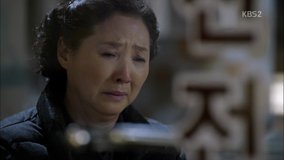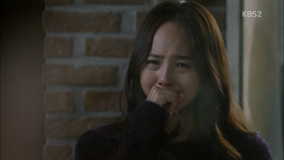 Sanok is also wondering why she's angry whenever Jin Ae says she's leaving. She wants to treat her pitiful daughter nicely but she's overwhelmed with anger. Is it because she's trying to detach herself? Jin Ae who spots mom's crying – is crying too T_T She leaves before she can give mom a warm hug.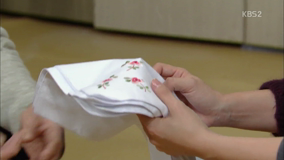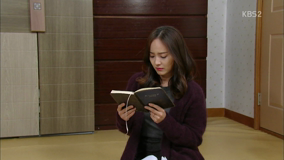 At home, Dong Chool pulls out dish towel Sanok made & embroided for Jin Ae, planning to give it to her on her wedding day but she changed her mind when Jin Ae entered high school because she didn't want her daughter to work in the kitchen like her. She wanted Jin Ae to spread her wings, fly and live her life to the fullest. Dong Chool thought his wife threw it away but she kept it with her diary. Jin Ae opens mom's diary where she poured out her regrets of scolding young Jin Ae over and over again, calling herself a bad bitch who kept hating on Jin Ae because she couldn't forget Hyeong Kyu almost died because of young Jin Ae. She continually hated on Jin Ae because she felt sorry for her T_T