All About My Mom Episode 1 Brief Recap
All About My Mom is a brand new KBS2 Weekend Drama focuses on love-and-hate relationship between a mother & her daughter. They make endless sacrifices (in their own ways) for their family, leading them to have continuous arguments because both women are strong-minded.
Let's meet the families 🙂
Lee Jin Ae's family

Dad Lee Dong Chool (Kim Kap Soo) and his wife Im San Ok (Go Doo Shim) run a small shop selling country style home-made side dishes, they barely make their ends meet. Naive Lee Dong Chool got scammed repeatedly, they're crippling in debts. Their daughter Lee Jin Ae (Eugene) is a breadwinner yearning for independence because of her love-and-hate relationship with her mother. Her dad really adores & loves his daughter who receives unfair treatment from her mother & brother she selflessly supported.

Lee Hyeong Kyu (Oh Min Sook) is mom's spoiled golden child, a successful lawyer who received financial support from his sister during his law school but he doesn't give financial help to his parents nor paying back his sister's kindness. Their youngest son Lee Hyung Soon (Choi Tae Joon) is working as parking attendant for the VIP customers in a famous shopping mall.
Kang Hoon Jae's Family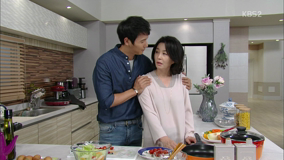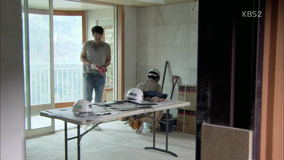 Kang Hoon Jae (Lee Sang Woo) is an architect running his own small business while his mother is a successful businesswoman & author Hwang Young Sun (Kim Mi Sook). She's Lee Jin Ae's company president.
Jang Cheol Woong's Family

Jang Cheol Woong (Song Seung Hwan) is President of Jlor (JY Group). He spoils his daughter Jang Chae Ri (Jo Bo Ah) who also has a love-and-hate relationship with her father.
* My first impression will be posted on episode 2 recap. English sub is available on KBSWorld youtube channel, one week after the episode broadcasted in South Korea.
Episode 1 Brief Recap

Lee Jin Ae decides to lease a nice cozy apartment to say goodbye to her tiring life. It's now time for her to move out from her family. As she looks at the apartment building she'll live soon, she imagines a transformed Lee Jin Ae enjoying her independent life.

A phone call from her mom wakes her up from her dream. After scolding her daughter for her rude phone manner, mom nags her to come home early for oppa Lee Hyeong Kyu's birthday. Surprisingly, she agrees without arguing back because she will escape from her family soon so it'll probably the last time she has to put up with them. She blows kisses to her new apartment.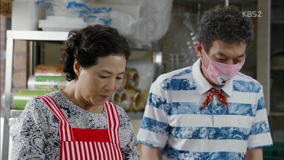 Im San Ok and Lee Dong Chool's business is facing a new hurdle. Their greedy landlord is raising the rent, the only options they have are paying the exorbitant rent and agree with the new terms & conditions or move out. But they can't move to another place because they've been here for 20 years so they'll lose their regular customers.
Mr Kim grumbles their daughter turned him down, if not, this rent issue would be well taken care of. So he asks if she's currently seeing any man. Mom, "no she's not". Dad, "we don't really know". Mom, are you going to sell your daughter to save your business? ㅜ.ㅜ She points out Jin Ae was too busy with work so some things didn't work out (she's beating around the bush but her point is clear – her daughter did turn him down) ヽ༼ ʘ ∧ ʘ ༽ᓄ But she knows she can't say the truth in front of him, especially when their business is in risk. Dad doesn't want his daughter to date Mr Kim but Mom knows her daughter will never go out with him. So don't worry.

Although Lee Jin Ae is pleased to find an affordable apartment but if her loan isn't approved, then she'll have to say goodbye to her long-awaited freedom. Her friend advises asking her wealthy brother to financially help her but he's too selfish to lend / give his sister money although he could become a successful lawyer partially thanks to her financial support.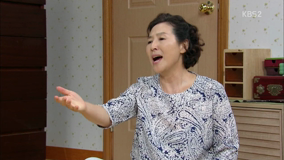 Im San Ok is furious after finding out her husband secretly used their savings investing in a risky business with his friend Wangshik who conned him before. The products are quite innovative, healthy underpants for men his age and the 8% interest tempted him. He explains he's already received the interests but his wife doesn't believe any of his words. Please get the money back, ASAP! He's safe for now because mom's golden child comes home.

Lee Hyeong Kyu then asks his mom to take his suit to the dry cleaner. Mom searches the pocket in case he left something there, and of course she finds a bill. $280 credit card bill! But it's not Hyeong Kyu, it's her youngest son Lee Hyung Soon who's currently sleeping in his brother's room.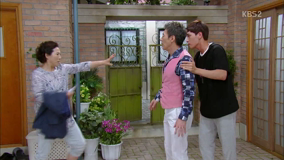 His brother wants to rest so he kicks Hyung Soon out of his room to face their angry mother. He barely escapes with his dad who gives him a bus money because he left the house without his wallet.

Lee Jin Ae is President Hwang Young Sun's fan since her high school days. She read all her books & feels blessed working at her company. She's happy to receive her latest book, Becoming a Cool Mom. President Hwang is a really nice boss, she let the design team go home early after their finished their work. I wish I have a boss like her ╭(•⌣•)╮ She also plans to treat them for a meal tomorrow. Nice.

She can't get in touch with her son who's currently dealing with a stubborn client who insists to have a drastic design changes. Architect Kang Hoon Jae gives an ultimatum – feel free to break the contract if the client prefer to do things his own way. He knows they have the skills to boot so he's not worried. Just then, they receive a news that Taeseong Pipe wants to work with them! ᕙ(`▿´)ᕗ Yes! Yes! It's strange though because they're big corporation who don't even bat an eyes on small business like Hoon Design. Well, he secured the project thanks to his mother who asked a huge favor from the director & requested him to keep it a secret from her son.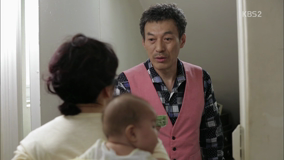 Lee Dong Chool is shocked finding out Healthy Underpants business has gone bankrupt. He tries to find him at his house but he only meets his wife and his months old baby son. Selfish jerk Wangshik didn't just run away with Dong Chool's investment money but he also left his family without any news. Although he lost his money but Dong Chool gives money to Wangshik's wife to buy a formula for her baby. His wife will kill him  .·´¯`(>▂<)´¯`·.

Lee Hyung Soon failed another interview but at least he still has this part time job. Unfortunately, today isn't his day as a young lady insists she's a VIP customer but the parking censor refuses to give her access because her vehicle isn't registered in the VIP parking database. He politely points out the reason then advises her to pull her vehicle aside so the other cars can enter the VIP parking lot as he checks her vehicle's detail with the office.

But this stubborn lady is in a rush so she turns off her car, takes the car key with her then tells Hyung Soon to park the car for her! But he needs her car key! He tries to push the car to the side but of course it's impossible.

After checking with the office, he finds out Jang Chae Ri is a VVIP customer. Unfortunately, this small but fatal mistake costs him his job.

Jang Chae Ri isn't happy with the dress her dad picked for her blind date so when Dad picks up a call, she quickly buys a dress of her choice.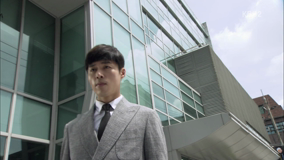 Things aren't going well for Lee Hyeong Kyu either. The new President of his law firm Junyeong was his high school enemy so he's politely told to leave the firm. Bad news on his birthday ⊃´-`⊂

Im San Ok buys prime grade beef, she only buys this expensive meal only for her eldest son's birthday. Proudly brags all clients at his law firm want her son. Hyeong Kyu is currently inspecting a run-down office in the city, he moves fast. But he can't afford $30k deposit and $2k rent so the agent suggests him looking for an office in the suburban area.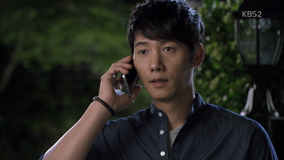 President Jang Cheol Woong belatedly finds out their supposed partner Taeseong Pipe decided to work together with a small design firm, Hoon Design. It sounds fishy. Well it is! Hoon Jae finds out his mother Taeseong Pipe's director's friend so connecting the puzzle pieces together, it was his mother's doing. He doesn't like doing business cheating like this.

Hwang Young Sun only wanted to help her son, she couldn't just helplessly saw Hoon Jae failed miserably because he's not a flexible businessman who takes advantage of the situation. He reminds mom about their promise that he'd move out if she interfered with his business again. Mom coolly tells him to move out. Knowing mom is upset, he promises to follow mom's advice but will move out if this happens again.

Lee Hyung Soon sneaks into his room but too bad, his dad saw him. Hilariously gives a sign for his youngest to see his mom to apologize but both men are too scared to receive her scolding tonight. Dad wins this time. So Hyung Soon has to hear her mom's nagging and another comparison with his brother who entered law school when he was his age. Hyung Soon cutely hugs mom from behind, promises he won't recklessly use his credit card again. He tickles, kisses her mom. In less than 60 seconds, mom isn't angry anymore. Her other children haven't arrived yet.

Lee Jin Ae is still on the way home while the birthday boy receives a birthday surprise from his friends. They discuss about the impact of rich parents & grandparents for their career & business. They then bring up Junyeong whose father owns Hyeseong Group and the smooth sailing journey Hyeong Kyu's firm will have but it's not what the birthday boy wanted to hear. He excuses himself, explaining his family is waiting for him at home. As he walks out, he hears his friend talking about Junyeong who fired him because he hated his enemy. Although it's his birthday party but his pride forces him to pay $1200 bill.

Dong Chool is so happy his daughter is home but their happiness doesn't last long because Im San Ok finds out Wangshik disappeared after his wife called her. Both Lee Jin Ae and Im San Ok can't believe Lee Dong Chool was scammed again when they're already in debt & in risk of losing their shop. He begs Jin Ae to lend some money but she already used all her savings to pay off pyramid scheme her dad was scammed last year.

Mom gains her energy back when the maknae announces Hyeong Kyu arrives. She tells Jin Ae to heat the seaweed soup then orders her husband to put away the garlic so her son's eyes won't sting. Jin Ae is clearly annoyed with her mom who pretends nothing happened. Mom brings a birthday cake, the family sing happy birthday but Jin Ae ruins the birthday party by bringing up all the money troubles they're facing, asking if her brother has any money. Im San Ok scolds her daughter who couldn't wait until they finish the birthday dinner.

Hyeong Kyu replies he doesn't have any money either, Jin Ae erupts in anger calling him a heartless son who doesn't want to give money to his parents although he drives a luxury car & wears expensive suits. She's also angry at her mom who only cares about Hyeong Kyu. Has she even throw a birthday party for her daughter?

Mom jabs her daughter's heart by blaming her only daughter who was born before Hyeong Kyu was barely one year old & stole things and the attention he should had from his parents. And she could never be like Hyeong Kyu. Jin Ae knows it too well, she's different from her oppa whose family treats him like a prince while taking advantage of her. She couldn't get the same study opportunity like her brother, she's forced to work to pay for the bills. Both Hyeong Kyu and Dong Chool yell please stop as the women continue arguing. Dong Chool accidentally smashes the dinner table ᕙ(ಠ_ಠ‶)ᕗ flipping it.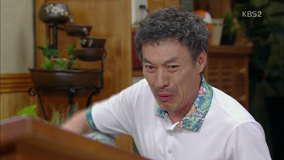 He admits it was his fault Jin Ae was conceived when Hyeong Kyu was a sick baby. It's also his fault for making Jin Ae's life difficult because he can't be the family's breadwinner & continually got scammed (ಥ﹏ಥ) In desperation, he then asks his youngest son if he has any money. This is crazy.

Hyeong Kyu recalls what his friend said at his birthday party earlier. Nowadays having a great resume is useless because they can't beat people who have rich parents & grandparents. His enemy Junyeong is the living proof. He points out to his sister that his appearances really matter in his job sector that's why he drives a luxurious car & wears expensive suits. But Jin Ae argues back many successful lawyers don't spend money recklessly like him, it's her brother's own pride.

He's annoyed his sister keeps bragging about her sacrifices for this family (but she's not bragging, it's the truth!). Who told her to work 24×7? Who told her to study at night although she's already too tired working? As the oldest child, he's responsible to marry his siblings off and will take care their parents when they get old. He may not be able to support them now but he's the one who has to become more successful. It's him, the oldest son!

From Hyung Soon, Jin Ae realizes the root of the shop lease problem is because she turned down Mr Kim. That's what her mom tried to say earlier but couldn't, afraid she'd hurt her daughter's feeling.

Mom sees President Hwang's new book Becoming A Cool Mom on Jin Ae's desk when she cleans her daughter's room the next day. Sarcastically says that only people who have money have easy life like that. She accidentally finds a rental agreement that Jin Ae placed inside the book ༼ ʘ ∧ ʘ ༽ Didn't she say she doesn't have any money?

Im San Ok ruthlessly calls her daughter selfish then blames her for turning Mr Kim down although she advised her to marry him. Mom doesn't care about her daughter's feeling at all, she's the selfish one here. Jin Ae is wondering if she's adopted because she doesn't understand how mom could treated her unfairly like this if she's her real daughter. San Ok hits her daughter's shoulder, angrily replies she's her enemy's daughter that's why she's a bad mom who made her life miserable.
Jin Ae then calls Mr Kim, telling him she'll come to his coffee shop today. Mom, are you happy now? San Ok yells telling her to just marry him! What a mess. T__T Hyeong Kyu overheard their argument but can't do anything as his sister leaves house in anger.

Meanwhile, our handsome architect is also going to the same coffee shop for maintenance work.

Mr Kim scolds him for being late but he points out he's actually 10 minutes early. It's enough to shut him up. Anyway, Hoon Jae is confused why Mr Kim called him to repair the tiles in the woman's restroom but the shady job wasn't done by his firm. Mr Kim hired a local interior designer but unfortunately they went out of business. Because the original work was done by Hoon Design, he's deemed partially responsible.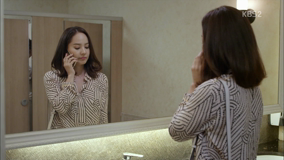 Jin Ae has no other choice but to meet Mr Kim. She's getting ready at the woman's restroom where Hoon Jae is repairing the tiles (◐‿◑) She calls her mom asking what should she say to Mr Kim so he won't raise the shop's lease. Should she say she'll date him? Mom tells her to go home, she'd rather lose her shop than to leech on her daughter. Jin Ae boldly promises she can do anything especially if there's money on the line.

Hoon Jae peeks, eavesdropping her phone conversation then assumes she's a gold digger. Frustrated Jin Ae hangs up. She gets ready to seduce Mr Kim. From the restroom's mirror, she spot a man's peeking. Hoon Jae quickly locks the door but she confronts him asking if he's a man. If not, can't she say anything?

Unfortunately he can no longer hides. He slips. Jin Ae yells at him to stay where he is, calling him a pervert. He innocently tries to explain he's not a pervert but Jin Ae is ready to fight with him with a mop. Well she's protecting herself with this too.

He coolly tells her to leave because she looks really scared but Jin Ae pretends she's not scared.

She throws the mop to him and quickly tries to open the restroom's door but she can't open it probably because she's too panicked so she doesn't realize she has to pull it instead of pushing the door. He points out how she should open the door, holding her hand to pull it but suddenly she slips. Gentleman Hoon Jae put his hand on her back so she won't fall to the ground (╯°□°)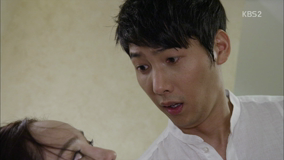 OTP's first skinship \(⌒o⌒)人(⌒-⌒)/