All About My Mom Episode 11 Brief Recap
September 21, 2015
|
Recap
Telling the truth and making someone cries is better than telling a lie and making someone smiles (Paulo Coelho). It's a perfect quote for most of the characters in this drama who continues to lie instead of making things straight. They want to protect their loved ones from disappointment and hatred but they must remember that lie hurts forever. Hoon Jae's childhood secret will be revealed this episode while Hyung Soon is still having a hard time admitting the truth because the timing never seems to be right. Meanwhile, he receives the best news that'll make his family incredibly proud.
Episode 11 Brief Recap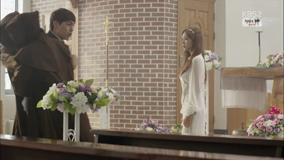 Sleepwalker Hyung Soon walks to his (Hoon Jae) room and sleeps comfortably on the floor beside Hoon Jae. He's currently dreaming he's marrying Chae Ri. But just before he kisses her, two men stop him accusing him a conman who don't deserve to love Chae Ri after deceiving her and falsifying his identity. They drag him away before he can explain to Chae Ri who looks confused, upset, mad. This nightmare wakes him and Hoon Jae up. They don't get a good night sleep tonight for sure.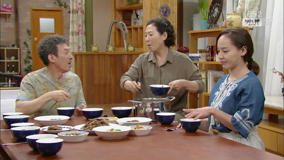 Sanok cooks her golden child's favorite soup for breakfast this morning although her family don't like it. Jin Ae instinctively knows something's wrong with oppa but neither Hyeong Kyu nor Sanok are saying anything. Before he goes to work, Mom who realizes he's back with the girl who dumped him before, advises him to stop. Song Joon Young maybe a jerk but he should never causes pain in someone else's heart by stealing his woman. Hyeong Kyu, you're better than this, right? Joon Young wouldn't never take his picture with her if he didn't steal his woman. He advises mom to wash her hands off his business & his life.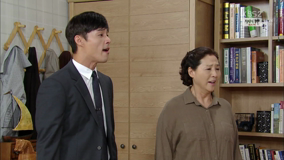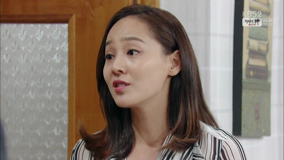 Jin Ae who overheard their conversation, butts in. Accusing him for causing another trouble after their mom tried her hardest to help him. Both Sanok and Hyeong Kyu yell at her! She's upset they quickly patch up, they were arguing but now they're on the same side again. Jin Ae hurt her mother's heart by accusing mom for hiding a secret about her birth. No no no, Jin Ae ya. You don't know what your brother is going through, this time you're wrong.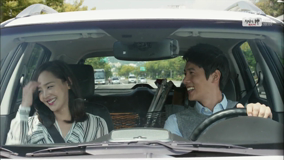 Hoon Jae drives Jin Ae to work knowing she's upset. Everyone heard about their argument earlier so Jin Ae apologizes for showing the real side of her family to him earlier. He understands that no family is perfect, they can't be happy all the time. Sometimes he's even envious of people who have siblings, much to Jin Ae's disbelief. To change the mood, he cutely whistles, pointing out whistle sounds make people feel more peaceful. Jin Ae laughs hearing his sweet remarks.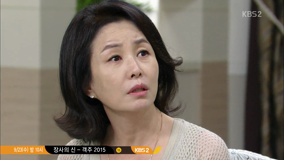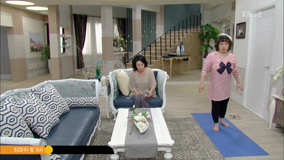 While he's having a great morning with Jin Ae, his worried mom isn't. Nam Sook is wondering why a devoted mom like Young Sun hides a secret from her own son. Until when will she hides that Hoon Jae is Cheol Woong's son!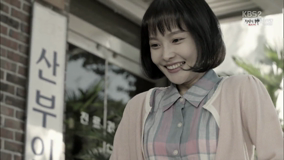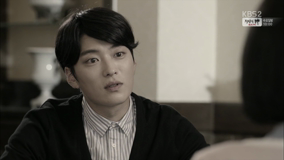 Flashback to the time when Young Sun found out she's 5 weeks pregnant. Coward Cheol Woong didn't think he could go against his mother who's on a hunger strike so he suggested them to break up & gave his mom plenty time to change her mind. She clutched her stomach, couldn't bear to tell him she's pregnant.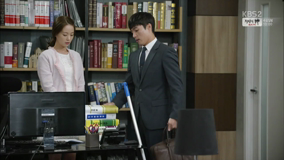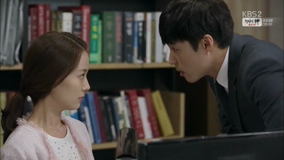 Bless Seo Joo's heart, she may not have any law experience but she's a hard worker! Mopping the floor excitedly before her boss arrives. When he orders her to do law stuffs, she innocently asks, what is a petition? 😀 Hyeong Kyu gives her handbooks, orders her to master law related stuffs in 4 days, if she can't do it, he'll hire someone else with law experience. He screams out he needs a professional! Not someone who cleans up his office. It's a cleaner's job.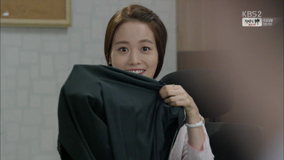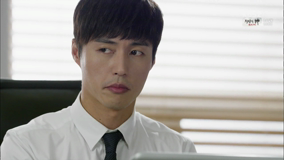 He's too angry to notice a mop. He steps on a mop and slips, torn his pants. Despite his earlier objection, he takes off his pants & let her to sew it.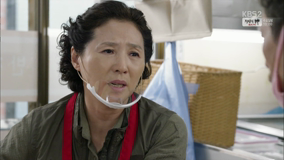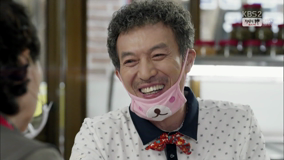 Sanok is wondering if she raised her kids wrongly, Dong Chool mistakenly think it's Hyung Soon because their other kids are okay. He put many good words, praises their youngest but Sanok is thinking about Hyeong Kyu. Dong Chool who really loves his wife promises to bring her anything she asks. If she asks for a star, he'll give it to her! Sanok points out he may have good intention but he will make trouble by trying to take the moon as well so it'll be more troublesome to share her hardship to him (for now). So she turns to Hyung Soon to help her looking for a nice affordable office. He soon finds out they need $20k. While he believes his hyung has money, Sanok (who knows the truth) realizes it's impossible.
Because Young Sun is away this weekend and her maid will be on vacation while she's away, she asks Jin Ae to look after her house while the construction company is working on the basement. While looking for a great construction company for Young Sun's house basement construction, she remembers Hoon Jae. It's time for her to use the coupon. Cheeky Hoon Jae asks if she's already falling for her 😀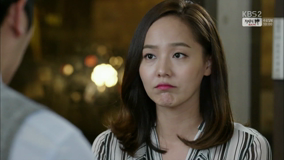 Hoon Jae is clearly surprised to see the proposed project. Basement construction at his own house! Jin Ae pouts when he refuses but he can't get caught this early. When Jin Ae points out nobody (except her) will be there, he changes his mind.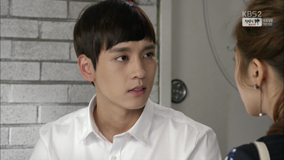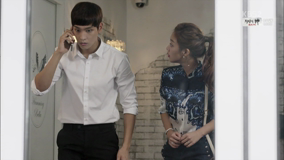 After his nightmare, Hyung Soon courageously meets Chae Ri to tell her the truth. Before he can say anything, his phone rings. She tells him to pick it up in case it's from hospital but it's actually from JY Group (OMG Cheol Woong's company) calling offering him a final interview… now! The interviewers like his enthusiasm. He leaves the lobby just as Chae Ri arrives to meet her dad. Fortunately she didn't see him.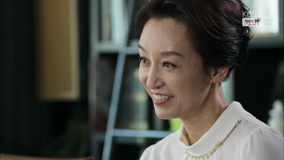 Sanok needs money but where will she get this money? Just then, she remembers Hong Yoo Ja's offer so she decides to do it for her son's sake. But she requests three months pay in advance, lying that someone else is offering her similar job. Yoo Ja fake her smiles, she knows Sanok is desperate (for money).
On her way home, she bumps into Hoon Jae who offers to carry her stuffs. She points out his future wife will be having a hard time because he's the only son and his mom is a single mother.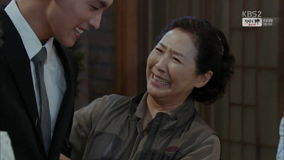 They just arrive at home when they hear Hyung Soon's screams! This boy finally passed his final interview. He got a job! His parents tear up, finally… after countless rejections, their youngest is employed. As soon as Hyeong Kyu comes home, mom brags Hyung Soon finally did it. Everyone (except Jin Ae who's still on the way home) is celebrating. Well done, Hyung Soon.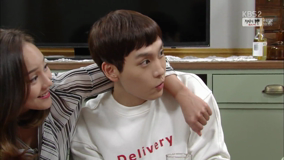 Yoo Ja talked to Cheol Wong who accepted Sanok's request for three months pay (in advance). Just as she talks to her about sending her account number, Jin Ae walks in. They're in a great mood so Jin Ae isn't suspicious when mom said it's payment for her side dishes. She hugs her youngest brother, congratulating him for finally getting a job. She asks if he wants anything, he sweetly replies that noona has been giving him so much love but if she insists, a suit will be nice. Shockingly, Hyeong Kyu promises to buy one for him. While Dad is going to buy him a nice shirt. What about Hoon Jae? His present is… here.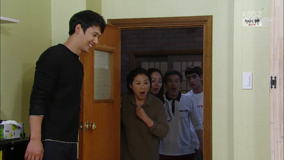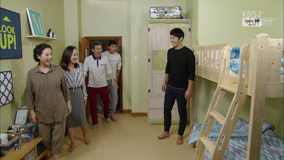 A bunk bed! Awesome awesome. Because it's autumn and the weather is getting colder, he wants Hyung Soon to sleep comfortably in a room. Everyone feels sorry for burdening Hoon Jae, Hyeong Kyu even offers to pay for the bed which Hoon Jae politely declines.
Sanok advises Hyeong Kyu to at least protect his pride so please move out from the office he received from Ji Eun. He replies he doesn't come from a background where he can protect his pride. It's the truth. So don't worry mom, he'll take after his own business. Sanok is willing to sacrifice her own pride for her son so she calls someone while holding her bank book but quickly hides it when Dong Chool enters the room. She called Yoo Ja, didn't she?

Dong Chool is an awesome supportive dad! He irons Hyung Soon's shirt early in the morning because it's been his dream to iron the shirt his son wears on his first day at work. He even shone his shoes. He tears up, it's been a long time since he shone shoes for Jin Ae and Hyeong Kyu on their first day of work. Finally it's his youngest's turn.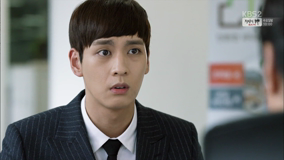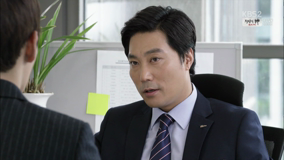 But Hyung Soon is actually hired as a driver. Not in the business department as he thought. Maybe because he applied to so many different places, he didn't realize he applied for this job.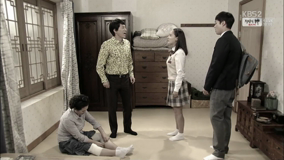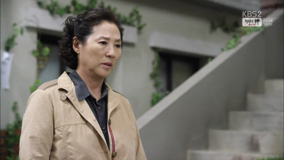 On the way to Cheol Woong's house, Sanok remembers the promise she made in the past that she will never work at someone else's house again. She hurt her knees badly she couldn't even walk after working as a housekeeper to pay off Dong Chool's debt. Jin Ae was furious! Hyeong Kyu was embarrassed because mom worked at his classmate's house. He didn't even care about his mom's knees at all. Jin Ae then blamed her dad for not taking care their mom.

But now her kids are working so she put on a brave face to work at Cheol Woong's house. After a countless arguments with a spoiled brat Chae Ri, she meets with grandma who's more than happy to fulfill her request because she's needed here. Her first task is to make various types of kimchi… alone. The lazy housekeeper refuses to help her, she even orders her to clean the kitchen & the hallway, threatening to report to grandma if she doesn't want to do it. A housekeeper is threatening a cook, the world is indeed crazy.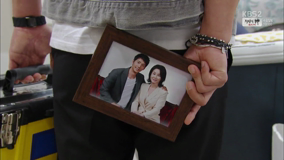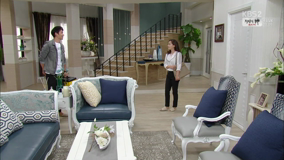 Hoon Jae and Jin Ae are at Young Sun's house. He quickly hides picture frame of his latest picture with his mom before Jin Ae sees it as she comments on Young Sun's son's childhood pictures. He brags that her son is handsome. 😀 Let's move on to the basement to do some work now.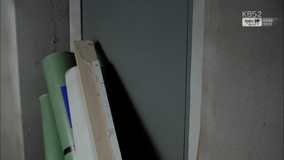 While moving some stuffs, he accidentally kicks door stopper. Heavy materials push the door, trapping our OTP inside the basement. Unfortunately both of them don't have their cell phones with them so they can't call anyone for help.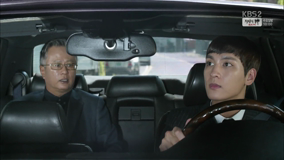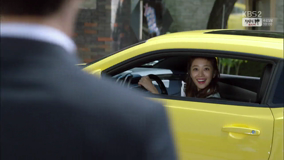 Hyung Soon is assigned as Cheol Woong's private driver. After driving Cheol Woong home, he quickly leaves after realizing it's Chae Ri's neighborhood. He can't run into Chae Ri here. But of course this is a Kdrama where things magically happen. He bumps into Chae Ri who's so happy to see him here, believing he came to see her. She hugs him. Just then, Sanok spots a couple hugging in the middle of the street. When she realizes it's her son, she quickly hides.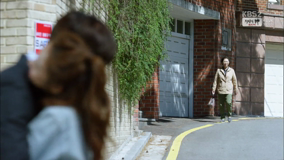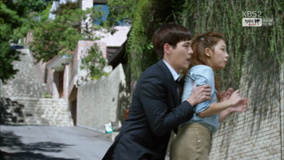 But Hyung Soon isn't here to see her so he pushes her back to her car before quickly dashing off. From Chae Ri, Sanok finds out her son is dating her but… he's been telling lies.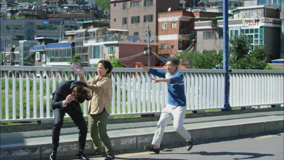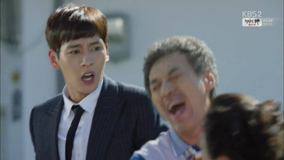 When Sanok bumps into Hyung Soon, she scolds her son for deceiving a girl!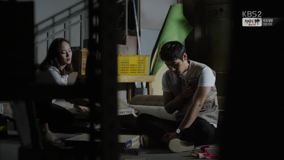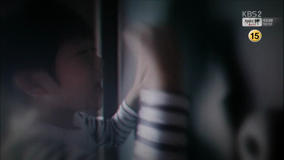 Hoon Jae clutches his chest, sweating & breathing heavily. He stares at the basement stairs & door then he remembers his childhood trauma. An ahjussi locked young Hoon Jae in the basement, although he screamed out for his mom, nobody opened the door.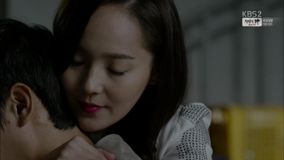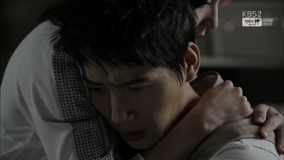 He pretends to be fine when worried Jin Ae asks if he suffers from claustrophobia. But she knows he's not fine. She sweetly tells him to look at her face instead of the door and think of something fun. She brings up their fun times together starting from the first time they bumped into each other in the restroom (where she mistakenly accused him as a pervert :D) to take his mind off his past trauma. She puts her arms around him, assuring nothing bad will happen because she's here. You're not alone, Hoon Jae.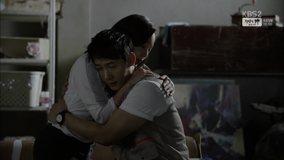 Then she whistles. Traumatic Hoon Jae hugs her tightly as she continues whistling a lullaby. Beautiful OTP moment.