All About My Mom Episode 13 Brief Recap
September 28, 2015
|
Recap
Filial daughter Lee Jin Ae's love towards her mother is beautiful to see. Despite the unfair treatments she received, she will do anything to protect, defend and get her mom out of Cheol Woong's house who's dictated by Grandma who reminds Sanok of her late mother-in-law. Lee Jin Ae's relationship with Hoon Jae is facing a new obstacle after a familiar face returns to claim back what he thought was his. Hyung Soon finally figures out the real reason why his mother wanted him to quit his job, it's a dilemma because it won't be easy to find another job so what will he do?
Episode 13 Brief Recap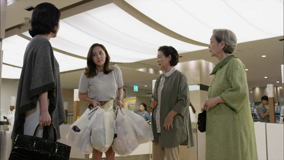 Four women who're in some way entangled in each other's life bump into each other. Lee Jin Ae grabs shopping bags her mom carries and stores them in the service counter. She looks embarrassed seeing her mom's appearance like she did when Sanok came to her office last time, trying to put on makeup on her before they join their bosses at the tea shop. She figures out mom is now working at the elder's house.

It's obvious Hwang Young Sun had a pretty rough relationship with Cheol Woong because of his bad-tempered mom who hasn't changed at all. After reading Cool Mom book, grandma is curious about Young Sun's son. She sarcastically points out Young Sun acted like she couldn't live without her son but got married as soon as they broke up. Grandma totally forgets that she's the one who drove her away (like she did with her other daughter-in-laws!) because they weren't on the same level – she worked at Cheol Woong's dad's company and came from poor family. Even if she's pregnant with Cheol Woong's child, she would never be accepted in his noble family.
Rude grandma tells her chanmo Sanok to just stand, Young Sun kindly let her to sit next to her. Both Jin Ae and Young Sun totally ignore the grandma who's furious these youngsters disrespect their elders.

Grandma brags about her noble wealthy family, only to be told by Sanok (who also grew up in wealthy family) that people who grow up well & become successful with their own merits (like her own daughter and son) are great people.

Hoon Jae decides to close Hoon Design and fulfills his promise working under Cheol Woong. He asks for his understanding because he's going to find jobs for his staffs first who're like his family. It's amazing he takes responsibility. But he also knows that at least he has Jin Ae by his side 🙂 Nowadays he think about her whenever he's facing a hardship.

Afraid she'll get hurt if her dad finds out she gave top secret document (about her own family) to Hyeong Kyu, Ji Yeon retracts her offer, yet pointing out she still loves him and her marriage with jerk Joon Yeong is just for a show. But Hyeong Kyu won't waste his time waiting for her.

Jin Ae was really busy at work she's late for her dinner date with Hoon Jae. He cutely gives her one coupon meal and it's more than okay to eat simple food from this convenience store. It's not expensive meals that matters, it's who they're spending time with.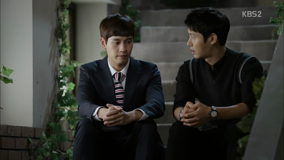 Hyung Soon refuses his mom's request to resign because he worked really hard to get this job. But it's actually not about his job, it's about his employer and his girlfriend! Only to Hoon Jae he reveals that he and his mother work with the same employer, he asks him to keep this a secret from the family. After noticing Hoon Jae's expression, he asks if something happened. Hoon Jae can only sighs, things aren't going well for him either nowadays.

From her mom Jin Ae finds out Hwang Young Sun climbed up the ladder from a lowly accounting staff to a CEO. Full respect! Sanok tells her daughter what she heard from the grandma, advising her to be careful because it can easily blow up. Jin Ae then remembers Young Sun's advice to follow her heart, something she regretted she didn't do in the past.
Grandma wants her son to re-marry soon, pointing out the cafe owner looks nice, well-behaved and pretty. Cheol Woong is shocked, how did his mother know Hong Yoo Ja? He explains they're not in a relationship but his mom knows he's lying considering he said the same thing when he was dating Young Sun.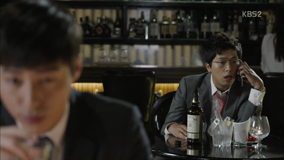 Joon Yeong frantically calls Ji Yeon but he doesn't realize Hyeong Kyu is here. He threatens to expose Joon Yeong's ugly truth if he doesn't withdraw the charges he filed.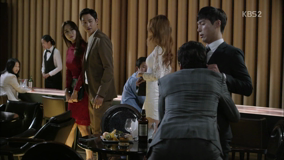 Mocking him that Ji Yeon is his biggest weakness. In a twist of turn, he begs (and hugs) Hyeong Kyu to let Ji Yeon go because he really loves her. He'll withdraw the charges! People around them are wondering why a guy is hugging his friend so tightly. One of them recognizes these two guys. He's Yoon Sang Hyeok (Song Jong Ho) who's glad to see his former schoolmates yet wondering why they look close because they weren't in the past. He cheekily asks about Jin Ae!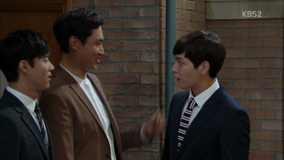 Hyeong Kyu took his friend home who cutely peekaboo to Sanok. The whole family knows him well albeit he hasn't kept in touch after he and his family moved to Australia.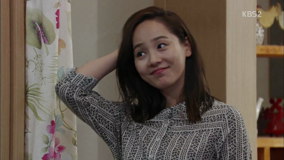 His face lights up when he sees Jin Ae again. They cutely catch up, he praises her beauty which stays the same while she asks if he's still frequently changes his girlfriends.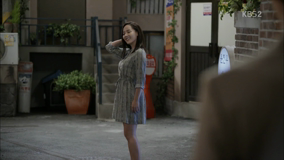 He still falls over heels with his first love, Jin Ae. Sang Hyeok wants to take her pictures as a commemoration of their reunion. She happily poses for him 🙂 Hoon Jae who just arrives is wondering who is this guy taking pictures of his girlfriend, accusing him of taking pictures secretly. Sang Hyeok is looking more suspicious because he hides his phone!

Jin Ae who overheard the commotion, runs back. As they fight for his phone, the phone flies and falls to the ground. It's broken now. Hoon Jae belatedly realizes Jin Ae knows this oppa so no he's not a stalker. Sang Hyeok confidently declares, Jin Ae is my first love before asking who are you to our Jin Ae. Jealous Hoon Jae is still on the friendzone so he stutters… unable to say she's his girlfriend. Jin Ae then explains he's her family's boarder. Anyway, now they're arguing about his broken phone in which Sang Hyeok orders him to pay and threatens to call lawyer Hyeong Kyu.

Hoon Jae blurts out he's already feeling down and he met with a strange person. Sigh. On the way home he shares his hardship to her before asking if that man was her first love. She smiles, he's clearly jealous.

Worried Dong Chool follows Sanok to find out if she's going to sauna as she said or if she's working. She's been overly tired and suffering from knee pain lately. But his plan backfires as she realizes she's been followed so he goes back to their side dish shop.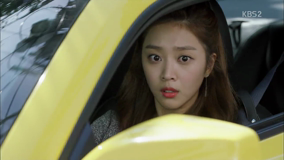 After knowing Chae Ri is the granddaughter of a bad-tempered grandma who keeps bragging about her noble family and will not approve anyone from lower level, Sanok insists Hyung Soon must resign (of course she can't tell him the real reason because he doesn't even know Chae Ri is his employer's daughter). But today is the revelation day.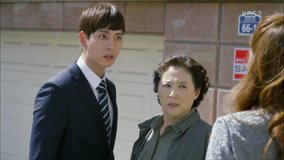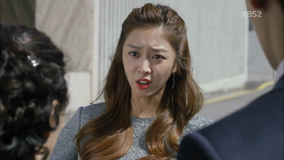 Chae Ri blurts out the truth after she spotted her side-dish ajumma hit her oppa near her home while Hyung Soon defends his mother when she accuses Sanok for taking her resentment towards her family to her oppa. Anyway, Sanok decides to go home, leaving them to sort out their problem. Chae Ri doesn't want to talk with him, too upset he chose his mother's side.

Sanok didn't say she's his mother in front of Chae Ri to protect him because his problem will grow bigger if she finds out his mother is working at her home. Because Sanok has already received her pay in advance, she can't quit so she forces Hyung Soon to resign.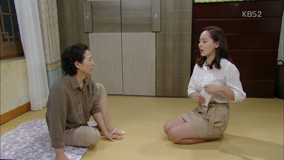 Hyeong Kyu returns the money to his mother, wondering where did she get this money. Jin Ae who overheard their conversation, burst in – asking the same question. She keeps the money, explaining it's for their side-dish store's payment that Jin Ae paid. She then begs Hyung Soon to tell mom's working place, she knows it's the place that Yoo Jae talked to her about.

Jin Ae reminds Hyung Soon that their mother couldn't walk when she was working at someone's place and surely they don't want it to happen again. Hyung Soon decides to resign the next day, for mom's sake. But because of sudden resignation, he still needs to work until Chuseok.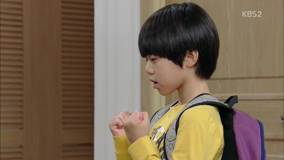 Hye Joo is looking for a new part-time job, she's been having a hard time after she got divorced. Her mom offers a job at her cafe but the truth is, she's all talk. She's financially struggling too. Kim San notices mom isn't going to work today, wondering if she got fired again. Hye Joo assures her son she's not.

Pretending he's Hye Joo's nephew, Kim San comes to Hyeong Kyu's office – cutely reveals he recommended her and gives chocolate bread to the chocobread Ahjussi as he politely requests him to take care his aunt.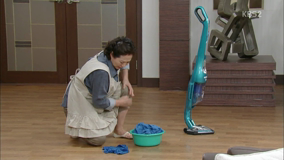 Well now we know why the grandma's daughter-in-laws ran away. Beside her bad-tempered, she forced her DILs to clean up the house before special holiday such as Chuseok. Now she orders Sanok to mop the floor by hand! Crazy. She's exactly like Dong Chool's late mother. If she's not paid in advance, Sanok would've already quit.

Chae Ri is giving her a hard time, not wanting to move her feet when Sanok is cleaning up her room. But now she has a mighty opponent, Lee Jin Ae who came to see her mother.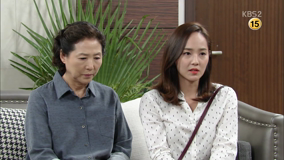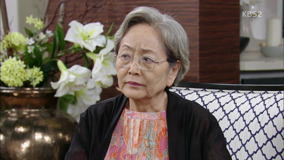 Jin Ae returns the advance pay (minus the days Sanok has worked here) pointing out about her mother's knee pain. She never bend her knees whilst working at her shop, worried Jin Ae wants her mom to stop working here. Sanok doesn't want to argue anymore, she let Jin Ae to free her from this place.

Because the taxi driver got caught up in traffic, Sanok tells Jin Ae to just take a bus but it's a long walk to the bus stop. Jin Ae tells mom to get on her back but of course Sanok refuses. She walks very slowly, leaning to the wall so frustrated yet worried Jin Ae tells mom to hop on to her back again. Stubborn Sanok refuses again.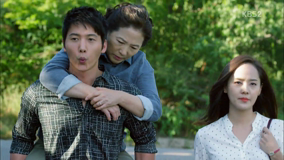 Suddenly, a handsome man appears. After Hyung Soon told him his noona came to pick up their mother, he knew they need him. He offers his back to piggyback Sanok who gets on his back, much to Jin Ae's relief. He whistles on their way back, making Jin Ae tears up. I love this heartwarming scene – Hoon Jae piggybacks his future MIL with his future wife walking beside him.