All About My Mom Episode 15 Brief Recap
Yoon Sang Hyeok is more than ready to win Jin Ae's heart again as he's still crazily in love with his first love. He's not going to back off, as far as he knows, Jin Ae is still single and her mother approves their relationship. Hoon Jae has to act fast if he doesn't want to lose his woman. The joy of KDrama staple: love triangle. It may be cliche but what's gonna happen when these two men keep running into each other? Hilarity ensues! 😀 While the OTP is entangled in love triangle, another love triangle rapidly unfolds this episode as Chae Ri's real personality is revealed after she discovers the truth. Young Sun's motherly love towards her only son continues to tug my heart, it's clear she doesn't want to hurt Hoon Jae and rip his heart apart.
Episode 15 Brief Recap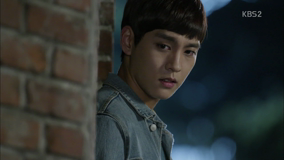 Despite mom's objection & threat to cut off their family ties, Hoon Jae sticks to his promise to work under Cheol Woong at JY Group. While he's starting a new job at this company, Hyung Soon resigns from JY Group. This young man decides to end his relationship with Chae Ri, he put their couple ring & letter on her letterbox. Unfortunately Chae Ri's careless maid accidentally drops the letter in the garden the next morning.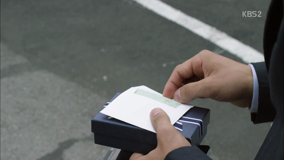 Today is salaryman Hoon Jae's first day at work, he receives a surprise from mom who promises to take back what she said (about cutting off their family ties) if he accepts the brand new car. He reluctantly accepts it (for today) because both him and Jin Ae will be late for work if he continues arguing with mom on the phone.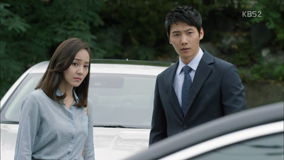 Jin Ae also receives a surprise today, Oppa Sang Hyeok who drove here to give her a ride.

Lucky Jin Ae, she has two men fighting to drive her to work. Who will she choose? Hoon Jae whom she promised first or Sang Hyeok who came all the way here? In the end, she… chooses public transport aka bus ᕕ(¬ ͜ ¬)ᕗ

Hoon Jae reports for work and the surprise keeps coming. His team leader at his new workplace is none other than his competitor, Team Leader Yoon Sang Hyeok who unfairly judges Hoon Jae's skills & experience because he got this job based on his connection. Hoon Jae will have a tough time here, even Cheol Woong wants Sang Hyeok to mistreat the newbie.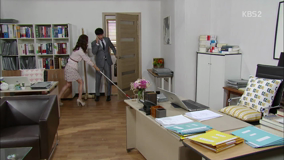 Hard worker Hye Joo mops the floor and decorates Hyeong Kyu's work space, much to his annoyance. He clearly doesn't like anything that ain't his style while she can't prioritize her work. This couple has nothing in common but it's so fun to see Hyeong Kyu's looking annoyed 😀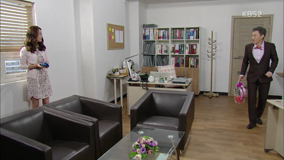 After getting a slap of reality from Yoo Ja and his own son, head of household Dong Chool decides to apply for a job. But he looks weak and can't even lift a dispenser! Job hunting… fails. Because Hyeong Kyu's office is nearby, he visits his new office where he meets Hye Joo who looks familiar. She also feels she saw him somewhere before.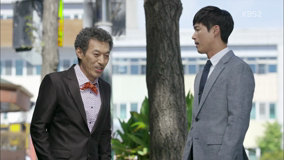 Bitchy Ji Yeon scolds Hye Joo for still working here and rudely greets Dong Chool who remembers her as his son's ex-girlfriend. Seems like Dong Chool doesn't want his son to meet Ji Yeon again after what happened in the past, Hyeong Kyu asks dad for not mentioning her to his mom.
Hyeong Kyu flatly refuses Ji Yeon's annoying plea to take her back. Hye Joo applauds her boss for listening to her advice (that stealing someone else's woman is not a wise idea). It was a great advice.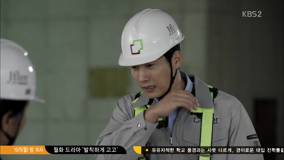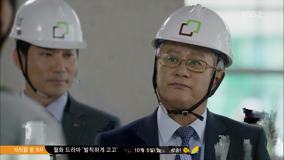 Poor Hoon Jae is worked to death (as a construction worker) although he's here only to assess the job site. As he argues, Cheol Woong steps in, reminding him about his promise to start from the bottom. Seems like he still has long way to go as he reluctantly bend to his boss, he has no choice if he wants to keep this job.

Because Hyung Soon is MIA and hasn't picked up Chae Ri's calls, she comes to his neighborhood. Even if she can't meet him, she can at least see his father at the side-dish shop to convey her message. Tomorrow is her birthday, she wants to spend her special day with her oppa. Dong Chool meets her outside the shop, promising to pass on her message.

Sanok bumps into them! After Dong Chool winks at her, she lies that she knows Jae Min oppa really well, she even changed his diapers! Chae Ri now understands why her oppa was defending her last time, she changes her tone and apologizes for being rude before politely bowing to oppa's parents. Dong Chool wishes her happy birthday (in English!). Adorable. Hyung Soon (who unintentionally turned his parents as con artists) figures out she hasn't seen his letter. He also realizes he barely knows anything about her, he doesn't even know her birthday. Maybe he should end it after her birthday.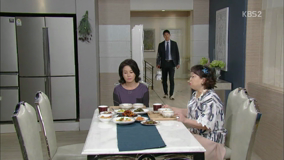 Hoon Jae walks in as his mom and his aunt are talking about Cheol Woong and humiliation Young Sun had to endure from his family. Young Sun explains to his curious son that she doesn't like CEO Jang due to bad things happened in the past (but she omits the part about his birth secret). Despite his mom's hatred, she wants him to be recognized for his skills so please do well.

He returns the car's key, she begs him to keep it to comfort her heart for sending her son to JY Group, company she dislikes. He sweetly gives her a make-up set although mom is already pretty without it. He's so sweet. Young Sun holds her son's hand, apologizing for threatening to cut off their ties. I love this mother&son moment.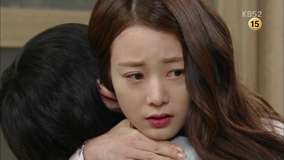 A mysterious man sent Kim San lots of toys, Yoo Ja is wondering if his dad sent it. Hye Joo trembles, shakes her head then she hugs her son tightly.

While Dong Chool is overjoyed hearing his daughter is close with nice man Mr Fix-It, Sanok isn't because he's the only child of a widowed mother, exactly like her husband. She doesn't want Jin Ae to end up like her, prefer her to be with Sang Hyeok. They know him well, he's a great guy and his parents live in Australia so Jin Ae doesn't have to worry about her in-laws. But Dong Chool likes Hoon Jae more, he think his mother isn't as wicked as his late mother.
Hoon Jae is woken up by a call at 4 in the morning so he can't give Jin Ae a ride although he's promised last night. His competitor wins today.

Today is Chae Ri's birthday. Hyung Soon is urgently called as a substitute driver (just for today) and as he drops off Cheol Woong, he invites him to join them for Chae Ri's birthday dinner. Just then, Jae Min arrives (he's also invited). Chae Ri and grandma join them soon afterwards.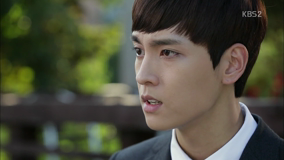 The moment of truth. Chae Ri finds out oppa Jae Min's real name is Lee Hyung Soon! As the elders and real Jae Min enter the restaurant, confused Chae Ri bombards him with questions: who's the real Jae Min & Hyung Soon, why kept deceiving her and what's his job. After he told her about his VIP Valet Parking Attendant job, Chae Ri accuses him for taking revenge by deceiving her. So cruel to receive this present on her birthday (x~x) but it's her birthday and she won't let this con-man to ruin her life. Sadly, Hyung Soon is hurting too after finding out the reason Chae Ri liked him… was because he's a doctor and comes from a wealthy family!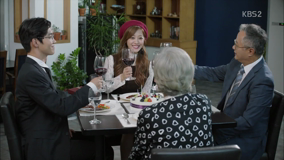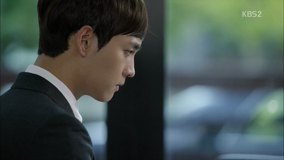 He joins her birthday party to respect his boss who invited him but politely refuses to sit in the same table. Jae Min gives a pretty necklace for her birthday present. Chae Ri, you forgot your own promise to accept your oppa as who he is, even if he comes from a poor family. Seems like her heart is already swayed toward rich man doctor Jae Min.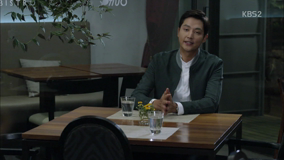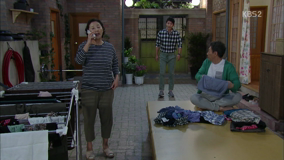 Sanok couldn't kick out their boarder Hoon Jae (Dong Chool opposed) so she set up a blind date between her daughter and Sang Hyeok. Of course she couldn't tell Jin Ae about this dinner date so she lied she wanted to have dinner with her daughter. Jin Ae who rejected Hoon Jae's dinner invitation earlier, is shocked to find oppa Sang Hyeok instead of mom. As Sanok is lying to her daughter (that she can't make it tonight) on the phone, Hoon Jae arrives home. He realizes what's going on and calls Jin Ae to come home immediately, but she refuses because they're still waiting for dessert! Jealous Hoon Jae is pretty annoying though, why is he controlling his friend?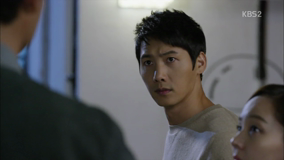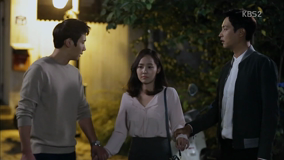 This jealous man scolds her for coming home late. Then he holds her hand to go home but Sang Hyeok holds her other hand, wanting to walk her home as well. This time, Hoon Jae let her to decide… In a dilemma, she let go Sang Hyeok's hand, telling him to go home. Hoon Jae wins this time!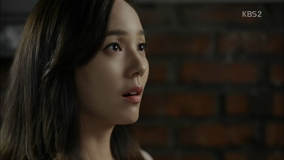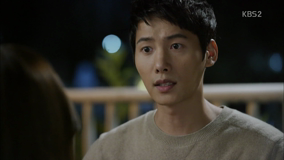 He curiously asks why she stayed and ate dinner with Sang Hyeok even after knowing her mom couldn't come. She already went there so she should've stayed, it'd be disrespectful to send oppa Sang Hyeok away. Jealous Hoon Jae explodes, mad Jin Ae calls everyone oppa! Jin Ae ya, he's angry because he's jealous.
Hoon Jae believes she feels sorry towards him… because… she likes him! Yes, he's confessing his feeling to her! But when did she say she likes him? She hasn't said it out loud but he knows it (based on his feelings!). She replies he's only her friend and her family's lodger. Ouch.

Unable to hold his feeling, he abruptly kisses her! OMG. Wanting to know if it's true she doesn't feel anything.

Based on her shocked reaction, he concludes she's not so he gently kisses her again. Great kisser Lee Sang Woo in action again ♥‿♥