All About My Mom Episode 18 Brief Recap
Maknae couple Lee Hyung Soon and Jang Chae Ri win over my heart this episode. I adore them but it's not until this episode I'm truly in love with their love story. Hyung Soon's sincere confession, Chae Ri's maturity in understanding & accepting the reason he deceived her, their sweet pure innocence love, they're the cutest couple. Their love will guide them to sail through the rough sea and storm which will come along their way soon. Unlike the maknae couple, Hoon Jae continues playing his hidden identity game until his suspicious aunt and mother finally figure out something doesn't match up. What will happen when his mother finally learn the truth? Will she accept Jin Ae as a doting mother-in-law and CEO or will she abruptly change? Only time will tell. Meanwhile, Hyeong Kyu gradually starts to fall for Hye Joo, showing his caring personality.
Episode 18 Brief Recap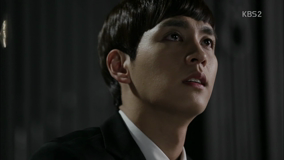 Hyung Soon: "How could I possibly ask for your forgiveness? I'm not Shin Jae Min nor am I a doctor. It initially started as a prank but it stopped being a prank at some point in which I wished it wasn't even a prank. I'd say I must tell her today, tomorrow I have to tell her the truth but I couldn't do it. I felt very sorry for deceiving you but I still couldn't tell you because you'd probably leave me if I told you the truth. Because I'd lose you. If you left, I might not be able to live. But how can I be redeemed for all the wrongdoings I did (to you)? Chae Ri, don't ever forgive this jerk! But I still…. love… you, Chae Ri. I am sorry."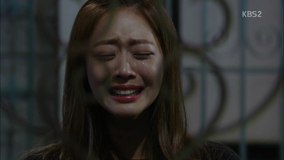 After reading Hyung Soon's confession letter, tearful Chae Ri walks to his house but unfortunately he's not home. She cries out… oppa, where are you?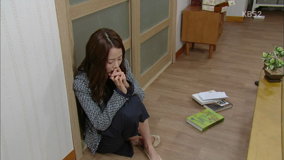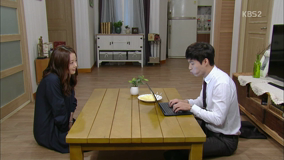 Hye Joo is very apologetic for making her boss coming to her place and worrying her, assuring him she's okay now as she can't bear to tell him about her stalker. He finally leaves after advising her to lock her house's door. His face still shows his concern though. Hye Joo clearly is still shaken as she curls back, hoping & praying the stalker won't return. Fortunately, Hyeong Kyu comes back. Because her family is staying overnight at her uncle's place, he gives her three choices: 1) he'll stay here overnight 2) they'll stay in his car 3) they'll stay overnight in the office. She sums up all three choices are spending time together tonight, which is true. He explains it's his responsibility as her boss to protect her, so sweet of him. After making excuses, it seems like staying at her place is the best choice. He can work in the living room and sleep there while she sleeps in her room. So don't worry, Hye Joo ya. Everything's gonna be okay.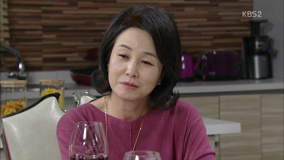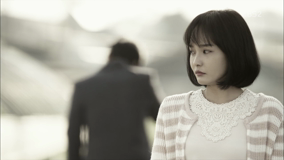 After finishing their work, Jin Ae and Young Sun chill out drinking wine & talking about her boyfriend & her mom. Young Sun recites a poem The Lover "there's no end of the path in this world. Once you miss each other along the way, you can never meet again." Based on her own life experience, it'll be really hard to meet again after people broke up with their love and even if they bump into each other again, thing won't be the same. Flashback to her painful break up, Cheol Woong didn't even look back 🙁

Although Young Sun isn't comfortable letting Jin Ae sleeping in her son's bedroom but she gives in after her cousin points out it's a hassle to clean up the guest room. Jin Ae admires the huge bedroom, which reminds her of her boyfriend's style. She tells Hoon Jae that she's sleeping in her CEO's son's bedroom that strangely feels familiar for her. He's shocked she's sleeping in his room tonight 😀 then advises Jin Ae to return home tomorrow & apologize to her mother, faking his tears that he's suffering alone there. She whistles to cheer him up, so adorable.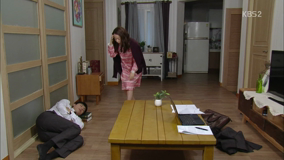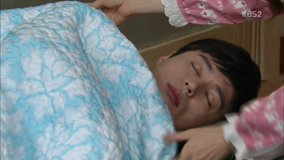 Awww Hyeong Kyu is sleeping in the living room, using his books for his pillow. Kind-hearted Hye Joo gives him a blanket. You should give him a pillow too, Hye Joo ya.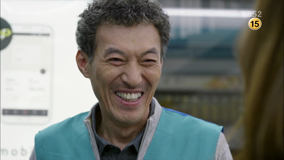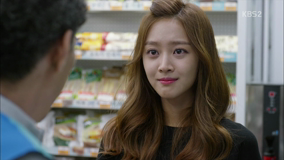 Meanwhile, Chae Ri is still waiting for Hyung Soon at the convenience store because nobody could get in touch with him. Dong Chool points out her son was in so much pain hiding the truth from her, then proudly praising his son is a great person despite his lack of education and job. Chae Ri smiles, it's true he's a good person. Just then, she spots him walking pass so she runs outside to talk to him.

He quickly lends his suit to her as it's cold especially because she isn't feeling well lately. Chae Ri tearfully hugs him, apologizing for not knowing his real feeling and true heart. His sincere confession shows how much he really loves her and it touches Chae Ri's heart. It's awesome to see her pure heart accepting him as who he is.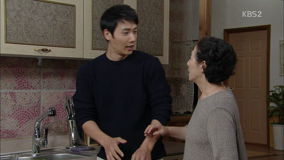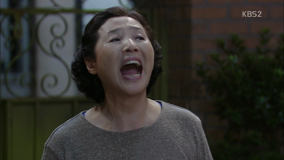 Hoon Jae tries his hardest to win Sanok's heart but she knows his intention and bluntly tells him to stop it 🙁 Dong Chool quietly walks in, hoping his wife is still sleeping but no she's already awake. He explains he went jogging but Hyung Soon tells dad that mom's found out. Because she can see everything! Don't forget, she's a human CCTV.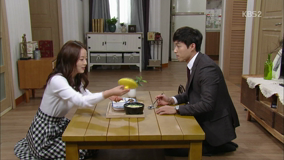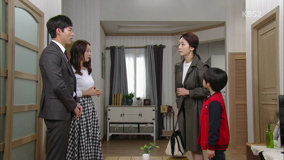 Sweetheart Hye Joo prepares breakfast for busy Hyeong Kyu, begging him to eat it before he leaves for work. Unfortunately, she cannot cook. Well she's not a good cook like her mother so she begs him to have compassion and eat it. 😀 Suddenly, they hear someone's trying to open the door so his expression changes and he holds his spoon tightly. Hye Joo changed the passcode last night so this person can't unlock it. It's her mother who returns home early with Kim San. Yoo Ja stares at the mysterious man who looks familiar, then she remembers he's Sanok's son! If Yoo Ja doesn't remind her excited grandson, Kim San would've tell him Hye Joo is his mother. I have no idea why they pretend Hye Joo is his aunt, maybe to protect both her and Kim San?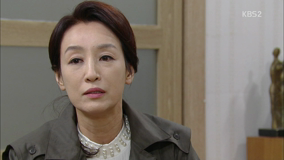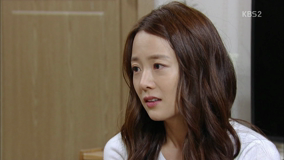 Yoo Ja figures out Kim San's father broke in, blaming Hye Joo for using San's birthday as the house's passcode. She suggests to move but they don't have money so what should they do now? Hye Joo believes this man is only after her, so at least her mother will be safe. Meanwhile, Yoo Jae is flabbergasted that her daughter is working with Sanok's son but she's overjoyed he came all the way to protect Hye Joo.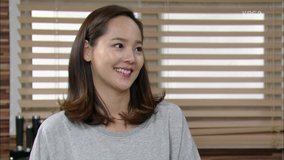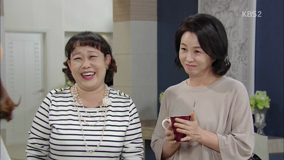 In another house, Nam Sook is talking about mysterious Young Sun's son's girlfriend, she'd love to meet her soon as Hoon Jae always describes her as the most beautiful lady. She teases Jin Ae to be Young Sun's daughter-in-law in which Young Sun replies she would if she doesn't have a boyfriend.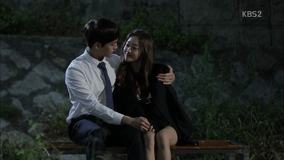 The maknae couple is endearingly adorable. Chae Ri's feet were frozen last night because she came to his house barefooted so he sweetly warmed her feet. Cute. Despite deceiving her, Chae Ri accepts Hyung Soon as who he is, she doesn't want them to break up. He agrees, vowing let's never break up.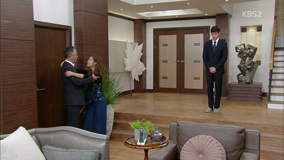 Then they kissed. Chae Ri is grinning, beaming with happiness. She almost calls Hyung Soon oppa when he arrives to pick Cheol Woong this morning. Cutely hugs him as she's so happy to see him. Cute cute cute. As soon as they hear Cheol Woong's voice, Chae Ri runs to hug him 😀 Apologizing for making him worried. Cheol Woong mistakenly think she made it up with Jae Min, advising there's not many good men like him. Ah annoying.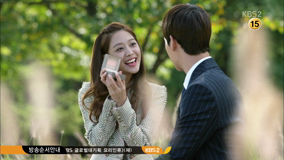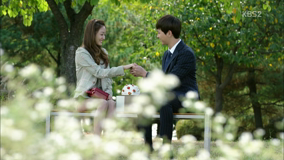 Chae Ri brought their couple ring, this time the initials are right H & C. They pledge their promise to love each other and for not breaking up again. He puts the ring on her finger then kisses her hand. Chae Ri does the same thing. So cute. He kisses her cheek before he goes back to work.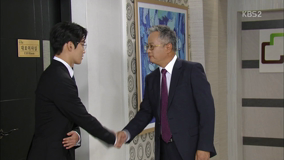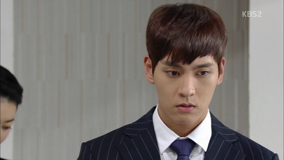 Jerk Jae Min tells Cheol Woong that Chae Ri loves another man. He's urgently called back to the hospital before he can tell him the truth. Suspicious Cheol Woong is wondering if his driver knows the guy Chae Ri is dating. Hm…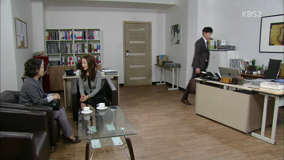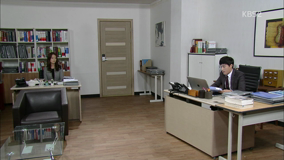 Kind-hearted Hye Joo promises the ajumma that Hyeong Kyu will help her to win her divorce case because she believes a capable attorney will find a simple solution from a complication situation. Hyeong Kyu is more than capable! I love her boldness & frankness.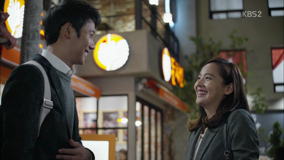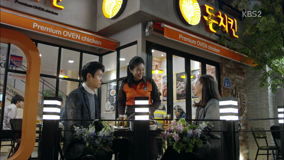 Runaway girl follows Hoon Jae's advice to come home. He cutely invites her for a date (chicken & beer date) before going home, in which he realizes she wears a new set of clothes. It's a brand new clothes from the company's new collection that Young Sun bought for her. She lavishly praises her CEO, then Hoon Jae's mother whom she believe possesses similar kindness as Hoon Jae.
Meanwhile, Young Sun is wondering why Hoon Jae asked his aunt to put his pictures in the utility room.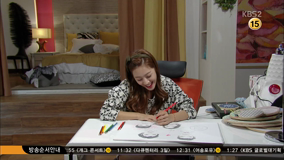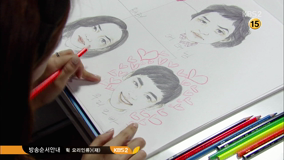 Cutie Chae Ri is drawing Hyung Soon's family, she cutely smiles imagining his awesome father then jolting in horror thinking about his mother and sister. But she only deals with her oppa so who cares about his family, right? Wrong! She cutely kisses his picture as she really misses him.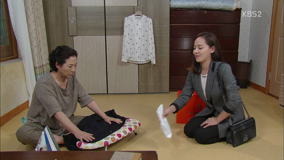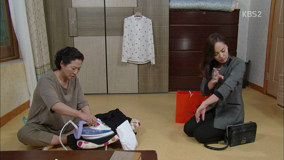 Following Hoon Jae's advice, Jin Ae apologizes to her mother for abruptly left out of anger. She also gives her Bungeoppang he prepared for Sanok. Jin Ae explains she didn't mean to stay overnight, she only wanted to get a fresh air but had to because of her CEO. Sanok is ironing the clothes she bought Jin Ae which she never wears, she's now jealous her daughter wears the clothes her CEO bought her as it fits her style. Despite her promise for not fighting with her mom today, she can't do it. Hoon Jae looks in amazement, they're truly a unique mother & daughter with a very complicated relationship. Sanok is hurt that her daughter doesn't appreciate her, wondering why they're so different. Jin Ae regrets it too, she knows mom is disappointed.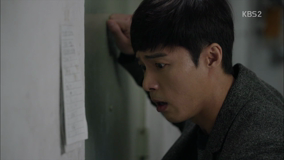 After what happened last night, Hyeong Kyu is worried for Hye Joo especially because she doesn't pick up her phone. He rushes to her place, worried something's wrong. But after banging her door, she is thankfully okay. She didn't pick up her phone because she was in the bathroom. He pretends he's here because she didn't email him the important file so she promises to send it now. Hyeong Kyu orders her to pick up her phone within 10 seconds! She cutely tells him to have some fruits before leaving but no, this prideful man abruptly leaves.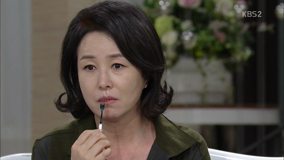 Suspicious Nam Sook advises Young Sun to check on him, accusing him of living together with his girlfriend. But Young Sun disregards her suspicion although she's suspicious herself.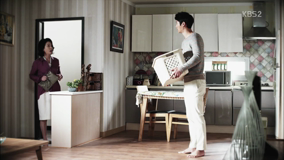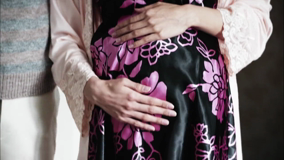 She's having a nightmare that Hoon Jae is currently living with his pregnant girlfriend! LOL.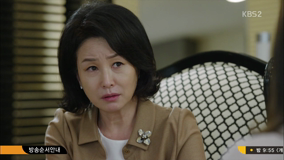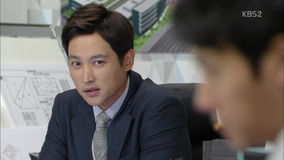 So she shares her dilemma with Jin Ae who advises her to visit her son especially after her nightmares as it feels like it's her motherly instinct. Sweet Dong Chool gives Hoon Jae a chance to win Sanok's heart by offering him to fix the floor on their side-dish shop, much to Sang Hyeok's glaring eyes because he picks up the phone in the middle of his work. He refuses to tell his curious boss about his personal life as he hurriedly leaves to see President Park. Sang Hyeok reminds him that he can't attend to his personal business during work hour but his team-mate covers him up that he's going to the site. So off he go.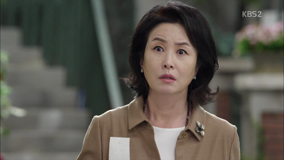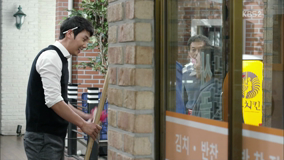 As he's fixing the side-dish shop, his mom spots him! Shocked to see him talking with Sanok, Jin Ae's mother. Sanok once again tells him that he'll never win the brownie points he desperately needs.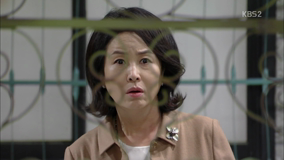 Young Sun follows Hoon Jae home, surprised to see her son living there. After calming herself down, she's even more shocked to see her son almost kisses Jin Ae! OMG. Busted!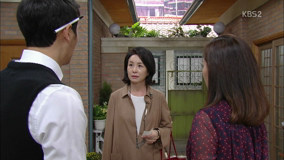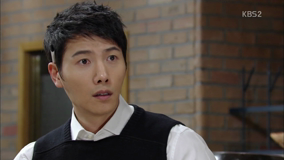 Comment
It's about time Young Sun finds out about her son's living arrangement and his hidden identity game. Whilst I understand his idea of independence but lying about his family to his lover and her family will not end well. He should know it better, especially after he listened and gave advice to Hyung Soon who's trapped in similar situation. Well, at least he's busted now. No more hide and seek game, Hoon Jae ya. It's time to face the reality.
While the OTP will go through another storm in their relationship very shortly after confirming their feeling to each other; the maknae couple is sailing smoothly in their love ship. I super adore Lee Hyung Soon and Jang Chae Ri, they took their time to go through the dejection phase before realizing their true feelings to each other and figuring out love is all they need. They're the epitome of young couple crazily in love disregarding their background, painful past, social status and the level crap. The parents in this drama went through similar phase but they chose different paths (Dong Chool & Sanok persevered and fought for their love while Cheol Woong & Young Sun gave in to his mother's opposition). Based on the rough seas they sailed through and Dong Chool's awesome parenting, hopefully they'll survive the opposition battle & fight for their love. Please don't follow your father's footstep, Chae Ri ya. I trust you!
Hye Joo's stalker is creepy yet coward. Why can't he show his face in front of Hye Joo? And what does he want back from her? Thankfully she has Hyeong Kyu by her side now. He looks tough from the outside, but he's a real softie inside. Perhaps Hye Joo's sweetness woke the real softie that's buried down in his heart. Her sweet innocence, boldness and clumsiness combo is endearing. And gosh, she tries so hard to do well despite she may not have the talents (ie. cooking), making people want to appreciate & protect her. Just by looking at Kim San, we can tell she's a great mother who raises her son well with love. It's so cute she was able to prepare fruits although she was in fear, proving that she's a mother who always suppresses her fear for the sake of her son. Her motherly instinct and compassion makes her the best partner to slap Hyeong Kyu with reality, waking him from his greedy dream that there're many people in this world who're wronged and in need of a brave competent lawyer.