All About My Mom Episode 31 Brief Recap
November 30, 2015
|
Recap
Hiding the truth is painful but knowing the truth is equally hurting. The timing is awfully bad for Hoon Jae – his whole world is crushing down. His relationship with Jin Ae has gone from bad to worse so does his relationship with his mother. And he has to accept the fact that his boss whom he lost his own business to, is his father who didn't know about his son's existence. Young Sun continues to be the uncool selfish mother while Sanok's guilty feeling creeps in and her conscience gradually molds her into a cool mom who respects her kids' partners.
Episode 31 Brief Recap

Hwang Young Sun finally admits Jang Cheol Woong is Hoon Jae's father and the person whom Hoon Jae calls "father" is Cheol Woong's close friend. For her, he's her ex-lover who abandoned her because of his mother but for Hoon Jae, he is his father! Young Sun cruelly blames her son (for resenting her), begging him to understand her feeling. Well he does but she should try to understand Hoon Jae's feeling too!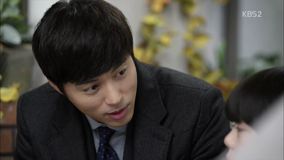 Because Hyeong Kyu couldn't reach Hye Joo, he turns to her mother who reveals Hye Joo went to her friend's place in the countryside because she didn't want to keep causing trouble for him. Because she doesn't know exactly where Hye Joo is, Hyeong Kyu asks Kim San but he doesn't know either. In tears he's scared his Mom will run away again even if Hyeong Kyu finds her – because it happened before.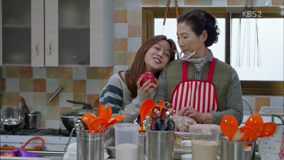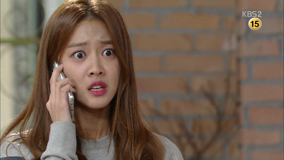 Sweet Sanok kept nicer apples for Chae Ri while Dong Chool gets warm socks for the bored young lady who came to the side-dishes shop only wearing a sandal. Sanok scolds immature Chae Ri (who's already called Hyung Soon 25 times today) that they need money to raise a family! When he calls back, she nags that he hasn't called once in the past 5 hours and getting jealous hearing his work mates calling him oppa.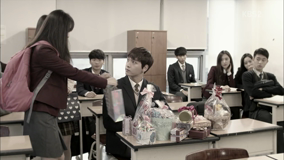 Her jealousy grows wilder when Hyeong Kyu reveals Hyung Soon was really popular with girls back then (so he couldn't study property) but his loyalty isn't questionable so Chae Ri shouldn't worry too much. Her imagination goes wild – imagining nice guy Hyung Soon being surrounded by women. Seriously Chae Ri is so annoying lately >.<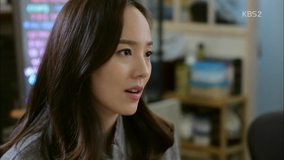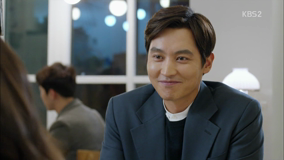 Jin Ae is in a dilemma now. Sang Hyeok points out she needs to clear the misunderstanding so Hoon Jae won't continue mistakenly think she chose her study instead of him. He wants to call Hoon Jae but Jin Ae stops him, worried Hoon Jae's relationship with his mother will get worse after Young Sun desperately begged her to let him go. Sang Hyeok realizes now that Jin Ae really loves Hoon Jae that she's sacrificing her own happiness so he won't get hurt.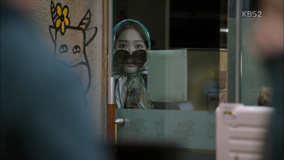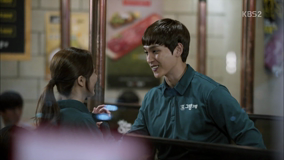 Insecure Chae Ri dresses up as an ahjumma to stalk Hyung Soon who treats everyone with respect. The boss calls out to Hyung Soon to bring more lettuce to her and kindly grill the meat for her. But he soon notices it's Chae Ri! Innocently he think she's here because she wants to eat meat, promises to take her next time.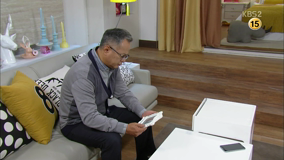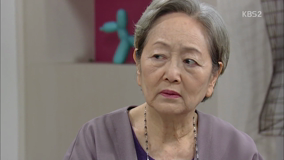 While Chae Ri is busy scolding Hyung Soon's work mates who ask for his help, her family who really misses her is in deep pain. Despite longing to see her, Cheol Woong doesn't want to see Chae Ri and advises his mother to do the same. But Mom knows he wouldn't stare at Chae Ri's picture if he doesn't want to see his own blood & flesh.
Young Sun hands over the burden on her shoulder to Cheol Woong because she doesn't know how to face Hoon Jae now. She begs Cheol Woong to handle their son's feeling with care and don't act like he's his father.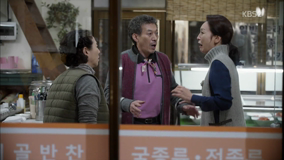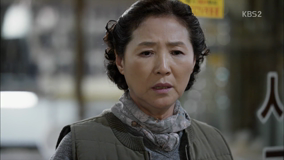 Meanwhile Yoo Ja is panicked because Kim San disappeared. Did he see his father or mother? Yoo Ja doesn't know her ex-SIL's number. Sanok is wondering if this is her fault.
Hyeong Kyu did a background check on Gwang Ryeol and finds out he's deprived of his parents' love. He overcame his unstable family situation and became successful but hasn't overcame his trauma. Knowing that he's scared of losing Kim San, Hyeong Kyu points out Kim San still has a feeling for his dad so please don't let his own son to experience the same painful thing he experienced. Please let Hye Joo go and let Kim San to receive his mother's love.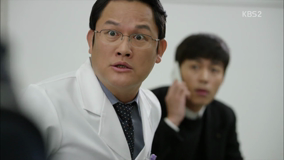 Suddenly Kim San arrives at his dad's office – he brought bags to live with his dad so he'll let mom go. This sweet boy is feeling sorry for his pitiful dad T_T Everyone in this family is so pitiful, it's heartbreaking to see Yoo Ja can't stop the tears from falling. Even Sanok is sympathized with her and invites her to have dinner at her place.
Hye Joo wants to call Kim San but her mind takes her back to the lovely memories she had with Hyeong Kyu. She tries to move on, unfortunately she can't.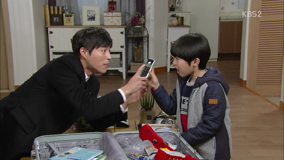 Hyeong Kyu takes Kim San back home where he shows his baby picture with mom. Just after Hyeong Kyu asking if Mom's called, Hye Joo calls! She assures him she's doing well, begging him to stay strong and she'll be back soon. Hyeong Kyu grabs the phone as Hye Joo tells Kim San he should never tell Hyeong Kyu where she is now.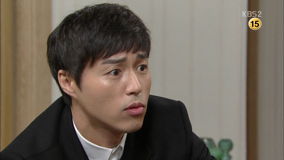 Hyeong Kyu asks where she is then scolds his employee for taking leave without any notice. Panicked Hye Joo hangs up, making Kim San upset because he can't talk to mom anymore.

Another guy is upset – Hyung Soon scolds Chae Ri for making a noise at his workplace. Of course he'd be called oppa, he's not their eonni! Chae Ri nags they can call him eonni. Surprisingly, Hyung Soon think it's cute! They bump into Hoon Jae who stares at his 'lil sister. Hyung Soon points out Chae Ri also calls Hoon Jae oppa, in her defense she argues he's like a real brother.
Sanok feels guilty that Hye Joo and Kim San disappeared but a minute later she's unhappy with Hye Joo's and San's close relationship with her golden child. She plans to arrange a blind date so he'll meet his future wife soon.

Chae Ri begs to let them get married soon because she's very anxious! Dong Chool welcomes his son to a life full of never-ending suspicion which mirrors Sanok's fiery flames that he's experienced for the past 30 years. 😀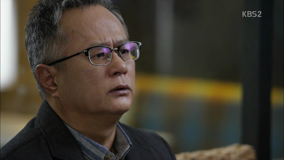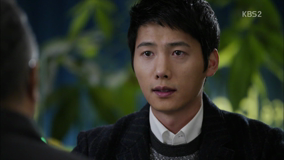 In front of Hoon Jae, Cheol Woong can only apologize because he never knew about his existence. If he knew, he wouldn't let Young Sun to endure her hardship alone. Despite knowing the truth, Hoon Jae still treats Cheol Woong as President Jang – his boss. For him, his father passed away 32 years ago and he doesn't have a father. He will resign as soon as his current project is done because he has no reason to forgive Cheol Woong.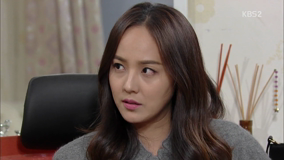 Jin Ae doesn't have any energy left to scold Chae Ri who wore her clothes, she even promises to buy new clothes for this cute puppy. Chae Ri notices both Jin Ae eonni and Hoon Jae oppa look sad, criticizing Young Sun and advising eonni to get pregnant like her. Well Jin Ae's gut feeling tells her Chae Ri may not be pregnant based on her character.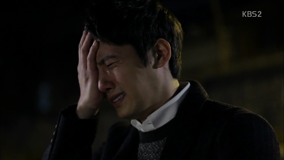 Hoon Jae is crying alone, thinking about his traumatic past and nightmares after he's kidnapped in the basement. :'(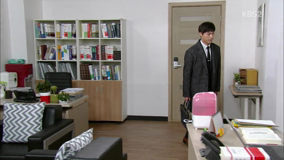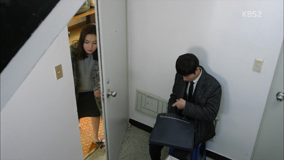 Hyeong Kyu arrives at work expecting to see Hye Joo welcoming him but she's not here. Only her notes reminding him to take care the smallest things in the office that has nothing to do with work at all. 🙂 Then he notices the plants are withered although he already watered them. Perhaps because they're missing Hye Joo too. Kim San gave him an address which Mom sent a Christmas card too so he goes there. Although he's told that Hye Joo left, he waits there so her annoyed friend reveals she's looking for work at a lawyer's office nearby.

Unlike Hyeong Kyu's office, Hye Joo needs to take a written exam as part of job application but she forgot many things Hyeong Kyu told her to study! The interviewer crosses out all her answer so she confesses she doesn't have many experience but if you select me…

The interviewer helps her: if you're selected, you will nurture the plants and provide chocolate bread. Hye Joo finally realizes it's Hyeong Kyu who made up the questions too (the same questions he gave her lol). The lawyer she's applying is Hyeong Kyu's classmate so he can easily sneak in 🙂 He orders his staff to go back to work, advising the problem with her ex-husband has been resolved well. He'll tell her on the way to Seoul. Hye Joo still refuses to leave but Hyeong Kyu grabs her arm, promising to give her more t-r-a-i-n-i-n-g because he can't live without her! The office is empty and not fun without her. Awww he just confesses his feeling 🙂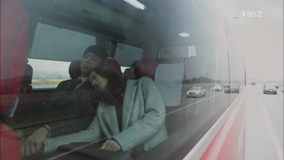 When sleepy Hye Joo put her head on his shoulder, he feels his heart beating so fast. He pretends to sleep and holds her hand. Awww… It's so adorable both of them smiling while pretending to be sleeping.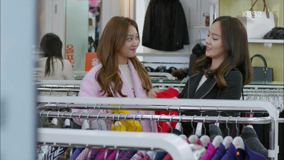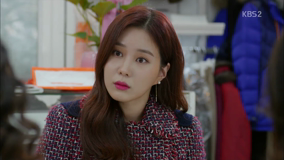 Jin Ae bumps into Young Sun and Yoo Hee when she's shopping new clothes for Chae Ri at Nam Sook's new store. She reveals she'll go to New York and Hoon Jae has already been told. Young Sun murmurs the timing isn't great but she's thanking Jin Ae for choosing this difficult decision. From Yoo Hee, Young Sun finds out Chae Ri is Cheol Woong's daughter!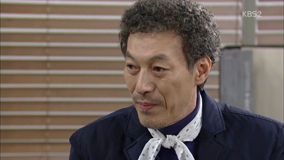 Despite knowing Cheol Woong won't give his permission, Dong Chool still politely asks about his opinion to give their kids a simple wedding ceremony. But Cheol Woong insists cutting the ties with his daughter who chose Chauffeur Lee. Dong Chool reminds him that his son's name is Lee Hyung Soon not Chauffeur Lee and he's the man his daughter loves. Good on you, Daddy Dong Chool!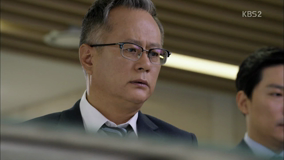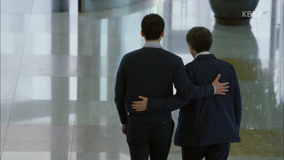 He bumps into Hoon Jae who warmly takes him home. Cheol Woong who sees this heartwarming scene is envious. When will his son treat him warmly like this?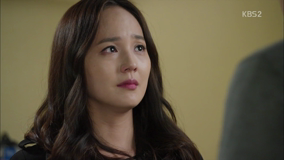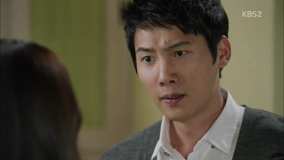 Hoon Jae is too hurt that he doesn't want to share his hardship to Jin Ae. He abruptly plans to follow Jin Ae to America because his work here means nothing without her by his side. Jin Ae then asks, what about your mom? He's silent. Jin Ae knows she's making the right decision but she's wavered when Hoon Jae accuses her choosing her career over him 🙁 She's not Hoon Jae ya, she's doing this for your mother's sake!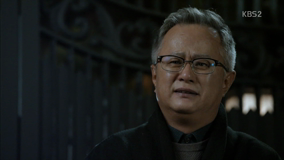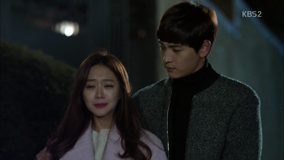 Stubborn Cheol Woong refuses to see Chae Ri who came to see him but after she leaves, he stares at her back – tearfully calling out his unfilial daughter 🙁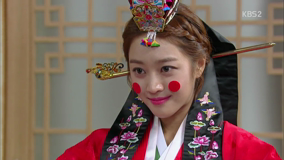 Today is Hyung Soon and Chae Ri's wedding day. Sanok promises the wedding party will follow after they receive Cheol Woong's permission.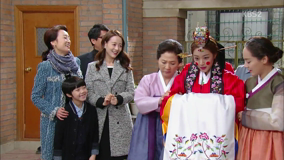 Sanok can't stop crying while Dong Chool can't stop smiling seeing his maknae boy's getting married with the woman he loves. Both pledge to love each other forever.