All About My Mom Episode 32 Brief Recap
Life is indeed unpredictable. Dong Chool and Sanok welcome a new family member but they have to let go another one who's moving back home. It's great Hoon Jae could witness his half-sister's wedding but his heart is aching thinking about his own relationship. Fortunately Sang Hyeok (who continues to be awesome) decides to be Jin Ae's daddy long legs helping our OTP clearing their misunderstanding about each other's sacrifice and hardship.
Episode 32 Brief Recap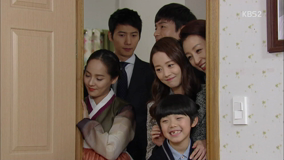 Daddy Dong Chool sincerely congratulates the happy couple, grateful his pretty daughter-in-law joins this family despite she has a lacking father-in-law T_T Chae Ri also expresses her gratitude for accepting her as their DIL. It's so adorable to see heads popping in at the door – witnessing this happy yet sad moment because Chae Ri hasn't received her family's blessing. But Sanok is hoping they'll accept this marriage after the baby is born. Without realizing, Chae Ri's half-brother Hoon Jae is here 🙂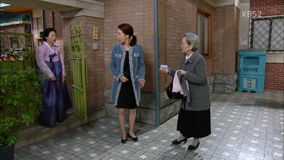 Yoo Ja receives a text that someone is here. It's grandma who wants to give money to the new couple but she doesn't want to meet them nor go inside. Sanok kindly invites her in but she nags, complains, criticizes everything about the house! Grandma knows she loses this round, politely asks Sanok to take a good care of her granddaughter and it's okay for tell to do chores as well. Sanok promises to treat her as her youngest daughter.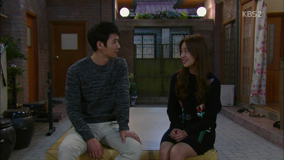 Knowing his half-sister is having a hard time, Hoon Jae accompanies Chae Ri who's crying in the yard. She's very sorry to her father as she abandoned him although he dedicates all his life only for Chae Ri (after his wife passed away). She points out it'd be nice to have a sibling at hard times like this. When Hoon Jae smiles, she notices both her father and him have similar pretty smiles 🙂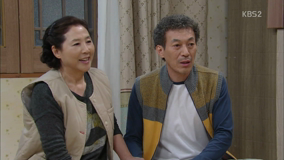 The wedding is over – now it's Jin Ae's time to let her parents know about her overseas training and marriage postponement. Sanok accuses Young Sun for kicking Jin Ae out to America because she disapproves their relationship but Jin Ae defends her CEO. Hoon Jae decides to move back home. While Sanok is overjoyed, Dong Chool is wondering why Hoon Jae isn't stopping Jin Ae from leaving.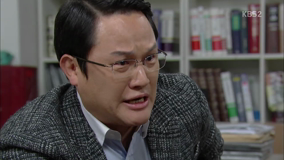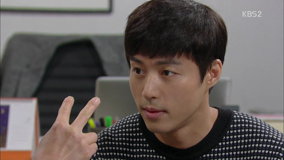 They're not the only ones leaving. Gwang Ryeong will move too but he's not giving up on Hye Joo and Kim San. Holding back his tears & pride, he terrorizes Hyeong Kyu to treat his family nicely because he'll always be watching him!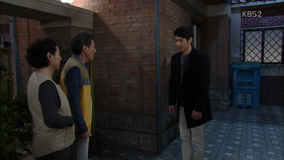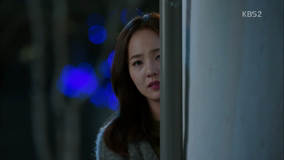 Sanok wants Hoon Jae knows that she likes him, she treated him harshly only for her own daughter's sake. It's the feeling that only mothers know. Jin Ae is hiding in her room as Hoon Jae is leaving. She pretends to be strong but Mom knows how heartbroken she is and advises her to chase him! She pretends she is okay but suddenly she runs as fast as she can to chase him but hides when Hoon Jae turns back (to see if Jin Ae is there)  🙁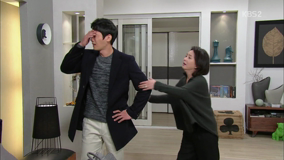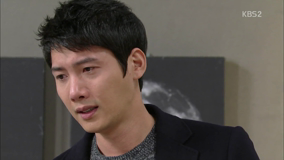 Back at home, Hoon Jae confronts his mother. Are you happy now, mom? Jin Ae is going away and he's back at home. It happened according to what she wanted. He is aware Mom is worried about his claustrophobic but he always feels locked up that he cannot even move around! Young Sun is upset her son never understand her feeling, she's the one who gave birth and raised him up alone. But Mom, please please try to understand Hoon Jae's feeling too (I know I said this so many times before but I'm annoyed with Young Sun's selfishness).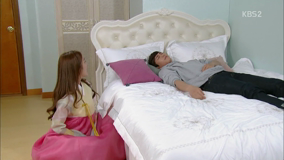 Chae Ri wants them to do the first night tradition but Hyung Soon reminds her tonight isn't their first night. She argues it's their first night as a married couple so he begins to untie the knot but it's really really hard. Romanticist Dong Chool is jealous, begging his wife to have their "first night" as well 😀 Hyung Soon is too tired so he gives up and goes to sleep. Desperate Chae Ri won't let anything to ruin her plan so she unties it herself and …. their first night begins 🙂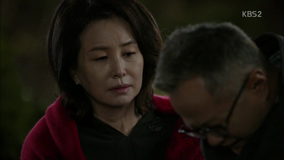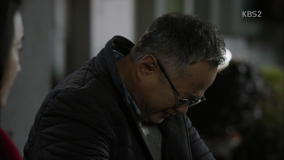 Immature Chae Ri may not realize her dad is in so much pain. His only daughter left him and his other child doesn't want to know about his existence. He goes to Young Sun's place sharing his hardship and she stretches out her hand to comfort him.

Sanok yells at sleepy Chae Ri to help her making a breakfast, but she then realizes she's repeating what her MIL did to her. When she turns back, Chae Ri is there (ready to follow her MIL's order wearing her hanbok because she saw it on drama). After changing her clothes, Sanok put her in charge of breakfast alone. She begs Hyeong Kyu oppa to look out for Sanok and to make a meow sound when she's back.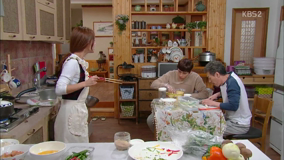 Well Chae Ri isn't preparing breakfast alone – her squads are helping her. Daddy Dong Chool pulls a prank which makes Chae Ri's heart almost stop. Well Hyeong Kyu urgently has to do number 2 so Chae Ri doesn't realize her MIL is standing behind her.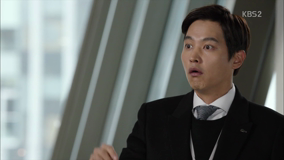 Hoon Jae has already handed in his resignation – still refusing to accept his CEO as his father. Curious Sang Hyeok begs Secretary Oh to spill the beans so he finds out Hoon Jae is CEO Jang's son. He hilariously creates a family chart and gets himself confused.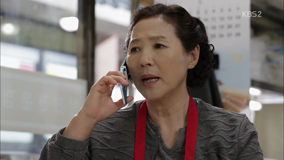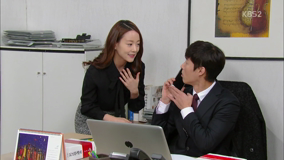 Hyeong Kyu doesn't want to go to the blind date set up by mom but Hye Joo cutely whispers he can go and doesn't have to escort her home. After remembers his mom's annoying demand to fire Hye Joo because she doesn't want him to be with her, he reluctantly agrees to go. Hye Joo reveals her ex-husband's promise for not bothering her, and she will try to believe – giving him the benefit of doubt.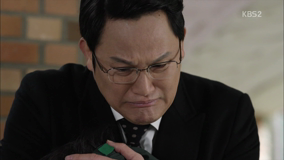 Gwang Ryeol comes to his son's school, vowing to change to be a better dad for him. He quickly hides before Kim San sees him, but of course smart boy saw his daddy. Gwang Ryeol repeats the promise, asking his son to take a good care of his mother because he's going far away. Kim San tearfully hugs daddy Gwang Ryeol as Gwang Ryeol apologizes T_T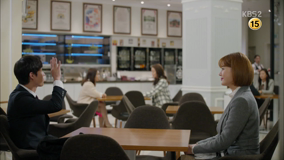 Hye Joo bumps into Hyeong Kyu's blind date (cameo by Park Eun Ji) in the restroom, she hilariously throws her tissues to her after this lady accidentally threw kicked out toilet paper. Hye Joo is here with her friend and spots her boss' blind date which isn't going well because both of them are mocking each other (inside their heads of course). When Hyeong Kyu spots Hye Joo, he tries explaining that it's just a blind date but Hye Joo walks away.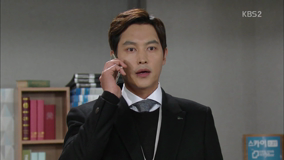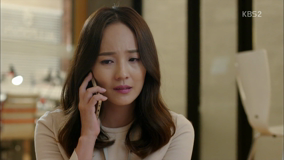 Sang Hyeok decides to be Jin Ae's daddy-long-legs and reveals everything about Hoon Jae – his biological dad and resignation. Overwhelmed with guilt, Jin Ae realizes why he was so angry she's leaving 🙁 She's trying to call Hoon Jae is busy working at the site.

Hiding her true feeling, Hye Joo lies that she doesn't feel anything towards Hyeong Kyu – says the girl who looked jealous seeing Hyeong Kyu with another woman earlier! Hye Joo is worried Sanok will get upset.
Hyeong Kyu is determined he will not see the dentist again because she's not his style. Sanok pesters him so Dong Chool advises his wife to stop forcing a relationship between her golden child and a woman.
Both Dong Chool and Sanok are missing Hoon Jae 🙁 Even if Sanok got what she wanted but she's now regretting it (unlike the other cool mom). She even regrets treating Hoon Jae harshly.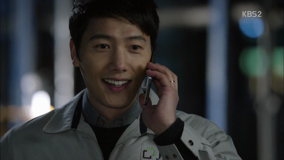 Sang Hyeok is a mature man, he tells Hoon Jae what Jin Ae told him although he's really jealous that his first love is truly in love with Hoon Jae. He's wondering why Jin Ae didn't tell him, making Sang Hyeok asking the same question: why didn't you tell Jin Ae?
Hoon Jae realizes Jin Ae has been trying to reach him. His face lights up when she calls again. She apologizes and she is NOT leaving she's waiting outside his office so Hoon Jae promises to meet her as soon as his work is done. Sang Hyeok isn't letting him off the hook that easily but he is sweetly supporting this couple 🙂
Hoon Jae hurriedly wants to finish today's task ASAP but…. he sees pipes falling down and two workers who may not realize they're in danger. He pushes them & gets hit instead! 🙁 He collapses on the ground. His work mates including Sang Hyeok are rushing to save him.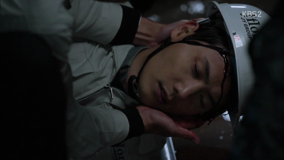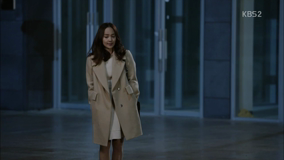 Jin Ae is still waiting outside his office's building as an ambulance passes by. Hoon Jae ya, please wake up 🙁 Inside his mind, he wants to leave work as soon as he can because Jin Ae is waiting for him.
Brief Comment
Please don't let Hoon Jae to suffer from amnesia because it's the last thing he (and anyone) needs. Just as his relationship is finally back on the right track, this incident happens 🙁 I can only forgive the writer's lazy amnesia plot if it'll change Young Sun into a cool mom who understands her son's feeling and happiness.