All About My Mom Episode 34 Brief Recap
Lee Jin Ae and Hoon Jae thought their long battle to obtain the elders' approval is almost over but now they're torn with another storm. Should they take a step back and listen to Sanok's advice? She may not be the best mother for Lee Jin Ae but she will never let her daughter gets mistreated by her mother-in-law because she experienced this hardship herself. It's great to see her growing into a loving mother-in-law for Chae Ri – treating her like her own youngest daughter.
Episode 34 Brief Recap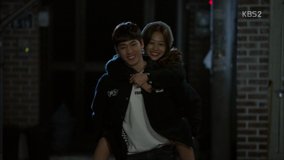 Chae Ri's gut feeling tells her that Aeng Doo purposely hit her husband hence she pretends to be dizzy after Hyung Soon sympathetically stares at weak Aeng Doo. Hyung Soon recalls reading anemia as one of pregnancy symptom so he fixes his eyes on his wife and piggyback her home. He continues talking about their baby, making Chae Ri calling her oppa in a guilty tone. Even Hyung Soon notices it but it doesn't cross his mind that his wife may not be pregnant. After the maknae couple leave, Aeng Doo opens Hyung Soon's wallet & kiss the $1000 cheque. She spots his ID and tres to remember his name… Lee Hyung Soon.

Hoon Jae looks uncomfortable, he's looking for either Jin Ae or his mom but his dad is here instead. When Hoon Jae said he's thirsty, Cheol Woong sweetly helps his son. Cheol Woong brings about about Hoon Jae's dad dream he heard from Jin Ae but Hoon Jae reveals he no longer has that kind of dream.

Jin Ae's firmly decided she's not leaving to America. After this incident, she realizes how grateful she is that Hoon Jae is alive she will follow Young Sun's decision. Even if Young Sun sends her far away or forbids her to see Hoon Jae, she will be extra patient. She will not force the marriage anymore because seeing Hoon Jae is breathing is more than enough for her. Young Sun finally figures out Jin Ae really loves her son.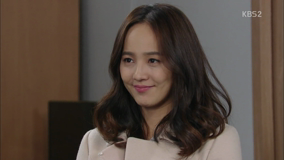 Hoon Jae's face lights up when Jin Ae appears in his room, making his mom and dad realize they're truly in love with each other. Cheol Woong admires his son's sweet smile, a smile he's longing to see.

Only to his oldest hyung, Hyung Soon reveals he was robbed and the money Chae Ri's grandma gave him is gone now. Hyeong Kyu scolds his reckless youngest brother who's supposed to be more mature as he's a husband and will be a dad soon. Chae Ri (who overheard their argument) is annoyed Hyeong Kyu doesn't want to help his pitiful brother so she throws Hyeong Kyu's dress shoes up to the roof! Of course she's also blaming herself for wanting to eat the expensive meal, if not, Hyung Soon would never accepted her grandmother's money.

Young Sun let Jin Ae to accompany her son while she's getting much deserved rest at home. Cheol Woong is still waiting for her, wanting to drive her home – an offer she accepts. They bump into Grandma who's here to visit someone. She's obviously curious seeing them together but neither of them are saying anything. Young Sun tells him to take his mom home instead (like he used to do in the past) but he insists to take her home.

Hoon Jae is over the moon they have time for themselves, begging Jin Ae to hop in his bed. She agrees – but only for 5 minutes. He put his arm around her and it feels like all his pain is gone. 🙂 He's happy Jin Ae won't leave him, teasing that his accident bears a fruitful result making Jin Ae upset. Don't you know how worried she was, Hoon Jae ya? Both of them are relieved they can hug each other again.

Sanok is teaching Chae Ri how to cut tofu but she eats it raw instead. When Dong Chool asks Jin Ae about Hoon Jae's condition, Chae Ri is upset nobody told her about Hoon Jae's incident. Everyone didn't tell her nor Hyung Soon because she's pregnant. Chae Ri's worries is so palpable making Sanok blurts out she looks like Hoon Jae's younger sister. Well she is!

Although he scolded his brother last night, Hyeong Kyu gives him money so he can treat Chae Ri. He even cheers him up.

The new lady in the neighborhood passes by and Dong Chool calls her "Ok"! She's Dong Chool's former work colleague. Sanok erupts in jealousy when both of them hug each other so tightly so he abruptly pushes her away to Yoo Ja 😀 Her name is Han Eun Ok. Dong Chool tries to explain why he called Eun Ok "Ok" but Sanok can't maintain her coolness. She remembers the time when he groomed himself nicely – around the time he worked with Eun Ok!
Using her connection with Oppa Chool, Eun Ok asks Yoo Ja to reconsider her job application. Dong Chool gives her a lavish praise, begging Yoo Ja to do him a favor. After witnessing Sanok's expression, Yoo Ja is willing to give her a chance.

Hoon Jae is discharged today and look who's his last visitor? Jang Chae Ri! Nam Sook is shocked but thankfully she's not blurting anything as Chae Ri tearfully asks about oppa's condition. (no she doesn't know that he's her half-oppa yet).

When Cheol Woong arrives, Chae Ri think he's here because Hoon Jae is his employee. Despite Chae Ri's attempt to make peace with dad, Cheol Woong stubbornly refuses to accept her back. As dad is still treating her as a stranger, Chae Ri declines her dad's offer (for his driver) to take her home.

Chae Ri isn't the only one who has to accept hard rejection. Although he thanks his father for showing his concern but he wants everything to end now. He continues treating Cheol Woong as his CEO. Cheol Woong collapses on the chair with immense regret.

Hyeong Kyu is annoyed he's eating lunch alone, where is Hye Joo? She went to a salon to get her hair done for her blind date tonight. He criticizes her new hairstyle. Suddenly his blind date Choi Suh Hyeon calls so he agrees to meet tonight. Is this a blind date competition? Stop being so immature, Hyeong Kyu ya. He wants to get a haircut too but Hye Joo reminds him that lunch time is over and he should set a good example as a boss. So no personal time is allowed. 😀 He's stealing a glance on Hye Joo who's annoyed Hyeong Kyu keeps criticizing her hair.

Young Sun surprises her son at home to give him the best discharge present. She's relieved and thankful her son recovers fast (well we're surprised too mom :D). Young Sun reveals she approves his relationship and marriage with Lee Jin Ae. Awww Hwang Young Sun, thank you. Hoon Jae hugs his mother, grateful & very thankful. Young Sun couldn't do what Cheol Woong's mom did to her own son and she doesn't want Jin Ae to hate Hoon Jae like she is to Cheol Woong. She's overjoyed seeing how happy her son is.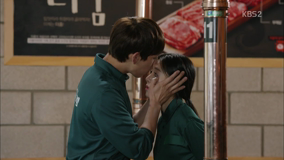 Dong Ae applied and got a job as a part time worker at the restaurant where Hyung Soon works. Not wasting anytime, she starts flirting with him by asking for help and pretending to get hurt. Chae Ri magically appears & yells out at her husband and Aeng Doo (accusing her of purposely fainted last night and got a job here to chase Hyung Soon) in front of the staffs & restaurant's guests! She even plans to work here to keep an eye on her husband.

Hyung Soon has to remind her that she's pregnant, she accidentally blurts out she's not pregnant! She tries to cover it up thankfully clueless Hyung Soo think she's just too upset she didn't mean it. Especially after she reveals she bumped into her dad before. She's not in a good mood so Hyung Soon vows there's only one woman in his heart – it's Chae Ri. Her smile is back and they cutely kiss each other. Aeng Doo stares at this young couple in jealousy.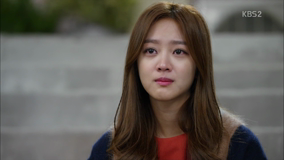 Yupe Chae Ri is not pregnant. All her pregnancy symptoms are her own hallucination because she really wants to have a baby to gain her father's approval. Her guilt grows deeper when Sanok takes off her jacket so Chae Ri isn't sitting on a cold cement.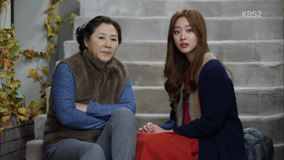 Sanok is asking Chae Ri about her pregnancy symptom when Eun Ok passes by. She's working at Yoo Ja's restaraunt, wearing red high heels!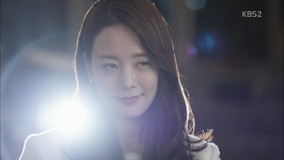 Hye Joo doesn't want to go to the blind date but she decides to go. President Kim is excitedly waiting for her and when she arrives, he's mesmerized with her beauty. He's struggling to introduce himself. When he finally calms down, he asks her to call him Jun Yeon oppa – Hye Joo is choking due to (perhaps) too much shock. Their blind date starts with the appetizer, all are cakes from his cafe. She eats the cake quite seductively, making Hyeong Kyu angry!

Of course Hyeong Kyu isn't staying still. He's here! But Suh Hyeon is also here, annoyed he's here instead of the other restaurant they planned to have blind date at.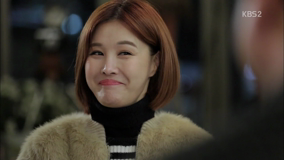 After hearing Hyeong Kyu's voice, President Kim greets him and introduce him to his future wife whom he liked at the first sight – Hye Joo! Suh Hyeon blurts out Hye Joo has a family in which President Kim reveals he's also a single man with a kid.
President Kim asks if Sun Hyeon is a professional career woman because Hyeong Kyu is famous of meeting a professional career woman or wealthy woman. Because everyone basically knows each other, President Kim invite them to have dinner together. Sun Hyeon agrees while both Hyeong Kyu & Hye Joo decline. They magically end up at Yoo Ja's chicken restaurant.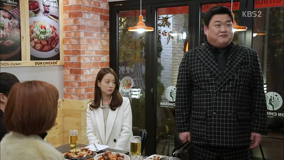 When Yoo Ja arrives and Hye Joo calls out her mom (for help), President Kim proudly stands up & greets his mother-in-law! He's the landlord here too. Curious Sanok is peeking from outside to find out if everything going well and surprises to see her son with his blind date there. President Kim applauds Sanok's choice, promises he won't raise up her rent for three years.
Suh Hyeon introduces herself to Sanok who asks of her impression on her golden child. It's clear she likes him but what about Hyeong Kyu?

President Kim is over the moon today that he's treating everyone! He even asks Yoo Ja to fry all the chicken she has. He can and will do anything for Hye Joo. Eun Ok smells money.

Hoon Jae surprises Jin Ae to tell her the great news! He wants to get married as soon as they can. This man is a superman, he recovers soooo fast. 🙂 Her parents are relieved yet surprised to see him here.

While Dong Chool is overjoyed hearing Young Sun has changed her mind, Sanok is upset :'( She is still waiting for Young Sun to apologize for the harsh thing she said to Jin Ae. Until she apologizes, Sanok will never give her permission.

Sanok is still bitter Jin Ae easily forgive Young Sun but no, she's gone through so many hardship so Young Sun's approval clear the rocky path for them. Why can't mom understand? Well she does but she knows Young Sun already has a prospective daughter-in-law who was allowed to visit Hoon Jae while Jin Ae's family were politely kicked out. Sanok really loves her daughter, she doesn't want to see her being mistreated. Moreover, she can't hand her daughter to a woman who blatantly said "I don't like you" in front of her own family! Hoon Jae apologizes for not thinking about Sanok's POV and promises to arrange a meeting with his mother.

Nam Sook on the other hand is happy to hear Young Sun's changed her mind. She knows Young Sun couldn't accept Jin Ae (out of her jealousy) because her son loves Jin Ae more than her – like Cheol Woong's mother who pushed her away because her precious son loved her more.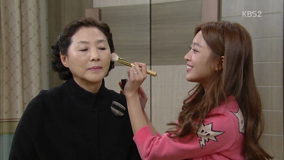 Today is the day that the moms meet. Chae Ri helps Sanok with her make-up then cutely hugs her. She also agrees with Sanok to fight for Jin Ae's pride. Chae Ri calls her mother-in-law "mom" because she doesn't have a mom and it makes them look so much closer. Dong Chool asks his lovely wife to think about Jin Ae and do this for Jin Ae's sake – don't overreact, don't make things worse. He cutely tells her to smile.

Jin Ae also reminds her mom to stay calm and don't jeopardize her marriage. Because Hoon Jae is busy, they politely asks Jin Ae to leave. Sanok actually prefer to talk to Young Sun alone so this arrangement is better for her. When Young Sun politely tells her to sit, Sanok insists to stand up. She stares into Young Sun! All About Mom finally begins. The moms' battle will start next week!
Comment
Bravo Sanok for speaking the truth! As much as I want to see Hoon Jae and Lee Jin Ae getting married soon but Jin Ae deserves full respect from Young Sun who broke her heart to pieces over and over again. Young Sun is doing this for the sake of her son while Sanok is fighting for Jin Ae so nobody will step her and she'll never get mistreated like she did in the past. Jin Ae ya, please listen to your mom for once.
Sanok's relationship with Chae Ri is heartwarming, hopefully she truly cares for Chae Ri because she's the woman her son loves not because she's pregnant with her grandchild. Pitiful Chae Ri finally realizes she's not pregnant, all the fantasy life she imagined crumbles down. While Hyung Soon grows up into a dependable man, Chae Ri continues to be a selfish immature brats. It's frustrating to see her scolding and nagging to Hyung Soon at his workplace, she should trust him if she really loves him. Aeng Doo's appearance will definitely change the dynamics of their marriage. It's about time Chae Ri gets a wake up call that the world is not all rainbows and gold.
I'd love to see more Hoon Jae and Lee Jin Ae & Hoon Jae's bromance with Sang Hyeok. I love Chae Ri and Hyung Soon but I want more screen time for our lovely OTP >.<
The ridiculous blind dates are fillers imho. Sigh… Let's just skip it until Hye Joo and Hyeong Kyu realize they're meant to be together.