All About My Mom Episode 4 Brief Recap
September 1, 2015
|
Recap
It's time for two parachutes to prove their worth to people around them, it's never too late to stand up to themselves to chase a bigger dream. Hyeong Kyu and Hoon Jae both have credibility and connection (family, friend) to help them but only one of them will choose his skills over connection. Meanwhile, Jin Ae continues to be the most pitiful character, when will her suffering days end?
Episode 4 Brief Recap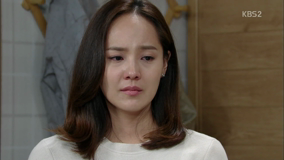 Dad should've slapped his oldest son more than once to wake him up and take a closer look at what his younger sister sacrificed for this family (ಥ﹏ಥ)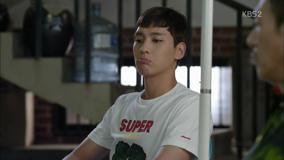 Maknae Hyung Soon gets scolded by his dad because he keeps shaking his legs. For Koreans, it's a big no no because by doing so, they shake out their good fortune. Dong Chool quit smoking because he's scared of Jin Ae and he had no money. He can only sighs… my pitiful girl, Jin Ae. At home, Sanok greedily asks for more money after finding out Jin Ae still has money left! (⊙︿⊙) so she can help Hyeong Kyu. What? Wow mom, I'm utterly speechless now.
Jin Ae planned to pay half of $160k deposit for her lease by bank loan. It's not that she had that much money. She paid off her dad's debt with the little money she'd left. Didn't mom realize how her daughter's heart was ripped apart as she torn that lease contract? She wants to move out now because she's very wearisome seeing mom treated her unfairly like this! Mom, you're too harsh! Yes she's a grown up but you need to understand your daughter's heart & mindset. You didn't even know she had a really bad day.

Even if she knows, she doesn't care. Sanok who saw Dong Chool peeking out from Hyung Soon's room, taunts that he no longer has his mom by his side even if he cries until his tears run dry. He agrees, his life is incredibly sad. Then he asks his mom, what should I do?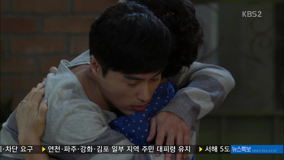 Sanok, I don't understand why you can't open your eyes to this whole situation. You were very tired but as soon as you heard Hyeong Kyu is home, you blames Jin Ae for making her poor baby for drinking too much ಠ╭╮ಠ The spoiled drunk son hugs mom, apologizes he's a thoughtless son. Mom babysits him, tells him to rest.

Bad day continues for Jin Ae who gets blamed by her annoying Branch Manager who totally forgot she asked for pipes inspection last month. Then he's also blaming Engineer Kang who temporarily fixed it. Hoon Jae arrives in the nick of time, criticizes him for neglecting his responsibility leaving Assistant Manager Lee trying to fix it herself. When Branch Manager receives a call that the CEO is coming sooner than expected, he orders Jin Ae to change her clothes so nobody will find out she did all the work (╯-_-)╯

Hoon Jae finishes his work as soon as he can because he can't bump into mom here. Without realizing, he enters a locker room where Jin Ae's changing her clothes.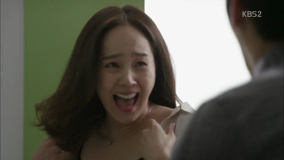 She screams out! ಠ_ರೃ Because she's panicked, I don't think she realizes it's Hoon Jae who quickly covers her mouth, explaining he's currently in a very urgent situation. Jin Ae jams her elbow, knocking him down to the ground.

She belatedly realizes it's Engineer Kang so she promptly apologizes. Then she's curious why he's acting bewilderedly like this, is there someone here he doesn't want to meet? The company's President? He lies he had a business trouble with the Chinese client who's currently at the factory. Hoon Jae returns the money she gave him, he will accept other token of her thankful thoughts other than money.

HS Fashion and China Fashion have agreed to proceed with the memorandum of understanding. President Hwang thanks Jin Ae for her effort in front of everyone, but when there're only the two of them, she scolds her for covering up the incident only because she wanted everything to be perfect. If Jin Ae doesn't believe she could fix it, she should've reported it truthfully. President Hwang then asks if she temporarily fixed it because of her boss' order or because she didn't have any choice?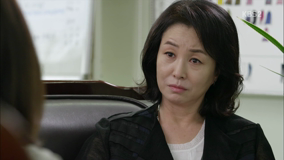 Jin Ae honestly reveals it's true her judgement was impaired because she wanted to show she could do this job well to President Hwang whom she truly respects. Moreover, she aims to become someone like her President. But she realizes she's foolishly greedy. President Hwang believes this incident won't happen again in the future because she knows what she did wrong and she's a clever person. Everything was good except her ambition. Then President Hwang advises Jin Ae to apply the job for the planning team that's only available for headquarters employees. As the CEO of this company, she can change the rules any time. It's Jin Ae's dream job so she's very proud to be given this rare chance.

Hwang Young Sun, Ki Tae and Hoon Jae find out JY Group stole Taesung Pipes' contract by lowering the bid to a very ridiculous low amount. Why did they do that? Jang Cheol Woong straight away asks if Hoon Jae has any connection because they couldn't get a contract with this company but suddenly they signed a contract with a small firm like Hoon Design. He wants to teach a good lesson for Hoon Jae who think he can survive in this field because of a connection, not because of his skills. Hoon Jae points out they have skills to boot although their firm is small. He decides to accept Cheol Woong's advice because he's a senior in this field however his way of teaching shows he's an arrogant person. Hoon Jae hopes they'll play a fair game in the future. Cheol Woong is curious about his family background hence Hoon Jae points out it's not because he's a son of a great family, it's because he is a great person! Oh yeah! (ง'̀-'́)ง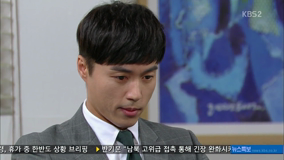 Surprisingly, Hyeong Kyu lower his head & swallows his pride by accepting Joon Young's proposal to work together again. He finally realizes life isn't easy and like his annoying CEO said, realistically yet sadly, the world revolves around connections or credentials but specialists like him aren't scarce so connection is his only way to survive (for now).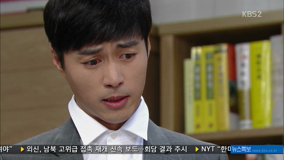 To chase a better & bigger dream, he had no choice but to bow down to the person whom he would never bow to. Losing his self-respect & pride wasn't easy but he vows he will not continue living this cruel life being stepped on by other people anymore, like his father. He refuses to live as a useless human being. He will make his family to be proud of him, he'll raise up his family & make it shine! Fighting Hyeong Kyu ᕦ(ò_óˇ)ᕤ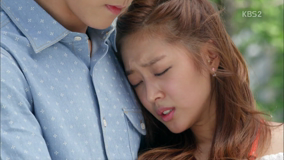 The maknae finally gets a part-time job at a restaurant, it's better than having no job at all, right? He also vows to live upright from now on so when rude customer Chae Ri calls, he no longer wants to deceive her by ignoring her call. But Chae Ri isn't giving up, she pretends to be sick to gain his sympathy. Smart Hyung Soon replies he called an ambulance, making Chae Ri panics. Her two friends abruptly leave when an ambulance comes but of course Hyung Soon didn't make a prank 911 call.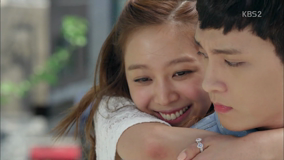 She faints due to over-stressed but look who's here to save her. Hyung Soon! She opens her eyes, as soon as she sees him, she quickly closes her eyes. He piggybacks her to her car because she really looks too weak to walk. Of couse she's smiling in happiness while Hyung Soon's heart is beating so fast so he keeps reminding himself she's his customer. When he realizes she's smiling, he drops her because she's not getting off. Suddenly, she kisses him. Tells him she likes him… so let's date, oppa!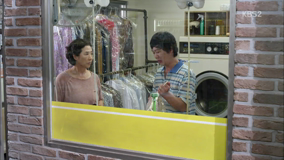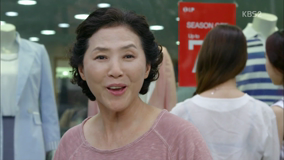 Sanok is searching around for any dry laundry who can remove rusty stain from Jin Ae's clothes. When she passes a store selling work outfits with a huge discount, she wants to buy it for her daughter because she realized Jin Ae doesn't have many nice work clothes. But her golden child is here so she soon forgets about Jin Ae.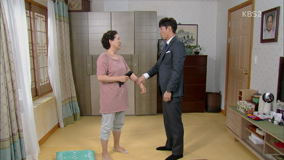 Of course Hyeong Kyu won't say the real reason why he crawled back to the law firm. He can't lose his pride in front of his mom who's very proud of her awesome golden child. Sanok still plans to sell the store and give the profit to Hyeong Kyu even he no longer needs the money. She wants to quickly nullify the contract however Hyeong Kyu is trying to explain in law terms that they'll suffer greater loss so it's best to keep it. The truth is, Sanok doesn't want Jin Ae to get entangled especially if President Kim decides to sue them for breaking the contract. For now, they decide to keep the store. Sanok is touched her golden child is so thoughtful although he had a hard time himself & felt inferior. As usual, she blames her husband who advises her not to make Jin Ae feels inferior. His heart sank when Jin Ae tried her best to persevere but Sanok believes her heart sank deeper because of her golden child. She regrets marrying an incompetent worthless man like him. It's true though! He's only a big talker. Please prove your worth, Dong Chool! He plans to earn thousands of dollar from… cabaret!

After a thorough background check, Jang Cheol Woong finds out Hoon Jae is Hwang Young Sun's son. If it's true, then she got married less than a year after they broke up (๏̯͡๏) Coincidentally, he bumps into Young Sun so he gets the confirmation that Hoon Design's owner is indeed her son. Young Sun brings up his sly way of blocking her son's business in which he's very apologetic because he didn't know he's her son. But don't worry, Young Sun believes Hoon Jae will overcome this incident with his own strength. Cheol Woong can only stares from afar when Hoon Jae picks up his mom.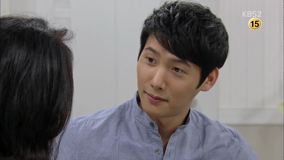 He's said it before that if mom keeps meddling into his business (Hoon Design), he'll move out. Moreover, he's 32 yo so please let him go & be independent, Young Sun. Let him be happy and forgot every bad things. He promises to eat dinner with mom and sleeps here on the weekends.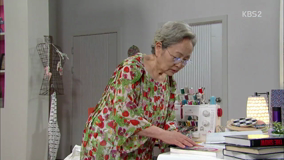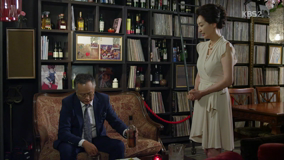 Hyung Soon is trapped in his own game. Chae Ri is crazily in love with him, not knowing this man deceived her. Cheol Woong is late again so his mom is wondering if he has a girlfriend. She wants her son find a new wife so he's not getting older alone while Chae Ri isn't happy if her dad is dating. While her grandma is tidying up her messy desk, she spots Hwang Young Sun's new book. Of course Cheol Woong came to visit his woman but he doesn't want to eat the delicious kimchi he had last time.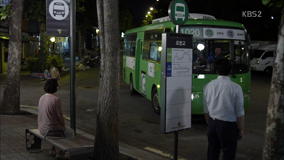 Jin Ae is surprised to see her mom waiting at the bus stop. Mom reveals her plan to continue running the store. Then, she takes her to a clothing store so she can try some new work outfits. Aww mom.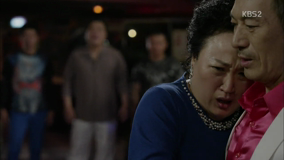 Dong Chool is currently working as a cabaret dancer but his partner refuses to let him go. Begging him to dance one more time. Just then, his partner's husband arrives! Oh no… Big trouble. Dong Chool who doesn't realize what's happening, continues to dance making the husband erupts in anger. Of course he doesn't believe today is the first time Dong Chool met her!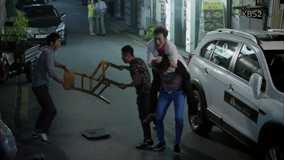 He quickly escapes and bumps into Hoon Jae who helps him when he's hit & punched by those three men.

Jin Ae promises to wear the clothes mom has just bought for her. Sanok praises her daughter looks pretty wearing it. I love it. Before they leave the store, mom spots a nice suit which will look good on her golden child but it's expensive. She wants to borrow Jin Ae's credit card! Of course she declines!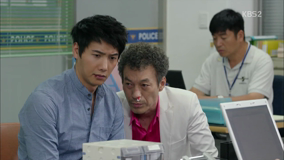 Suddenly, Jin Ae receives a call from police station. Her dad, Hoon Jae and the three men were dragged here. Sanok is shocked finding out her husband works as a gigolo and was caught red-handed! Hoon Jae protects Dong Chool from being hit by his own wife. Meanwhile, Jin Ae is surprised to see Hoon Jae here.
Brief Comment

(☞゚ヮ゚)☞ Hoon Jae, let us introduce your future in-laws' family! What a chaotic first meeting, symbolizing a chaotic yet fun life he'll have with Jin Ae and her family (◕‿◕). Don't worry, you will be okay! 😀 You've already gained few brownie points for defending & protecting your future father-in-law. 😀