All About My Mom Episode 40 Brief Recap
December 30, 2015
|
Recap
Hearing the truth from the precious son she spoiled like a prince breaks Sanok's heart. She only wanted the best, the absolute best for Hyeong Kyu who almost lost his life (indirectly) because of her negligence. Her high expectation blinded her from recognizing the precious gem in front of her – Hye Joo – who broke Hyeong Kyu's icy heart & turned him into a better man.
Episode 40 Brief Recap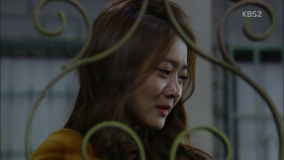 It's Hyung Soon's mistake for not pushing Aeng Doo away like he did when she first kissed him. Of course Chae Ri sees this kiss, instinctively she believes the worst. Though she looks worried Hyung Soon is injured but after finding out he got hurt while saving Aeng Doo, Chae Ri orders her rival to take care Hyung Soon. Do as you wish, Aeng Doo ya. But this thief girl wants to have Hyung Soo too! Aeng Doo ya, you've crossed the line here. Hyung Soon tries to explain, Chae Ri coldly let Aeng Doo to take her husband. She walks away even Aeng Doo screams out she'll regret it later. Standing blankly at the front gate, Chae Ri is wondering what's she doing here. She endures the hardship only because she believes in him. Chae Ri leaves his house.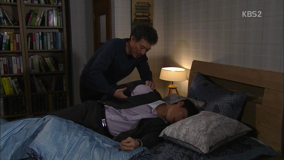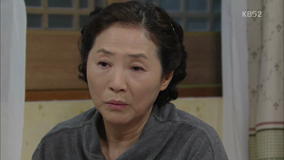 Dong Chool regrets beating up his drunk eldest son who keeps murmuring Hye Joo's name. Despite breaking her heart to pieces, Sanok is still worried he'll get cold so Dong Chool assures he changed his clothes & covered him with the blue blanket she kept on top of his closet. But she denies feeling bitter over Hyeong Kyu's burst of confession because if she keeps all hurtful things her children did / told her, she cannot give her motherly love to them. The truth is… she can't stop thinking about everything he said and it really hurts T_T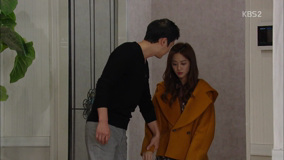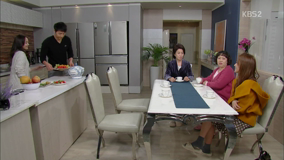 Chae Ri almost presses her house's bell when she remembers the promise that if she returns home, her dad will automatically assume she broke up with Hyung Soon so she goes to oppa Hoon Jae's house who welcomes her warmly. She eats under close watchful eyes of Nam Sook, Jin Ae and Hoon Jae. Annoyingly, she put down everyone's food and praises her late mom's cooking skill.
Jin Ae scolds Chae Ri for blurting out Ajumma CEO when Young Sun comes to the dining room – shocked to see her Cheol Woong's daughter here. Young Sun gives a deathly glare at her son while Jin Ae informs Hyung Soon that his wife is here, wanting to know what's going on.
The spoiled girl continues causing troubles as she blurts out that this is not just her sister-in-law's house but also her oppa's house. She senses Young Sun doesn't like her but neither does she 😀 Young Sun is annoyed seeing Hoon Jae gives an assuring nods to his sister, belatedly realizing they're closer than she wanted them to be.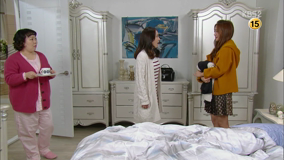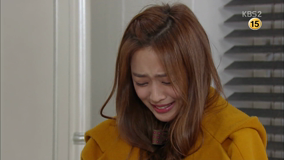 Jin Ae plans to take Chae Ri home but she burst into tears, confessing oppa Hyung Soon kissed another girl.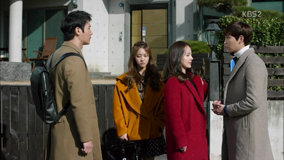 Drama queen Nam Sook spills about Chae Ri's grandma and Jin Ae's meeting at her store, accusing her of trying to hold on to Jin Ae so she can get closer to Hoon Jae. Jin Ae and Hoon Jae accompany Chae Ri to see Hyung Soon who's waiting outside. He explains their love quarrel was a misunderstanding but nobody believes him so Jin Ae takes Chae Ri to work while Hoon Jae promises to scold his brother-in-law.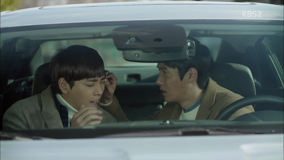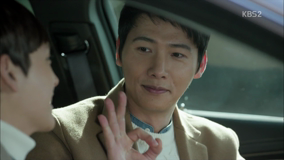 But after learning the truth and knowing his sister's jealousy character, Hoon Jae is on Hyung Soon's side. He advises him to keep apologizing, continue repenting and to learn self defense from the master… his brother-in-law.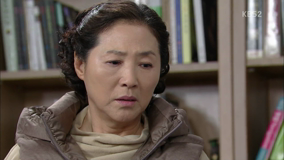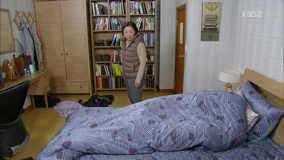 Hyeong Kyu looks like a zombie this morning, he lost his appetite, he doesn't want to talk to anyone including his mother & worried Hye Joo who calls him. Sanok's heart aches seeing her son who tore her heart to pieces only cares about mending his broken-heart.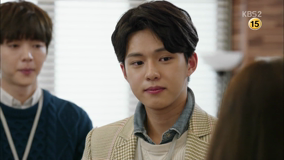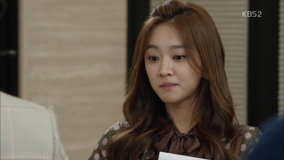 Park Seung Hwan from the design team walks into Planning team meeting & flatly rejects Jin Ae's idea to have everyone in the team to showcase the premium line. He rudely ignores Chae Ri who stretches her hand to greet him when Yoo Hee introduces he'll be working alongside them for this premium line project.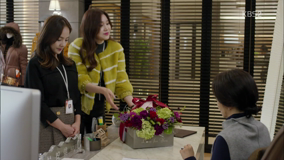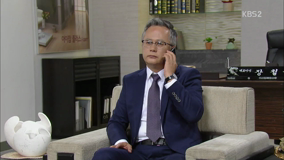 It's better to try than not trying at all. Jin Ae politely asks Young Sun to allow Hoon Jae to meet his grandmother but she reminds her to stop meddling into her complicated family.  Yoo Hee joins them carrying a bouquet of flowers which everyone thought came from Hoon Jae but it's from Woong! Young Sun kicks everyone out when Cheol Woong calls. This man believes it's nothing wrong sending flowers to his lover, he will continue to send one until she makes time to meet him.
Grandma calls Jin Ae again, begging her to arrange a way to meet Hoon Jae. Of course Yoo Hee conveniently walks pass and hears everything. Jin Ae reveals she hasn't talked to her husband yet.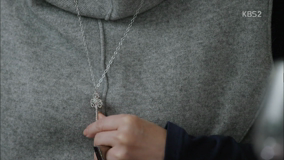 She agrees to have lunch with him today. During the lunch, she talks about Chae Ri and her love quarrel but this stubborn man still refuses to accept his daughter back. Both Hyung Soon and Jin Ae are good people but that's it. Cheol Woong is overjoyed seeing Young Sun wearing the necklace he gave her.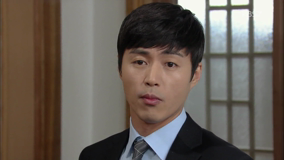 Sanok is wondering if her son will stop throwing tantrums if she let him marrying Hye Joo. He rudely replies please arrange more blind dates! He's made up his mind to marry a really nice woman because he wants to repay his mother who's suffered and favored him & hurt Jin Ae in the process.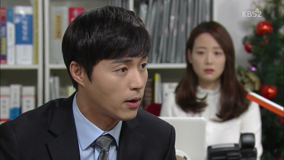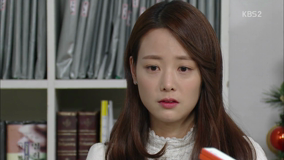 Not wasting any time, Hyeong Kyu advertised Hye Joo's position and interviews the first candidate right in front of her!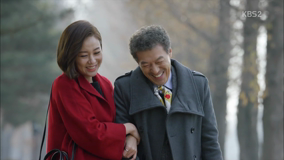 Dong Chool put on the scarf Eun Ok made for him and goes on a date with her. He hopes a lightning won't struck on them as he has sinned against his wife. The weather is surprisingly cloudy today.  Yoo Ja tries giving a clue (about her husband's affair) but Sanok is too naive. Even though Sanok has stabbed both Hye Joo and Yoo Ja's heart but Yoo Ja will never hurt Hyeong Kyu with her words nor action. Don't worry Sanok, Hye Joo will leave her job too. At least you have your husband and children but Hye Joo suffered like her own mother suffered.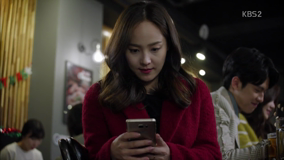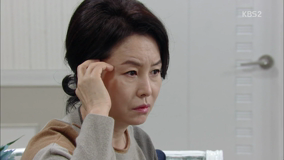 Planning team is throwing a welcome party for Chae Ri and Seung Hwan. Jin Ae sends a text to her brother to come & convinces Chae Ri before calling Hoon Jae that they'll stop by her house after the party. Words travel fast, Yoo Hee has already told Young Sun about Jin Ae's phone call with Chae Ri's grandma so she automatically guesses that the newlyweds will meet his grandma instead of Jin Ae's parents tonight.
Meanwhile, Hyung Soon talks things through with Aeng Doo because she continues putting him in complicated situations. Aeng Doo replies, can she be a bad girl who hang out with the wrong crowd then? He advises her no because whatever makes his wife uncomfortable, will be uncomfortable for him too.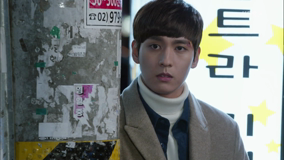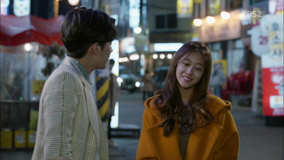 But his trust is almost broken again when he spots Chae Ri's talking with another man. Seung Hwan is curiously bombarding Chae Ri with questions about her boyfriend and she doesn't have the courage to tell him that she's married. Instead, she's bragging her fabulous boyfriend is beef restaurant's president!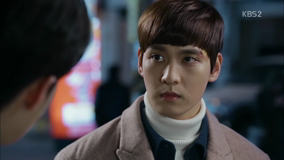 Unable to hide anymore, Hyung Soon confronts them but Chae Ri is still mad at him. Chae Ri's lie is exposed because Seung Hwan often saw Hyung Soon driving President Jang to the gym he frequents. Despite Chae Ri tries to explain her oppa is not what Seung Hwan thought he is, this rude man blocks his ears. Hyung Soon sincerely apologizes, promises he won't make her upset again.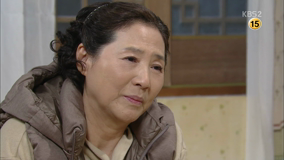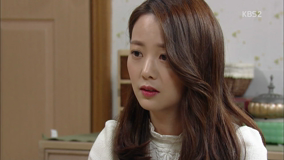 Sanok reveals the reason why she became Hyeong Kyu's foolish mom and apologizes for hurting Hye Joo with her words, actions & silent thoughts. But this kind-hearted woman is apologizing instead for acting before thinking. Sanok knows Hye Joo likes her son so much that she jumped into action without thinking. She apologizes for being so senseless to someone she should be grateful to, to someone who changed her son into a better man & son who started to care about his parents & family. Hye Joo replies Hyeong Kyu is naturally a warm man who couldn't express himself well, Sanok complements her for breaking his cold heart.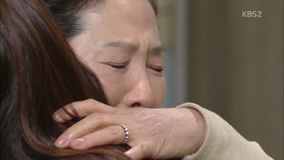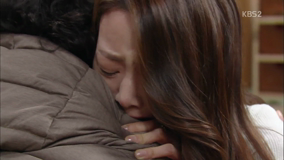 She's truly truly grateful for Hye Joo as she… begs her to be her daughter-in-law! Welcome to the family, Hye Joo ya. She believes it's easier to open her heart than seeing Hye Joo broken-hearted and her son returns back to the cold Hyeong Kyu. Hye Joo breaks down in tears as her mother-in-law hugs her T_T  Dong Chool who eavesdrops from outside smiles 🙂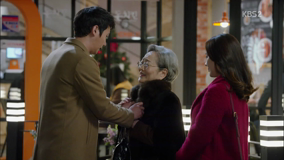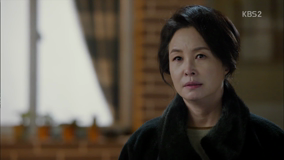 Like Young Sun guessed, Jin Ae lied – she's arranged grandmother-grandson reunion in her neighborhood because she kept pleaded with Jin Ae to meet her precious grandson that she always pretended not to know nor have. As he holds grandma's cold hands, Young Sun arrives! Straight away she scolds Jin Ae for breaking her promise!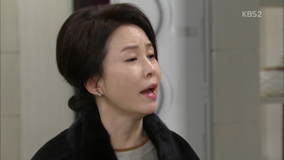 But Jin Ae isn't apologizing for her action. She believes that as Young Sun's trying to mend her heart back with Cheol Woong, she needs to forgive Cheol Woong's mother first. When Hoon Jae is mad that Jin Ae hasn't respected his feeling (he hasn't even accepted his dad), Jin Ae whines that she wants to be part of their "we" circle.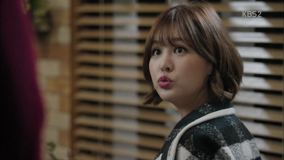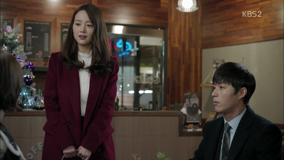 Just after Hyeong Kyu conveys his true feeling to Seo Hyeon, Hye Joo arrives to apologize that she could never tell Seo Hyeon that she likes… she loves Mr Lawyer! Oh yeah! She bows in apology. Seo Hyeon is annoyed these two people are reporting to her that they like each other but she sportively supports this match-in-heaven couple, advising them to stop being so coy and just date! She cutely asks Hyeong Kyu to call her if Hye Joo ever dumps him. 😀
Hyeong Kyu can't even look Hye Joo in the eyes so she boldly grabs his wrist and drags him outside! Why? Because she always wanted to do this. 😀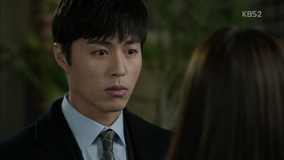 Surprised his mom has already said yes, he blabbers on that Hye Joo left him cold feet in front of his parents so what should they do next? Didn't she forget she changed her mind? Suddenly, Hye Joo plants a sweet kiss on his lips. Then she apologizes before sweetly reveals she will accept it. She will accept his proposal! She's thanking him for proposing to her, for loving her.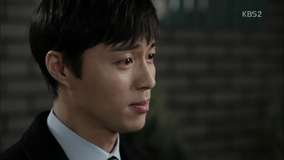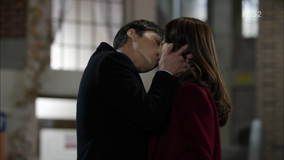 Tears welled up in his eyes as he stares into his lover. She's changed into a confident, secure woman! So does he. He kisses her back.
Comments
Oh Min Seok owns this week's episodes. His agonizing cry during Hyeong Kyu's burst of confession, his zombie depressed look when Hyeong Kyu tried to mend his broken-hearted, his teary eyes, his sweet proud face looking at the now changed Hye Joo – he truly acted his heart out. He makes me hating, cursing, liking and now loving Hyeong Kyu. After 3 decades living like the perfect prince to please his mother, it's about time he finally exploded. His bitterness, hatred, guilt, regret he suppressed deep inside his heart is finally out; people around him can finally see how amazing & warm this man is. No longer he lives to satisfy other people's expectations, he now lives being truthful to his own feeling. He no longer needs to lie nor deceive himself or others. He can finally take off the suffocating mask, so does Sanok who sweetly adores her two daughters-in-law, gratefully admits that these two beautiful women have changed her sons' into better men. I love Sanok so so much. Sometimes she's selfish but which mother doesn't want their children to have the best? I love how she doesn't afraid to admit her mistakes and treats her daughters-in-law like her own daughters. If only Young Sun can learn from Sanok.
Like father like son, Dong Chool and Hyung Soon are frustratingly too kind to women even when their conscience warn them. They brought themselves the love quarrel which shouldn't happen at all if they could be more cautious and draw the line between them & another women.
At times Jin Ae needs to step back, give Hoon Jae time to sort out his feeling before forcing him to accept his long-lost family who abandoned him & his mother. Both Yoo Hee and Nam Sook also need to back off – these two women sometimes drive me crazy with their imagination, feeding Young Sun with useless worries. It makes me missing Sang Hyeok, where are you Team Leader Sang Hyeok? Come back please.
I Wonder Which Star Comes To Me – Eru [All About My Mom OST Part 4]