All About My Mom Episode 41 Brief Recap
After dreaming of marrying her perfect golden son with an equally perfect woman, Hye Joo falls short of her expectation. Despite convincing herself parents cannot win over their children, Sanok's heart is heavy. Hye Joo is a great woman but she can't accept her single mother status. Can she accept Hye Joo's son whom she adores? Or will she separate a mother from her own son? The maknae couple's marriage is experiencing the biggest storm to date as Hyung Soon chooses to prioritize Aeng Doo over his own wife. The OTP's lack of screen times frustrates me but thankfully we can savour their cute morning dance. Jin Ae begins her matchmaking mission by persuading her clueless husband to help her. Both con-artists continue to ruin Dong Chool and Hyung Soon's lives, when will they give up?
Episode 41 Brief Recap

Sanok is cleaning up Hyeong Kyu's room as her family is calling her to eat warm pancake & rice wine they prepared. Suddenly Sanok feels a massive headache then she clenches her chest 🙁 She pretends she's okay but from her pale complexion everyone can see she's not. Her family is concerned about her feeling after she finally gives her permission for Hyeong Kyu to marry Hye Joo, she points out to the maknae couple that parents can't win over their children. When Hyeong Kyu gratefully thanks his parents for giving their permission, Sanok is emotionally too exhausted to say anything back.

After confronting Cheol Woong's mother for secretly meeting her son, the grandma drops another bomb – she promises to treat her well if she's back together with Cheol Woong! Nam Sook tips her to give them another chance so she can pay back all the mistreatment she received in the past! Like her daughter-in-law Jin Ae who's currently drawing her sword of revenge towards her MIL.

The newlyweds (wearing cute couple pyjamas) are arguing about Jin Ae's continuous meddling over his family's complicated relationship. Jin Ae finally points out that her clueless husband doesn't know that both his mother and Cheol Woong still like each other, the heartache she harbors is because she really loves him. Jin Ae persuades Hoon Jae to open his mom's heart.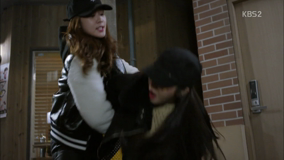 Fed up with Aeng Doo who keeps flirting with her husband, Chae Ri confronts her to leave Hyung Soon alone and to start living an honest life. She looks so confident and bold in front of her but her knees go weak afterwards. Knowing that Chae Ri had to lie about his job making Hyung Soon incredibly sorry.
Sanok still clearly remembers the hatred she saw on her golden child's face when he yelled out she's annoying & burdensome 🙁 She never realized he suppressed his hatred for years.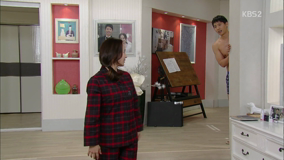 It's early in the morning but the atmosphere in the newlyweds' room is hot hot hot. After his long showers, topless Hoon Jae is trying to earn more brownie points from his quick-sense wife. They cutely dance until Young Sun suddenly comes in their room (they forgot to close their room's door). Hoon Jae quickly runs off to hide while Jin Ae bites her lips in embarrassment. Nam Sook lectures her cousin for senselessly went to their room early in the morning even though she only wants to give them clean towels and Hoon Jae's underwear! Nam Sook teases her for being an intrusive MIL, which Young Sun firmly denies. But her face turns red.

Grandma repeats the promise she made to Young Sun to her son, begging him to get back together with Young Sun. Knowing Jin Ae will help him, Cheol Woong comes to ask her help. Of course she's happy to help. She then brings up about her faithful younger brother who really loves Chae Ri, hoping Cheol Woong will look at him fondly.

Broken-hearted Aeng Doo is willing to turn her life around because she really likes Hyung Soon but he firmly declares that there's only one woman in his heart
– Chae Ri. Although she cries her heart out, not wanting to let him go, he can only be her oppa not her lover.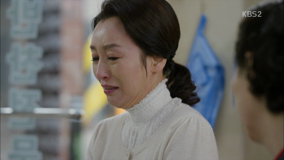 Yoo Ja confesses she forced Hye Joo to marry Kim San's dad because she wanted a doctor as her son-in-law and he really liked her although Hye Joo didn't. Although Hye Joo suffered on her failed marriage, she never wanted to worry her mother 🙁 It breaks her heart, yet she couldn't show it to anyone including Sanok. She's thanking Sanok for accepting her daughter, Sanok also thanks her for accepting her son. These two women bond because of their children – love their precious friendship.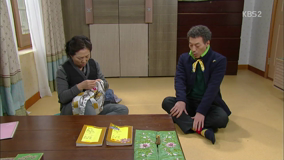 Sanok passes a cafe where she spots two familiar faces – her husband and Eun Ok. The con artist is asking more money to Dong Chool who hesitates to give more until she brings up borrowing through a loan shark. Sanok starts connecting the hints from Yoo Ja and the scarf, two identical novel that apparently Dong Chool gave to both Oks.

He's shocked to find Sanok's redoing the embroidery on the scarf Eun Ok gave him. His face turns pale when he sees two novels on the desk! Sanok points out the sharp needle to him because he refuses to tell the truth.

Hoon Jae's project is completed so Cheol Woong politely reminds his vow to leave the company after finishing this project because it's awkward to work together with his dad. But he's changed his heart (which Cheol Woong also notices) and plans to help his dad & mom to get back together. He makes excuses he's starting a new project and will finish it as soon as he can when Cheol Woong smiles – hoping it'll be a very very long project.
Through her friends, Hyung Soon learns that Chae Ri received a professor's recommendation for her overseas exchange study. She kept avoiding her friends after meeting him, making them accusing him for "ruining" her life.
While waiting for Chae Ri, Seung Hwan urges him to tell the truth. When Chae Ri proudly introduces her husband, Hyung Soon admits he's only a part time worker.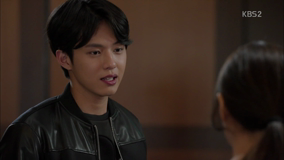 Jin Ae adds her brother will continue to be successful then scolding Seung Hwan for not doing his job correctly. She's envious her brother brought lunch box for his wife, he's never done that to his sister so Chae Ri reminds her Assistant Manager now has Hoon Jae oppa 🙂

Although Hye Joo explains Sanok really likes Kim San and won't oppose Kim San living with them, Yoo Ja forbids them to take Kim San. Kim San who overheard their argument, decides to live with his grandmother who'll be living alone after his mom gets remarried. He can't hide his sadness he'll live apart from his mom but this sweet boy vows to protect his grandmother.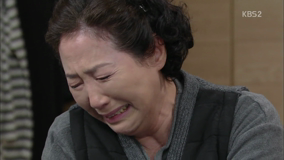 Hyeong Kyu apologizes for hurting his mom's feeling (albeit it's the truth). Sanok admits it's hard to be the perfect mom for him and she's still not completely happy with Hye Joo because she's a single mother. But if she didn't give her permission, her son will hate her forever. No parents can bear the heartache of seeing their own children hating their parents.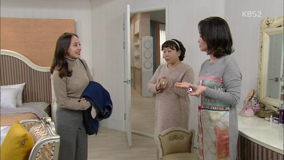 Today is the fashion show Jin Ae and her team has been tirelessly preparing for. She asks her MIL to look extra beautiful, making both Nam Sook and Young Sun curious. President Jang & his mother are also invited, Chae Ri cheerfully greets her family and is surprised when Dad invites her & Hyung Soon for a meal together after the show. Cheol Woong takes a quick glance at Young Sun during the show.

Eun Ok begs Hyung Soon to bring her daughter back as she follows the bad guys to the countryside. Instead of going to HS Fashion show, he catches a taxi to find Aeng Doo. Chae Ri looks around, upset her husband isn't here yet.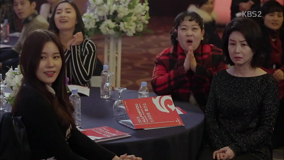 In the middle of the show, Jin Ae invites special guest President Jang to the stage. He confidently reveals he's here to seek his other half… CEO Hwang Young Sun! He is official proposing to her in front of everyone. OMG. He then approaches her, holds her hand before asking her to marry him. Chae Ri and Hoon Jae both look speechless but smiles soon break on their faces when they see how happy their parents are. Nam Sook urges her cousin to accept his proposal as he put on the ring on Young Sun's finger.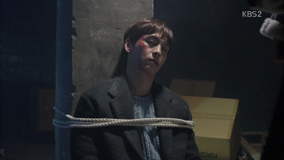 Hyung Soon should've told Chae Ri to avoid any misunderstanding and so her family wouldn't have to wait for him. Cheol Woong who's trying to forgive him – of course changes his heart as Hyung Soon can't even make up time to meet him. Chae Ri lies that Hyung Soon is working overtime to get a permanent promotion although her heart explodes in anger after she received a text that Aeng Doo is currently with him. Hyung Soon begs Aeng Doo to go home with him but her friends beat him up.

Both Hyung Soon and Aeng Doo are locked up, they took his cell phone. He breaks the door and runs straight to see Chae Ri who can't even sleep. It's now 5AM, she receives messages from Aeng Doo – a picture of her cuddling Hyung Soon oppa and her winning message that she finally has Hyung Soon under her grasp now.

Chae Ri bumps into Hyung Soon and Aeng Doo, in tears she's annoyed Hyung Soon didn't realize how important yesterday was. He put Aeng Doo first and it's always Aeng Doo Aeng Doo Aeng Doo. Chae Ri decides to go back… to her home!

She knows what Hyung Soon is gonna say. And she's tired he keeps missing on important events on her life because he's a good Samaritan. He mistakenly think she's tired of living a shabby life with him who doesn't have any credentials. When Hyung Soon reminds her about Cheol Woong's ultimatum, in tears Chae Ri presses her house's bell and steps inside after the gate is opened. She can only cry on her dad's embrace.