All About My Mom Episode 46 Brief Recap
Sanok faces one of the most terrifying moment of her life but what breaks her heart the most is discovering how helpless her husband is without her. And nobody is good enough to manage the side dish shop she treasures. Setting aside her personal anger & disappointment, she begins preparing them for a life without her. It's heartbreaking yet realistic. After watching Sanok suffering alone, thankfully she could share her burden and it's about time we see her smiling face again. While her children are still in the dark, Hoon Jae and Chae Ri are debating to share this secret to their other half. Can they keep this secret respecting Sanok's wish or will they break their own promise so the lost son will come home for mom?
Episode 46 Brief Recap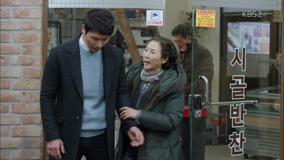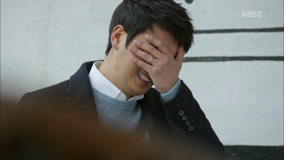 Like many lung cancer sufferers, unfortunately Sanok only experienced the symptoms after the cancer has metastasized. Out of frustration, she took her anger to her family. After all her children moved out, she could no longer endure it so she left home to clear up her mind alone but sadly it didn't make her feel better. 🙁 She begs Hoon Jae to keep her terminal illness a secret until she can't hold the pain anymore so he reluctantly agrees to carry this heavy burden alone. Well he doesn't have any other choice, does he? Thankfully his sister knows as well. They can at least share this burden together. After he safely escorts Sanok back to her husband's arms, Hoon Jae breaks down in tears. When he hears Chae Ri's voice, this amazing man wipes his tears to cheerfully greet his sister but Chae Ri's eyes are brimming in tears too T_T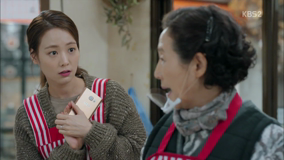 Hyeong Kyu looks relieved slightly annoyed hearing Mom finally returned home, he only asks Hye Joo if his mom is sick or not. Sanok overhears Hye Joo telling him about her pale face and tells them she normally looks like that. Mother & son can obviously read each other's mind as they answer Hye Joo's questions in perfect sync though the answer is the opposite. Hyeong Kyu: "I'll stop by this evening". Sanok: "you don't have to come this evening" 😀
Sanok tastes one side dish that Hye Joo made and her expression is very telling. She will explode in 1… 2… 3…! Dong Chool let Hye Joo to make few dishes, ignoring her not-so-good-cooking skill!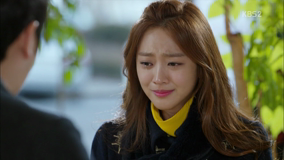 Where can we find a caring son-in-law like Hoon Jae? T_T He plans to find a better hospital for his mother-in-law. Chae Ri who sweetly believes Sanok is the gift sent by her late mother from the Heaven, agrees with Hoon Jae to keep it a secret.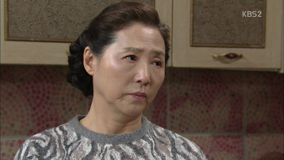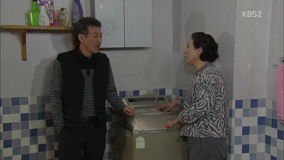 As a mom, Sanok can sense that her youngest son's marriage is over. And seriously Dong Chool, please stop being so angry – yes your wife took out her anger to you, but it's not because she hates you like you suspected. She can read your mind & heart that it's clear you still love her although you had your fleeting love with Eun Ok. In tears, Sanok is wondering what can she do with him (how to prepare him for this bad news?). He can't even do his own laundy. She decides to teach him but he stubbornly refuses to learn because his wife is still here and ain't going anywhere. He innocently asks if Sanok will not come back forever if she leaves home again. T_T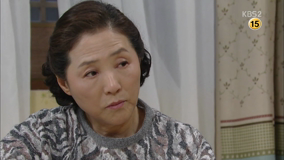 The spoiled prince believes the reason Mom ran away & didn't welcome him back from his honeymoon is because she still can't accept Hye Joo as his wife. He asks mom to stop because it embarrasses him in front of his new family. This man is siding with his mom-in-law again! Sanok is suspiciously asking her son if he's eating well (because his wife can't cook). Hyeong Kyu lies but mom knows his taste bud is used to delicious food so he's obviously not eating that well. But it makes her quite happy because it'll make him remember his mom's delicious food.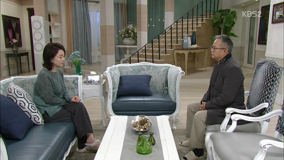 Nobody can avoid the fate. Although Young Sun forbids her cousin to open the door for Cheol Woong, Jin Ae who rarely in sync with her MIL – arrives home in time & let him in 😀 He's here to apologize after his mom barged in and accused her, begging Young Sun to understand his mother. But Young Sun is fed up, she won't marry him whilst holding the ticking bomb inside her heart.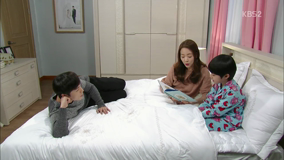 Hyeong Kyu pretends to be very sleepy so he can go to bed first with his wife but Kim San wants mom, only mom to read his bedtime story. Hilariously, Hyeong Kyu is staring at them – enchanting a spell for this boy to fall asleep soon and is so excited when he's finally sleepy but… Kim San refuses to leave the room. When Hyeong Kyu explains the bed is too small for the three of them, Kim San kicks him out to sleep in his room instead! He doesn't like his mom and the ahjussi sleeping together, that's why he's been acting like this. Hyeong Kyu can only pouts as he hugs his pillow to sleep in Kim San's room.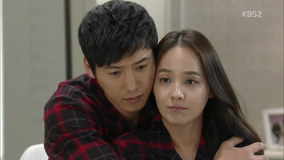 Meanwhile, Hoon Jae is drying his wife's hair awwww… Jin Ae think her mom is going through her second puberty (or menopause maybe) hence she's been very emotional lately. It's painful to see Hoon Jae's expression – he want to tell his wife but he's respecting Sanok's wish T_T He can only hugs his wife, vowing he'll always be by her side no matter what happens. T_T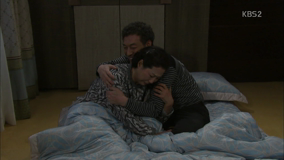 This drama needs to stop making me cry T_T Dong Chool confesses that although he had fun with his friends, he's always bored after one or two hours because it's not fun without his beloved wife. He confesses what he did with Eun Ok but nothing really happened. For him, Sanok is the only one in his heart. Awww. Sanok apologizes for beating him up pinching him but her tears flow again when he teases she's too strong hence she'll live until 100 years old. T_T Dong Chool sweetly hugs her, hoping they'll live for a long long time so don't teach him how to do the laundry.
Young Sun is in for a pleasant surprise today. Persistent Cheol Woong picks her up with flowers to go on a date! Then he reveals his plan to move in to Young Sun's place because what's the point of going on dates if their relationship is going nowhere? Time is passing, they're old and don't have as much time as younger couples so let's live while loving. His Chae Ri also left home chasing her love. But what about his mother? He can't leave her, right?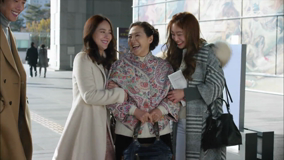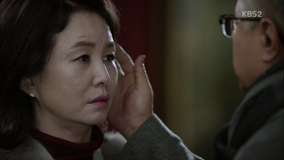 Meanwhile, Chae Ri, Jin Ae and Hoon Jae are taking Sanok out. It's so cute to see Chae Ri and Jin Ae fighting to hold their mom's arms, Sanok has the best of the world 🙂 At the art museum, they bump into Young Sun & Cheol Woong – making Sanok is wondering what's going on between her in-laws 😀 Chae Ri brazenly tells Young Sun off for making her grandmother sad. To Cheol Woong, Young Sun reveals it feels like she lost Hoon Jae to Jin Ae and her family now, well, it's exactly what Cheol Woong's mother is feeling right now.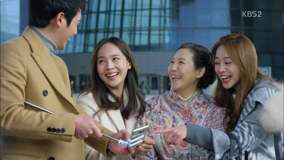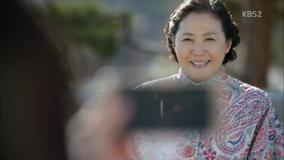 The two children-in-laws and Jin Ae are spending precious time with Sanok, taking pictures together. Suddenly Sanok wants her daughter to take her picture alone with a nice background. She looks sad but she soon cracks a smile when everyone cutely teases & cheers her up.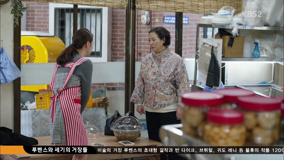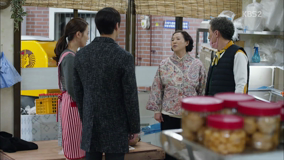 Because nobody told Hye Joo that her cooking is bad, she continues making side dishes. But their loyal customers have started to complain & ask for refunds. Dong Chool is such a kind father-in-law but he needs to stop lying for Hye Joo's own good. Right when Sanok is reprimanding Hye Joo, Hyeong Kyu arrives and is upset they asked his wife to look after the store on a Sunday but is scolding her instead. Hye Joo knows she can't cook so she begs Sanok to teach her. Sanok is now worried they'll have to close the store because nobody can manage it without her. What should she do now?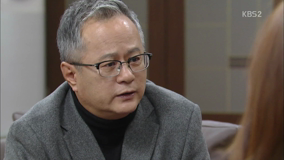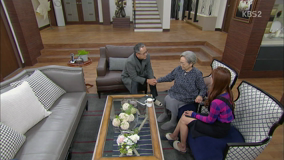 Without wasting any time, Cheol Woong tells his family about his plan to move in to Young Sun's house. Of course his mother blames Young Sun but he defends her. If his mother wants to call this as rebelling, then so be it. For 60 years he never rebelled so it's time for him to rebel break free from his mother. Chae Ri surprisingly understands her father because she left home for love too hence she doesn't want dad to break up from Young Sun. And because Cheol Woong will live with his son, Hoon Jae may visit his grandmother more often.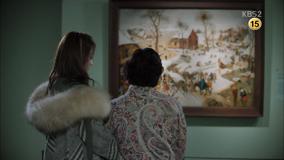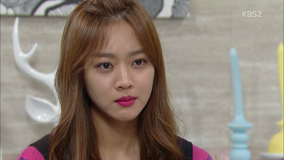 At the art museum earlier, Chae Ri asked about Sanok's wish – it's to see Hyung Soon and her get back together & her youngest to regain his strength back. She is now thinking to give him another chance.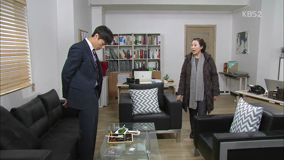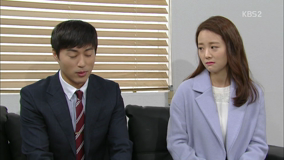 Hyeong Kyu quickly gets up & rushes to work after he smelt not-so-delicious-breakfast. While the two women are clueless, Kim San knows he's running away from their bad food! Sanok knows it too! She secretly goes to his son's office and as expected, he's eating his breakfast there. He's been stealing side dishes from his parents' store. Well, Hye Joo also catches him today. Time for confession and a slap of truth. The situation is far worse that they imagined so Sanok decides to… make Hye Joo her student & the best cook!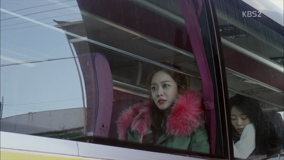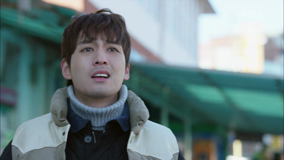 Let's go to the countryside where the lost son is starting afresh. Chae Ri found out his whereabouts from Dong Chool and gathered her courage to see him, begging him to return home but he insists to stay here for a year like he told his parents because he doesn't want to ruin her life. He tells her to go to her own path as he's become an unfilial son to his mother. He's trying so hard to forget her but he couldn't – he really misses her. He tried to make his heart unwavered but he couldn't do it. As Chae Ri boards the bus back to Seoul, he decides to chase her but he's too late, the bus has left. Depressed haggard Hyung Soon believes it's fate so he has to cruelly let her go.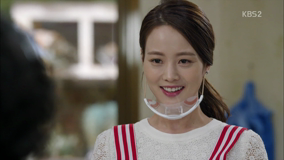 Today is Hye Joo's first day as Sanok's student. She attended cooking academy in the past but she's not interested in cooking and doesn't have the right tastebud to be a great cook so it's useless. But for her husband's sake, she will try to learn just for once. Sanok boost her daughter-in-law's self-confidence by ordering her to yell out "I can!" before she gruel her with intense cooking training.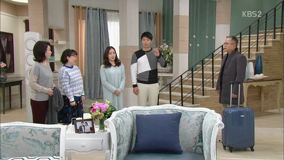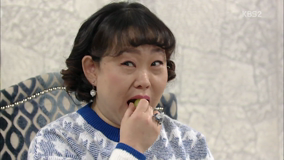 Mother-in-law and daughter-in-law are not in sync as usual. Jin Ae opens the door for Cheol Woong who came with his luggage. He is moving in! Don't worry, he's already told his family. Young Sun runs to hide in her bedroom while Nam Sook gladly welcomes her brother-in-law.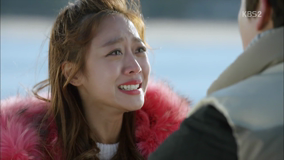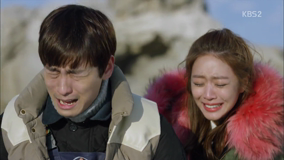 Chae Ri didn't board the bus and is waiting for her husband on the port. As her last resort, she finally tells him the truth. Hyung Soon doesn't believe her, begging her to tell him again and again. In tears Chae Ri reveals that Sanok's biggest wish is to see her youngest son coming home! In denial, he runs to the beach and screams out for his mother. He's still in denial that his kind mother will leave this world very soon. T_T
Comments
If there's anyone who wouldn't be able to keep Sanok's secret, it'd be Chae Ri. As expected she told Hyung Soon but it's not without any valid reason. As a child who lost her own mother due to illness, she knows that regret always comes too late and she wants Sanok's children especially wimpy Hyung Soon to fulfill his mother's wish & spend as much time as he can with her. He should stop believing in his cruel fate because it's frustrating to see him crying out for Chae Ri without doing anything to chase her back.
Hoon Jae on the other hand, is proven to be a reliable son-in-law who respects Sanok's wish although it breaks his heart keeping this secret from his wife who deserves to know. Jin Ae is actually the closest to her mother despite their constant bickering. Their relationship is getting better now as they continue showing their affection & gratitude more openly. It's awesome seeing Jin Ae took pictures of mom alone, showing how much trust Sanok has towards her only daughter who's grown into an amazing lady.
On the other hand, her spoiled prince is just plain ill-natured. After everything his mom did to him, including approving his marriage; what has Hyeong Kyu done? He takes Hye Joo and her family's side, blindly defending them. It's awesome he's protecting Hye Joo but he should let her out of his protective bubble and stop pretending everything's all perfect. Fortunately, Hye Joo is trying. Oh she's so trying to be a good daughter-in-law and her sincerity won Sanok's heart. Can't wait to see her transforming into Sanok's best apprentice. 🙂
Sanok and Dong Chool's heart-to-heart conversation always breaks my heart. Dong Chool is a real softie at heart, he's like a fragile glass who can't bear hearing bad news. He's very dependent on his wife that he can't even do a basic chore like laundry. For couples who've spent more than 3 decades together like them, the realization that one of them will go first is very terrifying. Seeing Sanok trying to hold back her tears whenever Dong Chool teases her to live longer than him is heartbreaking. Can we hope for a small chance of miracle?