All About My Mom Episode 47 Brief Recap
Watching Jang Chae Ri maturing into such a caring, attentive and affectionate daughter-in-law is making my heart bursting with pride. She might be daddy's spoiled princess but she's not afraid of speaking up her opinions (which sometimes sounds petty but at times it's the truth) and is firmly chasing & protecting her loved ones. Unfortunately, this drama's spoiled prince continues being a spoiled brat. When will you grow up, Hyeong Kyu ya?
Episode 47 Recap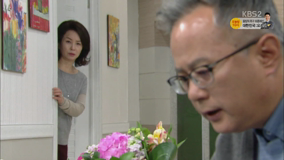 Cheol Woong is making himself comfortable at Young Sun's house, doesn't realize that his action is driving his lover crazy. Young Sun's heart jumps when someone's knocking her bedroom's door thinking it's Cheol Woong but it's Nam Sook who wants brother-in-law Cheol Woong to sleep in Hoon Jae's room since the guest room's heater is broken. Meanwhile, Hoon Jae also doesn't let his dad to sleep in his room because mom told him so and truthfully he doesn't like seeing his dad barging in like this. Jin Ae teases he's jealous his dad is stealing his mom (from him).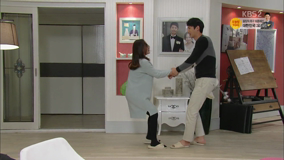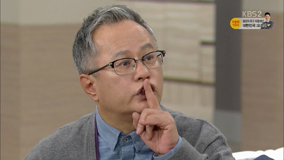 She drags him to tell dad he can sleep with him in their room while Jin Ae will sleep with Aunt Nam Sook but Cheol Woong rejects their kind offer, reminding they shouldn't talk to him (at all) if they don't want to get scolded by Young Sun. Don't worry about him, he'll sleep here tonight. If he's sleeping comfortably in the room, there's no way Young Sun will sympathize on him, right? (it's his plan!) He's overjoyed hearing his son's worrying about him though. This cheeky man shush them to go back to their room.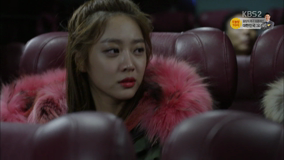 The lost son is on his way back to Seoul, his tears doesn't stop flowing – he cries all the way home T_T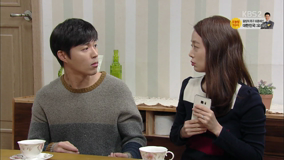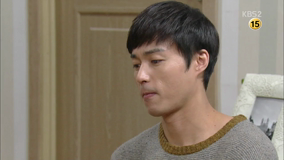 Meanwhile, Yoo Ja is unhappy Sanok asked her daughter to start work at 6AM (because Sanok receives daily produce around that time and they will have to prepare breakfast). Hyeong Kyu immediately wants to call mom to complain but Yoo Ja tells him to talk to his Mom face-to-face (not when he's with his wife's family to avoid misunderstanding that Hye Joo's family is controlling him). Yoo Ja then nags at him for not telling the truth about their inedible food, embarrassing this family as he rebels & makes lots of excuses to escape. He politely apologizes, explaining in details how his body needs to adjust to new living arrangement.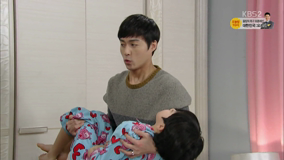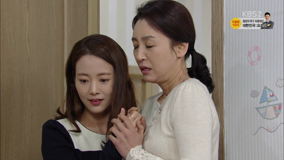 A smile breaks on his face finding out Kim San is already sleeping so he quietly moves this boy to his own room. But as soon as he put him down in his room, Kim San wakes up. Mission… failed!
Sanok is packing Chae Ri's clothes thinking she will not come back. Suddenly both her and Dong Chool hear Chae Ri's voice calling them. Smiling widely, she tells Mom that she brought a gift. She has prepared Hyung Soon to surprise his mom, to pretend he doesn't know about Mom's illness and to show his happy face. Chae Ri calls out for her "gift" to come and… after taking a deep breath, Hyung Soon steps inside.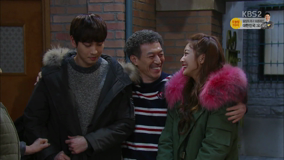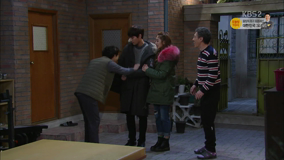 As expected, Sanok scolds this couple. Chae Ri has just told her there's no chance she'd reconcile with her husband and now she's telling them the opposite. Sanok then breaks into tears, with her weak fist she scolds her youngest son for causing this unnecessary uproar 🙁 Dong Chool welcomes Hyung Soon and Chae Ri back warmly. Aww.. love you dad. Sanok heats up delicious broth, instinctively, she prepared it earlier. Dong Chool is so happy he helps his wife preparing warm meals for this couple T_T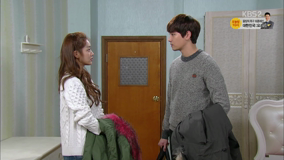 Hyung Soon doesn't want to deceive his mom (as their marriage is still on the rocks and they're not back together like Chae Ri said), moreover, he's afraid Chae Ri will be in deep water if her dad finds out she breaks another promise. She replies she'll take care of it but she's not denying when Hyung Soon boldly emphasizes they're no longer in any relationship. Deep down she's disappointed but she only wants to make Sanok happy. Hyung Soon walks her to catch a taxi (she's going home tonight) and the memories start flowing in.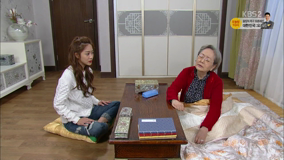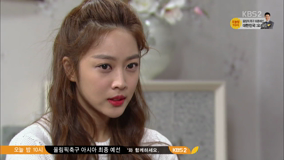 After going through so much emotions today, Chae Ri has to deal with whining grandmother who tells her to call Dad back home. She advises grandmother to keep their heads cool thinking of a strategy so they can attack during Dad's weakest moment.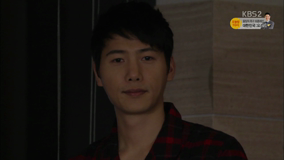 Both Hoon Jae and Young Sun are tossing in bed, unable to sleep thinking about Cheol Woong. Hoon Jae brings a blanket for dad but mom beats him to it! He realizes how in love Mom is with his dad who pretends to be sleeping but is awake and convinces himself to be patient.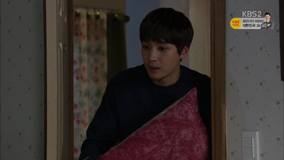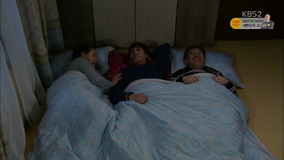 Hyung Soon can't sleep either. His heart aches for giving his dying mom so much heartache. Sanok's heart is heavy too seeing how haggard his son is. Suddenly, they hear Hyung Soon's voice. Awww he wants to sleep with mom tonight, making excuse that the heater in his room isn't working. Well Sanok did turn off the gas of her sons' rooms as both of them weren't home. Anyway, Sanok pushes her husband so their youngest can sleep in the middle like he used to when he was young. Awww… They named him Soon which means gentle and it's awesome he grows up into a kind-hearted man. Both Sanok and Hyung Soon sleep on the opposite direction (not wanting to see each other) as they both cry T_T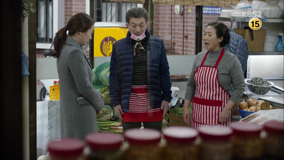 Hye Joo's first day as Sanok's apprentice isn't going so well. She wakes up 30 minutes late! Of course Sanok scolds her as soon as she arrives. Sanok was so petrified of her late MIL that she woke up at 4AM back in those days. She then kicks Hyung Soon out of the kitchen (he's preparing breakfast) to teach Hye Joo and assures his overly-worried spoiled son that she will be kind to Hye Joo.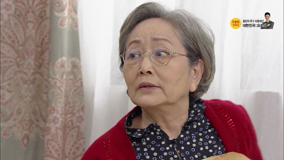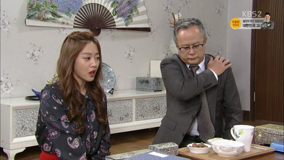 Filial son Cheol Woong rushed out to Mom's bedside without eating any breakfast, begging her to stop whinging eat. In frustration, grandmother reveals Chae Ri is going back to Hyung Soon's house. Chae Ri explains dad is doing this too so why can't she move back to his house? She brazenly tells dad to stop meddling into her private life.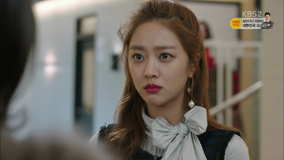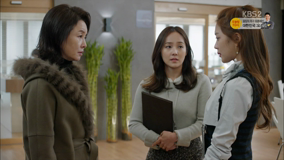 With a pouting face, Chae Ri accuses her boss for totally ignoring her grandmother's feeling. Well, blame your dad, Chae Ri ya. Young Sun reminds her that this is a workplace so she needs to separate between work and personal life! But she can't be stopped, continuing to reveal her opinions until Jin Ae gives her a sign to apologize. She then tells Jin Ae about her plan to moving back to her house and asks her to visit & call her mom often.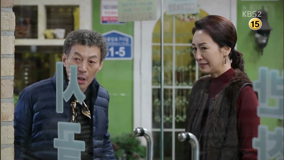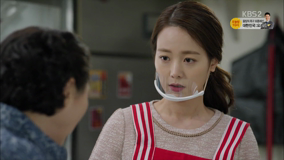 Not only she can't cook, Hye Joo's knife skill is almost non-existent. Yoo Ja is upset seeing Sanok keeps scolding her daughter but is unable to do anything except complaining to Dong Chool – accusing Sanok to release all the bitterness she got from her late MIL to her daughter-in-law. The ever obedient Dong Chool nags at his wife who orders him for not helping Hye Joo. To annoying Yoo Ja, Sanok reminds her that it's her right to teach her daughter-in-law. As expected, Dong Chool wants to help Hye Joo by telling her to use mandolin cutter but sweet Hye Joo refuses.
Hoon Jae is seeking another doctor's opinion but unfortunately he gets the same answer: her cancer is untreatable. 🙁 He's not giving up though, he's already made an appointment to see the best doctor but Sanok stops him, she has accepted her fate now. She's fighting it with the right attitude. Hoon Jae has done his absolute best so that's enough. Awww. Sanok looks surprised when Jin Ae calls her (as this girl rarely calls), is so happy hearing her daughter's voice. <3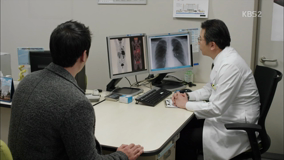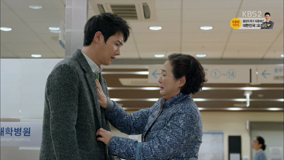 Hoon Jae believes it's now the right time for the rest of family to know because they'll be heartbroken if they find out later. It's okay if they'll resent him but they should know (to give them time to say their farewell). Sanok realizes it too but she still asks him to hold on a little longer because she's not ready to see them hurting & regretting. T_T She apologizes he has to carry this heavy burden himself. T_T She tells him to stop crying so he won't go back to work with swollen eyes.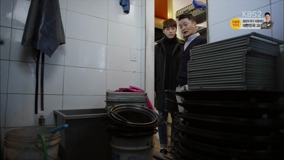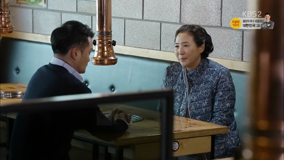 Trying to get his life back on track, Hyung Soon is looking for part-time job so he can spoil mom. Sanok suggests him to get his old job back, bowing his head and swallow his pride as the head of his household so he goes there, apologizes for abruptly left without any notice. The boss is still angry however… he recalls Sanok's plea (OMG Sanok came to see him earlier, begging him to hire Hyung Soon again because it's all her fault T_T) so he's giving him another chance – starting from the bottom again.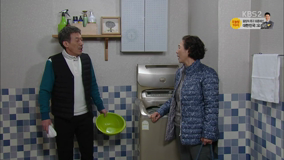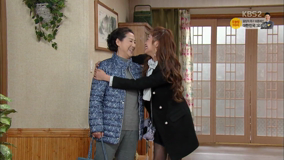 Sanok's biggest worry is her husband who still can't do basic household chores. He annoyingly accuses her of making everyone her minions and becoming really selfish lately. If only he knows his wife wants him to be able to stand on his own two feet without her. T_T Chae Ri is back and is so affectionate to her sweet MIL.

Jin Ae drives exhausted Hoon Jae to his grandmother's house to accompany her as she's alone. To Young Sun, Hoon Jae lies they're sleeping at the hotel tonight. Their presence bring a smile on grandmother's face. Awww.. While the newlyweds are cooking dinner at Cheol Woong's house, this man is preparing dinner at Young Sun's place! He's so happy they'll have the house only for the two of them tonight.
Grandmother is annoyingly ordering Jin Ae around as if she's their servant and her Hoon Jae is her prince. Aigoo aigoo. Speechless Jin Ae now figures out why her MIL doesn't like this grandmother.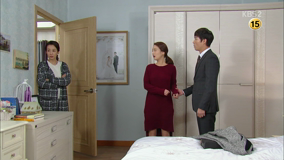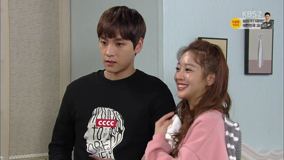 Hye Joo's wrists are swolen after cutting radishes today, she has a weak wrist. Yoo Ja pour more hot oil into Hyeong Kyu who's already looking so upset. Chae Ri is back at home and whenever this couple hear Sanok's voice, they pretend to be the so-in-love couple. They do anything to make Sanok happy.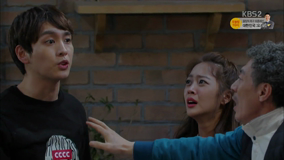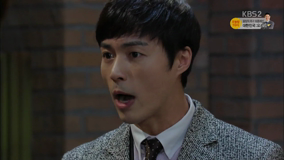 But… her happiness doesn't last. Hyeong Kyu marches in – complaining, nagging about Mom mistreating his wife! He is annoyed Mom planned to pass on the store to Hye Joo whose dream is to work at the office. Hyung Soon set things straight for his spoiled hyung who only cares about his wife, forgetting their mother who suffers, works tirelessly at her side-dishes shop. But this spoiled prince accuses Hyung Soon of being jealous seeing mom passing down the store to Hye Joo while he's still unemployed. If that's the case, he can take that worthless store! OMG OMG. Worthless store???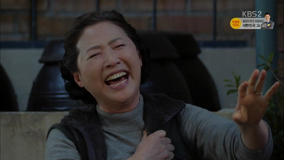 Suddenly, Sanok burst out laughing! She can NOT stop laughing pointing at everyone as she clutches her painful shoulder. T_T T_T T_T