All About My Mom Episode 49 Brief Recap
Dong Chool is going through the five stages of grief after finding out the woman he loves who's faithfully staying by his side only has few months left to live. After the denial and anger, he bargains with the doctor hoping for a miraculous cure but he soon falls into a depression as he realizes there's nothing else he can do. Fortunately there is! But it'll take courage for him to accept this heartbreaking diagnosis, making the best of what seems to be the darkest moment of their lives.
Episode 49 Brief Recap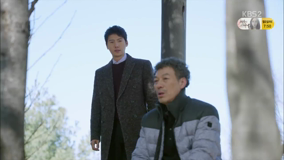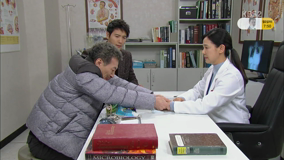 After overcoming his initial shock, anger and denial, Dong Chool concur with Hoon Jae's decision to let him know now but he'd rather keeping Hyeong Kyu in the dark for now because he'll be drown with regret. Hoon Jae then escort his FIL to see Sanok's doctor as he wanted to confirm with his own eyes (about her health condition) & begs her to save his wife, no matter how much it'll cost. He pleas, begs, cries but sadly he doesn't get the answer he really wants. He trembles when Sanok calls him, doesn't know what to say to her – he can't face her either so he chooses to go back to the sauna instead of going back home.

Meanwhile Sanok is sorting out her summer clothes (because she won't wear them again T_T) but she ain't giving it to Hye Joo who annoyingly wondering why Chae Ri didn't peel garlic as she asked. Oh-ho.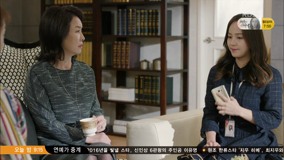 This girl is busy presenting her practical yet elegant design for moms in their 50s-60s, the inspiration she probably got from her lovely mom-in-law. Everyone's congratulating her as her design will be launched soon. She then strikes back at annoyed Young Sun (who's wondering if she's curious about grandmother) that no, she's not worried because her CEO and her brother's wife must've treated grandma well there. It's amusing that Jin Ae is now on Young Sun's side because she's also annoyed with Chae Ri who abruptly left her grandmother at her place last night. Chae Ri cheekily changes the subject teases that her CEO will be her step-mother as she's already sharing the room with her dad hence she put her trust on her CEO to take a good care of her grandmother!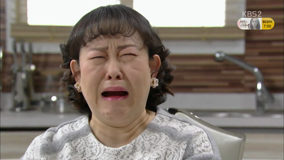 Chae Ri can only laughs overhearing her grandmother's phone call to Jin Ae – asking both her and Young Sun to come home early today. There is no… excuses! At least they're at work now. Poor Nam Sook can't even leave the house before she finishes peeling the onions!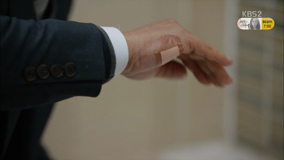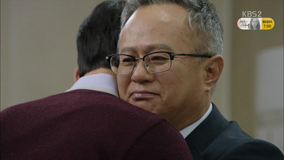 Cheol Woong teases Hoon Jae for only treating his father-in-law as his only father, but Hoon Jae soon realizes how blessed he is to have found his 'dad' who saved his life after he saw dad's bruised hand. He finally calls him dad. Dad's heroic act melts his icy cold heart T_T With happy tears on his eyes, Cheol Woong hugs his son <3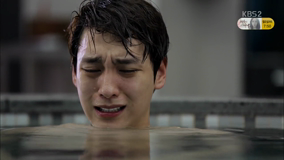 After Hoon Jae told Hyung Soon about dad's stubbornness, he comes to take him home. But Dong Chool insists to stay here – submerging in the big tub because it's the only place he can cry as much as he wants. He notices Hyung Soon and Chae Ri pretended to reconcile only to make Sanok happy!

Sanok can no longer hides the pain although she's trying to T_T Worried Hye Joo spots the medicines Sanok just took but her MIL lies it's just vitamins. After helping Sanok to sleep, she goes to see her husband to apologize after witnessing how uncomfortable he is living with her family. Hyeong Kyu gobbles up his breakfast everyday before rushing to work without even using the restroom and coming home late everyday. He has put in so much efforts but he'd prefer to return to their dating days because at least he could be with her and wasn't as lonely as he is now.

Filial son Hyung Soon asks his sister to come visit mom often because she really misses her. But Jin Ae is too preoccupied with her grandmother-in-law and believes it's better this way as she's quarreled with mom whenever they meet. He almost blurts out mom is going somewhere else forever soon but he walks away in agony.

Stubborn Dong Chool is still hiding at the sauna although he's drown in regrets until he spots an hour glass! He realizes time is ticking so what is he doing here? He runs home, looks around the yard but as soon as he sees Sanok, he abruptly leaves and drowning himself with alcohol (but despite his low alcohol tolerance, he isn't getting drunk at all). He keeps talking to himself to be brave, to get ready for the worst! Chae Ri bumps into him and her tears flow finding out her FIL knows but he doesn't have the courage to face his wife.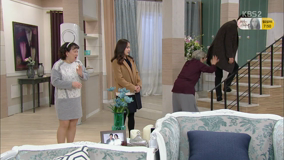 Grandma has made herself comfortable at Young Sun's house, acting like the matriarch of this house. She looks jealous when Cheol Woong brought a gift for Hoon Jae's mother aka his lover and this couple go straight to their bedroom where Cheol Woong oppa presents Young Sun with wedding dress! He's already booked the wedding hall too. To spare her from preparing dinner, he begs her to try the dress now. She looks gorgeous! Grandma escorts her prince Hoon Jae to rest while dumping the chores to Jin Ae!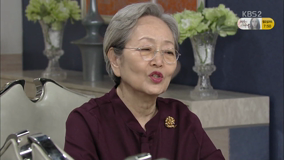 Poor Jin Ae gets all the flacks from grandmother's jealousy. Sweet husband Hoon Jae sneaks in to help his wife and they (plus Nam Sook) have to hear endless complains whilst running around the kitchen preparing dinner! When Nam Sook nags back, grandmother annoyingly asks when she's going back to the states!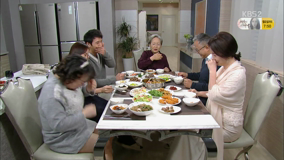 The wedding dress fits Young Sun well but the zipper is stuck so she is eating dinner wearing this dress. The whole family eat their dinner quietly until Nam Sook burst in laughter! Everyone now laughs heartily except Young Sun and the grandmother of course. Hahaha.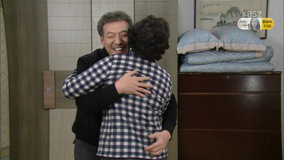 Proud hubby Hyung Soon realizes he must let Chae Ri to pursue her bigger dream after finding out her achievement from his noona. Chae Ri meanwhile, escorts her FIL home and she cheerfully greets Sanok as Dong Chool can't stop laughing (hiding his pain). He's back to sweet Dong Chool who pesters his wife like a child, asking if she's going to forgive him. Drunk Dong Chool then asks her to dance with him & doesn't mind if they don't put his late mom's picture back.

To bring Kim San and Hyeong Kyu closer, Hye Joo pretends she doesn't know how to assemble his toy as Hyeong Kyu proudly put it together. But… he accidentally breaks it! Again and again! Oh No 🙁 Mission fails. Kim San now blames him for breaking his toys, accusing Hyeong Kyu doesn't like him. Then he throws the toys, yelling he hates him! Hye Joo is going to reprimand him but Hyeong Kyu decides to talk to him to find out what's his problem is. Did he do anything wrong? Kim San shakes his head. So is he hating him now because he took away his mom? This little boy nods. Hyeong Kyu asks what should he do then. Kim San tells him to go back to his own house so he packs up his bag.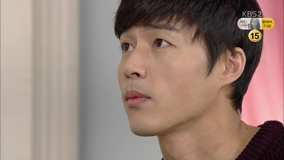 He's not comfortable living here either and realizes what mom said that not everyone can be a dad is true. Hye Joo drops a bombshell, asking if he regrets marrying her. He can only look at her in the eyes.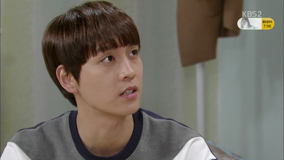 Meanwhile, Hyung Soon let Chae Ri go to pursue her dream, to study abroad and to live her life to the fullest without him tying her down here. She promises to leave when she's ready.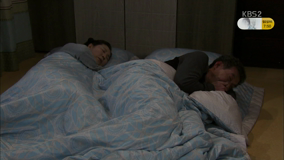 Dong Chool is full of regret for not noticing how sick his wife is. He cries himself to sleep T_T  Hyeong Kyu is back at home & going to lie down in his bed when he realizes someone's sleeping there. It's Hyung Soon who's confused why his hyung is here. The two brothers are sharing the single bed… in the cold because the room's heater isn't on. But they're caught by mom in the morning! What is going on, boys? Did you guys get kicked out by your wives?

Sanok begins suspecting Chae Ri and Hyung Soon's lie as Chae Ri doesn't even know about her husband's promotion. Moreover, her mother instinct tells her it's not Hye Joo but Kim San who kicked her rude & selfish son out. Hye Joo comes to the house to do her daily chores and can only glares politely at Chae Ri who forgot to peel garlic.

At another household, Young Sun tries to sneak out as early as she can but is surprised finding out Jin Ae has already left citing she has a lot of work to do. They actually don't want to prepare breakfast for grandmother as they both buy breakfast on the way to work. Young Sun catches Jin Ae eating her breakfast (who bought two boxes of breakfast because she's always hungry lately) at work, and it's so adorable to see these two women become so look alike lately.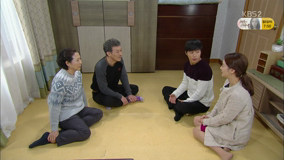 Dong Chool asks Hyeong Kyu to bring Hye Joo & Kim San to live here (he probably wants the whole family to spend as much time with Sanok). Hye Joo actually think alike. She believes if the living arrangement is comfortable for Hyeong Kyu, he and Kim San can get closer much better here.

Awww Dong Chool wrote how to use the washing machine and stick the guide on the wall. He can do basic household chores now! He makes me cry T_T As soon as Sanok leaves, he breaks down in tears T_T He tries to cheer himself up, not wanting his wife to see his swollen eyes.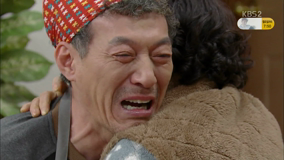 But… Sanok is back home! In tears she asks if he knows. Her heart is torn apart her husband finding it out sooner than she wanted. As she hugs her husband, Dong Chool can only screams out 'Ok!' 'Ok!' 'Ok!' 'Ok!' 'Ok!' T_T T_T