All About My Mom Episode 51 Brief Recap
This episode focuses on Sanok's spoiled prince who moved back home with his family. This man's bitterness towards his loving mother is unbelievably selfish but when similar incident occurs, he understands about Mom's undying love & sacrifices. Then he finds out the secret that Sanok has kept from her beloved son…
Episode 51 Brief Recap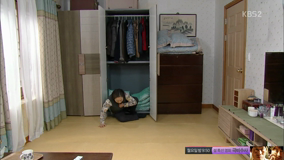 Sanok is preparing Jin Ae's room for Kim San when the pain comes back. Hurriedly goes to her room to take her medicine, she stumbles & drops the pills on the floor. As soon as she hears Hye Joo's voice, she quickly picks up to hide the pills. Hyeong Kyu & his family have arrived with their belongings, they're moving in today. The golden son notices mom's worn out shoes before he joins his family in Kim San's comfy room. They're going to greet Sanok but where is she? They only find her phone on her room. Little do they know that Sanok is hiding in the wardrobe because she doesn't want them to know she's sick T_T

Lying she was in the neighborhood earlier, Sanok pretends she's okay but Hye Joo points out her MIL is sweating and looking unwell. There're so many good news for Lee Dong Chool's family today – their only daughter is pregnant, their eldest is moving back home with his family and their youngest is back together with his wife.

Meanwhile, Grandmother Song is nagging to both Nam Sook and Young Sun who're making dinner to celebrate Jin Ae's pregnancy. When her son wants to help, she escorts him out of the kitchen. Both Jin Ae and Hoon Jae totally forgot to tell them about their dinner plan at her place but to appreciate their effort, Jin Ae chooses to have dinner here although Hoon Jae begs to have dinner at her house as Sanok has cooked her favorite dishes. Moreover, they're celebrating Hyeong Kyu's moving in as well.

Sanok is disappointed of course but what else can she do? Thankfully Chae Ri returns to stay. Confused Sanok asks her to tell but she's not leaving because she's made up with Hyung Soon, this great news makes Sanok cries in happiness. As Chae Ri starts digging on the food, Sanok tells her to eat a lot and get pregnant too. 😀 But she's soon dragged by Hye Joo which makes both Dong Chool & Sanok happy to have two filial daughter-in-laws.

If only Jin Ae and Hoon Jae are here, this family dinner is complete. This couple is surprised Grandmother Song proposes sending her back to her parents so she can rest but Young Sun disagrees because Jin Ae's house chores will be passed on to her! Grandmother Song points out that as CEO, she can easily delegate her work to others so she can do her housework. When Nam Sook explains Young Sun isn't good at house work, Grandmother Song tells her to help! 😀 Jin Ae meanwhile, is having a hard time eating the food her MIL & Nam Sook cooked (due to her morning sickness which lasts all day) but forces herself to eat. When they're finally done with dinner & housework, Cheol Woong proposes to move out ASAP or maybe Young Sun can have a baby too 😀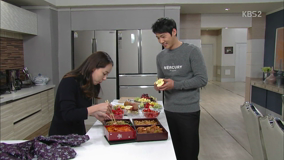 Because there're lots of leftover food, Chae Ri drives her parents-in-law to her house to give these food to Hoon Jae (& Jin Ae). They ask her to secretly give it to Hoon Jae but she cheekily calls her aunt to open the gate! Young Sun greets them warmly and let them know that Jin Ae is allowed to return home with them while Jin Ae is in the kitchen, digging on mom's food. Her nausea is gone, thanks to her mom.

Dong Chool welcomes their idea but Sanok politely refuses their kind consideration, prefer her daughter to stay here because the house is too full with Hyeong Kyu & his family moving in and she can't give her attention to everyone. T_T Jin Ae looks so upset, holding back her tears.

Hyung Soon joins them on his way home from work, to let Cheol Woong knows that they're back together and he'll do his best to make him proud. Cheol Woong nods at this young man's persistence.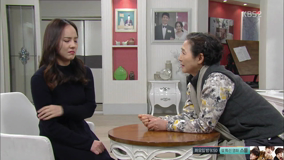 As expected Jin Ae accuses mom of prioritizing her golden child. This time Sanok is not arguing with her, letting her to think whatever she wants and as she holds Jin Ae's hands, she teases her to stop being so stubborn because she's going to be a mom soon. But it makes Jin Ae more upset T_T

While Dong Chool has to close his eyes and ears going home with lively young couple Chae Ri & Hyung Soon, Sanok has a heart-to-heart conversation with Hoon Jae who awesomely carries the burden alone. Biting his lips, Hoon Jae begs Sanok to stay healthy so she can see his first and second child. And third & fourth child. Sanok teases Jin Ae won't let them to have many children 🙂 She then asks him to take a good care of her daughter in which he (with blood shot eyes) replies he will.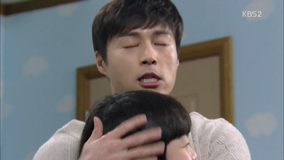 Hyeong Kyu read a (scary) bedtime story for Kim San and as he plans to leave the room, Kim San reveals he'll sleep alone tonight! Oh yeaaaah. Hyeong Kyu jumps to Kim San's bed and hugs him. The newlyweds finally can sleep together tonight. They almost kiss when Kim San panicky calls mom that he can't sleep, afraid that the monster (from the bedtime story) is coming! Hye Joo quickly goes to her son's room to sleep with him tonight while Hyeong Kyu regrets choosing a scary monster bedtime story.

Sanok doesn't want Jin Ae to see her in pain that's why she forced her to stay back. It makes her angry (to herself) because she wants their relationship to get closer not worse like this. Dong Chool advises her to make lots of yummy food and asks Jin Ae to sleep over. Jin Ae meanwhile is still upset, she feels Hoon Jae knows her mom better than herself. She refuses Hoon Jae's idea to meet up with mom tomorrow but suddenly she's craving for mom's food that she brought earlier. Caring husband Hoon Jae brings some leftover for his wife who's longing for her mom.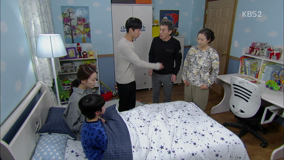 Sanok nags at Kim San who can't sleep by himself (because he still doesn't used to Hyeong Kyu & mom's marriage), making Kim San cries. Hyeong Kyu of course blames mom for making this boy cry, even asking mom to leave the room. So Sanok with a big smile lies beside Kim San and sweet Dong Chool joins her, as they kick the newlyweds out of Kim San's room. Don't worry Hye Joo ya, they're professionals in putting kids to sleep, Sanok cutely tell him many bedtime stories and leave the room when both Kim San & Dong Chool are fast asleep.

The newlyweds finally can hug, kiss, and sleep together tonight.

While enjoying their breakfast, Hyeong Kyu notices the food isn't as tasteful so does Kim San who bluntly says it's too spicy & salty. Ehm that's because you're too used of bland food, boy. But Sanok realizes she has slowly lost her taste buds as well. Dong Chool assures her it happens to him too but his tears start flowing as he hugs his beloved wife, he can't bear to tell her the truth T_T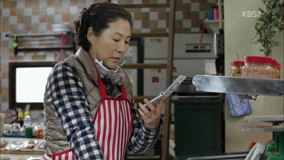 On the way to her side dish shop, she spots Yoo Ja feeding Kim San with fried chicken. Yoo Ja notices her so she sends Kim San to ask for boiled sweet potatoes (to win Sanok's heart back). Sanok's day worsens as Jin Ae refuses to come home for dinner excusing she's busy before abrutply hanging up the phone.

Sanok reveals she's a lacking grandmother because she's never been a grandmother. She clears up that she liked Kim San (before) but she loves him more as he's Hyeong Kyu's son now. Kim San cutely teases it's because Grandmother Sanok has a one-sided crush with Hyeong Kyu, which she fully agrees. Suddenly, she's in pain again so she excuses to go to her room, leaving sweet potatoes boiling in the kitchen.

She's taking her pills but shocked to hear Kim San's crying in the kitchen. Somehow (he) dropped the hot pot to the floor, hot water (almost) burns his hands. Although Kim San assures he's okay but Sanok hurriedly runs him to the hospital because she keeps reminded of Hyeong Kyu's incident. She trips (because her shoes are too worn out) and because she's rushing, she doesn't realize she lost her other shoe.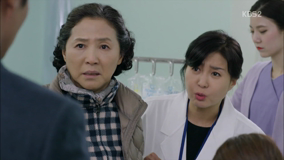 Thankfully Kim San is okay but Sanok isn't. The nurse even yells out at Hyeong Kyu that his mom's injury is worse than Kim San!

Sanok is looking for her lost shoe, she hasn't bought a new one because it's her favorite. Hyeong Kyu promises to buy mom a new one as they followed mom home then Kim San apologizes for causing trouble while Sanok is relieved he's okay. Because they already have plan for tonight, they leave so Sanok is home alone. Hye Joo scolds Hyeong Kyu for continually taking out his anger to his mom, telling him to stop being a bratty boy (as he brings up the hot pot incident) and points out that his mother would've been more shocked & afraid than him. Her hands and knees are bruised! She tells him to apologize (to his mom) later.

Sanok realizes her one-sided crush to her son is too foolish as once again this boy scolded his mom. She lies down in pain. Hyeong Kyu starts digesting what Hye Joo said, buys mom a new pair of shoes and put them beside mom's favorite shoe.

He then looks for mom but where is she? Ah she's in her room, sleeping so he pulls out blanket & pillow for her but he then spots pills scattered on the floor! He tries to wake mom up but she's unconscious.

In a deep shock, he rushes mom to hospital and trips at the same spot where mom tripped earlier. He spots mom's lost shoe there. On the way to hospital, he keeps telling mom I'm sorry, I'm sorry T_T
Brief Comments
In Korea, there's a superstition that giving shoes (as a gift) to your loved ones will drive them away forever from you unless the recipient gives a small amount of money to the gift giver. But I don't think Hyeong Kyu cares about this superstitious at all, he bought new shoes for Mom only because he noticed mom's shoes are worn-out and she lost one of them when she rushed Kim San to hospital. At times new shoes can also means stepping into a major change in life and it's exactly what happens with Hyeong Kyu whose life will be rocked upside down after he finds out that his mom is dying.