All About My Mom Episode 54 Brief Recap
February 16, 2016
|
Recap
After spending 54 hours with these families, it's now time to say goodbye. All About My Mom portrays families' everyday lives, parental love, siblings rivalry, extended families (incl in-laws) conflicts, and mothers' sacrificial love realistically. Consistently, the finale also gives us a realistic ending, reminding us again to focus on what matters most to us and never take anything (most importantly our family & loved ones) for granted because we never know when life will throw us a curve ball.
Final Episode Brief Recap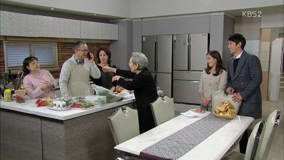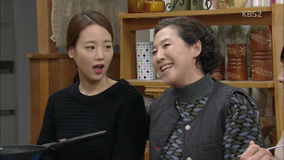 My handsome caring husband Hoon Jae skipped kimchi pancake to be with his wife. Chae Ri tells her family the happy news, assuring worried Grandma Song she has healthy appetite & doesn't suffer from morning sickness. Chae Ri sweetly invites Young Sun to go to her prenatal appointment together. She then teases Jin Ae that she's going to eat as many delicious dishes Mom will cook for her but Sanok looks upset (she can't do the same for her daughter). Well, Hoon Jae's family is cooking Jin Ae's favorite dishes by following Sanok's recipes so she's well taken care of. After hearing this, Yoo Ja encourages her to publish a recipe book but she proudly declares Hye Joo as her human recipe book & best student.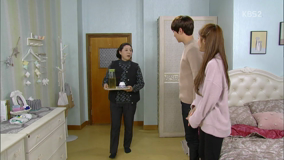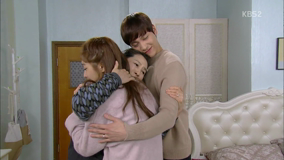 Chae Ri is missing her late mother who would've been so happy right now but she is loving her mother-in-law like her own mother. She is relieved hearing Mom is doing better. Just then, Sanok comes with a bottle of tea in case she gets thirsty in the middle of the night and she hugs her adorable daughter-in-law who's giving her the best gift which makes her so happy. Jealous Hyung Soon points out he took part on this gift as well 😀 so Mom stretches out her hand to hug the maknae couple.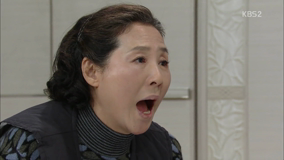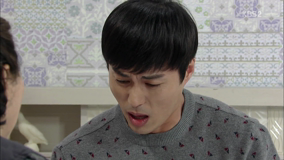 This is not the first time Hyeong Kyu can't speak, he suffered the same post-traumatic stress when his leg got burned last time so Sanok encourages him to practice talking like they did last time. She wants him to practice saying "Mom" but nothing comes out from his mouth. Only tears keep flowing. Mom assures him it's okay to take his time (knowing he's hurting very badly) and everything will be okay soon.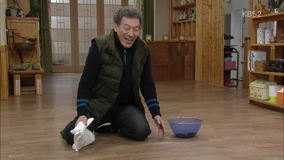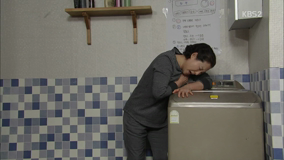 Sanok is watching Mirae's Choice and is admiring the heroine's wedding dress, blaming the poverty preventing her to wear wedding dress back then. Dong Chool suggests to fulfill her dream now but she laughs it off. As her husband wipes the floor for her, she writhes in pain then goes to the laundry room (hiding the pain from him). Clueless Dong Chool doesn't realize his wife's condition worsens, unlike what the doctor told them.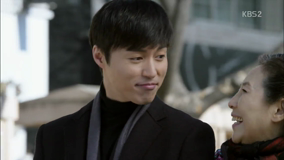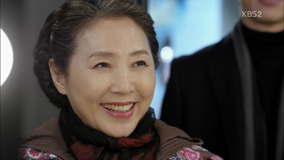 After she's feeling better, she surprises Hyeong Kyu to go on a date with her. He still can't speak but looks so happy when Mom links her arm with him for the first time. Mom's eyes light up in front of a cosmetic store so he sweetly takes mom inside and when the store assistant offers to do a make up for her, he escorts mom to do it. As he stares at Mom getting a makeup, he comprehends his mom is a woman, a delicate & beautiful woman. Regretting breaking Mom's heart without realizing that she is his mother, a woman whom he should never treat carelessly to his heart's content. The proud look on his face and tear on his eyes is palpable, he's now a changed man and son!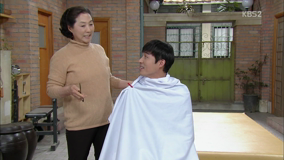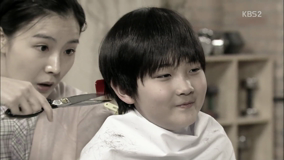 Sanok notices her son needs a haircut, he sweetly let Mom to cut his hair like she did in the past. At first she did it to save money but she grew to cherish the time when Sanok's salon was opened for her boys & husband 🙂 Even though their hair ended up like freshly mowed grass 😀 Mom praises Hyeong Kyu's pretty back of head, like she used to whenever she cut his hair – and tears start flowing again.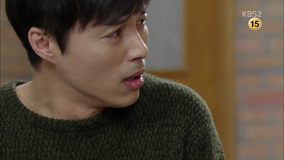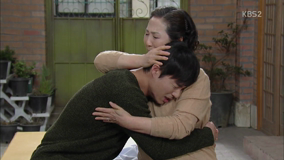 She begs Hyeong Kyu to stop tormenting himself up, it's enough now. She might die because of a broken-heart as she's really hurting seeing him like this. She is aware her son really loves her that's why he was very hurtful to her and is overwhelmed with regrets. He breaks down and finally can utters a word Sanok's been waiting to hear… "Mom"… "Mom"… "Mom"… T_T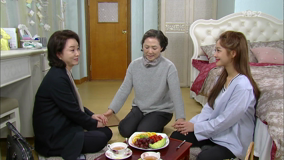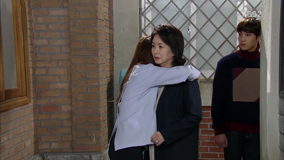 Suffering from antepartum depression, Chae Ri really misses her late mother. Young Sun didn't have her mom when she was pregnant with Hoon Jae so she understands Chae Ri's feeling these days. She surprises her with handmade fresh bread and wants to try to be the real Mom for Chae Ri although she's not an affectionate person. She offers to spend time together to (hopefully) make her feel a bit better. Sanok joins them and she assures Jin Ae is doing well but she's here not as Jin Ae's MIL but as Chae Ri's mom now as she asks Sanok to take a good care of Chae Ri. I love how the three of them are holding hands together, these three strong women are awesomely taking care each other in their own beautiful ways. As Young Sun leaving, Chae Ri sweetly calls her "Mom". Young Sun's sincerity touched Chae Ri's heart and melted the icy mountain between them.
Sanok and Dong Chool arrive at their shop, finding Hye Joo's in tears. The REA is coming with the prospective buyer today, she probably feels guilty that she can't keep up with Sanok's cooking skill (so her MIL has to sell the shop) but Sanok assures it's not the case.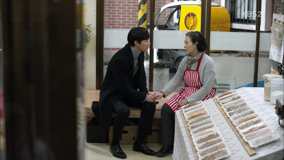 Their hearts drop when the REA arrives. But… everyone's surprised to see Hyeong Kyu, why is he here? He's the buyer! He wants Mom to stay at this store even after she's gone because this side-dish shop is… hers. Hye Joo is learning hard, Hyung Soon can take over this store too so he begs Mom to keep running it.
Grandma Song and Young Sun are having massage spa together, for the first time ever Grandma Song reveals how regretful she is after knowing Young Sun endured her tough pregnancy alone. In turns, Young Sun apologizes for being so cold towards her MIL.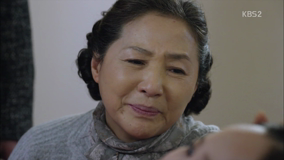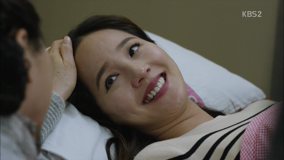 Today is Jin Ae's ultrasound appointment and her mother comes along with her loving husband. Sanok is grateful she can at least hear her grandchild's heartbeat while Jin Ae is thankful for her mother for giving birth to her. She didn't realize back then that becoming a mother is emotionally draining & hard.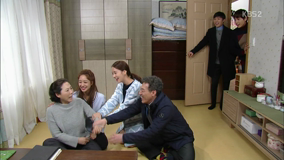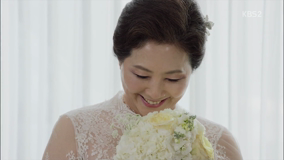 Thanks to 'Remind Wedding'  for older couples, Sanok's family makes thorough preparation so Sanok can wear wedding dress and get the wedding ceremony she's always dreamt of. She firmly refuses but her family begs her to do it so she gives in 🙂 She looks so beautiful, a goddess sent from the Heaven to protect her awesome family. Jin Ae can't help but shed a tear.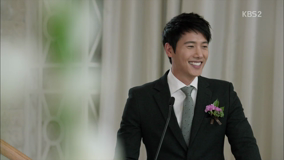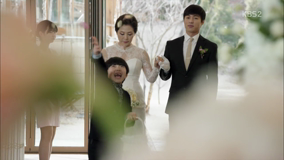 Hoon Jae is the host of the ceremony, he proudly announces the bride's entrance. Walking arms-and-arms with her golden son who walks her down the aisle, with Kim San as the flower boy, everyone claps for this amazing strong woman who made a lot of sacrifices for her family & received so much happiness in return. Dong Chool waits for his bride, mesmerized with her beauty.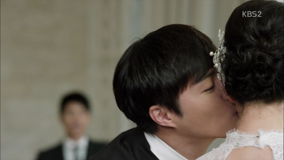 Before giving his mom to his dad, Hyeong Kyu steals a sweet kiss on Mom's cheek. Sanok cutely whispers to her husband that the dress is too tight on her so she can't breathe, making Cheol Woong worried. But she assures it's okay. They look at each other lovingly, can we please end this drama now? Most family drama usually ends with a wedding, right?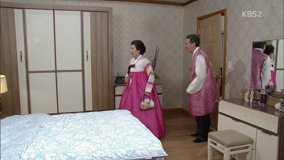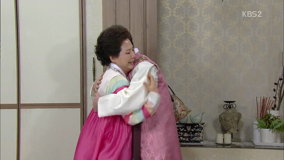 Dong Chool (with Hoon Jae's help) renovated their master bedroom. Even if Sanok can only live for one more day, he wants them to live and love each other in the best place. <3 He declares his love to the world's best wife & woman. In tears Sanok thanks him for loving someone like her. As he reaches his arms to hug her, he sweetly proclaims she's the most precious Ok. Awwww.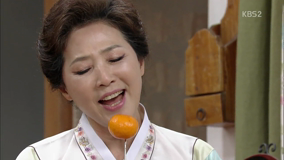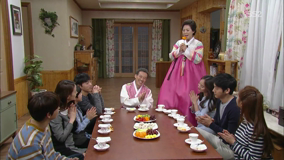 The kids tease them to go on a honeymoon, while Dong Chool is happy to go only with his wife, Sanok wants to go with the whole family tomorrow. On this happy occasion, cheeky Chae Ri asks Mom to sing a song – and the whole family plea her to sing too. She was a singer in her previous life so she grab a fork and orange (as a mic) and starts singing. After she finishes singing one song, Dong Chool shouts out encore encore lol.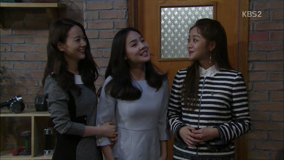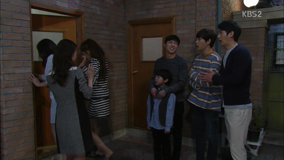 The pregnant women order their husbands to prepare breakfast and lunchboxes tomorrow. The men whinge of course. Hyeong Kyu is wondering if his wife is pregnant too but she cutely reveals she's joking (she's probably pregnant too :D). Before the men complain, the girls quickly go to Hyung Soon & Chae Ri's room and the ever so mature Kim San points out they (these men) will have to do it.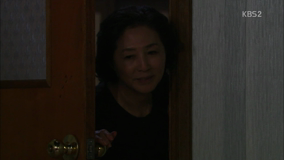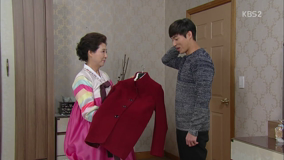 Without them realizing, Sanok was hearing all their cute arguments. She peeks on all her children who're all fast asleep now. Seeing these lovely children make her heart burst in pride & joy. Then she retires to her bedroom where her husband is peacefully sleeping. She stares at her red coat that Hyeong Kyu ironed for her to wear on the trip tomorrow (thanking Mom for ironing his handkerchiefs for the past 10 years).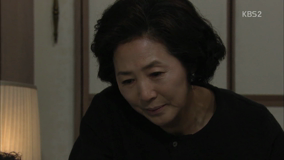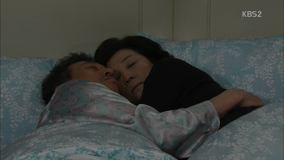 She climbs to the nice comfy new bed, gently strokes her husband's face – whispering "it was really good meeting you, lovely person. I will never regret…" She then lays beside him. "I love you, Chool" They sleep hugging each other.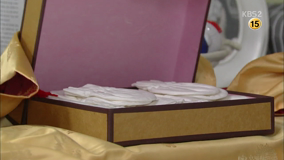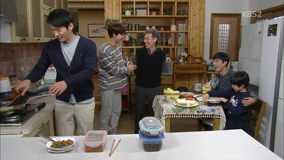 The next morning, Chae Ri wakes up with a very happy mood. They're going on a trip today! She finds a gift box on the table – Mom left a handmade baby clothes for her. Then she wakes the boys up. Kim San is the only one who's excited, the others are still in their zzzzzzland.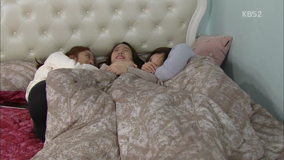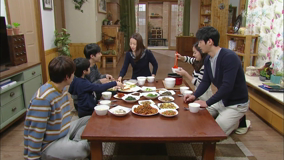 While the women sleep in, the men are busy in the kitchen (well Hyeong Kyu and Kim San are busy eating though) while the new groom Dong Chool refuses to help. Most of the food are burnt, they don't know how to pack lunches and the women are complaining of course. They shout out for Mom to eat her breakfast, don't know the heartbreak that's coming…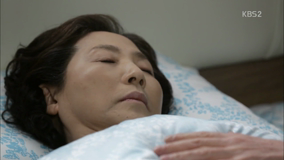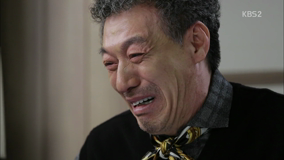 Dong Chool gets ready for the trip, excitedly telling his wife about the chaos in the kitchen. He wakes her up but… she doesn't wake up! Suddenly it hit him… his wife passes away T_T She had a peaceful death T_T
One year later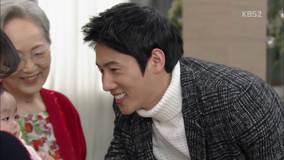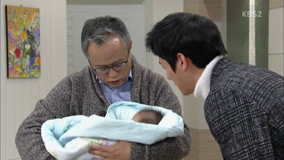 Hoon Jae and Jin Ae have a cute baby girl they name her Eugene 🙂 Cheol Woong and Young Sun also has a baby son Min Jae. Perhaps because his dad is busy taking care the newborn, he passes on many of his responsibilities to his son so Nam Sook helps taking care cutie Eugenie.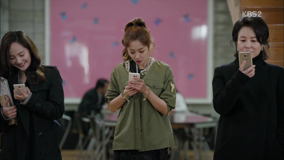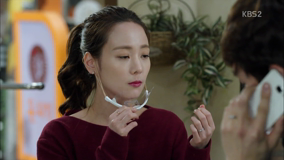 What about the moms? Jin Ae got a promotion as Team Leader while Chae Ri got permanent position and her designs received great responses. They receive calls from their husbands updating about their cute babies.
Hyung Soon and Hye Joo take over Sanok's side-dish shop but her cooking skill is still pretty average 😀 While they're busy at the shop, Dong Chool is looking after their babies – Hyung Soon and Chae Ri's baby Young Dal & Hyeong Kyu and Hye Joo's twins Teul and Kang.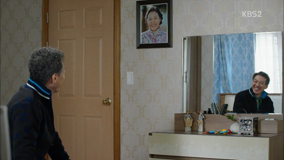 He is thankful Sanok sent the family a lot gifts (grandchildren) so their lives won't be as empty without her but it's still empty for him because he really misses her T_T Nothing, nobody can replace Sanok in his life.

Perhaps it's now norm for the whole family to eat dinner together. Dong Chool is looking sad T_T Sanok might no longer be with them physically and really misses them but her 'presence' is still vividly alive in the midst of her family. Thank you writer-nim for showing us that she continues looking after her family and is overjoyed seeing them doing so well (without her).
Sanok: "Chool sshi, Hyeong Kyu ya, Jin Ae ya, Hyung Soon ya, son-in-law Kang, Hye Joo ya, Chae Ri ya; Goodbye everyone…" 
Comments

Was holding on the 1% chance of miracle after the great news at the end of episode 53, I wished the drama would end after the remind wedding but the writer chose to stay consistent with the realistic bittersweet life journey of one of the strongest mom, woman, heroine in KDrama history. This drama reminds us that life isn't waiting for the storm to pass but it's about learning to dance in the rain. Sanok had the worst storm but instead of waiting hopelessly for it to pass & crying it out, she made peace with it. She strongly held her family together, mending their broken relationship and brought everyone closer. She did everything she could preparing her family for a life without her, it was bittersweet but beautifully poignant.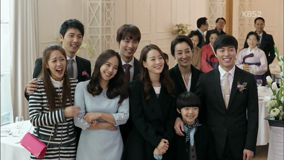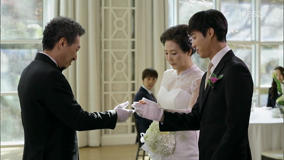 The close-knit family also respected Sanok's wish to spend the rest of her life happily without any harsh treatment (ie. chemotherapy) nor anything which might made the last few months of her life more painful. In the end, she had a very peaceful comfortable death – she got to spend her last day with her family, her last moment with her husband whom she loved the most, at the comfort of her own house. This drama didn't show us the kids' reactions (Dong Chool broke my heart to pieces so I'm grateful I didn't need another box of tissues), hopefully they're at peace that they made Mom very happy and she's no longer in pain.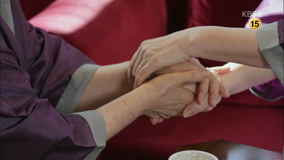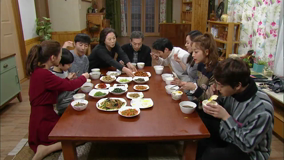 This episode has everything I wanted for the finale, one of the most satisfying ending I've ever seen in KDrama. Bittersweet from the start to the end. Reconciliation between mother-in-law and daughter-in-law; step-mother and step-daughter, forgiveness, beautiful wedding, family togetherness and gorgeous babies to finish off this heartwarming family drama. Awww the babies are wearing scarf on their neck like grandpa Dong Chool 🙂 Beside the wedding, the ending is my favorite part – showing that Sanok's memory stays alive and her family always feel her presence in their daily lives.

It's awesome to see Hyung Soon taking over Mom's treasured side-dish shop, it's clear he inherits Mom's cooking skill. Btw who gave him this perm? >.< Hye Joo stays consistent(ly bad at cooking) – which is good to see because I'd be cheated if she miraculously becomes the best chef 😀 And isn't it great to see the role changes in this drama? Young Sun, Jin Ae, Chae Ri and even Hye Joo continue thriving in their own respective careers. Even though they're busy working, they are strong moms who like Sanok, always protect their children in the midst of wars & stormy journey of life.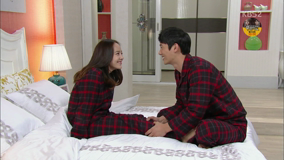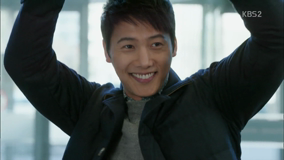 I started this drama because of Eugene and Lee Sang Woo, at times I was disappointed they didn't get as much screen times as the other characters – but I'm contented with their character developments. Their relationship was rocky at first but their strong love conquered the rocky roads. They're perfect for each other <3 Hoon Jae is my favorite male character in this drama, a filial son, a loving husband, a caring & dependable son-in-law & brother.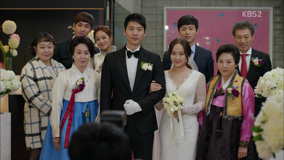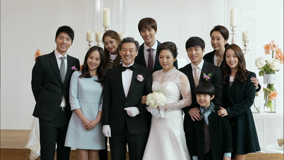 All About My Mom tugs my heart about the preciousness of family, a heartwarming family drama which reminds us to treasure our loved ones and to forgive, forget, love along the way. Set aside our bitterness & jealousy, cherish every moments because we can't never turn back the time. One of the best family drama I've ever watched. From nation's mom Go Doo Shim to child actor Gil Jung Woo, all actors who brought their characters alive and made this heartwarming drama more enjoyable & fun – thank you! 🙂 And thank you everyone who follow my recap. It's been a fun 6 months ride ◕‿‿◕