All About My Mom Episode 6 Brief Recap
September 4, 2015
|
Recap
Life is not a bed of roses, it's full of thorns. Realistically, life is very cruel and it's up to us to figure out the right way to approach it. People who have power can easily crush their weaker opponents. Lee Jin Ae knows it so without arguing too much, she cooperates fully with the investigation team's orders. But her mother (bless her heart) protectively defends her daughter which makes things worse! Can they give Jin Ae a break?
Episode 6 Brief Recap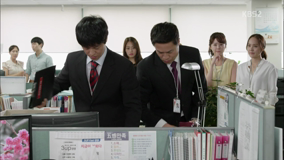 Without hearing Jin Ae's explanation, Young Sun abruptly leaves. What happened? Oh their competitor Terry Fashion announced special clothing technology this morning, this technology is currently being secretly developed at HS Fashion! Jin Ae is accused for leaking this info. She allows the investigation team to inspect her personal belongings. They confiscate the USB! Oh no… ´∩`

They find the secret document on this USB. Jin Ae insists she never copied it, she doesn't know anything about this project. Then she points out about the strange man who dropped the USB but Young Sun's secretary who saw her that night accuses she's the strange man's accomplice. The investigation team has investigated the CCTV camera. Someone, please defend Jin Ae! Young Sun isn't 100% sure Jin Ae did it while her secretary gets a good slap from Jin Ae who warns nobody will believe her anymore if it's proven she's not the culprit. She shouldn't accuse someone without any valid evidence.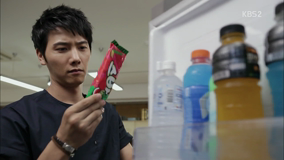 Ambitious Hoon Jae makes a bid for a penthouse remodelling because if it's successful, it'll help the company to clear their debt & increase their reputation. But, they're competing against JY Group making Cheol Woong and Ki Tae think he's doing it out of revenge. Hoon Jae insists he's not.
When he sees watermelon ice cream, he instinctively protects his nose recalling the cute painful moment when Jin Ae stabbed him. 😀 He's wondering if she passed the presentation. Her parents are also wondering the same thing but Sanok believes she'd pass.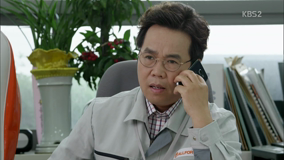 Jin Ae is currently at Terry Fashion, trying to find out who leaked it but she's not allowed to see anyone. Her manager orders her to go back because they lodged a complaint she's bothering them.
Today is definitely not a good day for this family. Hyung Soon is fired. He blames Jang Chae Ri, but it's not entirely her fault. You chose to go to her. To make things worse, he failed another job application. Life is cruel for those who don't have any good qualifications.
When Chae Ri texts him, he calls her back straight away lecturing that he doesn't have the luxury to spend all his time dating. So please don't text and call him. Of course she calls him back but his phone is turned off.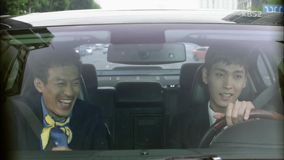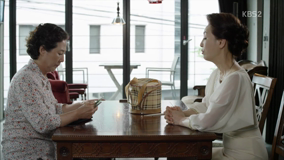 To cheer up his youngest son who just got fired again, Dad suggests they'll go for a drive using Hyeong Kyu's company car. He gets permission from his wife to leave the shop for his skin treatment. Nobody is mending the shop as Sanok delivers side dishes Hong Ja requested her to make. She wants to impress Cheol Woong obviously. Sanok tells her to pay $30 in which she sarcastically points out it's the same price as bottle of whiskey she sells in her "Paradise" cafe, named after movie Paradise that Phoebe Cates starred. Dong Chool said in the past she looks like Phoebe Cates.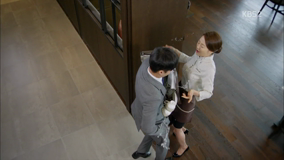 Hyeong Kyu can't take his eyes off Ji Eun, he doesn't even see when a waitress (Kim San's mom!) carrying heavy tray of plates & glasses walked towards him. Bang… They collide. Seon Hye Joo keeps apologizing but he scolds her. Ji Eun smirks from afar, this jerk hasn't changed! She tells the manager to take Hyeong Kyu to the penthouse so they can dry-cleaned his stained shirt while he's taking a shower but he rejects it. He only accepts new shirt they offered. Jin Eun asks if he likes it, it suits him better.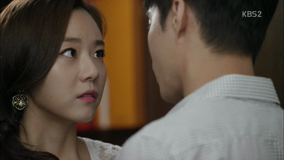 Hyeong Kyu is curious why she avoided him before, when she replies she didn't, he glares at her, you're lying!
Seon Hye Joo can't say to her son that she was scolded so she tearfully lies she just received a compliment at work. She's an awesome mom who doesn't want her son to get worried 🙁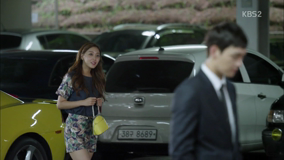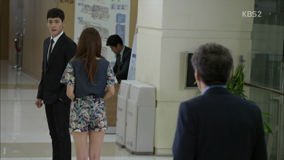 Chae Ri runs into Hyung Soon who just dropped his father at the hospital. She secretly follows him but embarrassingly collide with a nurse. When Hyung Soon realizes she's here, he's like please keep your composure, Hyung Soon. She's also saying the same thing to herself. Lol. She gets up, coolly approaches him but Dong Chool is here! ヾ(⌐■_■)ノ Run, Hyung Soo yaaa..

He orders her to follow him, so she yells Oppa! Shin Jae Min sshi! Dad is confused! He drags her away wanting to tell the truth. But… Shin Jae Min arrives to save him… or not.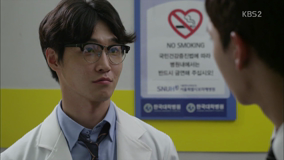 Jae Min advises him to just end it with her but Hyung Soo argues it's not as simple as that. Wait, Hyung Soo… Do you like her? Based on his expression, it's clear he likes her. But he lies that she's not his type. Maybe because he sadly assumes he doesn't have any chance to be with her, being unemployed.

Dong Chool figures out his youngest son is exactly like him. Being a bad guy to a woman. But hey son, look at your dad. Even with all his troubles, he's still living okay so don't worry too much.

Cheol Woong's mom praises side dishes he brought, wondering where did he buy it from. Chae Ri is happy dad approves Jae Min after he saw him last time.

Jin Ae walks home with a very heavy heart, what a day it has been. Her company access has been temporarily cancelled. Young Sun no longer trusts her. Her family doesn't know anything yet 🙁 Mom think she failed because she didn't wear the clothes she bought. Jin Ae finally explodes. Everything went down the drain today.

Dong Chool tries to defend his wife who's been worrying sick about her daughter all day. Although she blurted out things that hurt her feeling, deep down she loves her daughter. Jin Ae can only cry. It's hard. Life is indeed cruel 🙁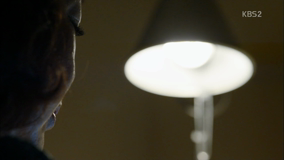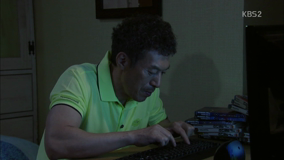 Sanok feels guilty blaming her daughter. OMG Dong Chool is chatting with someone, pouring his heart that he can't support his family. This woman advises him to support his family and she wants to see him if she goes to Korea. He replies back he wants to see her too, Miss Metal. OMG, please don't play with fire, Dong Chool (✖╭╮✖)

Hoon Jae is one step too late (again) so he makes a bet to Cheol Woong that if he wins the bid, he'll have to apologize but if he loses, Cheol Woong orders him to work under him at JY Group! He has no other choice but to win.

Cheol Woong meets with Young Sun wanting to know her opinion about the bet he just made with Hoon Jae. She believes her son will maturely handle it so feel free to do anything he wants.

After reading Jin Ae's diary, Sanok realizes her daughter is pretending to be strong & confident while as a human of course she feels scared, anxious & insecture. She doesn't let the investigation team to search Jin Ae's room although they've got Jin Ae's permission. Mom, why didn't you pick up your phone? Jin Ae called! To make things worse, Dong Chool and Hyung Soon order them to leave. Sanok can only cry, she didn't know what her daughter's going through 🙁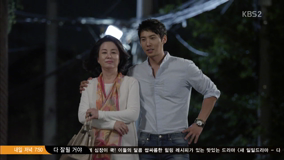 Young Sun advises her son for not getting involved with big company. She's still upset they no longer live together even though there're only the two of them. From mom, Hoon Jae finds out planning team exam was cancelled due to unfortunate incident. He wants to call Jin Ae thinking she's upset but… nah. Call him pls, Hoon Jae ya! (ಥ﹏ಥ) She needs someone to talk to.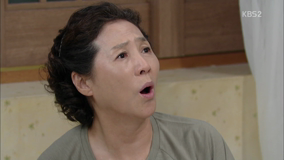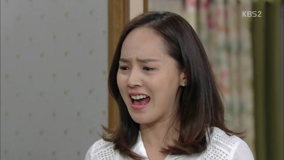 Dong Chool believes his daughter is innocent while Hyung Soon think it's suspicious. Sanok tells the men for not saying anything to Jin Ae when she comes home but she burst in, yelling why mom didn't let them to search her room. Mom believed she didn't do anything wrong so why did she has to bow her head to them. Unfortunately things are getting worse now because of her.
Hyeong Kyu heard everything from Hyung Soon and offers to help. Sadly, Jin Ae refuses. Well based on their history, it's realistic she doesn't trust her oppa.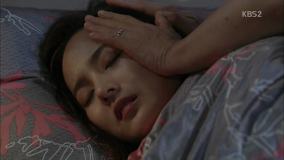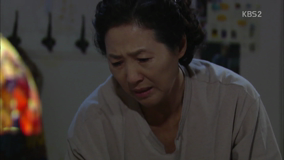 Sanok who can't sleep, enters her daughter's room. Awww she covers her with a blanket, gently caresses her hair as Jin Ae's having a nightmare crying out she didn't do it. 🙁 Jin Ae yaa  .·´¯`(>▂<)´¯`·.

Sanok decides it's best to talk with her President to show that her daughter is falsely accused. She brought documents Jin Ae prepared tirelessly for planning team's job presentation pointing out there's no way Jin Ae would betray the company that she respects & loves. President Hwang apologizes they came to her house without her knowledge. She assures that she likes Jin Ae and will do anything to uncover the truth.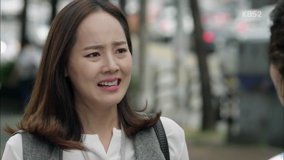 Jin Ae arrives just as mom leaves President Hwang's office. She grits her teeth, trying to hold her anger. She angrily yells at mom, she made her daughter looks more pitiful 🙁 Mom apologizes but she's only trying to defend her daughter. Jin Ae is even more embarrassed to see mom's torn clothes.

Hwang Young Sun reprimands the investigation team for carelessly investigating this case. Beside the USB drive, there's no other evidence which proves that Jin Ae did it! Then she lectures Jin Ae for not speaking up that she feels burdensome over this false accusation. She didn't order them to search her room so she sincerely apologizes. After thoroughly thinking about this, she still wants to believe her and she's suspicious about this case.
But here comes another false accusation. There's two emails she sent to their competitor from her work PC. Jin Ae insists it's not true, she didn't do it. There's no way… She's being framed here. President Hwang refuses to hear her explanation.

Under heavy rain, Jin Ae walks home carrying her work stuffs :'( Pitiful Jin Ae 🙁 What did you do to deserve this unfair treatment?

Hoon Jae is driving to see his mom when he spots Jin Ae. Kind-hearted Hoon Jae calls her but she keeps walking like a soulless person 🙁 He runs towards her, reaching out his hand & wiping her tears. I'm crying 🙁