All About My Mom Episode 9 Brief Recap
September 14, 2015
|
Recap
Based on Dong Chool's history, it's understandable Sanok doesn't trust her husband and sometimes looks down on him but this man has a golden heart. His sincerity to help others in need, his innocence to trust people he indebted to and his continuous supports & encouragements to his children, are heartwarming to see. Jin Ae and Hyung Soo clearly inherited their father's golden heart. Thanks to them and opportunistic Hyeong Kyu, Hoon Jae is welcomed to live at their house. It won't be easy to change Sanok's mind but considerate & talented Hoon Jae has his own method to earn brownie points. 🙂
Episode 9 Brief Recap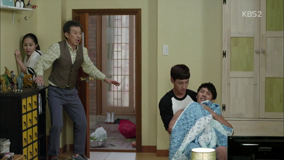 Dong Chool and his youngest son totally forgot Hoon Jae has moved in. It's his room so it's okay if he wants to undress or just wear underwear. Why is everyone treating him like a pervert?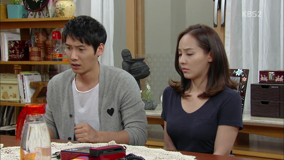 If Hoon Jae knows this is where Jin Ae lives, he wouldn't move in hence he requests Dong Chool to refund his money after he mislead him. Dong Chool explains it's not that easy because he's signed the contract. Dong Chool explains he felt bad Hoon Jae has nowhere else to live (when they got arrested by the police, he lied that his mother lives in the countryside) that's why he offered him a spare room. He even moved his luggage despite his back pain. Hyung Soon nods, exaggerating with a happy heart he helped him although he's tired from apple picking. Hoon Jae is better than a stranger, right? At least they know him.
Sanok is coming home so Hyung Soon runs to help mom carrying her groceries and to give a heads up to his trouble-maker dad before Mom arrives.

Dad hides Hoon Jae in his room, begs him and Jin Ae to keep this a secret until tomorrow morning, promises he'll tell his wife tonight. But Dad, aren't making your own decision? Hoon Jae hasn't decided to continue living here. Dong Chool holds Hoon Jae's hand then slyly grab his daughter's hand before hurriedly leaves before his wife arrives home. Our OTP is holding hands ヽ(*⌒∇⌒*)ノ
Dong Chool throws Hoon Jae's shoes in Hyeong Kyu's room to avoid any suspicion.

Sanok doesn't suspect anything. When they know everything's under control, our OTP peeks from the room, Dad smiles as he closes their room's door, leaving our OTP trapped inside the tiny room. Hyung Soon is shaking as he ladles curled mallow soup for Hoon Jae's dinner so Dong Chool takes over but he's even worse, he spills the soup everywhere (ノ> ◇ <)ノ Both of them startle when Jin Ae suddenly appears behind them.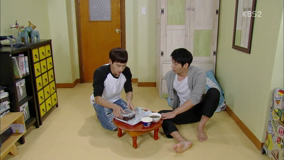 Hoon Jae and Jin Ae's dinner plan is ruined because Hoon Jae can't leave the room. But he's enjoying side dishes & soup Hyung Soon brought. In the dining room, con-artists Dong Chool and Hyung Soon explain to suspicious Sanok that they ate side dishes hence they only have little left now. Father & son work really well together (◔౪◔ )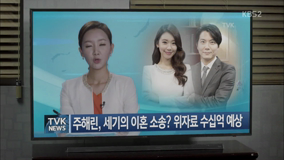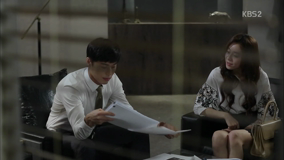 Top star Joo Hae Rin & Sa Gye Beom divorce case is now revealed by media, Ji Eun believes Joo Hae Rin who leaked it. She hands over documents about her cousin Sa Gye Beom's weaknesses then gives lists of names close to her dad, hoping it'll help Hyeong Kyu to find staffs for his new office. On the list, he spots a familiar name, CEO Hwang Young Sun. She advises to approach her father through Young Sun.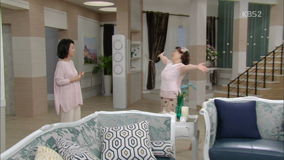 Nan Sook ran away from the USA, she's so happy to see her cousin Young Sun again. But where is her nephew? He's still trapped inside his room, sending SOS to Jin Ae begging her to help him.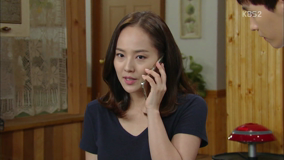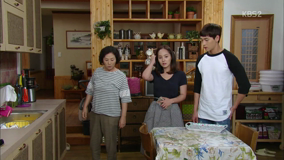 After making sure mom is sleeping, she calls him to meet at the nearby convenience store but Sanok who came to find perila oil, overheard her, asking why is she going this late at night. She explains to buy stockings but Mom has a sharp memory. She remembers Jin Ae bought two boxes of stockings so there's no way she can go out now. What should they do about Hoon Jae who's currently trying to sneak out but can't find his shoes? He quickly runs outside barefoot when he saw Sanok who heard someone / something outside. Jin Ae explains it's a stray cat and she finally can get out of the house after explaining she wants to get a fresh air. Mission… success! Well, not yet.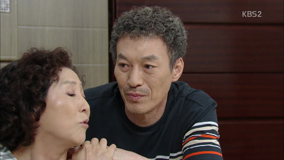 Dong Chool massages tired Sanok, hoping to tell her about Hoon Jae but she covers her ears refuses to hear anything knowing about her trouble-maker husband's history.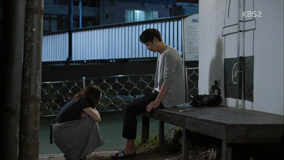 Hoon Jae makes Jin Ae worries by pretending his feet stepped on a broken glass. Sweet Jin Ae buys new slippers, explains it's a present from her heart. She admires his soft feet, he cutely points out those slippers look good on him because he has a nice looking feet. Bragging that he's good looking ` ౪´ Love how natural their friendship grows.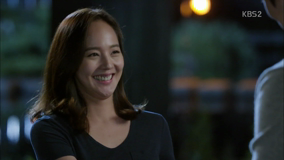 About his living arrangement, Jin Ae agrees that he's better than a stranger so it's best for him to stay. Hoon Jae admits he moved in because he loves her mother's cooking. Then he stretches out his hand to seal his new living arrangement. Let's get along from now on. And fall in love ( ◠‿◠)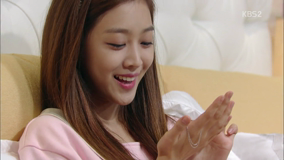 Hyung Soon and Chae Ri are crazily in love. Chae Ri holds her precious necklace, telling her late mom that she has someone she really likes. While Hyung Soon who moved to his brother's room can't stop thinking about Chae Ri.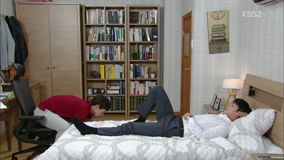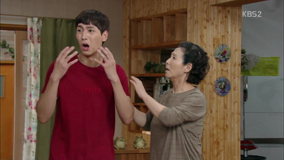 Selfish Hyeong Kyu threatens to tell mom right now if Hyung Soon isn't leaving his room so he has no choice but to sleep in the living room tonight. The next morning, he wakes everyone up with his screams! Mosquitoes bites all over his face, those mosquitoes love him (๑•́ ౪ •̀๑)
He blames dad for making him sleeping in the living room last night. Jin Ae who thought dad has already told mom last night, asks why he didn't sleep in his brother's room. Sanok is wondering why her youngest son has to sleep in his brother's room although he already has his own room. Oh no, mom will find out soon.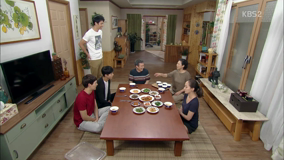 Hoon Jae has to go to work so he put a brave face & introduces himself as the family's new lodger! Dong Chool stutters explaining the financial issue Hyung Soon has so they're doing this secretive project to earn money. Hyeong Kyu who remembers he's Young Sun's son, is giving his permission. He even praises his youngest brother for giving up his room to earn money. But no, he won't share his room with Hyung Soon.

Even though Sanok is still upset her husband let Hoon Jae moved in without her knowledge, but she still gives him breakfast. So cute Hoon Jae calls her eomeonim.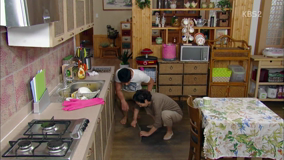 To repay for her delicious cooking, he offers to wash the dishes but she doesn't let a guest to do it. Sanok tells him that he accidentally steps on a worn out flooring. He'll fix it, right? He will.

He's earning a brownie point after buying ointment for Hyung Soon. This kind-hearted handsome man tells Hyung Soon to share a room together but Hyung Soon doesn't want his guest to be uncomfortable so he politely refuses.
Hoon Jae thanks Hyeong Kyu for letting him to stay, knowing Sanok will give her permission soon as she'll follow anything he says. Because Hyeong Kyu is the only one who knows (in this family) that Young Sun is his mom, he asks him a favor to keep this a secret as it'll be uncomfortable if they know he's the son of Jin Ae's CEO.

Sanok still refuses to give her permission, she naively believes her thoughtful golden child wouldn't say no to embarrass Hoon Jae earlier. She then scolds unemployed Hyung Soon, jabbing his heart by comparing him to other people's kids. Hyung Soon raises up an important fact that unemployed people aren't employed because they did something wrong. They're trying hard but realistically it's not easy to get a job. I love Dad keeps cheering on his youngest son for not losing his spirit ٩(ˊωˋ*)و
Cheol Woong is surprised to learn CEO Kang Won Jon really likes Hoon Jae hence it's great news for Hoon Jae who was persistent enough to meet with this CEO but bad news for JY Group.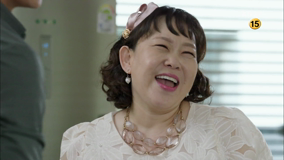 Surprises keep coming for Hoon Jae. His aunt who really misses him, visits him at work.. He introduces his mom's cousin to his staffs.

After Chae Ri mentioned she's suspicious her father is dating the lady who introduced them to a great cook ahjumma, grandma pays Hong Jae a visit. She greets her politely, offers a lukewarm water and earns her a brownie points.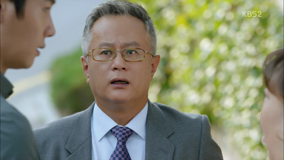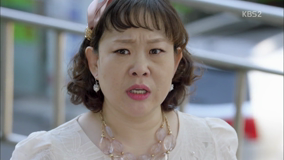 Hoon Jae is with his aunt when Cheol Woong arrives. Nan Sook stutters because she's seen this Oppa before. Before she spills the beans, Cheol Woong quickly points out they met a long time ago for work.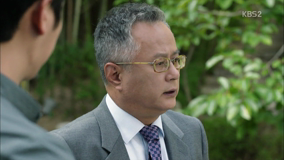 Cheol Woong gives his last warning as a sunbae for Hoon Jae to keep his hands off the penthouse project but he won't give it up. Cheol Woong totally forgot about his promise to apologize, it must've hurt his pride to apologize to his junior. Thank you for your advice but don't worry Hoon Jae won't regret his decision. In a shocking twist, he boldly points out his senior may regret it. Cheol Woong is wondering where did this young man get his boldness from? Hoon Jae: definitely not my mom, probably from my late father?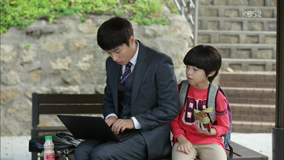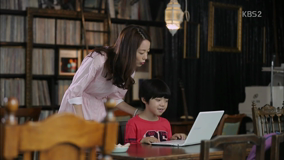 Cutie Kim San greets Hyeong Kyu whose childishness is shown as he puts away his food & drink (maybe afraid Kim San will steal it?). When San sees him posting a job advertisement & his office is near his house, he asks if he can introduce this lawyer man to someone (yes, pls introduce him to your mom, Kim San). Hyeong Kyu then lectures him how to speak with honorifics to someone older than him. The way Hyeong Kyu scolds him to brush his teeth reminds San of his mom. His grandma advised him that he shouldn't tell stranger that she's his mom hence he didn't say anything else to Hyeong Kyu.
Back at grandma's cafe, he shows mom the job advertisement. But because Hye Joo doesn't have any experience working in law field, she brushes it off. Her son begs mom to please give it a try, it's close by too. Hye Joo isn't happy her mom told her son to lie about her single mother status.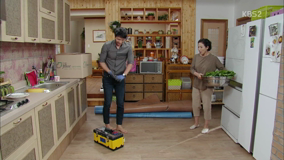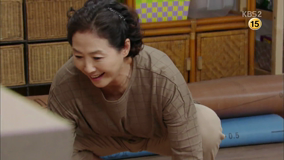 Kind-hearted Hoon Jae spent his lunch break to put a new flooring, much better than they used to have. Don't worry, it's free because it's left-over soft materials he found at his office. Sanok is visibly impressed.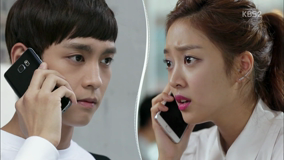 Hyung Soon finds out that he's the only one from old study group who's still unemployed. Just then, Chae Ri sends picture of their couple ring she bought, asking to meet up at the cafe near hospital. She doesn't mind buying the couple rings because they like each other. But of course he refuses to meet so she threatens to go to night club tonight.
Secretary Gong is bullying Jin Ae at work, treating her like her servant. I'm skipping her part sorry but not sorry ౪
After a tiring day at work, Hoon Jae smiles knowing he has a free meal from Jin Ae. But she's too busy working overtime because of that bitchy jealous secretary.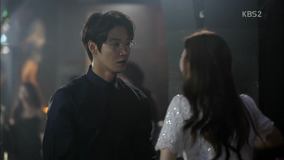 Chae Ri goes to the night club alone, upset her Jae Min oppa isn't coming. She texts him threatening she'll be reckless tonight but he's too busy studying at uni. What should he do? He texts back to do whatever she wants! She spots the real Jae Min (whom Hyung Soon introduced her as one of his staff earlier) in the club, apologizing to his girlfriend but gets a nice slap back. Chae Ri ends up consoling him, advising it's no use holding on to someone who doesn't like him. He then replies she's holding on too! She points out Jae Min also likes her!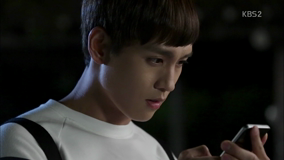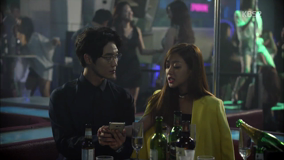 She decides to give Jae Min a lesson, let's work together Jae Min ya. Let's make their partner jealous! They take picture together (but because it's nightclub, their pictures come out quite dark). Their respective partners call as soon as they receive this picture. Chae Ri advises Jae Min to ignore his girlfriend's call (just as she did with Hyung Soon's call) to find out if she still likes him or not. If she does, she'll come to see him tomorrow. They shouldn't give a cheater an easy way out.
When asked about his name, Jae Min initially wants to say his name but suddenly remembers about his own game so he introduces himself as Lee Hyung Soon. Chae Ri laughs hearing this cute name. Jae Min stares at her, now he knows why Hyung Soon falls for her. Oh no, please don't tell us he's also falling for Chae Ri.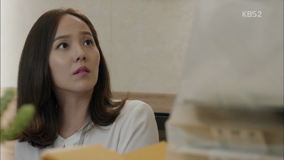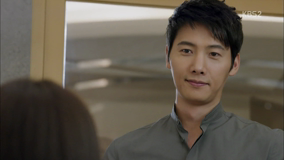 Thinking it'll be hard for Jin Ae to write 500 handwritten invitation cards alone, Hoon Jae arrives with dinner and to help her! Yaaaay! Jin Ae is wondering how did he enter the building, he lies he was with the marketing team earlier.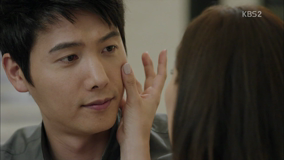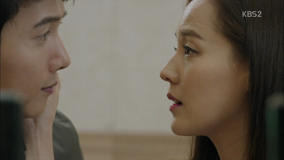 When Jin Ae spots pen's mark on his face, she tries to wipe it out but it keeps spreading on his face. Suddenly their eyes meet, awww… He moves inch closer and closer.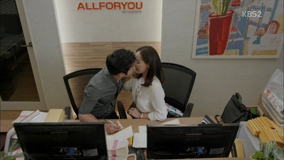 She closes her eyes… Kiss kiss kiss ❤(Ö v Ö。)