Five Children Episode 11 Brief Recap
The early days of relationship usually are filled with uncertainty, spontaneity and indescribable butterflies in our tummy. Sang Tae & Mi Jung and Jin Joo & Tae Min are currently going through this stage, and it's fascinating watching their reactions. After playing too hard to get, Jin Joo finally gives Tae Min the answer he's been dying to know… but it's not what he expected. This episode we find out how Sang Tae broke the sad news about his late wife's death to his young children, giving Mi Jung the courage to tell her eldest son the truth. Because the longer she drags it, the longer it'll hurt them.
Episode 11 Brief Recap

Realizing this is not a dream, Mi Jung plays along and calls Sang Tae 'honey', coolly drives away before emphasizing they'll meet at the restaurant as arranged. InSo couple is speechless witnessing the newly born couple lovey-doveying in front of them.
Otw home, Mi Jung is grinning from ear-to-ear while Sang Tae regrets meddling into her life again. It's hilarious he even imagined her sitting beside him, mistakenly believing they're dating. He wants to clear it up but can't reach Mi Jung who's on the call with Ok Soon discussing about the kids' acting academy. Truthfully she doesn't have any financial buffer but for her kids, she'll make it happen. Sang Tae is annoyed she's not picking up the phone, coincidentally spots her at the traffic light! He yells out to her several times until she finally notices him and he gives her a signal to park nearby to clear up what just happened. Sang Tae argues that he helped because he couldn't leave her fighting alone. She feels assured a gentleman like him exists in her life, she's beyond happy they were able to crush InSo couple tonight! Sang Tae is relieved Mi Jung didn't misunderstand his kindness.

Grandma Jang marches towards In Chul's bakery, smashing the sign! She quickly leaves before anyone notices but So Young's mom straight away knows the culprit – it's Grandma Jang's revenge after they put her granddaughter locked behind bars. They're letting this incident go for now.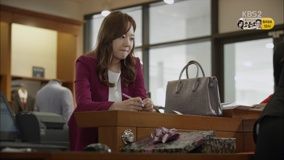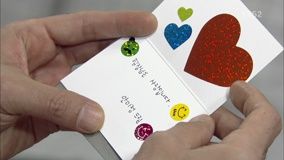 Mi Jung had a hard time expressing her gratitude for her Team Leader who feels like an oppa to her. In the end, she wrote a simple msg Team Leader is ❤ which put a big smile on his face. His MIL offers to wash and iron the new shirt so he can wear it tomorrow to make the giver happy.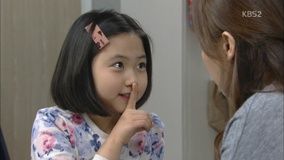 Mi Jung let her daughter to study acting at Bin's house. She sweetly vows to make a lot of money in the future when mom apologizes she doesn't have a lot of money. This girl trusts mom so much that she tells her the 'secret' her oppa told her to keep!
Poor Yeon Tae. Not only she had to watch Jin Joo 'stole' her lover, she's now forced to help this couple to have a date.
Tae Min wants to hear Jin Joo's answer now because he's fed up with her push-and-pull game. He only wants to treat her well as he really likes her.
Jin Joo: my answer is….

She quickly plants a kiss on his cheek then runs as fast as she can! Awwww. Her heart flutters, beating so so fast. Tae Min: ✊

Jin Joo aint leaving so Ho Tae is forced to stay at the storage room, mom locks the door from outside so he can't even go to the bathroom. Mom gives a signal to dad and Yeon Tae to ask when Jin Joo's leaving but nobody dares asking her.

Sang Tae wears shirt Mi Jung gave him but she's currently visiting Sang Min, patiently bribing him to come to promotional autograph event. He cutely wants his new stand cut pic to be sent out to his home because he likes his own picture.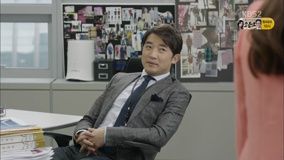 Mi Jung looks happy seeing Sang Tae wearing that blue shirt 😁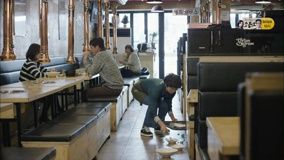 Soon Young keeps making mistakes at work that prompts Ok Soon to give her a break so she can catches her breath. She deletes Ho Tae's number.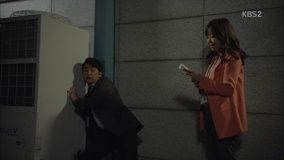 Mi Jung asks for Sang Tae's advice regarding telling the truth to her kids. She plans to tell her oldest kids first then asks how old his kids were when their mom passed away. He takes her to the rooftop where he 'steals' two drinks from the fridge there. As they look down to the traffic below, he reveals his kids were 6 and 4yo. They knew mom was sick, she had stomach cancer. They were playing during the funeral and he finally told his son one more later. He totally understands Mi Jung's reason because he almost wanted to fool his kids too – he didn't have the confidence to see his kids get sad.

But he gathered his confidence and told Lee Soo after reading him bedtime story. He really missed his mom. He explained mom was really sick but she's no longer in pain now because she's gone to Heaven. He explains everyone will go to Heaven but Mom went there earlier than them. Unfortunately once people enter the Heaven, they won't return. He explained it beautifully albeit in tears, pointing out they can't see Mom anymore 😢 they'd be sad so he vowed to give Mom's love that his kids longed for. Lee Soo cried on his embrace but the truth had to be told. He realized the kids could accept and handle it better than he expected. Mi Jung cries hearing his story, he wipes her tears
He tried to be strong and couldn't cry but he hopes Mi Jung won't follow his example. It'd be good if she can lean on the person who assures her. She vows to be that kind of person to Sang Tae too.

Trying to look as pitiful to gain sympathy, Jin Joo squats down in cold in front of front gate and cries out she's kicked out to her dad! She exaggerates everything of course, totally ignoring the fact she made everyone uncomfortable. She also didn't realize Mom brought expensive prawns to thanks the in-laws and to take Jin Joo back. Mom is shocked so do the in-laws while Ho Tae is finally enjoying his freedom!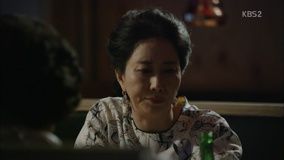 Bonding over alcohol, Jin Joo's mom is aware her daughter is the problem not the university nor Ho Tae. She even praises Yeon Tae who graduated on time and has her future sorted out already. But she advises brain itself is not enough, something Yeon Tae's mom agrees. It's her personality! But Ok Soon points out at least all her 3 kids are healthy, she'd lost her kid 😢 conversation moves on to Sang Tae who seems like dying after losing his wife, he's like a living corpse and she wants to see him smiling brightly even only once. Not faking his smile but the real joy and happiness.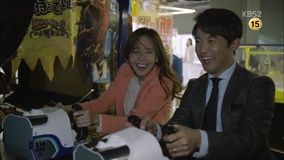 Well Mom, he is currently smiling in real joy! After missing out on sold out movie tickets, he's playing in the arcade with Mi Jung just as his mom hopes a woman falls down from Heaven giving her son real happiness again.