Five Children Episode 13 Brief Recap
Mi Jung loses her mind after a layoff rumor is spreading at her company. As the new employee, she feels small & insecure especially after hearing she's on the chopping block. Sang Tae's cold treatment doesn't help either, she automatically think of the worst case scenario. Unfortunately, Sang Tae continues keeping a distance until she's bold enough to confront him. After spending time with Jin Joo and Tae Min, Yeon Tae accepts their relationship – she pours out her brokenness to Sang Min who confesses a secret that nobody else knows.
Episode 13 Brief Recap

Still confused why Sang Tae pretended for not seeing her, Mi Jung now has to deal with annoying call from So Young (reading the questions written by her mom I think) who doesn't want her husband to see his ex-wife without her. She flips her paper trying to find the answer for Mi Jung's question if she distrusts her husband, her suspicion grows when Mi Jung points out a man who cheated on his wife once might do it again! Moreover, even though it happened because they love each other, he is still the father of Mi Jung's kids – nobody can't change this fact. So Mi Jung will still in contact with him regularly about their kids and if she doesn't like it, then she shouldn't stole someone's husband in the first place. She flips the paper again but she's lost this time so her Mom gives a signal to hang up but Mi Jung hangs up first. She totally lost her mind. Her mom points out that kids hold the power so she reveals she plans to visit a gynecologist soon. Mom raises up a good point though: aren't you jealous with Mi Jung who found a better man? 😀 So Young meanwhile is elated In Chul only met Mi Jung briefly and didn't have lunch with her.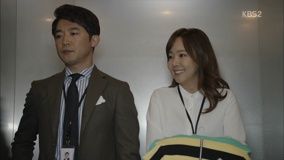 Mi Jung bumps into Sang Tae in the lift, chit-chatting about work but he flatly ignores her. Back at work, she overhears design team discussing the rumor that one staff member from each team will be made redundant and a married woman is most likely the one who'll get cut. Mi Jung democratically points out it's a discrimination. She never took any leave nor she made things difficult at work due to her children. Because of this rumor, she can't concentrate on today's meeting – silently evaluating each her team member + her Team Leader's skills. She think the reason why Sang Tae has been giving her a cold treatment is because she's on the list (of being fired!).

The nicest son-in-law is treating his in-laws today. They're wealthy enough to purchase new clothes and dine at expensive restaurant themselves but they gratefully accept his kindness. Conversation moves to Jin Joo (who continues to be the troublemaker), Sang Tae calmly points out she's smart enough and will be able to figure out her own ways well if they believe her and wait for her to pass this youth season of life. Ok Soon agrees, she likes Jin Joo's confident, bold & outgoing personality – unlike her sister who suffered alone because she endured everything to please everyone around her. She just needs to find the right man. Min Ho wants her to be with equally matched man and asks Sang Tae to introduce her to a good guy. Sang Tae sweetly agrees – Min Ho feels Sang Tae is like his own son and Ji Young brought him into their lives (as she knew she'd left this world early). He agrees to be their son, calling them Mom and Dad, promises to do his best (to be their son and fulfill the big hole left by Ji Young). His sincere vow opens the gate of tears T_T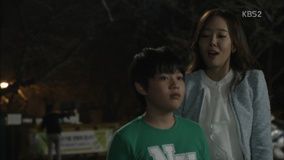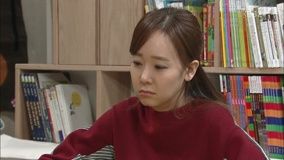 Woo Young is having a hard time accepting his parents' divorce but Grandma Jang (who watches over him) believes he's doing well and is taking care his sisters better now. He's trying to be strong. Mi Jung then asks if they can cut the household expenses (in case they can only live by In Chul's child support – without her regular paycheck). She determines to stay even if her company fires her!
Sang Tae meanwhile is throwing Happy in the bin 🙁

Unable to sleep & to protect her job, Mi Jung worked all night long. Her team leader is shocked to see her dozing off on her desk at 6AM. He instinctively reaches out to her – put his hand around her shoulder so she won't fall to the floor. Only when a cleaning lady comes, he let his hand go awkwardly – waking her up. She rushes to help Sang Tae who came early to prepare documents for today but he orders her to get breakfast instead. She looks surprised he's already had breakfast so early in the morning. Mi Jung vows to work her hardest and she doesn't have time to eat! She even offers to carry heavy box of documents for Sang Tae and will drive him if he allows.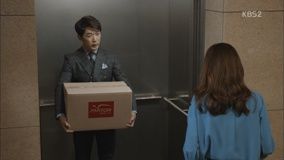 Struggling on her own, she put a brave smile. Sang Tae meanwhile is wondering why he likes her – who's not even his type! 😀 Before he leaves, she vows that she will never give up (on her job). Even if he tells her to leave, she won't leave. Almost in tears, she yells out that she heard everything and she's the team's layoff candidate! In confusion, he points out the company is doing so well that they actually need to hire more people not cutting people off! Sang Tae then realizes why she's been working crazily. She blames one of her team member who she talked to (about this rumor yesterday) and he… coolly reminds her that yesterday was… April fools! 😀  Now Mi Jung is back to square zero – trying to find out why Sang Tae is giving her cold treatment.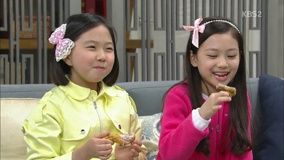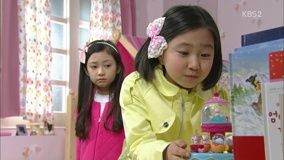 Today is Woo Ri's first acting lesson at Lee Bin's house. Lee Bin sweetly only eats wings because her soulmate loves drumsticks, then shows her 'princess' room. Woo Ri looks envious but she's happy with her rooming arrangement though she has to go back and forth from mom's room, grandma's room and her brother's room (to study). Lee Bin gives unopened present (she has two) plus a pink toy Woo Ri really wanted. But she can't give her musical toy because it's a birthday present from her Dad that she really loves.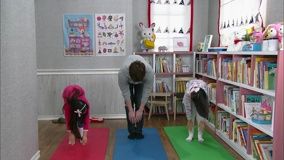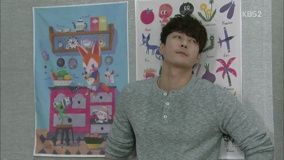 Ho Tae starts the first lesson with physical training (which according to him, body movement is the basic of acting). Soon afterwards, he almost gives up can't focus as he keeps thinking about his first love's failure. He asks the girls to walk & move based on a hypothetical scenario – Lee Bin aces it while Woo Ri walks quite robotic until she finally relaxes.

Sang Min bombards Yeon Tae with messages, asking if she's alive and encouraging her to enjoy the Spring. I love him 😀 He's going crazily worried as she isn't replying.

Jin Joo comes to Tae Min's school wanting to go on a date with him, not knowing he & Yeon Tae will meet with their dance club friends tonight. He can't ignore her so he brings her – as expected her bubbly personality is a big hit with everyone. Yeon Tae looks incredibly down, annoyed hearing the comparison. Jin Joo put a stop at the men who're starting to hit on her, coolly announces Tae Min is her boyfriend. Everyone is surprises as they thought Tae Min would date Yeon Tae as they've been friends for so long. They move to karaoke where the lovebirds sing IU & Seulong 'Nagging', showing their affection while Yeon Tae sings a really sad break up song 편지 (by Wax) after everyone forces her to sing. Nobody listens to her though.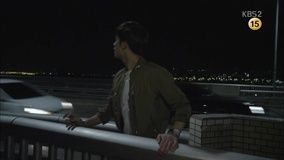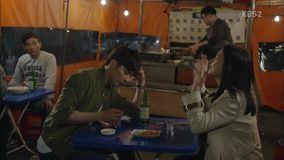 Thankfully there's someone's looking for her – Sang Min – who begged her to reply him. So she sends a short msg assuring she's still alive but she wants to die again! Sang Min looks for her in that bridge but she's not there! Where is she? And why isn't she picking up her phone? In panic, he waits for her in her neighborhood until she finally appears. She's not in a good mood but a nice drinking buddy would be nice, right? 🙂

She thanks him for the pink heart balloon which was proven to be effective and today… she realized why her unrequited love liked her friend. She'd like her too if she's him. And today, she sent him away for real – thanks to the magic of that balloon. She notices it's fate and they look great together but she's sad for being a fool – she never confessed although she liked him for 7 years, she could only cry behind his back. Sang Min starts opening his heart but Yeon Tae starts crying, totally ignoring him 😀 He continues pouring out his heart that there was a woman he really liked who hurt him very deeply (a secret that nobody knows and he doesn't want her to spread it on SNS). Unfortunately, Yeon Tae is too upset & drunk to listen to his past story. The owner knows Yeon Tae's family can't drink alcohol well and wakes her up, totally confused why Sang Min corrects him that her name is Yeon Do not Yeon Tae.
Ho Tae arrives at Soon Young's place just as she's being taken by ambulance.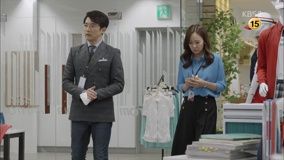 Mi Jung really loves the umbrella freebies (which has a cool sky design on the inside and black on the outside). Sang Tae gave cold reaction (in front of her) but when he sees it on the desk, he tries to open it. Unfortunately, it's broken! He flat out refuses Mi Jung who wants to treat his injury so she put the disinfectant, ointment and bandage on his desk. Awww, don't beat yourself down, you didn't do anything wrong Mi Jung ah.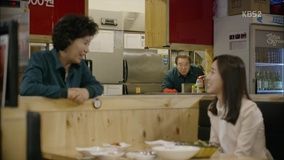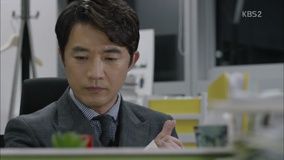 Mi Sook is chatting with a nice lady who praises the delicious meat at her restaurant, asking if she's married and the lady chuckles she's not married yet… so Mi Sook sit beside her trying to introduce Sang Tae but fortunately her boyfriend joins her soon afterwards. Mi Sook is annoyed whenever she finds a suitable woman, this woman is not available. Her husband points out that it doesn't matter if they find a good woman, their son's heart is completely sealed and nothing can break it!

Mi Jung is still waiting for Sang Tae in the basement – apologizing for the misunderstanding about the layoff and wanting to know if she made any mistake as he's been putting some distance between them. He bluntly reveals it's true as he doesn't want her thinking about him warmly like she is now. His cold confession tears her heart T_T