Five Children Episode 15 Brief Recap
Most of our couples have started to show their true feelings. Ho Tae's life perspective changes to the better as he finally found a new reason to live: his first love Soon Young. Sang Tae realizes 'keeping a distance' stupidity only hurt Mi Jung and himself, drifting them apart although it's not what neither both of them wanted. He finally has the courage to follow his heart, surprising Mi Jung with his boldness. Jin Joo's clinginess doesn't bother Tae Min who celebrates a new milestone in his life but it might burst their bubble of happiness.
Episode 15 Brief Recap
Sang Tae is aware he hurt Mi Jung's heart after asking her to keep a distance with him and her response bothers him a lot. Mi Jung meanwhile is confused by Sang Tae's conflicting words, she tries to understand him but she can't. If he asks her out, she'll confidently go out with him. She won't give up her happiness and become a loser just because she's a divorcee with three kids. Grandma Jang suggests Mi Jung to be more proactive but after what he said to her, she won't make a move first as it'll annoy him more.

Sang Tae's Dad reveals Mi Sook gave similar response after he tried to break up with her (because his mother forbade them to get married) so he went to his Dad who advised to just ignore his mom & marry her, that's what he did 🙂 He then points out that after he dies, he prefer people to forget him as he doesn't want to linger on his family's minds… because the deceased doesn't have feelings – only the living ones do. And that's what Ji Young probably wanted too. Due to the family's weak alcohol tolerance, Sang Tae walks drunk Dad home but Dad who can't hide his happiness that his son is finally seeing a woman, yelling out to the whole neighborhood about this happy new! Although Sang Tae insists it's not (what happens) but Dad could see the same expression he had 40 years ago. He advises his son to stop dwelling on the past and move on. Both Shin Wook and Mi Sook are worried about sick Soon Young, Mi Sook actually tried to visit her earlier but her neighbors don't even know her house.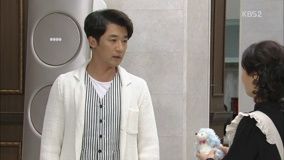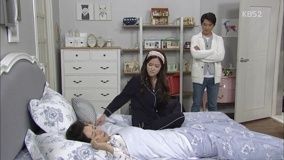 Back at home, Sang Tae gets Happy back from the housekeeper ahjumma who kindly washed it after finding it in the bin. From her he knows his parents-in-law are still in war so he comes to Min Ho's room where he pretends to be sleeping soundly but Sang Tae is aware he can't sleep without his wife there. What about Ok Soon? Well she's annoyed the heck of her daughter who complains Mom snores loudly! She lays beside Mom and gets a nice slap on her cheek.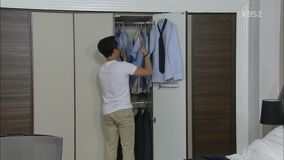 Mi Jung has to convince Woo Young that the divorce wasn't entirely In Chul's fault after this boy refuses to meet Dad at the arranged amusement park date. She realizes she was wrong for not letting the kids to meet their father in the past 3 years but now she's going to let them growing up with their dad's love. She isn't too worried about meeting Sang Tae at work because both of them are workers at the company who get paychecks. Sang Tae meanwhile tries to avoid Mi Jung at all cost, he even chooses to wear different shirt tomorrow after his MIL prepared the blue striped shirt Mi Jung gave him to wear.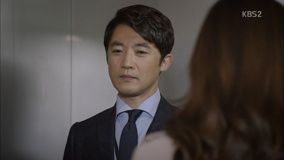 The next morning, they bump into each other in the lift but to avoid the awkwardness, she put up an excuse that she left her phone in the car. Sang Tae goes down to the basement level again so Mi Jung can't avoid him now, calls her a childish person who can't act naturally. She replies she doesn't want to talk to him (she think he's crazy as things he said are very conflicting! He's the one who told her to keep a distance!). To maintain a distance with Sang Tae, Mi Jung continues avoiding him (and the team) – driving him crazy.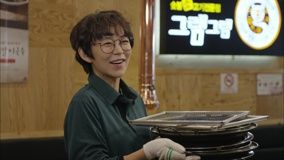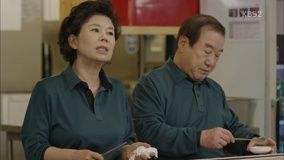 Thanks to a delicious abalone porridge and Ho Tae's TLC, Soon Young is back at work today. She bashfully reveals her first love oppa cared for her and it's a fate that he happened to see her being taken to hospital by an ambulance. Mi Sook is comparing Soon Young's movie director oppa with their son and think their son is better of course 🙂

After only meeting his kids through laptop screen in the past three years, In Chul is nervous of his kids' reaction when they finally meet this weekend that he messed up preparing today's sandwiches. His beloved wife understands, even advises him to buy clothes for the kids but he doesn't know their sizes and doesn't want to call Mi Jung. So Young promises to find it for him.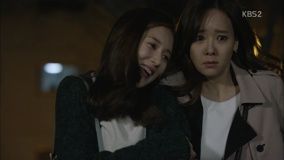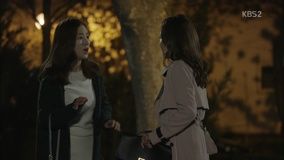 She brazenly waits for Mi Jung outside her apartment! Thankfully Mi Jung arrives shortly before Woo Young does the regular recycling, dragging her to nearby park. So Young used to buy clothes for Mi Jung's kids but it was back then – now Mi Jung isn't confident she can buy a nice clothes for them. So So Young points out that foreign celebrities can be friends even though they're divorced so let's try to get along. If there's anything the kids want, just send a text and she'll buy them. So Young was really happy when they walked hand-in-hand earlier (perhaps reminding her of their precious friendship). She leaves before Mi Jung kicks her hahaha. Well Mi Jung realizes she's lost to So Young, she writes kids' clothes sizes for her. Woo Young wears the coat (he thought dad bought) all winter so it's for the kids' sake.

Sang Tae looks around Mi Jung's desk, tidying it up and finally sees "keeping a distance" post-it-note she wrote earlier. He can only laughs, discovering the culprit of this craziness.

His brother is helping So Young fixing broken things at her home, then he leaves his shoes at the door & hangs his clothes near the window so people won't know she's living alone. After meeting her again, he gained new reason to live. He's turning over a new leaf, vows to be successful.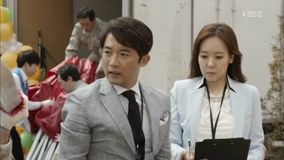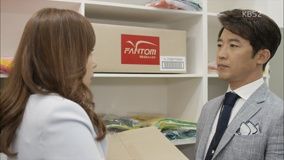 It's a hectic day for Sang Tae, Mi Jung and the team as they prepare for a grand opening during a windy day. He automatically protects her from getting knocked over by two men carrying table then he orders her with so many things, putting her in another awkward moment. He comes helping her carrying the boxes before ordering her around again. After confusing her with the product numbers, he smiles! 😀 Cheeky Sang Tae.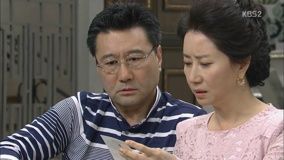 The housekeeper ahjumma gives the card Mi Jung gave to Sang Tae to his parents-in-law who's curious why she put heart stickers on it. Hmmm… Their annoying friends arrive just in the nick of time, inviting them to Sang Tae's company grand opening to confirm the female employee that was with his blind date that time.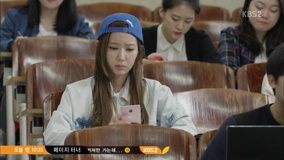 Jin Joo is not listening at her lecture, annoyed at Tae Min who's not replying to her texts. He's currently with Yeon Tae, so excited to check their bank balance as they finally receive their first paycheck. Awesome 🙂 Sang Min gave his first paycheck to his parents so both Tae Min and Yeon Tae plan to do the same. Anyway, he finally answers Jin Joo's call but he can't have lunch with her as his lunch break is short and it won't be good if the students' parents see him dating during school hour. He promises to treat her for dinner today with his first paycheck but she's not giving any response. Yes, she's annoyed. He has lunch with Yeon Tae instead.

President Kang and his wife want to cut the line to get Sang Min Min's autograph but Min Ho tells them to back off and just look for that woman. The autograph session starts… Sang Min is in a great mood today, so does Sang Tae who smiles after he spotted his in-laws. After Min Ho and Ok Soon see Mi Jung, Ok Soon follows her around to confirm she's the woman she's looking for. Mi Jung politely greets her, introducing herself as Assistant Manager Ahn, jogging her memory that they saw each other once when she took Sang Tae home. Ok Soon soon remembers Sang Tae blurted out her name when he came home drunk! President Kang & his wife get Sang Min's autograph plus a big heart Min Ho asked him to draw on his white shirt.

Rubbing more salt to Min Ho & Ok Soon's wounds, President Kang feeds them with hilarious fantasy that Sang Tae & Mi Jung are currently together but they're being very careful as his in-laws were there. Of course they paint Mi Jung as the devil while Sang Tae is the angel. They declare their love to each other and ss Sang Tae leans his face his kiss her, Min Ho ends this imagination angrily. Ok Soon believes Sang Tae is not dating Mi Jung but Min Ho isn't that sure.

The grand opening was a big success that the store owner's treats the team to a Chinese restaurant nearby. Mi Jung as usual left early. Sang Tae spots her eating alone and sticks the pink post-it-note on the restaurant's window!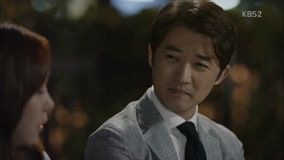 As he's been drinking today, Sang Tae waits for the substitute driver to drive him home. He bumps into Mi Jung who's waiting for the driver as well. She asks why he took the pink note from her desk, calling him a lunatic who contracting things he said. He replies with a laugh, praising her as a fun person who makes people happy. She admits that he had become a person she could lean on who comforted her so things have been really hard lately. She is hurting because of him. He realizes it too, he told her to keep a distance but he kept talking to her. She boldly points out he's been quite stupid lately! Well, he admits it's true he's been acting crazy as he sits closer to her.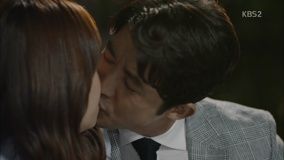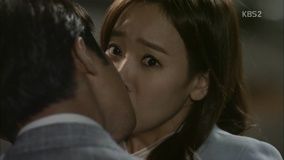 Suddenly… he kisses her!