Five Children Episode 17 Brief Recap
The long-awaited family reunion stirs up In Chul's emotions as he's forced to recognize Mi Jung's parenting ability. Their reactions when an unfamiliar situation happens are the total opposites. She trusts her children while he instantly gets panicked as he barely knows his children because he's been out of their lives for ages. He's now torn between his children and his new family, turning So Young into a total mess. Sang Min's forceful pursuit can go either way, he should stop playing the game and listen to his brother's advice. The other couples in this drama are going strong, their sweet romance brightens up our Spring days 🙂 And the two families' noraebang cheers up our Monday blues ^^
Episode 17 Brief Recap
Sang Tae's slip up caught everyone by surprise, fortunately Sang Tae recovers well by explaining that he's got confused after replying to a text from his employee but his MIL's curiosity grows as it shows he has her constantly on his mind. Meanwhile, Jin Joo shows off the necklace Tae Min gave her (from his first paycheck), praising him as a warm caring man like Sang Tae. Yeon Tae agrees, lying that she only treats him as a friend not a man – prompting Jin Joo to lecture her about Yeon Tae's forever single status.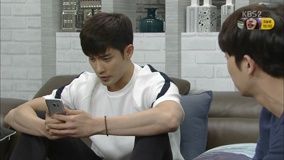 Yeon Tae then gets a text from Sang Min asking about what should he do with the side dish containers, it's his way to get a reply from her. She coolly replies to throw the containers away! 😀 Tae Min advises his confused hyung to just send it to her address but he think it's disrespectful because they enjoyed the food Yeon Tae's mom made. Although he denies he's just making an excuse to see her again, Tae Min is convinced he likes her. He points out that his hyung is a dating-fool, a dating-retard and a dating-defective!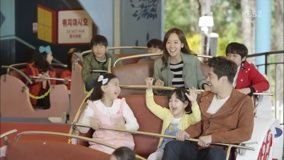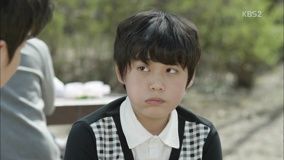 After a fun morning at the amusement park, the family enjoy their packed lunch under beautiful cherry blossom trees. Woo Joo refuses cucumber kimbap so her dad advises her not to be a picky eater but he totally forgot she has a cucumber allergy. In fact, her allergy flared up when they video-called in the past. Woo Young can't hide his bitterness (over his dad) even when In Chul praising Mi Jung's kimbap & keeps calling her 'dear' like the old days.

Meanwhile, Woo Ri returns from the restroom without Woo Joo. Mi Jung calmly put her phone in front of her & continues eating. The older siblings are calm too. What about In Chul? He's panicked, he checks the female restroom, accidentally grabs a young girl who looks like Woo Joo from behind but he still can't find his daughter. He then blames his family for staying calm although Woo Joo disappeared, only to be told that they do have their own rules so do not panic! Woo Young even scold Dad for yell at his mom! Mi Jung's phone rings, Woo Joo is safe near the fountain – being looked after by a nice couple.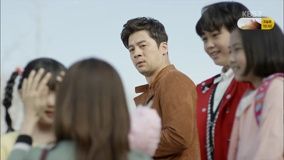 This couple praises Mi Jung's sense for leaving a laminated note with her name, phone number in case Woo Joo got lost. The smart girl gave this note to them, that's why the family was calm because they trusted her. Mi Jung knows that people tend to forget important things when they're in panicked so the note is incredibly important. She has already told Woo Joo not to get scared and show this note in case she gets lost or go to the missing children center in the park if she loses this note. Woo Joo was playing with her favorite stone when someone accidentally knocked it over so she run to get it. As she got lost, she showed this note to that couple who called Mi Jung. As the family is praising Woo Joo for listening to Mom really well, In Chul realizes that he barely know anything about his family.

Min Ho worked really hard making the ends meet for him and his family that he sent his two daughters away to his brother-in-law in Busan, he only realized the true meaning of family thanks to Sang Tae who showed him how to be the true head of household. He's wealthy now so his only wishes now is to see his grandkids growing up well (be a judge or a doctor) and Jin Joo to marry a decent man. Well Lee Bin doesn't want to be a judge nor doctor, she wants to be an actress, Grandpa. Mi Sook corrects her, he's a maternal grandfather and her family name is Lee not Jang. Ok Soon wants them to be fair of course, if she's the maternal grandmother then Mi Sook is supposed to be their paternal grandmother, right? But what's the difference though, both are grandparents, right? They are but Min Ho makes the whole situation worse as he brags Sang Tae told them to treat him as their own son. Sang Tae tries to hold Mom's hand but she refuses. In front of Yeon Tae, she whines seeing how dedicated her son even after his wife passed away. Yeon Tae actually praises them for raising Lee Bin and Lee Soo well that they grow up into upright kids. Both families choose to forget about their little fight for now as they move to noraebang, having fun together in a team of Dads, Moms, Daughters.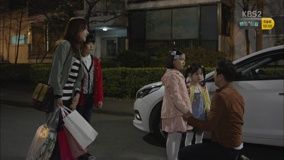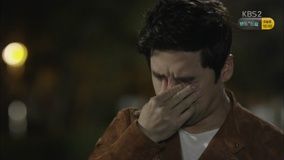 The girls had a great time with Daddy who promises to go to many more fun places in the future. Woo Joo invites him to have dinner but Mi Jung snaps him out of it so he makes excuses he's busy with work. When the girls are wondering why Daddy is not living at home, he can't give any answer. He also can't promise when he'll see them as he needs to discuss it with Mi Jung. The girls say their goodbyes to dad is perfect sync while Woo Young bitterly waves only after Mom told him to. After they disappear from his sight, tears finally fall.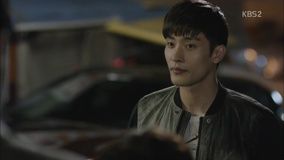 Despite being told to throw away the containers, Sang Min drives all the way to give it back to Yeon Tae. He bumps into Jang's family who's waiting for their driver in front of her house, Min Ho looks so excited to see him as he introduces him to his family & 'single-lady' Jin Joo. He politely excuses himself as Min Ho tells Jin Joo to look at her potential husband closely. She won't let daddy to pick her future husband.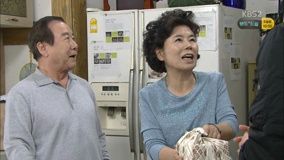 Sang Min waits for Yeon Tae in front of her house but instead of her, it's her brother who's annoyed to see this rascal coming over again – using side dishes as an excuse. He accuses him of being a playboy. Mom who hears the loud yelling comes to the front and invites him in. She packs him more side dishes, abalone & the family's soybean paste, much to Yeon Tae and Ho Tae's annoyance. They even order Yeon Tae to help him carrying it.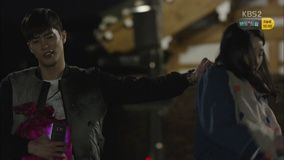 As soon as the parents don't see them, Sang Min offers to carry all side dishes alone as it's heavy. She refuses so they bicker until Sang Min realizes his car is missing! He parked at resident parking lot so it got towed. She tries to escape but he drags her to… get his car back!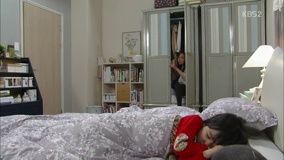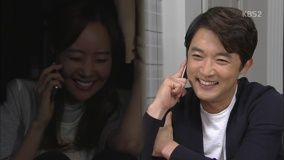 When her phone rings, Mi Jung believes it's not important as today is Saturday until she belatedly realizes that she has a boyfriend! She looks happy seeing his name on the screen, quietly answers the phone in her closet as she honestly tells him what she did today (after Sang Tae told her the truth as well). They both apologizes for blatantly lying yesterday then laugh realizing both forgot they have a boyfriend/girlfriend now 🙂 She's so used of hiding, talking, screaming in the closet but this time around, it feels totally different as she feels cozy & comfortable (talking to her boyfriend). She squeals in joy when he invites her for a date tomorrow. Little does she know that her grandma was eavesdropping and memorizes her cute words. She's so happy knowing her granddaughter is dating!

Sang Tae is currently browsing a nice date place for couples in their twenties. The most recommended places are Namsan Tower & Han River but they've already been to Han River so he musters his courage and asks for a suggestion in a date course. Hilariously, a young boy responses with Hongdae date plan.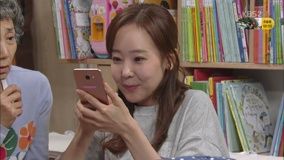 It's Hongdae then! Grandma Jang is wondering why these two are going on a date in front of a collage, suggesting to go to a Pagoda Park instead. Over-the-moon Mi Jung has to be reminded to reply to his text, she ends her text with three red hearts, sending Sang Tae to the moon.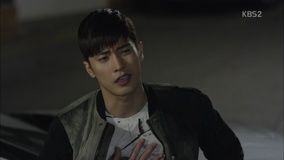 Sang Min think an officer is asking for his autograph when she's actually asking him to sign his car release form! When he drops Yeon Tae off, she begs him for not returning the side dishes container as she'd like them to stop seeing each other from now. She is very grateful for all his help and comfort when she needed it, she apologizes for taking his phone but seems like he doesn't like interacting with her. So let's cut off their ties now, she promises she won't answer his calls nor replies his texts again. After she leaves, he feels his tummy aches but it's not. It's actually his heart… hurts so bad.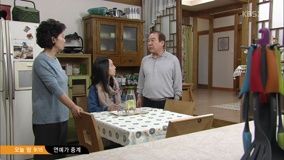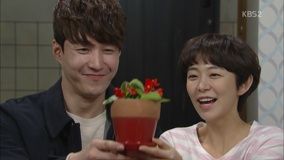 Mom is wondering where all the food she made gone, Yeon Tae is also looking for a humidifier that's missing from her room. Dad's begonia plant is also gone. Was there a thief? yes! His name is Lee Ho Tae! Those food & stuffs have migrated to Soon Young's place, in return, she gives her house key to him.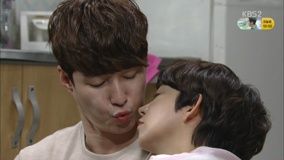 She gives her honest opinion about his unfinished project then she lays her head on his shoulder when he's looking to show his other movie project (well she's probably too bored to watch it). She put her arms around him and moves her head closer – it's difficult for him to resist the temptation so he almost kisses her but as his lips almost touches hers, she falls. Seems like she's in a deep sleep, making him feeling guilty. Before he leaves, he kisses her cheek though. Well, Soon Young is not sleeping! She wakes up as soon as he locks the door, disappointed that he uses the key to go out instead of going in!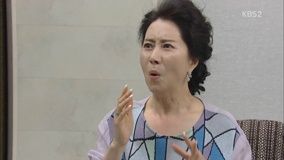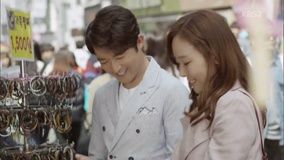 Sang Tae lies that he's working today but Ok Soon is suspecting him meeting with Assistant Manager Ahn. Well you're right, Madame. Anyway, her husband assures it's not the case because after doing the background check, he believes Sang Tae won't date a woman with three kids.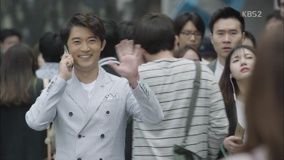 Our OTP didn't bring their car today so they send text then call each other to meet. He saw her first, follows her before telling her to look at 6oclock direction. Like young couples, they are enjoying their date at Hongdae, browsing for cute accessories, eating food and listening to a nice Indie band. They then go to an Italian restaurant for lunch (Sang Tae initially suggested kimchi stew while Mi Jung bragged about French food she likes until she settles for pasta). Even though it's their date, Mi Jung talks about work because she's a workaholic 🙂

Min Ho meanwhile is looking at Mi Jung's video captured by President Kang who sums up she's an intelligent woman who graduated from a prestigious school. He suggests to look up into her ex-husband as well. After assuring Min Ho's blood pressure is okay, he shows the latest pictures he just received – their Hongdae date! Well his blood pressure shoots up now.

In Chul can't stop looking at the laminated note Woo Joo carried around, he's greatly affected by this. He refuses to eat, prefer to be left alone. So Young's mom blames him for causing this in the first place, making So Young finally erupts with anger. She is aware they were wrong but they're married now so her mom shouldn't belittle her own son-in-law! In tears, So Young asks mom to treat her husband well. She then eats his favorite food tearfully. This woman really loves her husband, it's hurting to see her getting hurt like this.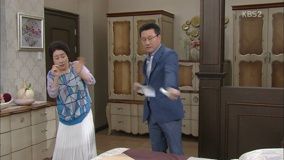 Devastated Min Ho arrives home to an excited wife who plans to buy an investment building under Sang Tae's name! He tears the document to pieces, yelling out his wife doesn't know the current situation!