Five Children Episode 21 Brief Recap
Grab a bottle of your favorite wine and prepare a relaxing bubble bath to get ourselves ready for the rough patches that hit our couples this week. It's agonizing to see them navigating the storms in their relationship, which might break or make them. Will these rocky roads strengthen their love and developing their trust & faith to each other?
Episode 21 Brief Recap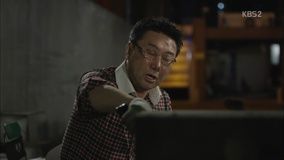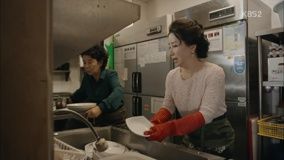 Despite their displeasure seeing Sang Tae and Mi Jung having dinner together (fortunately they're with the other staffs), Min Ho offers to pay for Sang Tae's company dinner. Shi Wook who was really nervous can finally take a breath now. The restaurant is very busy tonight so the in-laws kindly lend their hands – washing never-ending dishes and looking after BBQ charcoal.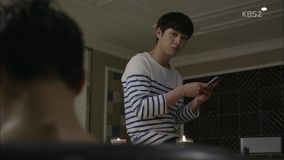 The heartbroken man is sipping wine while drowning his sadness in a comforting bubble bath. He coldly orders his brother to take pictures of him enjoying his luxurious, happy life – emphasizing his sexy body so "Lee Yeon Do" will regret her decision. Then, Tae Min is told to search for 'Sweet Pumpkin' on his contact list and send the best picture he took. Ignoring his brother's words, Tae Min takes another picture – a picture of a single candle and sends it to 'Sweet Pumpkin'. Sang Min dictates that he's living well although she rejected him, cursing her to stay single forever! Are you sure you'll send this text, Sang Min?

He shakes his head :') He utters that he really misses her, he can't forget her, he keeps thinking about her round face that looks like round-shaped bread – and the round world which looks like her. Basically, every round things remind him of her. Tae Min smiles at his brother's change of heart but no, he's not sending that message either. Instead, he changes it by apologizing for the rude things his brother did to her, reporting that he's doing fine. Ho Tae creeps up to see that text message, accuses Sang Min of bothering his sister. Sang Min meanwhile is trying to relax but almost leaps in joy when there's an incoming text message only to drown back in frustration because it's a spam text.

Sung Hee is already making a great impression on Mi Sook who warmly holds her hands, wishing her to go back home safely after the team dinner. What about Sang Tae's in-laws? They're still here, eating noodles quietly in front of hot burner. Based on their observation, their in-laws don't know Sang Tae is dating Mi Jung hence Sang Tae might not have any plan to remarry. They're pleased 😀 Back at home, they are aware that despite showing him with so much love, there're things they can't offer him – one of them is love. They hope Mi Jung is treating Sang Tae nicely. If he's their son, they're already rejoicing now. And they feel bad he has to date in secret.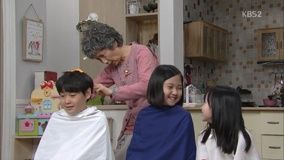 While Sang Tae's parents business flourish, In Chul & So Young's bakery goes downhill because of the rumor that Grandma Jang spread at the hair salon where she works part-time! But So Young's mom can't say about this rumor out loud, she only mentions the culprit who is currently cutting Woo Young's hair. The kids cutely keep grandma's secret (for working) from their mom in exchange of extra allowance.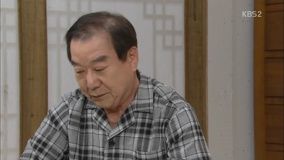 Mi Sook mentions that she likes Sang Tae's female employee. Her husband's eyes light up but soon turns gloomy when she says the name – Assistant Manager Chung. Noooo… Shi Wook points out he likes Assistant Manager Ahn who seems thoughtful. Anyway, Mi Sook doesn't care who'll be at this point – she feels sad for their son who can't escape from his in-laws, it must've been very suffocating.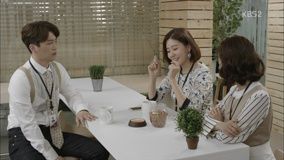 Although he has two sets of parents, Sung Hee's eyes are only on him so no, she hasn't given up on him. Especially after making a great impression on his mother and purposely leaving her coat at the restaurant. She calls, planning to pick it up later – trying to score more point from his mom. She then announces her agenda to the rest of the team, begging them to make excuses they won't be able to work overtime today so she can work the whole night with Sang Tae. Mi Jung teases that spending time together doesn't necessarily mean they'll date and they should focus on work instead of thinking about office dating in this healthy work place. She then gives a cup of coffee to Sang Tae with a deathly glare, ordering him to wear his ring back so he won't give an impression that he's currently available.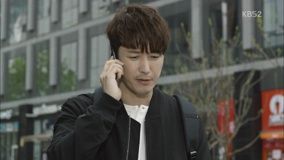 Desperate for work, Ho Tae begs his friend to give him any work but is advised not to so he won't end up like his friend who's currently working at the food truck. In desperation, Ho Tae asks if his already struggling friend a job!
Naive Soon Young isn't listening to Mi Sook's advice that she might end up taking care her oppa for the rest of her life although she's already sending most of her salary for her brother. She's actually happy to be the breadwinner as long as her oppa can achieve his dream. When Mi Sook talks about Soon Young's favorite food, suddenly she feels nauseous. Is she… pregnant???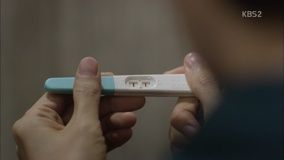 She gulps down her favorite food (that Shi Wook bought for her) with water, secretly counting the date with her fingers before realizing it! She dashes to the pharmacy to buy pregnancy stick and… quickly pees on it. She's shocked to see two lines on it, she is indeed pregnant!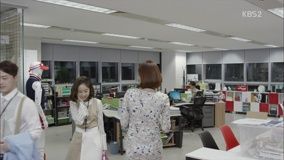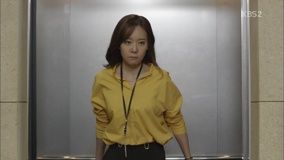 One-by-one, Sang Tae's team members make excuses to go home early today. Mi Jung is the last one who go, lying that her youngest daughter is sick (Sung Hee orchestrated everything). But she returns with supper, lying that her daughter is recovering so she can stay back. Sung Hee's plan is ruined as she's forced to go home because suddenly her mother is sick.
Sang Tae looks annoyed after Mi Jung points out he's giving the vibe of a single man to others though he still promises not to do it anymore. They shift their conversation to work but everything Mi Jung shows him has already been discussed with Sung Hee. It's now her who gets annoyed.

Exasperated Sang Min is too embarrassed to practice golf today because there's a stranger wearing a white shirt with his autograph. It brings down his value, worsen his already bad mood. He orders his manager to tell that stranger off but Manager Do chickens out after Min Ho (introducing himself as Sang Tae's father-in-law) proudly brags that it's an honor to wear it.
Now where do you want to go, Sang Min? Of course Yeon Tae's neighborhood but he doesn't want his Manager to know about his one-sided love pain so he orders him to drive him home. When they pass that neighborhood on the way home, please drive around that area.

Scrolling Sang Min's text messages (she still keeps them!), Yeon Tae cutely expresses her impressions – starting from he's cute to he's a fool back to he's cute again. His last message (that Tae Min wrote) assures her he's doing fine but she still looks uncertain. Sigh. Is she starting to fall for him? 🙂

After Min Ho's failed attempt to meet Jin Joo's prospective husband, he catches his daughter being driven home by a man who then gives the car key back to her. Angrily, he confronts this couple. Tae Min politely introduces himself as Jin Joo's boyfriend but she cut him up – stuttering introducing him as her friend. Do you think your father is stupid, Jin Joo ah?
Straight away Dad chastises her for hanging out with that scrounge who doesn't even have his own car. Jin Joo fights back that many 20s people also don't own a car, even if they do, it's a gift from their parents like her. Well Min Ho replies it means his family is not well-off that they can't even buy their kids a car! Jin Joo reminds them that Sang Tae's family isn't wealthy either but her parents liked Sang Tae. Although they weren't as rich as they're now, what else did change? It's only money! She speaks the truth here.
Worried Tae Min is still standing outside her  house. He meets Sang Tae, nods that he's Jin Joo's boyfriend and asks him to tell Jin Joo that he's waiting here worried for her.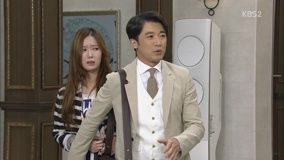 Dad's scolding continues even after Sang Tae comes home. According to Min Ho, his two daughters are in two different levels. Jin Young never bragged nor spent money recklessly like her younger sister. In tears, Jin Joo explains her boyfriend is a good guy, he works but she's not telling dad about his job because last time she did, dad treated her ex-bf cruelly so they broke up. She didn't mind spending money for her boyfriend because their family is already overflowing with money. Anyway, her wallet & cell phone are confiscated and Min Ho vows he will never approve her relationship with Tae Min.
To Sang Tae, she pours out her anger that her parents are too selfish – they only care about money. After meeting Tae Min briefly, Sang Tae got the impression that he's a good guy like Jin Joo repeatedly said.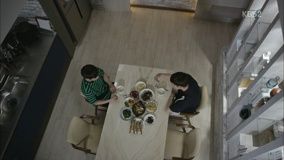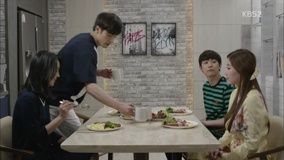 The two brothers wish to marry someone they like and to live together in the same house, that's why Sang Min bought a dining table for four. Tae Min even hoped to marry on the same day as his hyung. But… sigh.
Let's imagine what's gonna happen if the four of them live together. Two brothers marry two women with clashing personalities, can they get along? Their mother and aunt always fight even they only see each other three times a year! Sang Min brags that his Sweet Pumpkin is a really nice girl.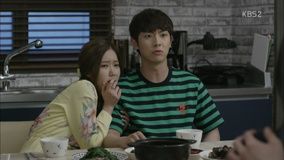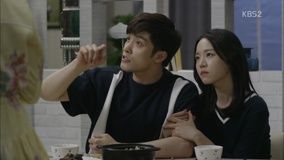 Hilariously, they imagine the worst case scenario of course. Their dinner always starts with argument between the two sis-in-laws in which the eldest nagging that the younger one doesn't contribute anything (Jin Joo keeps bragging she brought white-goods to the house hence it's her contribution). The husbands defend their own wives of course, leading the brothers to fight. In the end, Sang Min kicks his brother & wife out of his place, cutting their family ties!
Back to the present world, both brothers agree that living together after they marry will not be a good idea. It'll turn into an extreme makjang! But soon afterwards, they change their mind again – let's give it a try. Instead of their wives, it's the men who'll pick up the slacks.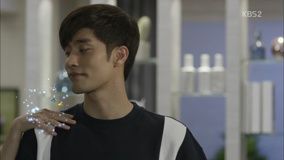 Their imagination changes drastically into a cheesy melodrama. Colorful butterflies flying around, symbolizing their 'perfect' harmony. The brothers cook, was dishes, clean the house, basically do everything to avoid the endless fights. But… back in the present world, Sang Min is aware it's still far away. He doesn't even have any girlfriend. Tae Min reveals his relationship is shaky now after finding out his girlfriend's parents doesn't like him and they already have a prospective son-in-law (well, he's your own brother!).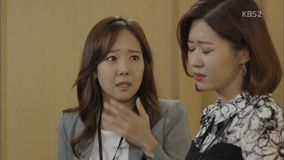 Sung Hee reveals she just got dumped by Sang Tae last night. He points out he likes someone and she's the reason why he took off his wedding ring! Mi Jung who feels bad for ignoring his texts last night, in great details blabbering why she couldn't reply them on time. Sang Tae smiles, wondering why she couldn't simply apologizing.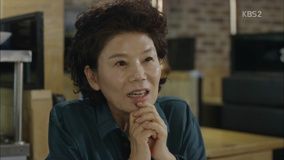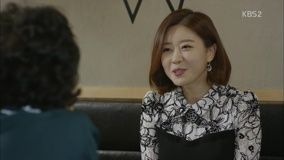 Picking up her coat, Sung Hee brazenly tells Mi Sook that she'll have a daughter-in-law soon after Mi Sook trying to hook her up with one of her sons. Startled, she yells out to her husband who's just arrived at the restaurant "our oldest son is dating"!