Five Children Episode 3 Brief Recap
February 29, 2016
|
Recap
It's about time Mi Jung's family discovers about In Chul's infidelity, and I'm glad it's Grandma Jang who can easily beat him down with her deathly glare. Love blinded him, he's the reason why their marriage faltered in the first place but from his POV, Mi Jung indirectly forced him to put a stamp on their divorce paper. This episode we'll learn more about Sang Tae's parents-in-law affection which is borderline excessive & at times creepy. War will soon break if they find out about Sang Tae's Mom's plan…
Episode 3 Brief Recap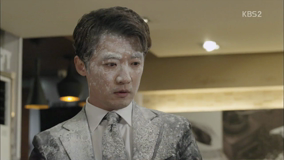 Sang Tae (still covered in flour) catches on about Assistant Manager Ahn's messy divorce and her struggle as a single mother. He can only offer them glasses of water, hoping they'll calm down soon so he can sneak out but the shutter gate is still down hence he's trapped inside, unable to escape.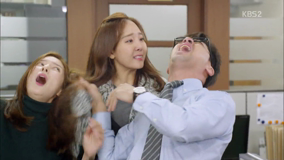 The reason of their marriage breakdown was… In Chul's no longer loved her (well because he loves So Young). He was too afraid to go home because he's scared of Mi Jung (her nagging, her personality, everything about her is scary according to him). In Chul didn't want to get a divorce at first but because Mi Jung continued harassing him and So Young, he had no other choice but to leave. Moreover, they were also fired from their company because Mi Jung barged in and made commotion during work hour! Their careers are ruined now, they couldn't get a job elsewhere because of their affair.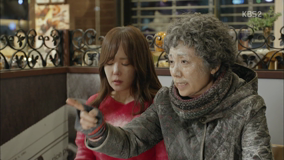 Grandma Jang is fed up they glamorize their affair, blaming her granddaughter. She criticizes So Young's mother for not raising her daughter well but So Young's mom blames Grandma Jang for not raising her daughter well in the first place. If she did, her husband wouldn't leave her. As it's going nowhere, in tears So Young apologizes – she loves In Chul and will apologize for the rest for her life. Grandma Jang reminds them that it's not love but adultery! Mi Jung thought So Young started the affair first but… it's actually In Chul who arranged that Jejudo one-week vacation.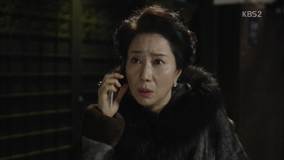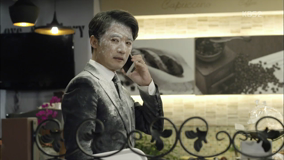 In the midst of So Young's tears, worried Ok Soon calls her son-in-law because he should be home by now. He explains he's stuck with some weird people, asking her to go inside first because it's cold and he'll be home late. Ok Soon's worry grows when she overhears So Young's cries and So Young's Mom voice as she begs her daughter to stop apologizing.

So Young's mom heart is heavy seeing her only daughter to be treated like this, like a lightning strikes abruptly. She's helping this couple as much as she can to repay Mi Jung and her three children. She's the one who sends $1500 child support every month and will tolerate the damage Grandma Jang did to their business tonight. She also apologizes for what her daughter did. Grandma Jang finally gets up to leave, ordering this couple not to show their faces in front of her anymore. In return, she will not come here again. Sang Tae breathes a sigh of relief, freedom at last!

Yeon Tae annoys the store assistants as she comes just before their closing time to purchase a nice tie for her 'boyfriend'. She plans to confess her feeling today. After rejecting the ties recommended by the store assistant for several times, she notices the assistant's frustrated expression so she grabs one tie near her. Just then, her enemy sis-in-law calls – wanting to meet at the coffee shop near her make-up store, the place where Yeon Tae plans to meet Tae Min! When Jin Joo takes her Vienna coffee order, she meets with her 'destiny' man aka Tae Min again. They're surprised they 'click' really well. Yeon Tae is equally shocked that Tae Min is sitting with Jin Joo. How did they know each other?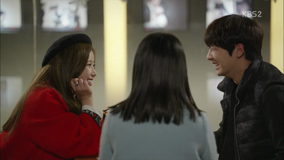 Even though it's Jin Joo and Tae Min's second meeting, they're like close friends already. Obviously it makes Yeon Tae jealous. Jin Joo and Yeon Tae were high school friends and one reason why their older siblings met & got married because of their friendship. Yeon Tae ends up giving the tie to her older oppa to avoid any suspicion.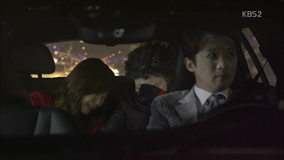 Her oppa drives the two angry women home. He overhears their conversation that their family unfortunately don't have any luck with men and her kids don't know yet. Of course Mi Jung held on the hope that In Chul would return (at least to his kids) but it's upsetting that he's living well with So Young. Lol at Grandma Jang who addresses Sang Tae as the Chauffeur. She belatedly realizes she doesn't even know him 😀 Mi Jung reveals he's her new Team Leader and Grandma Jang's jaw drops. He's kind enough to let them cry their hearts out so he drives in circles as he doesn't know where they live. As he drops them off, Grandma Jang explains her granddaughter isn't like what he saw earlier (now we know where Mi Jung gets her excessive apology tendency from).

It's been 2 hours since he said he's on the way home and his parents-in-law are increasingly worried. They are waiting for him outside, thinking of the worst case scenario: Sang Tae is harmed by people who have grudge with them. Min Ho is afraid of police (well loan sharks like them aren't living the cleanest lives) so they can only anxiously waiting for him. Smiles break on their face when a car is approaching but it's their youngest daughter Jin Joo who as soon as she arrives home, dad reprimands her for spending too much money, got home too late. Anyway, she knows her parents are waiting for their 'son' not her.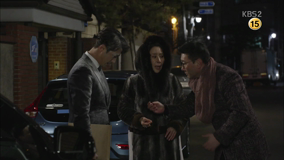 Thankfully their 'son' arrives safely albeit covered in white power that Min Ho automatically think of the worst (ie. drug) but Ok Soon tastes it and notices it's flour. Everyone's relieved now. 🙂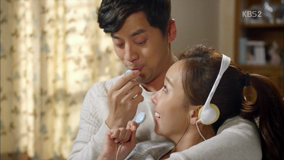 Grandma Jang knows well how Mi Jung's three kids really treasures the gifts 'dad sent' them but now she realizes Mi Jung bought them. Her youngest wants Mom to tell her story about Daddy sang Twinkle Twinkle Little Star when she's still in Mom's tummy as her bedtime story. Woo Jung asks if Mom was happy back then because she was but she hasn't seen daddy for 3 years so will he recognize her? Mi Jung reminds her that dad calls every week so of course he will.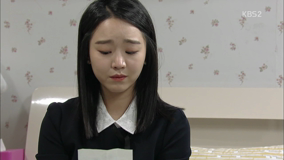 Awww poor Yeon Tae – her confession plan is ruined. She's prepared everything, memorizing the things she wanted to say to her first love to end her one-sided love. Her heart never waver even when he was in the army. It was love at first sight and she really loves him. Just then, her enemy sil calls to ask about elementary school teacher's salary and is shocked that it's lower than her monthly allowance! But Jin Joo is already falling in love with Tae Min so should she date him despite his low salary? She tells her BIL that this guy is a keeper, like him.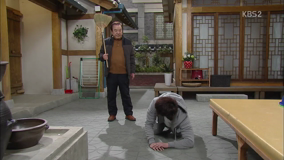 Ho Tae think his parents have left for work so he freely leaves the storage room but is shocked to find his dad in the living room! Yeon Tae was able to stop dad from going to the storage room but he can no longer hide now. He kneels down, ready to get beaten by Dad who chooses to pretend he didn't see his son to let her son suffer living in the cold storage room. But Ho Tae wants Dad to hit him so he can tell the truth to Mom and he can go back to his comfortable room. After Dad leaves, he annoyingly blames his sister who didn't do anything to help him. While Mom is busy worrying to remarry her eldest son, Dad is more worried about their second son who lives like a beggar right now. But he can't bear to tell his wife just yet.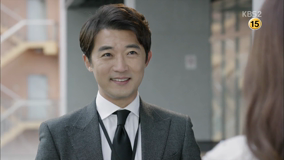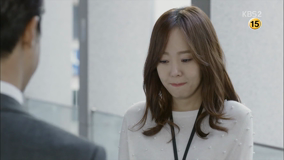 Sang Tae points out to Mi Jung that when something happens, it leaves a trace. So even though her struggle raising three kids whilst lying about her divorce might seem to be in the past, the wound will remain and would change her feeling. But fortunately her personalities aren't impacted too much, she's still as bright although she went through that much pain. He praises her inner strength. From her co-worker, Mi Jung finds out Sang Tae's wife passed away but she's not his style as he prefer sexy woman like her co-worker here (well, you've got competition now, girl!).

Woo Ri challenges Lee Bin for a dance battle, watched by their older brothers. Both are equally decent! Lee Bin dreams of becoming an actress but she's also a good dancer (she can easily follows the dance steps by watching TV) as well while Woo Ri wants to be a singer but think acting seems fun too so Lee Bin invites her to enroll in acting school with her. Awesome! Little do they know they'll be siblings 🙂 While they get along well, their brothers Woo Young and Lee Soo are rivals – they believe they're better than the other.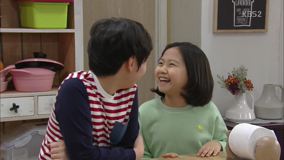 Unfortunately Mi Jung doesn't let her daughter to join acting school so Woo Ri plans to tell Dad (when he calls) that Mom is ignoring her dream. Anyway, Woo Young points out Woo Ri will join acting class with his friend's sister so Mi Jung plans to call Lee Soo's dad soon.

While Sang Tae is home discussing about Mom's proposed blind date, Hon Tae is envious with his brother's luck. But he doesn't want to get married, preferred to be single & have his own freedom. Sang Tae politely asks Mom to think about it but Mom knows whenever he says that, he won't do it. It's been five years and remarriage is not a shameful thing to do.

When Sang Tae brings up about his parents-in-law, Mi Sook gets angry. Moreover, she's also upset that her eldest son now lives with someone else's family and he keeps apologizing to her parents. Mom likes his late wife but she's gone, would never return and couldn't stay by his side anymore.
Dad points out that Mom's words are harsh but there's some truth on it. She cried as much as whenever he think about his late wife. So please think through about remarry.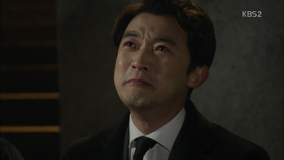 Sang Tae stares at the stairs in front of them, reminiscing the time when Jin Young used to hide at the corner of that stairs – waiting for him to come home. And that's why he seldom come home because everytime he sees that corner, it reminds her of Jin Young. In tears Sang Tae is questioning why a kind angel like Jin Young had to die first while other people who committed sins are still alive and living well? Dad silently comforts his son. Ok Soon as usual is worried sick waiting for her 'son' to come home.