Five Children Episode 32 Brief Recap
The endless oppositions have swayed Mi Jung to take (what seems to be) the easy way out to please everyone but herself and Sang Tae. It's been such a tough journey with many long dark road ahead. Can their love survive these endless rough patches? Can they trust each other and be honest with their own hearts like Sang Min & Sweet Pumpkin?
Episode 32 Brief Recap

Mi Jung has told Mi Sook she has no intention to marry Sang Tae but it looks like she hasn't told Sang Tae yet since he proposed to her. Like Min Ho, she's also annoyed Mi Jung keeps calling her 'mother-in-law', warns that she will never be her daughter-in-law and Sang Tae will obey his Mom like he's always done in the past. Moreover, she believes this marriage won't have any happy outcome considering their five kids and opposing elders. Mi Jung starts crying hearing this truth, she is fully aware that's why she never imagined about remarriage. Not until she met Sang Tae who gave her confidence to lean on him, hold on tight on him and never get shaken. She boldly asks Mi Sook to approve this marriage, promising she'll do her best for Sang Tae and his children. As a mother of a daughter, Mi Sook understands where Mi Jung comes from but she still refuses to accept this.

Both Soo & Woo Young are smashing their competitors until Sang Tae notices Woo Young is limping so he carries him to the hospital. Soo has to forfeit his next match to accompany his injured friend who's bravely holding on his pain. Sang Tae encourages him to cry if it's too painful which reminds Woo Young of the same advice Mom told him then he holds the boy's hand when he screams in pain.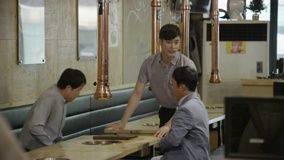 Yeon Tae grumbles she couldn't meet Sang Min's blind date, clearly expressing her jealousy. Hilariously, he keeps teasing her until he asks her out for a date – confidently points out both of them like each other. He let her to pick whatever she wants to eat the most and she picks noodles at her parents' restaurant, though Sang Min tries hard convincing her they should go to expensive steak restaurant for their first day. Albeit shocked, he is delighted Yeon Tae chose this restaurant because it shows she is comfortable dating in front of her parents. When there're customers, Sang Min quickly gets up to serve them – coolly introducing himself as the restaurant's owner's future son-in-law! The customers recognize him as famous pro golfer Kim Sang Min.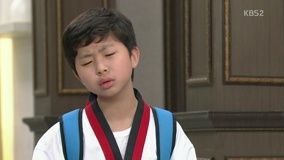 Soo is annoyed he couldn't finish the competition although he's confident he could win it. His grandparents of course blame Sang Tae for prioritizing Mi Jung's kids, imagining it'll continue to get worse if he's marrying Mi Jung.

Sang Tae piggybacks Woo Young home, fortunately this amazing boy is in high spirit despite his swollen ankle. Sang Tae uses this rare chance to talk to Grandma Jang, apologizing for what his family did and confessing he proposed to Mi Jung! He expected Mi Jung to turn him down again but he won't give up on her now hence he asks Grandma's help to change her granddaughter's mind.
After a nice lunch date, Sang Min drives sweet pumpkin home because he has to practice for his golf tournament. He brags he'll do well especially because his girlfriend will be cheering for him from home 🙂 They won't be able to meet until then, Yeon Tae can't honestly say what's on her heart but her face tells Sang Min she'll miss him a lot. He encourages her to mark the calendar, thinking how happy she is – he promises to make her happier as the day passes. Moreover, he wants her to tell him whatever she feels. Awww…

He distracts her to plant a quick kiss on her cheek. Love is in the air <3 Confidently pointing out this is what dating is, he tells her to forget about her first love and thinking of him as her first love. <3 Yeon Tae cutely touches her cheek, smiling widely after her boyfriend drives away.
Later that day, she marks her calendar – today for their first date, their upcoming 100th day, etc.

Sang Min is thankful for Yeon Tae's seven year crush who didn't recognize the gem so he can finally date this gem – seriously reprimands his brother for keep calling her Sweet Pumpkin, telling him to start addressing her as Ms Sister-in-law. buahahaha. Isn't it too early? They're not married yet hence Tae Min suggests Ms Sweet Pumpkin instead, wondering where is she working. But Sang Min isn't telling him anything. To his heartbroken brother, Sang Min advises it's for the best since his girlfriend isn't even calling him.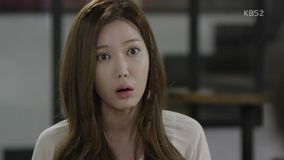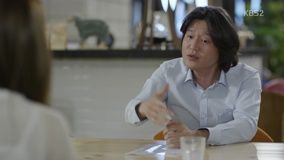 She's currently busy looking for a part-time job but with her spoiled & stubborn personality, she ends up arguing with her prospective employer instead. She can't sell her car because Dad owns it, she actually feels envious Dad has everything. She's also jealous seeing how happy Bin & Soo are setting up camp in the yard with their father.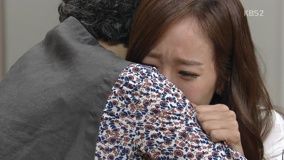 As a mom, her kids are her number one priority so Mi Jung won't sacrifice their happiness for her own. She is aware the chaotic situation her children and Sang Tae's children will go through if they get married so no, she won't remarry. Despite Grandma points out how unhappy her life is (drinking to bed every night), the opposition is too tough. But will it be easy to break up when she really loves him? She's trapped in a very difficult situation so she can only cry in Grandma's shoulder.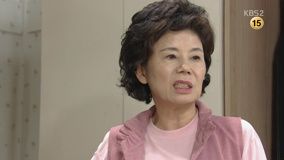 Mi Sook is moved by Mi Jung's words but she tells herself not to get swayed by it. Ok Soon has been telling her many bad things about Mi Jung's kids so she wants to confirm it with her daughter who gives glowing praises for Woo Ri. She also honestly reveals Bin is more problematic because she's too spoiled. And Ok Soon was called to the school because Soo talked rudely to his friends. Mi Sook obviously wants her son and her grandkids to leave that house which can't teach good manners but she's preoccupied with Sang Tae's plan to marry these kids' mom. Of course she wants her son to remarry but (for her) Mi Jung's not the right one for him.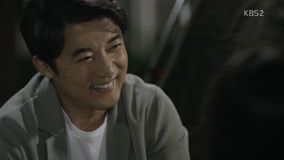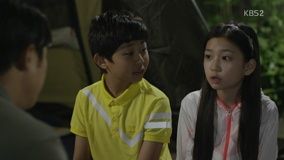 During camping at the front yard, Sang Tae admits he has a girlfriend. While Soo is wondering about where did they meet and have they kissed yet; Bin straightforwardly asks if Dad's girlfriend is really nice and what'll happen after they get married? Sang Tae promises to discuss everything with them so they don't need to worry. Both kids nod. Bin then cutely changes the conversation to her dating school friends (they're only in the second grader!).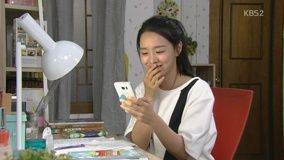 Yeon Tae is missing Sang Min but can't bring herself to text / call him. Their minds clearly connect because Sang Min who's fed up waiting for her text – decides to send a fluttering text first. Someone definitely will dream about a handsome golf player tonight 🙂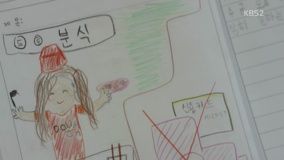 Trying to cheer up his broken-hearted auntie, Soo shows his diary and the encouragement left by his homeroom teacher. She's in shocked! Then she has a great idea, let's ask Soo to pass on the messages she wants to tell Tae Min! Starting from telling him that Auntie's heart is in so much pain 'to her new part time job (hoping Tae Min will visit her).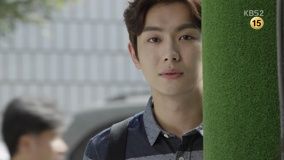 It works! Tae Min quietly stares at Jin Joo working hard at Tteokbokki snack bar, looking proud she finally tries making her own money.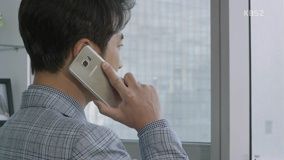 Without letting Sang Tae knows, Mi Jung sneaks out to have interview at another company who's looking forward to welcome her into the team. She'll have one final interview with the executives which basically just a formality. The interviewer then reports to Sang Tae, he clearly is upset Mi Jung took time out while the team is very busy with the golf project and threatening she won't be able to attend the final interview.

Kim Sang Min is in great condition today, everyone is cheering for him to win this tournament. His brother, his girlfriend, Min Ho & Ok Soon (who're still thinking of him as their future son-in-law) and Sang Tae's marketing team.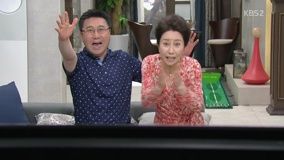 Solidifying his place as one of Korea's best golf player, Sang Min delivers perfect win. Well done Sang Min! The marketing team is busy preparing the press conference, making sure the trophy, press, everything are in place to celebrate Sang Min's win. Mi Jung helps him to wear the winning red jacket, shocked to see him thanking her. Awww… This man surely has changed, thanks to love.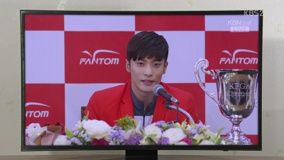 Yeon Tae's family join her watching Sang Min's press conference because she cranked up the TV. Shi Wook notices it's the golf tournament run by Sang Tae's company so he should know Sang Min really well. Mom instructs everyone to be quiet so they can hear his winning speech.
Sang Min plays around with the word  Yeon Doo (light green) – that he likes light green (Yeon Doo) field and the person outside the light green (Yeon Doo) who gave him the strength to win this. And he thanks the light green (Yeon Doo) who made his life whole. Yeon Tae is moved, can't hide her happiness. OMG OMG OMG… her whole family (except Ho Tae) is very happy. They remember Sang Min kept calling her Yeon Doo 🙂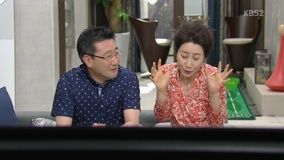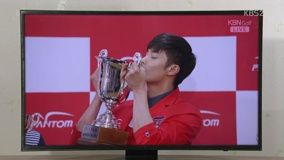 Meanwhile, Ok Soon and Min Ho mistakenly interpret Sang Min's Yeon Doo as Jin Joo because he doesn't have any girlfriend, right? Nope.

Mi Jung begs Sang Tae to let her attend the final interview but he knows it's her answer to his proposal. He asks if she's thrown the necklace, upset when she nods. So he tells her to do whatever she wants because both of them are doing it at the moment but he won't give up for sure.
So she changes her clothes to hopefully make it to her interview but then she overhears other team's conversation that the marketing team leader got into an accident. She quickly rushes to the hospital, where Sang Tae is currently being treated in the emergency room. In panic, she looks at every bed but can't find Sang Tae. Where is he?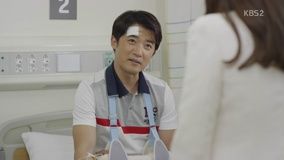 Fortunately, he's not badly injured. He's pleased she didn't go to the interview, coolly asks if she has given up stubbornly doing things she wanted. She burst into tears, yelling out "how could I go when you got hurt!"
Comments
What a roller coaster journey Mi Jung has gone through! Sang Tae's coming into her life proves to be the biggest blessing and *curse* as she's trapped in the crazy land where she has to continually fights with the endless opposition which continue attacking her without giving her a chance to breathe. The happy time they had now lost its meaning because it only brings her painful memories. Despite Sang Tae's assurance, it's not easy trying to live up to other people's high expectation while holding on the last string of hope she has in her heart. But when she's worried she would lose him (after that accident), she realizes all these oppositions mean nothing if she no longer has Sang Tae in her life. She triumphantly conquers her biggest obstacle and stop doubting her heart.
Yeon Tae experienced similar doubt. Her self-esteem sunk after her crush of seven years ended badly so she had a hard time trusting her heart again despite the butterflies on her tummy. Though I don't like Sang Min's way to ignite her jealousy (it's childish like Jin Joo pointed) but well, it works on Yeon Tae so well let's just forget about the messy blind date and move on 😀 He's a romantic man who gently guides Yeon Tae in their relationship, adapting himself to her lifestyle. It's so adorable when he thanked her during his speech, he's not hiding his affection & love. Now he only needs to tell Jin Joo and her parents about his girlfriend then everything will be awesome!
Awww Jin Joo, your persistence will pay off too. Fighting, you can do it! But please tone down your stubbornness when you're wrong! 🙂