Five Children Episode 34 Brief Recap
Going against their elders' wishes for their love is like walking against the wind, it's hard to find the way out especially when there're kids involved. Luckily, our OTP's worry fade away because they're confident their love is too strong for anyone to stop them from pursuing their own happiness. In fact, most of Five Children's couples feel secure in their relationship that it's such a joy to see their romance going to the right direction. Well, except In Chul & So Young couple who barely have any screen time.
Episode 34 Brief Recap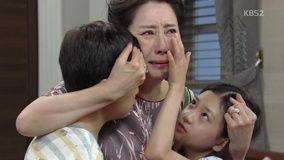 Our OTP believe they'll be happier when they're being together that's why they decided to get married but they've never dreamt to be apart from their precious children. Sang Tae's heart is moved after watching his MIL's desperate plea for her grandkids to continue living here, how could he move out with the kids who give their grandma the strength to live? Her cries woke the kids up, they sweetly wipe her tears as she embraces them.

Although Mi Jung has raised her three kids well, Mi Sook points out that moms (despite loving all their kids) usually have their favorites so it'll be even harder for Mi Jung to raise other people's kids. Mi Jung replies she has the confidence because they're children of the man she loves. She then shared her struggle as a mother – she gave birth to her son when she wasn't ready & was young. Despite thinking they're burdens at times which make her sad, they're her source of strength to help her overcoming life's difficulties and she worked her hardest to provide for them. They gradually become the reason why she lives hence she's confident to slowly maturing into Soo's & Bin's mother. As time passes, the affection will grow especially because she has Sang Tae by her side.
She runs into Shi Wook outside the restaurant. In a gentle voice, he praises her effort and encourages her to keep coming back to see each other because it's needed in order to become a family. Promises to do his part too, he reveals older people albeit stubborn will have their heart moved by their child. He believes our OTP will win!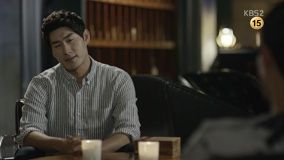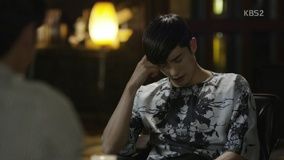 Sang Min's brain almost explodes thinking about Yeon Tae's reaction when she finds out she cried out about Tae Min to his own brother. Will she be embarrassed dating him now? Why is this happening after their relationship is going well? His manager belatedly notifies she's waiting for him at bowling club but she wouldn't be bowling by herself, right? Well yes she is! Sang Min feels sorry she doesn't have anyone to celebrate her strikes with.
After her strike, she excitedly texts him but doesn't send it thinking he's currently busy training and didn't bring his phone. 🙁 Sang Min feels sorry for her so he rushes out to see her but she's already left – as expected. Before she left, she saw an ad for couple bowling club and signed up.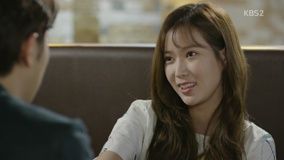 Tae Min encourages Jin Joo to be honest to her parents, in return, he won't carelessly say 'let's break up' to her anymore. But Jin Joo reveals her parents are currently upset dealing with her brother-in-law's remarriage's plan and the prospect of living apart from their grandkids so now it's not the right timing. Her parents really loved her sister and their love got 'transferred' to Sang Tae after she passed away. Jin Joo never believe all parents' love is equal because of her parents and now she's worried to fill the void when (or if) Sang Tae gets remarried. Her wise boyfriend she shouldn't fill other people's empty place because she should only live as Jang Jin Joo. She is touched with his words. She gave the car key back to her parents and will continue living modestly. Go Jin Joo! She's surprised Tae Min knows about her part time job (didn't you tell him on Soo's diary, Jin Joo ah??) and whines that her arm almost got burnt. 🙁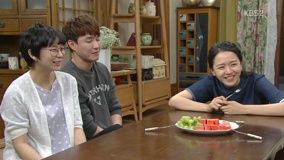 Although Mi Sook hasn't given her permission but she goes back to the restaurant to get the flowers as she left it there. Ho Tae cheekily points out Mom has been acting like moms in makjang dramas lately and he doesn't like moms who go against their kids' marriage. Dad defends (his wife) that marriage involves the whole family because a new family member will enter their family so of course parents have a say on it but this reminds him of their own past as his Mom was against their marriage citing their incomparability so they wouldn't have kids. But look what happened? They have three kids so nobody can't predict the future, right? Ho Tae points out the world has changed because boys don't break up with their girlfriends but they break up with their mothers now! Shi Wook adds that Sang Tae might follow his footsteps, he left home with his wife until they had Sang Tae so his mom had to beg them to come back 😀 If Mi Sook continues acting like this, she will be repeating the past. 😀

Ho Tae and Soon Young are going for their honeymoon. Sang Tae kindly rents a car for them while Yeon Tae prepares a lovely bouquet and dad gives them pocket money. Awesome family. Ho Tae has found his perfect match, a woman who isn't greedy for money. Enjoy your honeymoon, guys! Not wanting to ruin this happy moment, Sang Tae isn't saying anything to Mom. Yeon Tae asks him to drive her to work where she reveals Mi Jung went to see their moms several times.

As soon as he arrives at work, he looks happy Mi Jung is wearing the necklace. She then sends a text she prepared lunch box for Bin for today's field trip. Awwww… Then he summons her to a break room where he straightforwardly asks why she insisted to go to his mom when he's already promised to persuade his Mom. Mi Jung replies she has this confidence because she has a reliable & trusted man by her side.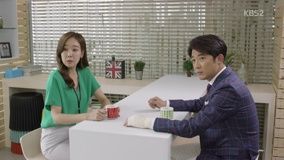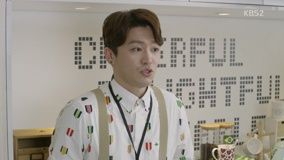 Their open relationship makes the whole team uncomfortable. After the mandatory PPL 'almond' scene, Hye Sung comes to the break up & claps twice. Why? To give a signal to the team that the OTP isn't dating there. They insist they're discussing about work but their reaction look like two people who just got caught. 😀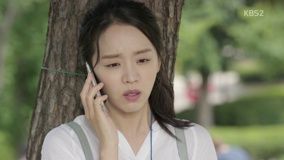 She hasn't heard from Sang Min for a while and is getting more worried so Yeon Tae calls however Manager Do lies that Sang Min is still busy training, but he'll be able to check his phone tonight. Your lie keeps getting bigger, Sang Min ah… Stop this! Anyway, Yeon Tae sends a text about couple bowling club and its first meeting this weekend. He cutely smiles, almost in tears because he really misses her.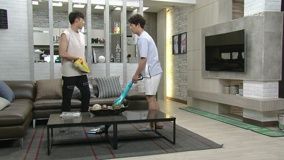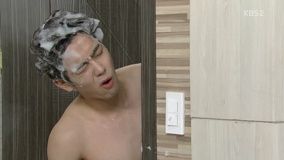 Later that night, he's being such a jerk to his brother. Complaining that the food is too salty, purposely throws chips while he's vacuuming, turns off bathroom's light and hides his clothes. What's going on, hyung? Why are you so cranky tonight?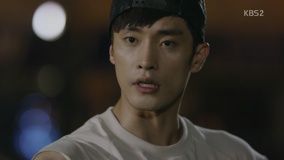 He threatens his brother shouldn't touch his sweet pumpkin then challenges him for a basketball match. Although he keeps losing and asks for a rematch, Sang Min brags his brother can never beat him.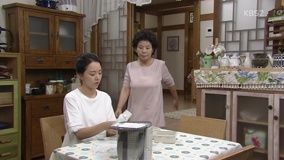 Mi Jung also packed lunch box for Woo Ri's teacher aka Yeon Tae who tells Mom that Sang Tae's girlfriend packed delicious healthy food albeit she's a busy working mom. She'd probably bought the ingredients late as she went to see Mi Sook that night, proving herself as a capable organized person. And although she's raised by her mom, Woo Ri grows up well so her mom deserves a thumbs up.

Our honeymoon couple is taking lots of pretty pictures, documenting their happy moment which will become sweet memory. After changing into couple t-shirts, Ho Tae gets down on his knee to surprise his wife with their wedding rings.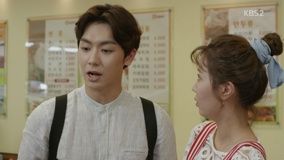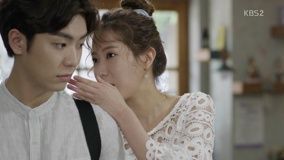 Jin Joo is dealing with two annoying high-schoolers until Tae Min comes to her rescue, introducing himself as her boyfriend. They then move to a cafe where Jin Joo whispers they can just buy one drink to share (to save money) but it hurts his feeling. Awwww <3 Right then, Sang Tae calls asking if Ok Soon has eaten anything today. Well she doesn't have any appetite, refusing to eat. Min Ho points out there's no use opposing Sang Tae's remarriage because they won't be able to stop it. And her action might strain their relationship, he might not let them to see the kids anymore. But Sang Tae isn't that kind of man, Min Ho ah…
Ok Soon decides to get a fresh air and asks their driver to drive her to her favorite restaurant. In tears, she remembers that day when Sang Tae sweetly told her to wait in the car while he queued up so she wouldn't be standing under the scorching sun. He's a really loving son-in-law.

Little does she know Sang Tae is currently here, buying her favorite food hoping she'll eat. They bump into each other in front of this small restaurant, so they decide to dine inside. He is aware his MIL really loves his kids and they'll always be the kids' grandparents. Moreover, the fact that she's his other mother will never change. So don't worry, he'll raise up his kids well with Mi Jung. She burst into tears and finally eats.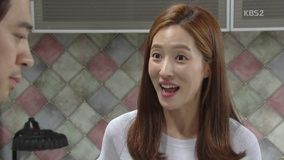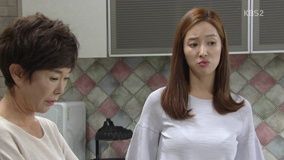 So Young is overjoyed Mi Jung might get married with her boyfriend, proposing to raise up the kids together here. It makes In Chul very happy, he never raises up this topic afraid it'd hurt her feeling. Then she nags at Mom who's going to her Aunt's place tomorrow that she'll be alone because In Chul will go camping with the kids. Mom scolds her for being too childish, how will she live without Mom after she dies? Everyone dies!

Mom actually isn't going to her sister's place, she is going to hospital for her surgery but still stubbornly hides her illness from So Young.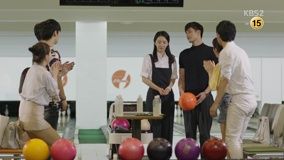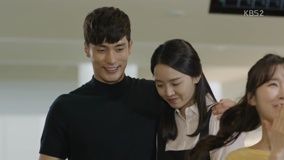 Yeon Tae bravely attends couple bowling club alone… until one familiar hand touches her hand when she picks up the bowling ball. It's Sang Min! Who comes in right in time. He proudly introduces himself as Yeon Tae's boyfriend and finishes off their turn with a spare. In front of everyone, he hugs her apologizing she came by herself but it doesn't matter (for Yeon Tae) because he's here now. One of them recognize Sang Min who looks contented. 😀
He assures Yeon Tae that he will not waver in the future, despite any hardship which come to shake things up so please put her trust in him. She promise she will. 🙂 Then she put her head on his shoulder as he put his arm around her. Yaaay.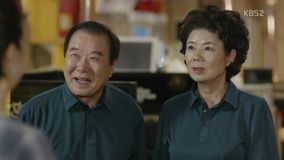 Mi Sook is wondering if Sang Tae will still insist to remarry even when she objects it. They're surprised to see Min Ho and Ok Soon who're here to discuss about their son-in-law.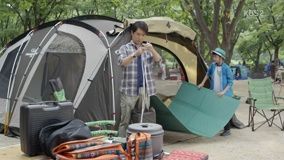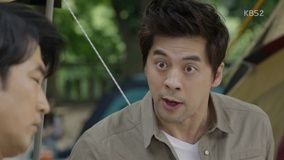 Sang Tae is almost finished with his tent but In Chul's tent is nowhere to be seen because he's struggling to read the instruction. As expected, he refuses any help. When In Chul asks if they're getting married, Sang Tae coolly replies why not and they'll be raising the kids together. They won't send the kids to In Chul! And he will still marry her even if the elders are opposing because he has already thought about it very carefully considering his decision involves one woman's and five kids' lives.
Comments
Sang Tae has made himself clear that he won't let anyone to stop him & Mi Jung from walking down the aisle and raising their five children together. Not even In Chul nor his Mom nor his MIL despite her hunger strike. It's time for him to live his life so the others should focus on living their own lives without meddling into his life. There'll be dramatic changes that everyone will need to get used to, but for sure our OTP will put their kids' happiness first so the grandparents should stop being nosy because they know exactly what they're doing.
When parents play favorites, they hurt the whole family including themselves. Ok Soon and Min Ho favor their eldest daughter over Jin Joo who rebelled with her brattiness (probably to get her parents' attention hoping to be loved like her sister). It sucks being Jin Joo, isn't it? Trying to live up to her parents' expectation, living under her 'perfect' sister & then 'perfect' brother-in-law. Thankfully she's transformed into a mature independent woman with her great boyfriend by her side cheering her to do well. Watching her transformation is beyond awesome, hopefully her parents will one day realize their maknae has a heart of gold too.
Giving the ultimatum to choose between the person they love -v- their children is very childish but it actually happens in real life (personally know couples who're forced with these difficult choices). It'll be up to the couple to decide what's best for them and the kids imho. In this drama, it's no doubt Bin & Soo will stay with their dad because he's the only living parents they have while Mi Jung's kids will stay with Mom because imho, Dad In Chul is totally hopeless! Remember that he's the selfish one who left the kids to be with a woman he loves whom he's too afraid to acknowledge now. Sending the 'dads' to camp together with their kids is a great idea, gives us a clear perspective about how good dads they are. In Chul is trying but he has a lot to catch up to Sang Tae 😀
Finally Sang Min found out about Yeon Tae's crush. It's about time 🙂 Being cranky to his brother wouldn't do either of them any good, he should just tell him what he knows to sort this out. His reaction was as expected, but thankfully it didn't take him long to realize how foolish he's been when he's swayed by his own & his manager's assumptions.