Five Children Episode 37 Brief Recap
Kim brothers' rivalry is reaching its climax with both of them fighting so hard to walk down the aisle first after finding out their girlfriends are in-laws. Fighting for their love is commendable, but surely the brothers should realize by now that honesty will spare them from this exhaustive mental battle. Meanwhile Mi Jung envisages the pain of having two meddling mothers-in-laws!
Episode 37 Brief Recap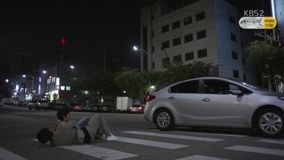 Before Mi Jung can explain why she hid the fact In Chul got remarried, Woo Young sprints through the busy road. Sang Tae who chase this upset boy risks his life to save him from the oncoming car. Thankfully both are okay, though Sang Tae gets yelled out by the driver! They then go to the nearest pharmacy where Sang Tae asks the boy to put ointment on his injured elbow. Repeating Sang Tae's own advice, Woo Young encourages him to be frank that it's hurt when it is so Sang Tae admits it's hurt before jokingly points out he often gets injured after he met Mi Jung 😀 He sweetly wipes Woo Young's tears after this boy burst into tears.
Meanwhile Mi Jung berates her clueless ex-husband for telling the truth without discussing first with her. Didn't he realize that their son is still a kid? But In Chul is tired of lying. Even if the divorce was his fault, Mi Jung's remarriage and his remarriage hurt their children similarly so if she could boldly tell them about her remarriage, why can't he? Mi Jung understands this well that's why she was very careful (in telling the kids)! In Chul didn't think this thorough.

Yeon Tae is taking pictures of Sang Min's posture to help her practice pocket balls but don't worry because this man gladly takes a lot of pictures of himself for her before taking a picture of them together and plants a surprise kiss on her cheek. He then change his name & picture on Yeon Tae's phone to 'mine'.

Tae Min doesn't want Jin Joo to find out about Yeon Tae's boyfriend so giving an excuse he'd rather celebrating Jin Joo's study-change to follow her dream, they go to have chicken & beer. But he's totally distracted, keep thinking about his brother and Yeon Tae's date! Jin Joo vows to do her best to achieve her nail art dream, believing practice will make it perfect. Her sweet boyfriend offers his nails for her to practice, also offering his other body parts (especially his lips) 😀 Jin Joo writes a contract to pay back his money through installment while Tae Min prefer them to marry sooner. It'll be infeasible to get her parents' approval and to give Jin Joo the wedding of her dream so she challenges him: get her parents' permission which she gonna take as his proposal. But what should he do to convince her parents? It doesn't take long for Jin Joo to find a great plan, she immediately calls President Kang to accomplish their mission.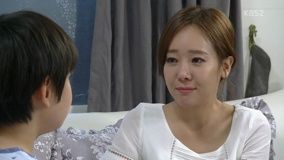 Accompanied by Sang Tae, Woo Young is back to Mom's warm embrace. Later that night, he seeks the truth from Mom – worried about his sisters' reactions. But Mi Jung encourages him to take care his own feelings first before looking after his sisters. He then asks if he can follow Mom! Yes! Mi Jung warns it'll be hard but don't worry because he has Mom who'll always be by his side.

After becoming a widow at a young age of 30, she lived only for So Young so it's no-brainer So Young's mom forbids her only daughter to raise Woo Young. Mom's selflessness & illness makes So Young feels bad, as she now understands why Mom was against her marriage.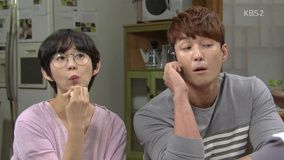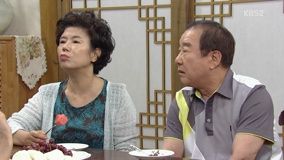 Sang Tae's words really hurt his Mom who believes that the more his son takes his wife's side, the wider the gap between MIL and DIL will be. She refuses to talk to her son although she wants to cook Mi Jung's favorite dish so Ho Tae offers to call Hyung and lies like Mom told him. But this cheeky boy brazenly tells the truth, so Mom quickly goes to her bedroom – followed by her husband who swears at their jerk oldest son! Why? Because whenever their son hurt his wife, he's also hurting him. Awwww… It put a smile on his wife's face. 🙂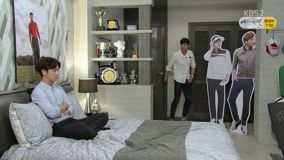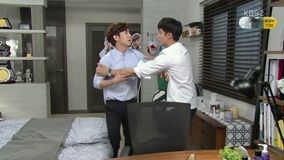 Tae Min waited for his hyung in his dark bedroom, wanting to see the written contract! Calling his hyung a coward after finding out the most important fact that their girlfriends are in-laws hence he (in panic) forced Tae Min to sign that contract, Tae Min is spot on! He knows their mother will not approve this! Sang Min is confident he will win because Jin Joo's parents don't like his brother but Tae Min asks his brother to play fair. So their contract is invalid now.
Tae Min then sends a message for Mom to come to Seoul so he can introduce his girlfriend who has a name of Mom's favorite gem. He also tells Mom that he wants to marry Jin Joo.

Curious lady Ok Soon is trying to find out the progress of Sang Tae's marriage but Mi Sook acts like she doesn't know anything although Ok Soon mentions about their grandkids, money she gave him that he rejected, etc. Mi Sook reveals she was against his first marriage because Jin Young wasn't working (indirectly taking Mi Jung's side :D) but she didn't say anything to Jin Young nor her son. Just then, Mi Jung arrives with Ok Soon's favorite flowers. In front of Ok Soon, Mi Sook sweetly accepts the flower, treats her very kindly and apologizes for hurting her feeling with her cruel words. Mi Jung vows to live a good life and to be good to both these women.
Ok Soon bombards her with questions about the house, her grandma, etc; begging her to persuade Sang Tae to accept the money for her grandchildren's sake. Mi Sook meanwhile wants to meet Grandma Jang to apologize (for what she did in the past) and to set up the wedding date; in which Ok Soon wants to tag along too! Mi Jung suddenly comes to a realization that she has… two mothers-in-laws.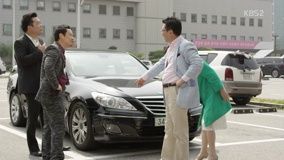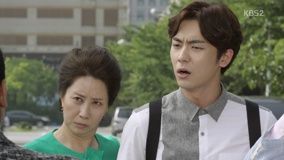 Mi Sook and Min Ho are going out, so Jin Joo quickly calls President Kang & Tae Min to accomplish their plan. As they leave the hospital, a man stops them complaining Min Ho scratched his car. Min Ho argues they're trying to scam him but he soon chickens out when the scammer threatens to call his prosecutor and detective family members. So Min Ho tries to give them money to shut them off, feeling totally defeated until a kind man steps in. It's Tae Min who points out the CCTV camera in the parking lot that can prove their scam. Excellent! The scammers quickly leave, Min Ho and Ok Soon are clearly impressed Tae Min showed up right on time. Well, it was perfectly arranged by President Kang & Jin Joo – there's no coincidence here 😀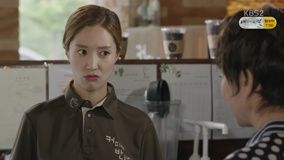 So Young is worried about In Chul who couldn't sleep thinking after hurting Woo Young. She then nags at Mom who came to work though she's supposed to be resting home, which touches Mom's heart because she usually only cares about her husband. Their conversation is cut short when Tae Min arrives at their coffee shop with Jin Joo's parents who don't even know the name of their favorite coffee, blurting out any English word they know.

Jin Joo is overjoyed their mission perfectly accomplished! Tae Min shows his credentials but the parents care more about his wealth and his family's background. He explains he lives in 1200 feet house in a decent neighborhood but the house is under his famous athlete hyung's name. His parents were professors at national university before they retired  and they also own land for a resort. Ok Soon eyes widen knowing they've hit a jackpot but Min Ho maintains his composure as continues bragging about his own wealth. After Tae Min reveals he's not interested in Jin Joo's wealth, he sincerely asks if he's allowed to date her. Well, they're clearly impressed so Tae Min finally receives their approval.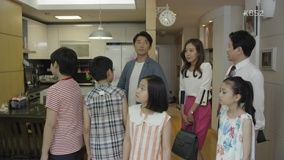 Sang Tae and Mi Jung start looking for a new place for their family but it's incredibly tough especially when spoiled Bin nags it's too small. They keep looking until they find the one everyone likes. Unfortunately there's a small problem, the landlord plans to sell the building. The real estate agent assures them once the lease contract is signed, they can still stay there even after the building owner switched hands.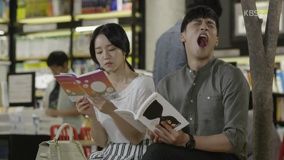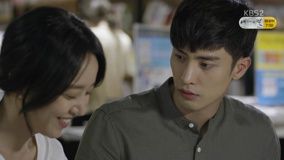 Our Sang Min is bored accompanying his bookworm girlfriend so he put his head on her shoulder, asking about where they should go for dinner. She can't make it because her brother is taking his girlfriend home tonight. He's shocked to find out that team leader Sang Tae and assistant Manager Ahn are dating, regretting being such an asshole to Mi Jung 😀
He changes the topic to marriage – does she want to get married too after watching her brothers? She reveals she prefer to have a trusted and dependable man so a big or small wedding doesn't matter too much for her. But it's sweet to see people blessing them. So when she plans to get married? It'll be far in the future because she's clearly not ready now, she wants to get married with her own money. She can only laughs when frustrated Sang Min points out he'll prepare everything so the only thing she has to do is.. to come to him. This man is too busy fighting his own race to beat his brother.
He drives her home, hugs her tightly not wanting to let her go until she kisses him. She quickly plants a kiss on his lips before running home. 🙂 He jolts when he sees Sang Tae & Mi Jung, wondering why he never realizes these two are dating. Now he regrets treating them and Yeon Tae's second brother badly, he already knows 3 people are voting against him marrying Yeon Tae.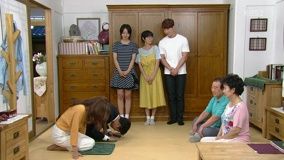 Mi Jung and Sang Tae pay their respect to Sang Tae's parents after agreeing to call each other 'honey'. It's a warm dinner, full of affection and love which is the total opposite at Mi Sook's home. She asks the ahjumma housekeeper to clean Sang Tae's new place twice a week to get updates about her grandkids.
The parents give their words of wisdom about marriage – that they should be accommodating to one another because fights do happen. Moreover, it's norm to have hateful feelings when we hate everything our spouse does. Dad basically speaks through his own experience, his kids hold their laughter while Mi Sook looks utterly annoyed.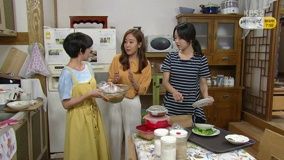 Mi Jung helps the girls cleaning up with ease, even helping clueless Soon Young about left over food. Sang Tae spots the calendar in Mom's room, full of her scribbles about today's special day and Mi Jung's favorite dish.

Min Ho stops by to check the surrounding of Sang Tae's new place when he passes through that neighborhood. He overhears the building is currently on sale and is interested to know the sale price!