Five Children Episode 38 Brief Recap
Romance takes the center stage this episode with one wedding, two proposals, two very happy couples. Sang Tae's and Mi Jung's new lives begin as they walk down the aisle with their loving family & loved ones giving their blessing. Two families join together but unfortunately another family has to painfully let Sang Tae moves on with his life. Kim brothers got the rings for their girlfriends, only one brother will smile at the end of this episode. Will it be Kim Sang Min or his 'lil brother Kim Tae Min?
Episode 38 Brief Recap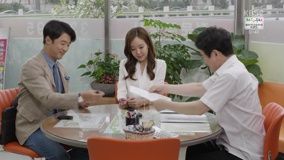 After expressing his interest to purchase the building Sang Tae & Mi Jung will live, the realtor shows Min Ho apartment the current owner lived – it's on the second floor, directly below Sang Tae's place. He overhears real estate agent's phone conversation about Mi Jung wanting to change the wallpaper to kids-friendly one, immediately agrees to change it. Our OTP signs the lease contract.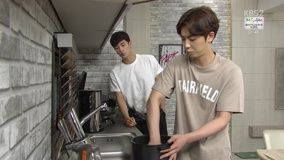 Big brother is watching over 'lil brother how make rice with his annoying questions. Of course Tae Min isn't going to let his hyung win, especially after he tried cockblocking his wedding for his own benefit. Tae Min reveals he's already received Jin Joo's parents' approval and discussed the wedding with Jin Joo. The only thing left is to gain his parents' approval – which will be very easy because Mom is always be the boss and Tae Min is her favorite son whom she trusts the most. She used to say she'll approve any woman Tae Min brings home.
After receiving Tae Min's email, Mom shortened her overseas trip to come home sooner. On her phone call with Sang Min, she bombards him questions about Tae Min's girlfriend, sounds so excited to meet her. From Tae Min, Sang Min finds out that Yeon Tae wants to get married late. Anyway, big brother orders 'lil brother to keep the secret that their girlfriends are in-laws.
So let's do this fairly. Whoever get their marriage proposal accepted by their girlfriend first (without telling the truth that they're brothers) will win. The brothers plan to keep this from their mom until the wedding date is set.

The drama proposal is tempting but Ho Tae doesn't want to waste a year doing a drama because of his movie ambition. His wife withdrew the money from her room's deposit so her husband can finish filming his movie, but it's clearly not enough. For her, he's a movie director and is proud of him despite everyone else calls him unemployed. He shows her the drama contract and decides to do it for his wife's & baby's sake. Ho Tae then returns the money back to his wife so she can spend it whatever she wants.

Our OTP is shopping furniture for their new place. As a mom, Mi Jung knows exactly what's best for them and the kids. But Sang Tae cares more about finding the perfect bed. 😀 Cheeky man. She likes one big bed so they can share it with the kids but nope, he'd rather get the one that's perfect for the newlyweds like them.
Furniture is done now let's move to next important thing: wedding ceremony. Because this is their second wedding, Mi Jung prefer a modest one with only family and close friends. Sang Tae surprises her with his immaculate research of bunk beds for their kids – he wants the kids to feel involved in this whole thing. He cheekily teases her he can read what's on her mind – that she'd kiss him if they're not in a cafe 😀 He doesn't care if people see them so he plants a kiss on her cheek. Cuteness overload.

Ok Soon plans to send their housekeeper to help Sang Tae's big family (aka spying him) after he moves out but he quickly turns it down, citing he'll take care it himself and he'll get his kids to adapt & live according to their father's ability. The housekeeper points out it's so obvious this man is trying to cut his ties with his in-laws.
While the girls are so excited to sleep in the same room, Soo still adamant he'll stay with his grandparents. His sister and Dad continue begging him to live with them. Grandma Jang also insists she won't move with them, she has a part time job so she can support herself living independently. She doesn't mind raising five kids but she knows Mi Jung's in-laws won't like it so she's sparing her granddaughter from her in-laws' rage. Besides, she wants Mi Jung to develop emotional attachment with Sang Tae's kids without her and she wants to be a proud elder when she meets Mi Sook tomorrow.

The brothers bump into each other at a jewelry store, both are looking for rings for their lucky girlfriends. Hilariously, they love the same rings! Nobody is giving up until the they're told the rings are already reserved, need to be ordered 3 months in advanced. Sang Min moves to see diamond ring, bragging that his 'lil brother can't afford it. But Tae Min who's been saving his allowance (that his brother gave him) brags that he can afford it. Come on brothers, stop this silly competition.
Because the company has incoming fashion show, Mi Jung told her Grandma to set up the wedding date ASAP so it won't clash with the company's important event but Sang Tae cheekily teases it's not the case, the truth is she wants to live with him ASAP 😀 Their post-it-notes flirting is adorable.

Ok Soon comes to her in-laws again, whining Sang Tae refused her kind offers. Insisting she can't send her son-in-law off empty handed, she plans to get him a new car for his big family but Shi Wook politely turns it down. Mi Sook requests her to let them live their lives, before excusing herself to meet Grandma Jang. Ok Soon wants to tag along, to apologize for their cat fight and to give hints about her grandkids as Grandma Jang will take care of them. But Mi Sook explains it'll be awkward, right? Ok Soon is very upset her in-laws' family clearly try to cut their ties with them.
As expected, Mi Sook is happy Grandma Jang isn't moving with Mi Jung & her family. Anyway, Grandma has picked the best wedding date which will be… in two week's time!

Grandma Jang's plan for independence is ruined because she's fired without any notice. The owner wants to help someone she knows from her hometown, unfortunately, it costs Grandma's job. Without beating around the bush, she explains she was too selfish trying to live alone so she'll move in with Mi Jung! Yeah!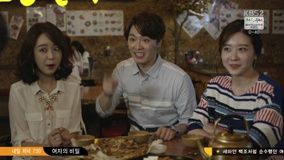 The next morning, everyone in the marketing team is surprised to see wedding invitation on their desk. They continue the company's tradition – a fun 'interview' drinking game for the OTP. Starting from who liked each other first (both Sang Tae and Mi Jung point at each other so they get 'punished' by drinking the rice wine), the place where they first kissed (both got it right, at Incheon's parking lot and the team remembers that day :D), etc.

Mi Sook and Shi Wook come to charnel house to tell Jin Young her husband who had a hard life living after she left, has found a great woman and is living his life happily again. They wish she will congratulate him. Mi Sook then hopes they'll meet again in the next life, hoping they will all live for a long time T_T They leave the charnel house with heavy footsteps, knowing it won't be easy to come here again (after Sang Tae's wedding). As they leave, Sang Tae arrive.
He apologizes for not being able to keep the promise to meet again (in Heaven) but he'll keep his promise to raise their children well. In tears, he put his wedding ring with his late wife's ring. Tears can't stop flowing T_T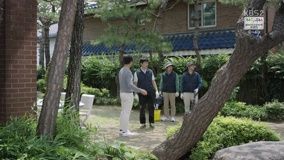 Today is moving day. Woo Young asks Mom if he can take their family's album (with Dad's pictures), he's afraid Sang Tae won't like it but Mi Jung sweetly allows him to bring it – In Chul is his dad, nothing will change this. Sang Tae arranged workers to fix things at his in-laws' place, which makes Ok Soon emotional because the dreading day is finally here.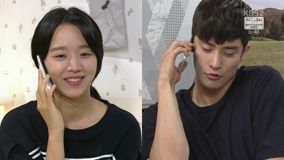 The brothers' mom is coming next week, the ring Sang Min ordered has arrived while his brother's will come tomorrow. Tae Min plans to propose after the wedding, which catches Sang Min by surprise because his girlfriend didn't tell him that her brother is getting married tomorrow! Yeon Tae explains because Sang Min knows the couple, she's afraid he'll be burdened (to attend the wedding) which he replies he's not. He lies that he knows about the wedding from someone through work. Anyway, Yeon Tae hasn't told her family about her boyfriend because they've been busy with the wedding. Because he's not invited to the wedding, he asks her to spare some time afterwards to meet.

Today is Sang Tae's & Mi Jung's wedding day – it's not a small wedding as she wanted, because seems like everyone in their neighborhood is invited! 😀 Jin Joo gives her parents' congratulatory money to Yeon Tae who sincerely accepts their sincere heart, looking envious at Jin Joo & Tae Min and wondering if she should come with Sang Min.
After sailing through so many obstacles together, our OTP is finally standing at the altar today – blessed by their families and loved ones.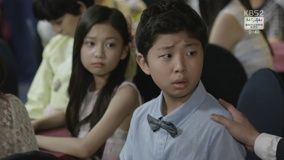 In the midst of the ceremony, Tae Min sneaks in to sit beside his girlfriend, much to Soo's surprise. Why is his homeroom teacher here? Jin Joo stutters, explaining he's her boyfriend. As expected, Soo is annoyed this couple was using him through his diary. Meanwhile, Yeon Tae introduces herself (that she'll be their aunt from today) to Mi Jung's kids who politely greet her.
Sang Tae's in-laws aren't invited to the wedding. Ok Soon pitifully cries in her grandkids' empty room. They build this house hoping their daughters' families will live with them but their big house feels so empty now.
In Chul isn't invited either. So Young applauds Mi Jung's braveness, pondering if they should continue paying the kids' child support after Mi Jung's remarriage which her mom points out of course they don't! Because they'll be raised by Sang Tae and can change their surnames to Sang Tae's. She believes they'll soon become strangers as In Chul will see his kids less. Eh?!? But they're still In Chul's kids!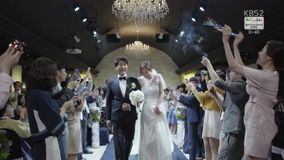 Congratulations on your wedding, Sang Tae & Mi Jung! So happy for them! They are going for an overnight honeymoon. Mi Sook sweetly holds his daughter-in-law's hand, wishes them to have a great time & to return safely. With tears on her eyes, Jin Joo realizes Sang Tae has become stranger now, she can't call him brother-in-law again T_T Her boyfriend sweetly consoles her.
Yeon Tae who's on the way home alone, receives a surprise of a stranger giving her a pink heart balloon. Then, a little kid gives her another balloon. A group of teenagers hand this noona more balloons. What's going on???

Sang Min is waiting for her and opens his trunk which has more balloons! Yes, he asked those people to give these balloons for her because today is a special day. He asks her to stand in front of his car, confessing his life has changed after he met her, he wants his days be filled with her and he can't picture his life without her! Sang Min describes his dream of meeting someone he loves, creating a happy family, making pretty babies with her and after so many days passed, this same woman stays by his side. Who is this woman? It's her, Lee Yeon Tae! Then he gets down on one knee and presents the ring to her. "I love you, Lee Yeon Tae. Will you marry me?" His puppy eyes T_T
However… Yeon Tae apologizes that she cannot get married!
In another place, another couple is strolling the park. Jin Hoo is relieved Tae Min was by her side to ease her sadness at the wedding. She then proudly shows her nail art creation, although Tae Min praises her, she admits she still has a long way to go and this gives her a motivation to do better. Awww…

This is the place Tae Min confessed his feeling so he picks it again tonight. He cutely mentions that even though she might act like a fox, her heart is gentle as a deer <3 Confessing he likes her for who she is and because it's her, he likes her so much it drives him crazy and he's the happiest when she's by his side. He promises to stay who he is for the rest of his life.
He gets on his knee, presents the ring to a tearful Jin Joo who cries in happiness. She points out he proposed without any flowers, balloons nor romantic music. It touches her heart because she knows she doesn't need all those things, she only needs him. He put the ring on her finger, Jin Joo really likes the pretty ring and she asks him to get up. But you haven't answered Tae Min, Jin Joo ah!
'Yes'! She nods her head then she hugs him tightly. Congratulations on your engagement Tae Min & Jin Joo! 🙂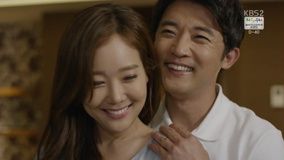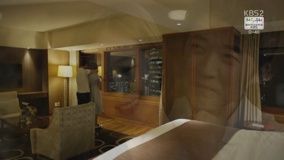 The newlyweds is enjoying their first night together. I adore this couple so much. Mi Jung recalls the crazy ups and downs moments they had together, they've come such a long way. She realizes they look good together and have good chemistry since they first met so Sang Tae hopes they'll continue living well as they've done well until now. Problems will still coming, they'll may fight with their parents, lose (fights) with their kids and makes mistakes but nobody will run away. Sang Tae cheekily points out it's too late to back out since there're five kids now 😀
The next day, Min Ho comes to the real estate office wanting to know if the six floor building is still on sale because he'll buy that building!
Comments
This episode makes my heart flutters, so much happiness & sweetness for our two couples who are savouring their happines after overcoming the craziest & toughest obstacles including endless opposition from their elders. The flashback of our OTP's moments from the first time they met brings back so many memories of how much heartaches they had to endure to get to this point. Their love grow stronger throughout these difficult times, giving them the confidence to step into the next stage of their relationship – a marriage blessed by both their families and kids. It's truly a deserving happy ending for this couple. Ah Jae Wook and So Yoo Jin have a crackling chemistry, like a firework that shines brightly when it's lit.
Although I don't like Ok Soon's prejudice towards Mi Jung and her constant obtrude, my heart bleeds for her and Min Ho as part of their lives are taken apart from them. They would've expect Sang Tae to move on with his life yet it still hurts especially because it's so obvious when he repeatedly gives a sign of cutting the ties with this family who's been showering him with so much love. Shocked they weren't invited to the wedding, they're his late wife's parents (& his kids' grandparents) and out of respect, he should at least invite them.
Watching the brothers proposing to their girlfriends in their own special ways is endearing. Sang Min helped heal Yeon Tae moving on from her 7 years crush with the heart-shaped balloon which symbolizes the beginning of their friendship so he proposes to her by giving these balloons. But he totally ignores the most important thing – Yeon Tae's feeling and whether she's ready to take their relationship to the next level. He disregards his brother's words, leaving him with painful rejection. This couple needs to learn to be honest & open with each other first, it's mindblowing Yeon Tae didn't tell her boyfriend that her brother is getting married! Moreover, Sang Min hasn't even met with her family as her boyfriend so his marriage proposal is too rushed.
On the other hand, Tae Min understands Jin Joo's heart. He guides her maturing into someone with a clear goal for her future, someone who works hard to be herself – not be someone else her family / others expected her to be, someone who appreciates little things in life. He proposes showing his sincere heart without any gimmicks because it's what their relationship has always been – simple, sincere, honest. This couple understands they need Jin Joo's parents' approval which they've finally gained after sacrificing so much. It's a joy watching them maturing as a couple who loves each other sincerely – not materialistically. Based on Tae Min's words and Mom's reaction, getting Tae Min's parents' approval will be a piece of cake 😀
Since Sang Tae is now married with Mi Jung, are Jin Joo and Yeon Tae still in-laws? I guess they're not, right?