Five Children Episode 4 Brief Recap
Our hero isn't the perfect hero but he's inches close to it. We've seen how in love he's with his late wife that nobody can replace her in his heart, but this episode he'll contemplate to please his family while still holding on to Jin Young's memory. Yeon Tae, her enemy SIL So Young and Tae Min love triangle has started while Ok Soon and Min Ho will soon find out that their cherished son might be moving away sooner than they expected.
Episode 4 Brief Recap

Mi Sook regrets forcing her idea to Sang Tae, hurting his feeling but she can't bear seeing him getting old alone. She didn't mention remarriage for the past five years out of respect for Sang Tae and his in-laws, she feels now is the right time for him to move on. Her husband points out their son must be interested in remarriage first so Mi Sook gives him a mission to change their son's mind. You aint giving up, Mi Sook ah. Sang Tae actually moved in to his in-laws' place because his late wife asked him to take care her parents on her will. Dad suddenly realizes his second son hasn't eaten dinner yet. Yes, he is starving but can't leave his cold room. Yeon Tae kindly texts her brother that she'll cook instant noodles for him but is shocked to find him scooping rice & veggies in the dark kitchen!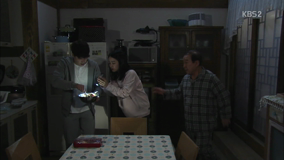 Yeon Tae almost screams out when another person walks in – fortunately it's their dad who is relieved at least his son can have decent meals. The three of them are sharing bibimbap, freely talking – don't realize that Mi Sook woke up & heard everything. Well she's happy that her husband praised her cooking but she's mad finding out her second son is bankrupt! She burst in, she's going to kill her son now.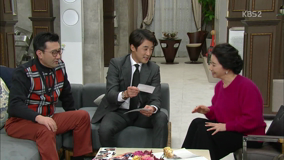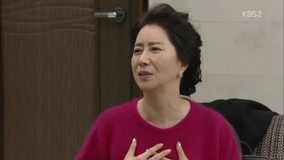 Min Ho and Ok Soon show the pictures they took together with their grandchildren the other day to Sang Tae who picks one for Jin Young's charnel house. Ok Soon belatedly reports Mi Sook saw their photograph session the other day and brags that she must've been relieved now that her son is living well now. Min Ho on the other hand, feels bad and plans to treat their in-laws nicely.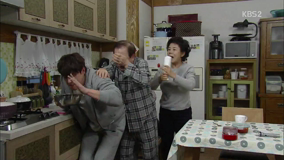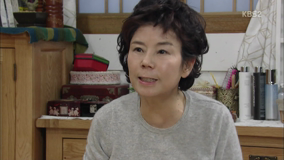 Ho Tae has been pursuing his dream in the past 10 years without any success so Mom bluntly points out he doesn't have the right talent. He refuses Mom to decide his future, it's his life. He will make his next movie a hit as he put in so much labor of love – 2 years writing this script and for a year he pours out everything, his life for this movie. Shin Wook defends his son who returned home because it's his home. Ho Tae points out the only places he can get free meals are home or jails, Mom should be relieved he's not in jail. He's so immature. Moreover, Yeon Tae (after getting a signal from her brother) begs Mom to allow him sleeping in big oppa's room and she will contribute in living expenses as well as she'll start working as a teacher soon. But Mi Sook refuses.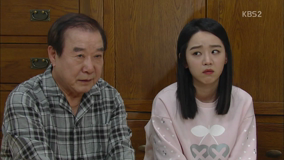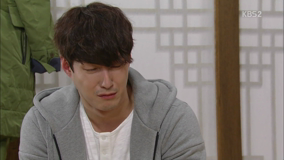 Well she can't kick out her own son but there should be rules he must follow. After providing for his education and life, he should be ashamed of himself leeching over his parents although he's already in his 30s. Without any compromise, Mom allows him to stay – in the freezing storage room.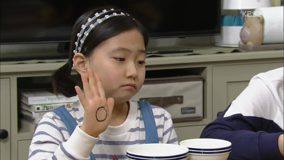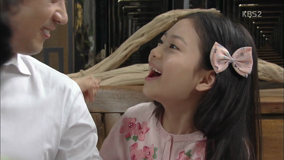 To pursue her dream to be celebrity, Woo Ri is on strict diet starting from today. Yes, this little girl wants to lose weight! Not that she needed it. Until Mom allows her to attend acting academy, she doesn't speak so her brother explains everything to the family. Woo Young drew O and X on his sister's palms so whenever she agrees she put up her O and X whenever she disagrees with Mom. Woo Young promises to get Lee Bin's dad's phone number as he's close with her brother. Meanwhile Lee Bin easily gets permission to attend acting academy, her whole family support her. Min Ho brings up movie director Ho Tae who can give a guidance for Lee Bin so she won't face any trouble (like fraud) in this competitive field.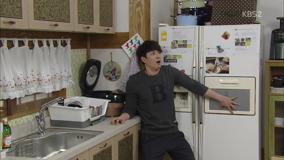 While he put on the tie Yeon Tae gave him, he spots Ho Tae's script and begins skimming through it. As if Ho Tae can read his mind, he sends a remainder text to his hyung who replies he'll call back soon as he wants to talk about his daughter. Ho Tae's struggle continues as Mom didn't leave him any food for breakfast – she'd want him starve to death to wake him up from his dream. She's happily enjoying breakfast at her restaurant but when Sang Tae calls, abruptly she changes her mood. Answering the call haggardly, she lies that she couldn't sleep nor eat nor work because he refused to go to blind date, threatening she'll live her remaining live alone like his son. She wants her son to get hurt like he's hurting his mom now. Aigoo aigoo.

Yeon Tae and Tae Min are reminiscing the day they took teacher employment exam as they'll start working as teachers tomorrow. How time flies. She's inspired by her homeroom teacher to be elementary school teacher, it's awesome to see her dream comes true.
Yeon Tae finally gathers her courage to… confess her feeling by bringing up about the tie she bought but… Tae Min starts talking about Jin Joo, how similar their hobbies are and her social service major. Knowing Jin Joo is single, he asks Yeon Tae for her friend's phone number. Oh no T_T Of course Yeon Tae refuses to give it, explaining that she needs to ask Jin Joo first if it's okay to give her number to him. Fair enough.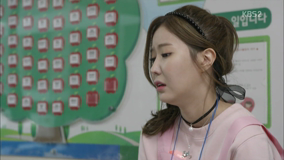 This social service trainee student goes nuts at her training, like she is now. How did she choose the major in the first place is unfathomable.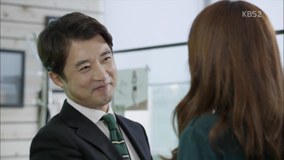 Because Mi Jung has worked with prickly lunatic hard-to-please Kim Sang Min, her team agree for her to take Kim Sang Min diet project 😀 Nobody in her team wants to work with him so this is perfect! She begs Sang Tae to reconsider but he only glares silently at her, giving her no chance to walk away. But… Sang Tae points out he'll come with her to the photoshoot, he won't leave her alone.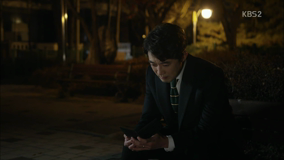 Daddy points out Mom's worry seeing their children without partners. He then reveals the secret that Sang Tae is actually their second child. Unfortunately, their firstborn passed away on his sleep without any reason and it broke their heart hugging their 100days old dead baby. There's no explanation why he passed away, just like Sang Tae's late wife. People die, it's a fact of life. But people who still live, need to keep living. They gradually forgot about the sadness of losing their firstborn as Sang Tae & his siblings were born and give them the strength & happiness. Dad reveals he doesn't have many skills to run the household but if a man can make people around him happy & comfortable then he's good head of a household and it makes him a man. So can he at least put his mom on ease? Spend 30 minutes of his time to make Mom happy with her planned blind date, take this step for his mom's sake. He doesn't need to do anything nor tries to love his blind date, just sit there quietly. But if things go well, then it'll be good, right? Dad's words of wisdom makes Sang Tae think very deeply.

He smiles as he tells Mom to stop her 'hunger strike' as he'll go to the blind date. While Mom and Dad are overjoyed, Yeon Tae's world has collapsed but she isn't telling Mom why. Mom think it's because she'll start working professionally tomorrow so she calms her down and even suggests to date her co-worker. If only you know what happened, mom.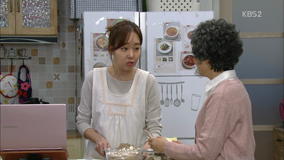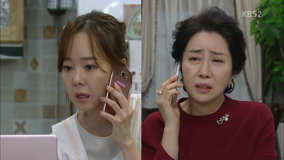 Mi Jung is cooking and working at the same time. She's a superwoman. Grandma Jang passes on Bin's grandma's number to discuss about the kids' acting school but before she calls her, Ok Soon calls her first. She thought Bin's family has done all the research & hard work but Ok Soon prefer to look at the academy together so Mi Jung explains she's a working mom hence very busy. Hilariously, Ok Soon doesn't understand English and is annoyed when Mi Jung abruptly hangs up.
Ok Soon then asks her son what's workimo is 😀 then blurts out that a mother should raise her kids & stay at home. Hmmm the world has changed, Ok Soon ah. Sang Tae is amazed when he receives updates from Mi Jung who's done her research competently. Mi Jung is relieved her work is finished and so do the side dishes. She can rest now.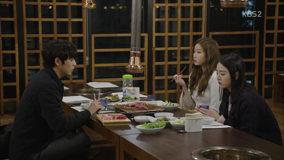 To celebrate Yeon Tae's first day at work, Jin Joo takes her for a manicure session and… a dinner at a meat restaurant (not her parents' restaurant) because she wants Yeon Tae to invite Tae Min as well. Even if he's already has planned, he'd cancel it after hearing Jin Joo's voice. Of course he comes along and he asks for Jin Joo's number straight away. Poor Yeon Tae is becoming the thirdwheel, Jin Joo even secretly asks her to leave the two of them alone. Annoyed, Yeon Tae throws Jin Joo's shoe in the bathroom.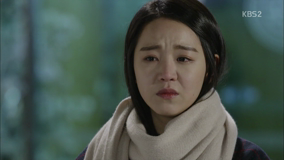 Jin Joo doesn't want to wear the slippers offered by the restaurant so Yeon Tae offers her shoes but she chooses Tae Min's offer to hop on his back. They're treated her like their servant T_T
In Chul sneaks out to see his kids at school, he's covered up from head to toe and acting like a criminal – he doesn't even know his kids' classes making the security guard suspicious. He doesn't realize his two kids were staring at him when he was arguing with the guard! As soon as he figures it out, he runs. His kids follow him but lose him when he hides behind a car. They think he's just someone like dad because dad is supposed to be in the USA, right?
So Young is wondering if she should have a baby with In Chul because he really loves his kids but Mom snaps her out that he might not want another kids but promises to think about something else.
Still on silent strike, only Woo Young tells Grandma they saw Dad look-alike. When putting Mi Jung's clothes, she finds a bottle of alcohol Mi Jung hid in her drawer. Grandma Jang is upset seeing how much in pain her granddaughter is that she drinks herself to sleep. She looks normal on the outside but she's suffering on the inside.
Mi Sook is in happy mood because Sang Tae is going to his blind date today. She reminds Sang Tae about his lunch blind date so he asks Mi Jung to spare 30 minutes for him to meet his date. His mom-in-law is currently busy buying nice clothes for her son although her husband is there looking annoyed.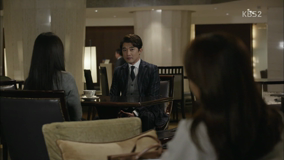 Sang Tae finally meets his date but… it's awkward.  His PIL annoying friends spot him at the hotel and… reports it to Ok Soon straight away.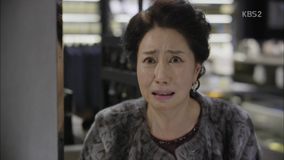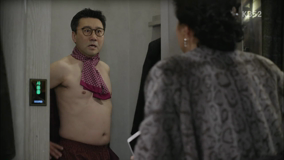 Ok Soon passes on the breaking news to her husband in the changing room!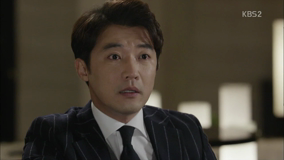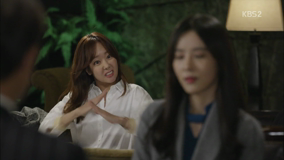 He starts by introducing his children and his job but the woman points out he's boring & he lied about his profile (ie. height, weight, etc). Mi Jung gives him a sign that this woman isn't interested with him, she doesn't even want to go to this blind date but he can't catch her hilarious signals. But because he keeps staring at Mi Jung, his blind date soon catches on what's going on. Accusing him of bringing another woman during his blind date! Both Mi Jung and Sang Tae yells out 'no!'
Comments
Sang Tae's dad words-of-wisdom implied that two people can hit it off on the arranged blind date but the possibility is less than 0.01% if both of them are forced to be there. Sang Tae only went there to please his mother (honestly, I dislike his Mom for threatening him – I found her so annoying pushing her son although he never thought about remarriage, it's obvious he's not ready to move on) while the other woman well who knows why she came. I love it that Mi Jung came along, she could be introduced to his family sooner than later although it could be a misunderstanding at first. Without realizing, both Sang Tae and Mi Jung know about each other's personal lives which helps them getting close in no time. I can't wait to see them finding out that their daughters plan to join acting school together, it's gonna be interesting to see if Mi Jung will change her mind knowing that her daughter will go with her Team Leader's daughter.
Love is about timing, isn't it? Yeon Tae harbored her one-sided love for quite a long time and couldn't manage to find the perfect time to confess her feeling until her friend (and her enemy) came into Tae Min's life. Should she back off now or push through to get the man of her love?