Five Children Episode 45 Brief Recap
The family notebook proves to be such a great idea for the parents and the kids to share their honest feelings, encouraging emotional openness to help them adjusting to their new living environment better. But when the in-laws continue butting in, Sang Tae & Mi Jung face a new psychological battle with Bin. Things are getting easier for Kim brothers after the secret about their girlfriends are out in the open, they join sides to get Mom's approval for their marriage.
Five Children Episode 45 Brief Recap
Yeon Tae belatedly remembers seeing Mrs Kim's picture on Tae Min's phone (the day she found out about Kim brothers) after she left great impression on Mrs Kim who now feels 10 years younger 🙂 She then realizes the most important fact that she's Sang Min's mom.
Yeon Tae explains her close relationship with Tae Min, starting from studying at the same college together. Mrs Kim straight away asks if the nice girl in front of her has a boyfriend, Yeon Tae sheepishly replies she does. Then… she politely bows to Mrs Kim, introducing herself as Sang Min's girlfriend & apologizing she didn't come to have meal with them the other day!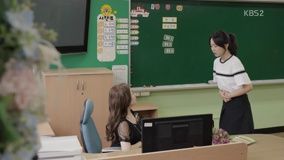 Mrs Kim carefully asks if her son whom she knows best made Yeon Tae upset hence she suddenly backed out that day. According to Mrs know-all, Sang Min is the odd one as their whole family is scholars – calling her pro-golfer son a mutant hence she's afraid Sang Min would bring home a girl like him but she looks very pleased with her son's choice that she invites Yeon Tae to have a meal with her family.

Tae Min confirms Mom's great first impression about how great person Yeon Tae is and thanks to her, his hyung's maturing into a better person who tries hard to accommodate others & be the man Yeon Tae likes. Mrs Kim smiles, she also could see Sang Min has met a good woman as he's very different with his past relationship. Mrs Kim praises Yeon Tae endlessly but gives a fake smile & a very short answer when her favorite son asks about Jin Joo.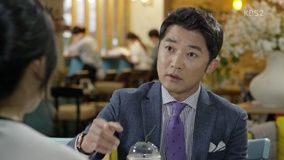 To her brother, Yeon Tae explains why she turned down Sang Min's marriage proposal so Sang Tae bluntly advises her to stop overthinking & to start following her heart like he did 🙂 Though she's not ready for marriage, she wants to marry him in the future.
She then reveals about Jin Joo's relationship with her boyfriend's brother which will lead to double in-laws trouble in the future. Their family's relationship with their in-laws (Jin Joo's parents) are strained nowadays so they (especially her mom) won't be happy if they're connected to their in-laws again through her marriage.

Bin is clearly having a bad day today, her brother & Grandma Jang scold her for not cleaning up / turning off the light. Of course she goes straight to her maternal grandparents downstairs nagging about the responsibilities given to her & her brother for sorting out the trash.
Ok Soon hopes Mi Sook could talk to her son's new family because their grandchildren are having a hard time living there after living comfortably in their maternal grandparents' house. Mi Sook calmly points out naturally Sang Tae and his kids have to change due to their new living environment – moreover, Mi Jung is doing her best to be affectionate step-mom for Bin & Soo. Then she bluntly mentions her in-laws' constant protection to their grandkids, making it harder for them adjusting to their new environment.
She knows Ok Soon is spying on Sang Tae's family because she moved a week after his marriage! Caught red-handed, Ok Soon almost burst into tears as she whines Sang Tae didn't invite her to his housewarming party, frustrated Mi Sook tells her to put herself on Mi Jung's shoes! Who is inviting her husband's (ex) in-laws' to her housewarming party??? Moreover, they should give Sang Tae some space to be a good husband to his wife, which will lead to him to be good to his kids and then (ex) his in-laws. Anyway, Ok Soon continues whinging… ironically bringing up about child abuse! Well let's just skip her ridiculous whines. Mi Sook urges her to trust Sang Tae and stop interfering. In the nick of time, Mi Jung appears. She gratefully thanks Ok Soon for helping sorting out Soo's and Woo Young's trouble.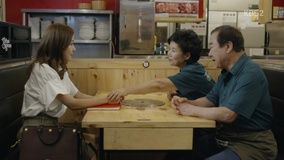 That incident opens Mi Jung's eyes that although she loathes having this couple living downstairs, but they've proved to be a great help in time of need. She asks her in-laws to write down Bin's & Soo's birthday and their late mother's death anniversary, hoping she can help making their special days more special. Both Mi Sook and Shi Wook are touched, advising Mi Jung to be an understanding daughter-in-law to her husband's (ex) in-laws because they can feel their heartache.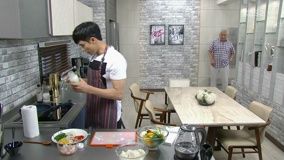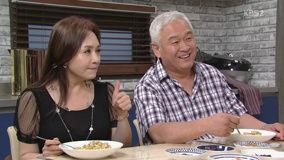 Cheerful Sang Min is back, cooking fried rice for the first time but his Dad is too shocked to see his 'strange' behavior that he sends an urgent text to his wife to come home ASAP. Mom and Dad praise his fried rice, looks like Tae Min isn't the only one who inherits Mom's cooking skill. Conversation moves to Mom's endless admirations for Yeon Tae, amazed at her son's eyes finding such a virtuous fine lady. Then, she urges him to marry Yeon Tae soon. When her son brings up Yeon Tae prefer to date longer, she points out Sang Min needs to work harder giving her confidence that he'll be a great husband. Envious Tae Min wants to get married soon too but Mom snaps him out of it saying he's still young. Mrs Kim has found the perfect daughter-in-law that she no longer cares about her favorite son's girlfriend.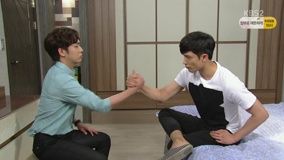 Sang Min is worried Mom's marriage demand will push Yeon Tae away from his again while Tae Min is curious why both Mom & Jin Joo prefer to push back his marriage. Big bro sums up this whole complicated situation that both of them want to get married later (because of their girlfriends) and they'll definitely marry their girlfriends however they'll have to face Mom's prejudice about double in-laws so they need to carefully work harder to make Mom falling in love with their girlfriends that she doesn't want to lose either one of them. The brothers now agree to be on one side!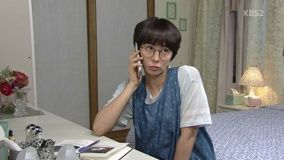 Mi Sook is addicted with the makjang drama her son is directing, can't stop reading the script. She then brings up the pretty actress they met at the filming set, whose drama character seduces the heroine's husband although he doesn't like her but he might soon fall in love with love because it's hard to withstand pretty woman who likes him, right?
Soon Young then asks if Mi Sook thought of having a pretty actress as her daughter-in-law, like Tang Wei who married a director? LOL. Mi Sook lies no, she's not. Soon Young is wondering if her MIL will like this pretty actress who works with her husband if Ho Tae didn't marry her. Hmmm…. Are these two women foreshadowing the future? Well, when Soon Young calls her husband's phone – shockingly a woman picks it up!

Ho Tae drank excessively tonight that he slurs on the way home. Soon Young is mad watching her drunk husband walking home helped by the pretty actress (Han Ji Eun) from his drama, pushing him off their bed after he sleeps talking that he drank on her behalf despite his low alcohol tolerance.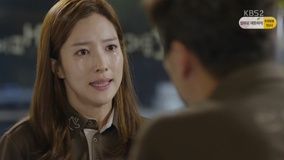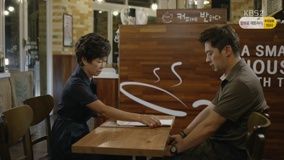 Another couple's marriage is in crisis. In response of In Chul's not wanting kids, So Young gifts him with a divorce paper. She stucked with him even though people pointed fingers at her being a home-wrecker because she wanted to live well with the man she chose but she's fed up watching him continue neglecting their marriage. He looks numb, can't even say anything.
So Young's mom understands about his agony to maintain his relationship with his kids but he has to wake up now – he failed once so at least he should try to make his second marriage works and lives well.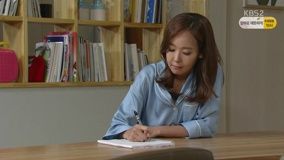 Earlier, Tae Min encouraged the boys to thank their parents for saving them from violence committee. They were embarrassed albeit thankful so Tae Min advised them to gather up their courage to thank them. After Sang Tae tucks his boys to bed, Soo surprises him thanking him and Mi Jung for what they did, putting a big smile on Sang Tae's face. Woo Young hears too because he's not sleeping yet. He gets up to write something on the family notebook where he finds Sang Tae's heartfelt confession that he thoughtlessly caused misunderstanding among the kids & left big wounds on their hearts.
Sang Tae: I want you to know that as your father, I, make mistakes too. So please point it out to me each time and allow me to look back on it (my mistake). My ears will always be open and this family notebook will always be here too. I will love you more & more so let's gradually become a happy family.
Soo wakes up, joins Woo Young to read the next note. It's Mi Jung's heartache note that she wrote on the day she punished the boys – she regretted acting without first hearing their explanation as she thanked Soo for standing up for Woo Young & telling his parents the truth.
Mi Jung: Being thoughtful & considerate towards each other would encourage you to hide your true feelings and endure all that pain on your own & at times, that could be the right choice to make. However, we're family so it's impossible to know everything that happens to each other outside home hence we should be honest with each other so we can understand each other.
Both Mi Jung and Sang Tae documented the family's daily activities, their regret, their joy when they climbed over a mountain, their sadness and everything else. It encourages Woo Young to write his first note.
The next morning, Min Ho waits for the boys to go exercise together. Sang Tae happily invites his father-in-law to join their morning exercise.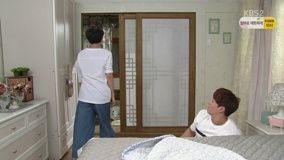 Soon Young gives her husband a new nickname 'Mr Black Knight' as she gives him a very cold treatment this morning. Serves you right, Mr Black Knight! He doesn't even remember how he came home last night, only that he was drunk so So Young reveals what happened. He stutters, explaining why he got too drunk and finally understand where his wife got Mr Black Knight's nickname from. Annoyingly, his face lights up when he talks about that actress.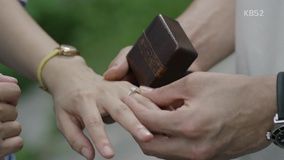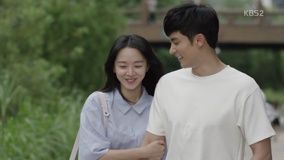 Now their relationship is going stronger, Sang Min put the ring back on Yeon Tae's finger, urging her for not taking it off because he won't give her any reason to take it off. She hugs him tightly, promises she won't. She brings up about meeting his mother (which he knows already) as Sang Min then brags that his picky mother adores her and invites Yeon Tae to have a meal together. But if it's burdensome then she doesn't have to go. Wow Sang Min, you've matured a lot. He even let her to pick the time & date.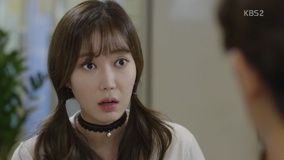 Meanwhile Jin Joo bought best seller cream from her boss' nail art shop for Tae Min's mom which Tae Min happily accepts. He then reveals about Yeon Tae's relationship with his brother and his Mom's reaction, which makes Jin Joo feels so small and conscious (of the impending constant comparison)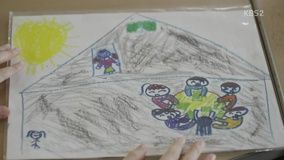 Bin's art teacher brings up her assessment from Bin's latest picture which shows that she feels isolated from her new family. She drew then erased then drew Woo Joo again. She drew herself very small standing in the corner, farthest from her father who sits surrounded with his blended family.
Mi Jung and Sang Tae read Woo Young's thankfulness as he promises he won't fight with his friend again. They're relieved but clearly aren't prepared with what's coming next… Woo Ri wrote she doesn't have summer clothes 😀 It's shopping time!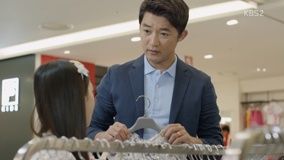 They allow the kids to pick one summer cloth each but spoiled rotten Bin's bad mood continues. She doesn't like any of these clothes, none of these are her style as she nags to Dad Sang Tae "Don't you know what I like???"