Five Children Episode 50 Brief Recap
We're so close to the finale, only 5 episodes left to tie up loose ends! It's now time for Tae Min to stand up for the woman he loves as he discovers his mom's hidden side. Although busy preparing for their own wedding, the newly engaged couple can't stay still watching their brother's / best friend's shaky relationship so they create a plan to help this couple getting back together. Meanwhile, Bin's & Woo Ri's audition result is out and unfortunately only one of them get the role.
Five Children Episode 50 Brief Recap
Sang Tae understands Jin Joo better than anyone else. She's a wounded person who always put a happy smile because she understood why her parents pour out their love & affection to her niece & nephew. She's changed into a better person after meeting Tae Min, as she finally got the love she couldn't get from her parents. Although he's in a tough place, Sang Tae wishes both his sister & Jin Joo will be equally happy.

While Yeon Tae is looking for the perfect place for their parents' first meeting, Sang Min's mind is pre-occupied with his 'holiday' plan so Yeon Tae snaps him out of it. As she mentions of meeting Tae Min & Jin Joo afterwards, he divulges this couple just broke up.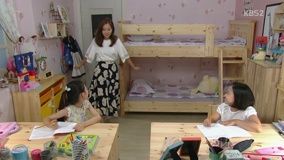 The audition went really well, both girls received equally great feedback but the production team can only choose one – they all agree on one rookie child actress. Mi Jung is excited for them until Bin mentions the new dress her grandfather bought for Woo Ri. Poor Woo Ri, she is worried Mom will get into fight with her new manager but Mi Jung assures her she's thankful. True to her words, she makes seafood green onion pancake for her downstairs neighbors as her token of gratitude. Min Ho hilariously goes into panic mode & hides in his room, eavesdropping until he finds out Mi Jung is here to thank him.

As they're here, Ok Soon asks if it's true Tae Min's mom forced Jin Joo to break up with her son. In the nick of time, Jin Joo arrives home and confirms what Ok Soon heard was true. But she insists Tae Min's mom isn't as bad as her mom thought she is, pointing out it's so petty for putting so much effort when it's clear Mrs Kim dislikes her. Moreover, she understands Mrs Kim's high expectation knowing her parents would be the same too – Tae Min is too good for her. Anyway, she updates her parents about the current study, work & goal. She's putting a brave face in front of her family but as soon as she's in her room, she breaks down again.
Her parents regret their daughter is suffering alone, while her best friend is going to marry a great man soon. Well, Sang Tae reveals he talked to Tae Min who didn't suspect his mom was the culprit.

Mrs Kim still pretends she knows nothing until Tae Min confronts her to tell him the truth – if it's true she doesn't like Jin Joo. His expression tells it all – he knows! So Mrs Kim bluntly confirms his worst fears and the fact she harshly told Jin Joo behind his back, showing her two-faced. Tae Min's heart bleeds realizing his girlfriend suffered alone without being able to tell him. Mrs Kim turned her son into a pathetic man! But she insists Jin Joo isn't the right woman for him because she hasn't even graduated from college, criticizing he's too blinded by her.
Standing up for his girlfriend, he brutally points out college isn't as important as pursuing your goal diligently. He's disappointed with his mother, begging her to change her mind. If Mom is still against Jin Joo, he's still going to marry her!
Sang Min emphasizes he's on his brother's side while Mr Kim doesn't want to be on the same side with his wife who fights with their own son. MrsKim -v- her family: 0:3
Ho Tae calls the kids to announce the audition result. He's surprised both girls did well but unfortunately only one of them is cast.

It's Bin! Her grandparents can't hide their happiness but smiles quickly disappear from their face after seeing Woo Ri's disappointed face. Woo Ri tries to be strong, reciting her parents' advice to take this audition as a valuable experience hence winning or losing isn't that important.
Manager Min Ho who's on Woo Ri's team is wondering if Bin was picked because of favoritism but Ho Tae confirms she got the role fairly. So what should he do about Woo Ri now? He then call Sang Tae & Mi Jung separately to tell them the results. Of course Mi Jung is worried about her daughter so does Sang Tae although he's happy for Bin. Ho Tae actually didn't expect the girls to get the role that's why he encouraged them to audition to gain experience.

Today is the first official meeting between Yeon Tae's and Sang Min's parents where Mrs Kim admits she secretly visited their restaurant. Well it's great she comes clear. The parents' banters are sweet as they complement each other for raising great kids but it's getting tiring to see Mrs Kim continually putting down Sang Min. She's such a sweet talker, smoothly brings up about her agenda of a simple wedding emphasizing their kids' happiness living a good life is more important. She'll do her best to make sure Yeon Tae won't face any hardship.
The parents' meeting went really well, seem like both parents like each other and Yeon Tae is relieved they didn't mention anything about Jin Joo or Tae Min. She's still worried for her best friend because she's unreachable. So Sang Min confesses what's happening with his brother & Jin Joo.

Failing her first audition is sucks, Woo Ri can't stop crying so everyone suggests fun activities to hopefully cheer her up but she keeps shaking her head. Even Bin feels sorry for her step-sister. On their way home, Ok Soon recognizes a couple walking from behind so she stops the car to greet them.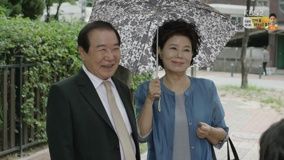 Shi Wook and Mi Sook already know the audition's result, happily congratulate their granddaughter. Manager Min Ho takes care Woo Ri, sweetly escorts her to greet her new grandparents as he points out Woo Ri will achieve something bigger than this role. He's so sweet. Anyway, Shi Wook reveals they just met with Sang Min's parents as his wife brags they're such refined couple who raised up great son. Before his wife says anything else that will hurt their in-laws, Shi Wook pinches her. 😀 He then changes the topic, inviting them to his restaurant's 3rd anniversary celebration.

After her drops Bin & his wife, Min Ho takes Woo Ri to his favorite hidden shaved ice place to cheer her up. It's very special because she's the first person he brought here, he's never even took Bin here. Then he points out that she shouldn't dwell on her first failing because many other great opportunities will come along in the future. He encourages her to keep trying like his daughter who failed entering college twice and his wife who finally passed her driving exam after six tries. What about Min Ho? Has he ever failed? Of course he did! He was the only one who failed to get into middle school, a secret he keeps hidden from everyone except Woo Ri 🙂

The whole family congratulates Bin for getting the role, she's happy Woo Ri sincerely congratulates her. Woo Ri isn't upset anymore because her manager comforted her 🙂 Moreover, she's contented Bin got it instead of another child actress.
After dinner, she backhugs her mother wanting to speak with her Dad before meeting him this weekend. So Mi Jung gives her the phone.

So Young's mind is blurred until she walks into baby clothes' section and her eyes lights up seeing a beautiful baby clothes. But when a shop assistant approaches her, her eyes swells with tears. She returns with shopping bags but before In Chul can talk to her, Woo Ri calls so he leaves her alone in tears. Mom is glad her daughter had shopping therapy but So Young cries out the whole thing is too hard on her. In Chul watches over from outside, his mind is totally split between his crying wife & his daughter on the phone. Woo Young meanwhile still refuses to meet his dad.
Distressed over her youngest son who didn't eat again today, Mrs Kim is very worried. Her husband advises her to give up, lose for their son's sake. Where is he? He's waiting for Jin Joo outside her home and meets with Sang Tae & Woo Young instead.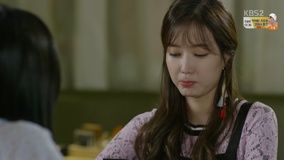 Jin Joo was embarrassed but the reason she didn't tell Yeon Tae about Mrs Kim was because she didn't want her friend to get worried especially when she's currently preparing her own wedding. These girls used to share secrets but their friendship have gradually changed, particularly after Sang Tae got remarried. They don't feel comfortable marrying into the same family but it can't be help that they both fall in love with Kim brothers. Jin Joo tries to brush it off knowing there's no more hope but her eyes swell with tears when Jin Joo mentions Tae Min isn't holding up well.

Well Sang Tae brings Tae Min to see Jin Joo's parents who give him stares of death. He admits he didn't realize his mom dislikes Jin Joo because both women have similar taste but he vows to persuade his mother. Taking their daughter's side, Min Ho threatens they're also against this marriage. With sincerity, Tae Min asks them to give him time to convince his Mom because he knows Jin Joo didn't want to break up.

Mr & Mrs Kim leave Tae Min on Sang Min's hands as they attend their future in-laws' restaurant's 3rd celebration. Sang Min bluntly asks Mom why is she splitting him up if she's so worried for her son? After they leave, he persuades his brother to watch a movie with him. He even picks the perfect 'date' outfit for his brother.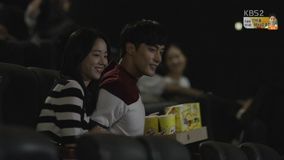 It's actually part of his plan – to get Jin Joo and Tae Min meet up. He bought four movie tickets – two for him & his brother and two for Yeon Tae & Jin Joo. Yeon Tae looks very nervous when she receives two tickets from Sang Min, but her nervousness soon disappears after she hands one ticket to Jin Joo. Both Yeon Tae & Sang Min lie to their friend / brother that they have to go to the bathroom to give this couple a chance to meet and make up. Jin Joo is already sitting there when Tae Min arrives but she dashes off as soon as she sees Tae Min standing there.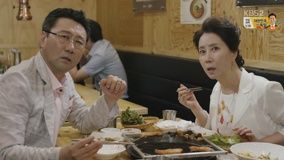 Mr & Mrs Kim arrive last at the restaurant. Yeon Tae's parents politely greet their future in-laws, stuttering when they introduce Jang's family to them. Meanwhile, Sang Tae & Mi Jung are fidgeting, knowing there'll be wars if the secret about Jin Joo's and Yeon Tae's boyfriends are out in the open. They know they can't hide it forever but… they're lost for words for now. Min Ho & Ok Soon quickly notice the person who gave their daughter a lot of heartache is currently sitting in front of them!
Comments
Shi Wook's heartfelt confession that he wasn't ready to let his precious daughter getting married too soon is echoing many fathers' silent voices. She's always be his princess no matter how grown up she is. No man would ever be good enough for his baby daughter, not even a fine man like Sang Min 😀 But he knows the right time to let her go pursuing her own happiness, building a happy life with a man who cherishes & loves her. I'm glad this drama highlighted this father&daughter sweet scene realistically.
He's not the only dads / granddads who has heart of gold. We know Sang Tae & Mr Kim are and Min Ho has slowly made it to the list. He treats Woo Ri like his own granddaughter, comforted her at her lowest point of life and cheered her up by emphasizing that everyone fails so she's not alone. It's adorable watching him sharing his embarrassing secret, lifting up her spirit. Though I hope he can at least try to be a supportive dad who can lift up his daughter's spirit too.
Finally Tae Min finds out about his mother's two-faced! And he didn't stay still, he stood up for his girlfriend. Now, he needs to approach her slowly because she's too wounded to open up her heart again. I'm waiting with great anticipation to see how he'll win her heart back.
With only 4 episodes left, I hope they won't drag double in-laws issue far too long. I'm as frustrated as Mi Jung, let's hope they'll spill the beans soon! 🙂