Five Children Episode 53 Brief Recap
The incident at the filming set brings Mi Jung & Bin closer as Bin discovers her step-mom cares & loves her like her birth mom would. While Mrs Kim still hasn't given her permission, her son is doing everything he can to win Jin Joo back with the help of Jin Joo's parents and family. As we approach the finale, we thought Sang Tae's & Mi Jung's heartaches were all in the past but a new crisis comes into their lives – opening up Sang Tae's past wound.
Episode 53 Brief Recap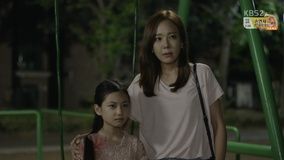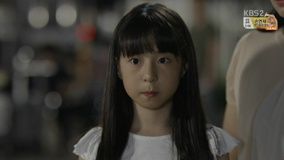 Mi Jung threatens she won't let Ji Young & her mom leave the filming set until they apologize to Bin. She explains that nobody is good from the start! This is Bin's first shooting so it's expected she made plenty of mistakes and NGs are entirely okay during filming. Bin agrees, pointing out her 'mom' is right. For the first time ever she calls Mi Jung mom. Ho Tae decides to give the casts a short break to cut off the tension as Mi Jung promises she'll get Bin to practice her acting more as long as Ji Young apologizes. Albeit still annoyed, Ji Young promptly apologizes. After the filming ends, Mi Jung hears that Ji Young & her mom are troublemakers on the set.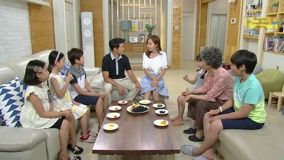 Back at home, Bin continues praising Mi Jung – calling her 'mom' 🙂 Cutie Woo Joo follows her suit, starting calling her new dad 'dad'. Today's incident brings Mi Jung and Bin closer as Bin asks her mom to take her again to filming set from now on. Meanwhile, Sang Tae notices Mi Jung clutches her tummy but she brushes off his worry. He's thanking his wife for melting Bin's heart but his wife is happier because Bin has started to call her mom now.

Ok Soon is busy preparing sumptuous breakfast for her future son-in-law who's not eating well at home. Jin Joo is surprised, why is her mom being so nice to her ex-boyfriend? She points out Tae Min is trying so hard despite the oppositions so Jin Joo should tone down her temper & lower her head because she knows her daughter still loves Tae Min. Following Mom's words, Jin Joo is getting ready to welcome Tae Min back from his morning exercise with her dad & Sang Tae's boys.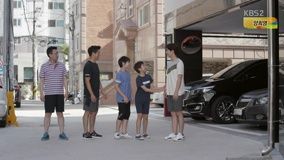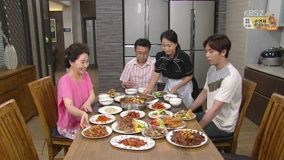 But Tae Min isn't going to get water today, opts to go home until Sang Tae invites him to stay for breakfast (Ok Soon asked her son-in-law to make sure Tae Min comes up eating breakfast with them). Min Ho still hasn't opened his heart until Tae Min can convince his parents but Sang Tae points out Tae Min is doing his best now. So he joins Jin Joo's family for breakfast, where is Jin Joo? She's going crazy peeking from her room because she wants to see him & have breakfast with him but her pride doesn't allow her too.
Mi Jung's tummy is still aching but she's too busy at work & home she doesn't have time to go to hospital for a proper check up.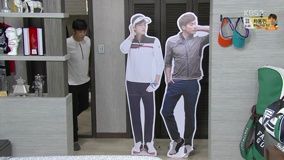 The bride-to-be comes to Sang Min's house to check things she can buy because she doesn't want to move here empty-handed. He emphasizes he'll get everything ready then he takes her to his bedroom where there're his minions (aka his life-size cutouts) that he plans to keep after their marriage so his wife can look at him even when he's not home 😀 Yeon Tae writes a new bed so he asks her to sit on his bed. It finally feels real for him that they're getting married and this room is going to be their newlyweds room. He vows to make her happy so does Yeon Tae as he points out her being his side already makes him happy. He leans closer to kiss her but she's taken aback by his two cutouts staring at her! 😀

Mi Jung is going to her in-laws' to return side dish containers when she bumps into Ok Soon who tags along there 🙂 She's curious to know about Yeon Tae's wedding preparation as she mentions her daughter is having a hard time dealing with her break up especially when Tae Min comes all the way to their place to exercise with Min Ho. Ok Soon carefully asks Mi Sook if it's okay their daughters marrying into the same family. Mi Sook smiles (because her daughter obviously has the upper hand) before asking Ok Soon if it's okay Yeon Tae becomes Jin Joo's elder sister-in-law (형님). Well Ok Soon replies they should continue calling each other equally because titles aren't as important for young people nowadays. She's determined for her daughter to marry Tae Min believing there's always a way out. 🙂 

Suddenly, Mi Jung has indigestion. Both Mi Sook and Ok Soon automatically think alike that Mi Jung's pregnant! Mi Sook isn't happy while Ok Soon promises to raise the baby! LOL. Mi Jung quickly tells them she's not pregnant. Just then, Ok Soon remembers it was the first symptom her late daughter had before she's diagnosed with stomach cancer. Oh no 🙁 On the way home, she cautiously asks Mi Jung how long has she been having indigestion for but isn't asking any other question. Mi Jung then gives her a heads-up that Mr & Mrs Kim are on the VIP guests list for one-point lessons, which Ok Soon and Min Ho are also invited.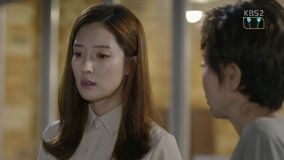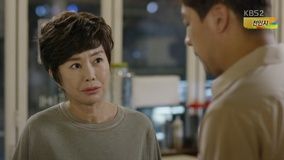 Feeling too stuffed up in Seoul, So Young reveals her plan to move to her Aunt's place in Kyung Joo to her mom. She hasn't shared her plan with her husband so Mom who's afraid of sending her alone, asks In Chul to go with her. She will take care the shop while he's gone. He initially hesitates because he's just started seeing Woo Ri but does he have any other option? So Young's Mom points out couples need to stick together both in good and bad times.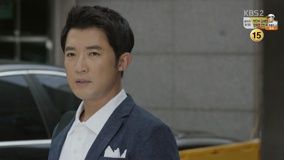 Because Mi Jung's dry heaves remind Ok Soon so much to her late daughter, she couldn't sleep last night. So this morning, she purposely waits for her upstairs neighbor to tell Sang Tae that his wife is unwell. Mi Jung is waiting in the car as he talks to mother-in-law. As soon as he gets into the car, he asks Mi Jung if it's true she's sick. She brushes it off thinking it's not serious but he suddenly gets angry! Mi Jung then remembers he shared that his late wife passed away due to stomach cancer, assuring him she's not dying of the same disease too. But Sang Tae isn't convinced.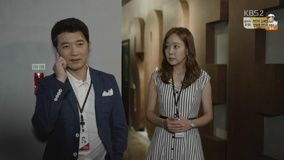 Before going for One Point Lesson, Ok Soon buys expensive ginseng set for Mr & Mrs Kim. Tae Min works hard winning brownie points from them so they want to do their part too. Meanwhile, Sang Tae makes endoscopy appointment for Mi Jung who tells him that he's worried too much because of his past trauma. He doesn't take no for an answer, he'll take there as soon as today's event ends.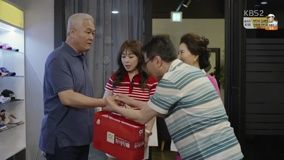 The event goes well, props up to Sang Min who teaches the VIPs with ease and confidence. His parents look proud at their son while Min Ho & Ok Soon keep praising Sang Min's golf skill. They wave to Mr & Mrs Kim who reluctantly wave back. After the event ends, they wait for Mr & Mrs Kim – complementing them for raising two great sons. They then mention Tae Min comes to their house every morning 🙂 Both Mr & Mrs Kim are surprised! Since when? Hmmm… Ok Soon points out their children haven't broken up as they hand Mr & Mrs Kim expensive ginseng they bought earlier. Mrs Kim wants to return it but Min Ho & Ok Soon hurriedly leave.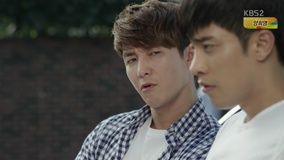 Yeon Tae and Sang Min already have to change their 1night 2days trip from Gangneung to Gangwondo because Soon Young is going to the same place for Ho Tae's overnight filming. Yeon Tae lied to her parents that she's going for an overnight training so nobody can catch them, right? Well today, she bumps into Soon Young while Sang Min bumps into Ho Tae! He lies that he's taking Yeon Tae to her training so despite being suspicious, Ho Tae let them go. Because the filming schedule was abruptly changed, Ho Tae changes their destination to Gangwondo as it's closer to the filming site. Yeon Tae & Sang Min, you guys are screwed! 😀

According to the doctor, Mi Jung suffers from reflux esophagitis. But… he also found something else during her endoscopy so he did a biopsy and the result will be out in three days. As soon as the doctor mentioned 'biopsy', Sang Tae's face turns into worry. Mi Jung meanwhile tries to stay positive.

Both couples are enjoying their beach overnight getaway, making lovely memories. Until… later that afternoon when Yeon Tae notices her brother's car! They quickly hide but are caught by Ho Tae & Soon Young 🙂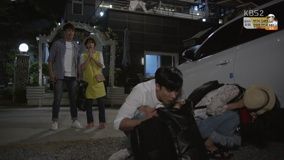 Like a man, Sang Min protects his girlfriend as he mentions it's nothing wrong because they're going to get married anyway. Ho Tae isn't buying the excuse though so Sang Min points out didn't Ho Tae do what he's not supposed to do before his marriage? 😀 Soon Young breaks off the fight, invites them for a dinner instead. As Yeon Tae & Sang Min walk to their room, Ho Tae decides that he'll sleep with his future brother-in-law while his sister will sleep with his wife. Both women look sad, Yeon Tae should've told her sister-in-law the truth instead of lying.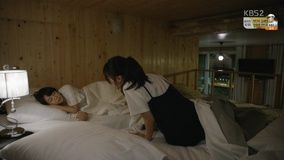 While her sister-in-law is fast asleep, Yeon Tae can't sleep. Just then, Sang Min sends her a text so she quietly gets up & goes on a night walk with her boyfriend. She feels sorry for ruining her brother & sister-in-law's babymoon as Sang Min admits he ruined their trip because he's too eager. Their walk ends with a kiss <3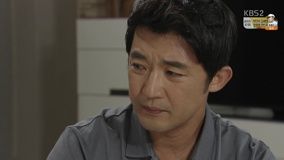 After her endoscopy, Mi Jung is resting. As she's in deep sleep, her loving husband holds her hand – worrying sick. The memories come flashing on his mind, Mi Jung is physically, mentally & intellectually strong. She handled everything herself until she met Sang Tae & opened her heart to him. Her vow for not wanting to fail twice & to live happily for her sake & her family, brings tears to his eyes.

Mi Jung wakes up, surprised to see her husband's crying. Based on Ok Soon's and her husband's reaction, she asks if Bin's & Soo's mom was like this before… Sang Tae isn't answering, his tears just keeps flowing as he hugs his wife tightly. *considering the writer only introduced Mi Jung's illness this episode, she'll be fine. I don't think the writer is cruel enough to let Sang Tae suffers for the second time.