Heard It Through The Grapevine Episode 11 Brief Recap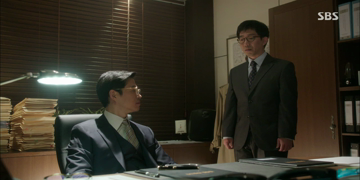 When Secretary Kim started working for Jung Ho 9 years ago, they agreed that he's more suited as a secretary than a lawyer. Now he's reminding Kim Tae Woo the responsibilities of a personal secretary. Secretary Kim apologizes for his reckless behavior which may causes an internal scandal spreading outside Han's household. But it's not Jung Ho's main issue. He's furious because he treats Secretary Kim as his right hand, part of his brain. Please don't show your true intentions in front of your boss ever again.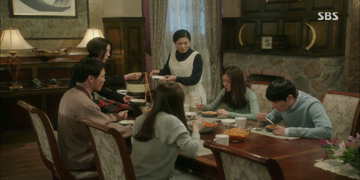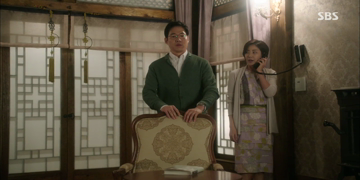 The kids and the staffs are enjoying their delicious supper without Jung Ho & Yeon Hee. Maid Jung cooked their favorite food (spicy JjolMyeon with lots of MSG). Don't worry about the table manner, their parents aren't here so they can do whatever they want. 🙂 Jung Ho who saw the kids ran to the dining room is clearly upset they didn't ask him to join their supper although they knew he was in his study room. So his wife asks Maid Jung to prepare the same supper for them too.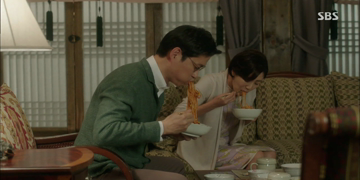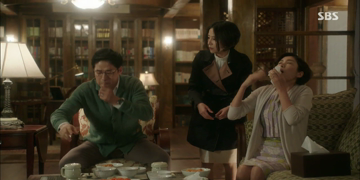 The kids and the staffs are worried if the parents can handle the spiciness. Secretary Lee offers to cut the noddles because they're struggling to eat the long noodles. Jung Ho and Yeon Hee almost went crazy as if there's fire burning in their throat. Jung Ho: call 119 (911) 😀 To alleviate the spiciness, Jung Ho brushes his teeth but Yeon Hee tells her husband it'll make it spicier (because of the spicy toothpaste).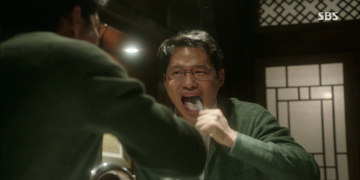 She reprimands Maid Jung for serving a very spicy rubber noodle. Then she scolds her son for drinking unknown drink which can be bad from his health. It's actually a gift from Bom's mother. Bom is now used to Yeon Hee's high standard & she accepts it way better than In Sang who's worried his mother will throw it away but Bom knows the (male) staffs will drink it. 😀 And it's ok to be honest to her mom because she would've expected Yeon Hee to throw it away anyway. In Sang wanted his family to start accepting the diversity like he did when he scrubbed his FIL's back at the bath house.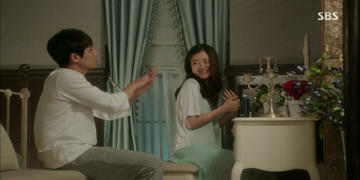 Jung Ho is feeling much better now. He concludes spiciness is a sensation. But it's not a sense of taste, it's a pain! Yeon Hee who notices her son's behavior changes after he spent a night at his in-laws doesn't want him to spend time with his in-laws again while her husband think it's good for him because he once experienced living as ordinary citizen as well in the boyscout. But it's totally different.
She reminds Maid Jung who's been working in this household for almost 20 years that she shouldn't do everything the kids ask. She clearly can't forbid them to eat outside because it's part of their social life but this is her house and she makes the rules here. Maid Jung apologizes, promises to make mild dishes from nowon. About In Sang's drink, she'll order the same drink Jung Ho usually drinks.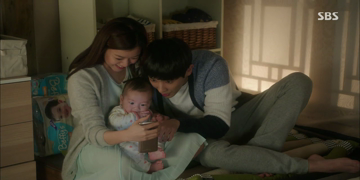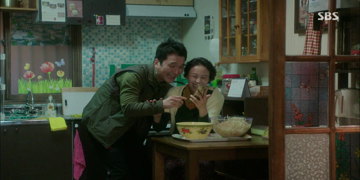 Facetime with Bom's parents who are so happy to hear Jin Young's babytalk. So cute. Hyung Shik invites In Sang to come a little early next time so they can go to Yongsan Park together. When asked about the drink, Bom honestly tells mom they got caught but In Sang assures her he'll drink it all. Yeon Hee is jealous they're having fun with Bom's parents.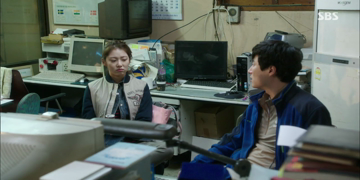 Noo Ri is upset the Vice President who promised to look after her, failed to deliver his promise. He even abruptly cancelled the scheduled bulletin she's supposed to do. But she won't give up. She's still working so hard at Subway so she can buy nice clothes & make-up to give her a bigger chance to make it in the industry. Mom couldn't sleep until she sees her eldest daughter arrives safely at home. Seo Chul Shik begs Secretary Min to help his niece. She's very busy working together with Attorney Yoo who's trying to crack Hansong's dirty tactics but Secretary Min only focuses to clear her brother's name. They have similar destination but different goals. Seo Chul Shik decided to accept Secretary Min's offer.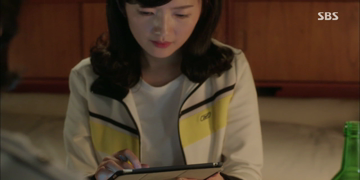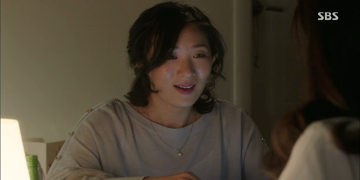 Secretary Min gives Attorney Yoo a clue – Han Jung Ho's in-laws (who's not his in-laws) aka his daughter-in-law's (who's not his DIL) uncle. Detail-oriented Min is not letting her guard down because she's aware Attorney Yoo can cut her off anytime hence she doesn't give all the evidence.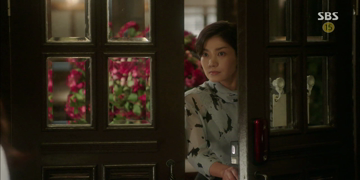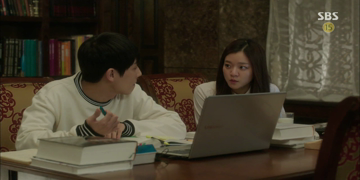 Yeon Hee spotted the kids studying very early in the morning. They've finished their morning reading with Jung Ho and are now studying tenaciously leaving the door unlocked so they're not locked inside. Bom is curious why he's very polite to his mother. When he answers it's always been like that, it makes Bom even more curious. When did it start? From his great-grandparents? In Sang doesn't know exactly when, but his grandmother was strict and his mother would be scolded by his grandma if he didn't behave well in front of his grandparents. He assumes his grandmother created Han's family tradition, Bom is clearly surprised she held so much power.

While Jung Ho and Yeon Hee brought up last night's "surprise" aka the spicy rubber noddles, In Sang starts shaking his rice bowl. It's okay to do something like this in front of his own family, right?  Yeon Hee scolds him for ignoring Han's family table manners.
She blames her husband for giving the kids permission to visit Seo's parents. Jung Ho replies In Sang needs to be friendly wherever he goes and whoever he meets but he shouldn't forget his foundation. And it'll be Yeon Hee's responsibility to talk to Bom & let her know what should and shouldn't be done. Both In Sang & Yi Ji cutely & secretly wave goodbye to baby Jin Young before they go to school today.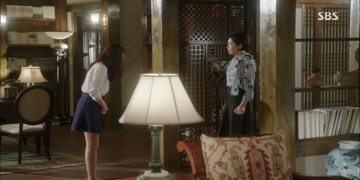 Bom decides to talk to Yeon Hee because she feels really bad In Sang adapted her father's habit (shaking the rice bowl). Moreover, In Sang didn't even ask if his parents are okay after they told the kids about their upset at the breakfast table this morning. Bom promises to tell her husband to become a filial son & put extra care and attention for his parents. Yeon Hee is obviously surprised her daughter-in-law beat her by saying & promising everything she wanted to say to her. Bom is aware her MIL would hate her double the amount if she didn't apologize first, Kyung Tae applauds her "good defense".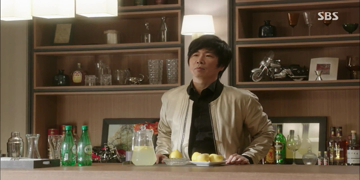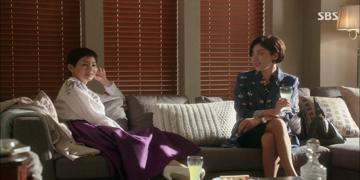 Song Jae Won invited his friends to his place to restore their "broken" friendship but because Young Ra is late, hence So Jung keeps talking about Young Ra behind her back. Things got worse after she stole valedictorian Yoon Je Hoon from Hansong. Well, look who's here. Young Ra.. who eavesdropped their conversation while she was talking with Secretary Lee outside. Young Ra brought up money So Jung borrowed from her to hire expensive tutor. But she gave that money to make up for So Jung's loss after Young Ra's company stock plunged.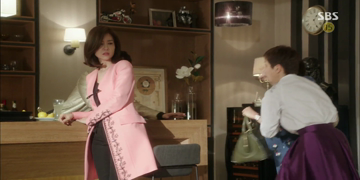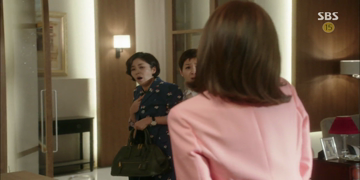 Yeon Hee had enough, it's time for her to leave. But Young Ra kicks her friend! Secretary Lee reports everything to her lover, Teacher Kyung Tae.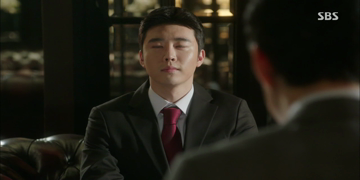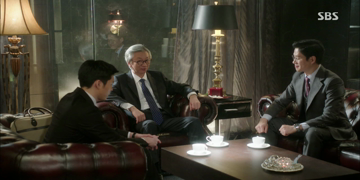 Meanwhile, Jung Ho is currently meeting with Yoon Je Hoon, congratulating him for his father's promotion. They expedited the process (and asked Prime Minister Song a huge favor to approve it as fast as he could) to appoint his father as the Special Advisor. This leads him to accept Han Jung Ho's offer (not his decision though, it was his father's decision). Jung Ho shows Je Hoon his new office at the eight floor (occupied by important people), he's surprised to see figurines from his favorite hobby in his office room. Jung Ho and his team have done their research.
Secretary Kim found out the identity of the man who met Secretary Min at the shooting club & park, the same man who came to Hansong's building with In Sang's father-in-law. Bom's uncle! Are they dating?

Maybe. Jung Ho believes Secretary Min is trying to find out the missing piece from the puzzle she's currently working together with Attorney Yoo from this man. What can he do to avoid Secretary Min's suspicion? Secretary Yang suggests to encourage office romance between his two secretaries.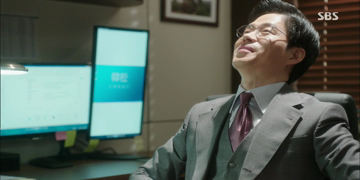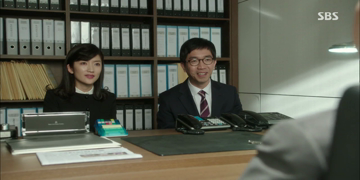 So he calls them to his office, calmly tries to hook them up together by asking her to help Secretary Kim with his lack sense of finding information. She tells her boss that it's actually a good thing because it means he (the boss) knows more than his personal secretary. Secretary Min mistakenly thought it's about Secretary Kim's drunk texts. Secretary Yang tells them Jung Ho's trying to be a matchmaker for them.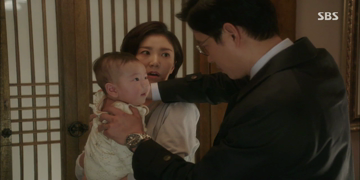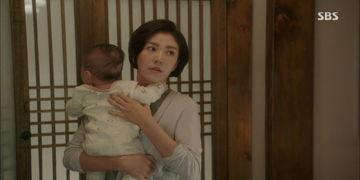 Yeon Hee and Ji Young greet pouty Jung Ho who lectures his cutie eldest grandson. He ends up scaring baby Jin Young.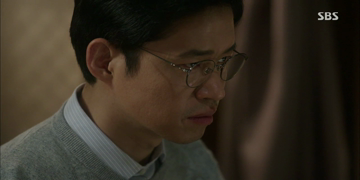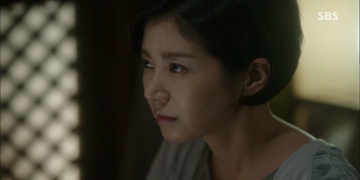 Jung Ho doesn't want to care about the opponent who has knelt down, they need to look further. He realizes they treated Bom's parents in a wrong way making her more reclusive. They need to fix this before it's too late. Bom now belongs to Han's family, not the other way around.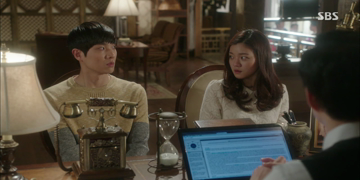 So he plans to treat their kids as adults now. They're Prince & Princess. The look of confusion on In Sang & Bom are priceless. Prince & Princess? 😀
He also wants Secretary Yang to gently warn Secretary Min that it's a huge mistake to involve Seo Chul Shik in this matter. Knowing their secret agenda is in danger, Secretary Min advises Attorney Yoo to halt everything.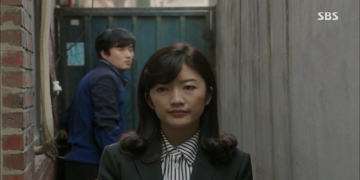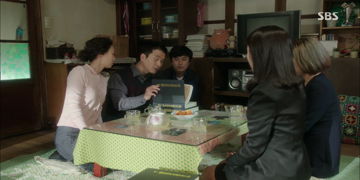 Secretary Yang & Secretary Min come to see Bom's family. Chul Shik initially wanted to dodge her, but his brother will be suspicious so he tries to be calm. He nervously greets them while Secretary Min is as cool & calm as cucumber.
They brought very thick books (I guess genealogy book?) Secretary Yang mentions Jung Ho (who deeply cares for his daughter-in-law) browsed her genealogy book and is grateful she came from a noble family. Because Hyung Sik's family detail is missing from the book, he wanted to add Seo brothers & Hyung Sik's children in this book. Hyung Sik is surprised his father is listed as a master of art of stamp carving. He made seals & stamps, but Seo family didn't know he's a master artist. Probably this is the first time they even know this kind of book exists.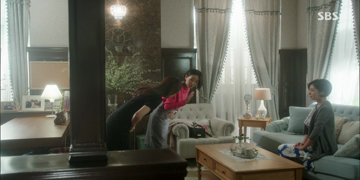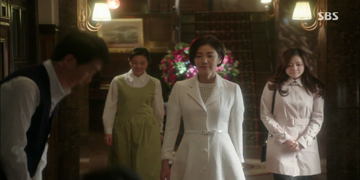 Yeon Hee & Secretary Lee teach Bom how to conduct herself for her unofficial but important occasion – her first introduction to the high level society. Yeon Hee did it when she was 24 yo. How to bow (45 degrees – meet elders for the first time, 30 degrees – someone older but below her, 15 degrees – when she replies to others). Preparation is done.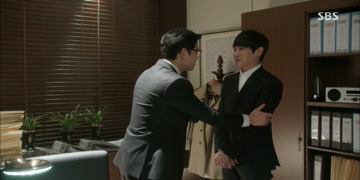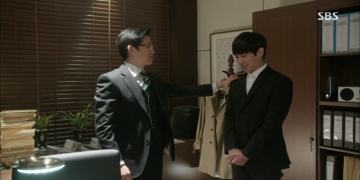 Jung Ho tries to calm down nervous In Sang. He admits he's stingy with compliments & encouragements because traditionally they should comes from the mother. In Sang notices his father is more nervous than he is. Although it's unofficial occasion but Jung Ho wants to instill pride in In Sang & Bom. Moreover, it's a statement that says nobody should treat this couple lowly.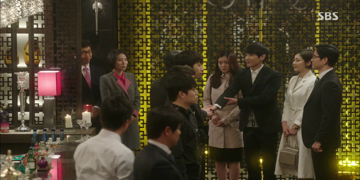 It's now time for Jung Ho & Yeon Hee to introduce Bom to his high level staffs and attorneys. First of all, he brought his family to Hansong's exclusive lounge. In Sang clearly forgot about the lounge's manager (Hansong's walking history) although he knew him since he was still a little kid. They introduce the newest member of their family, Bom who greets him with 45degrees bow.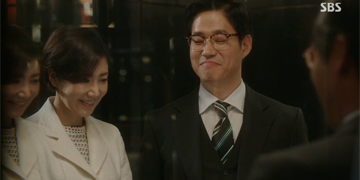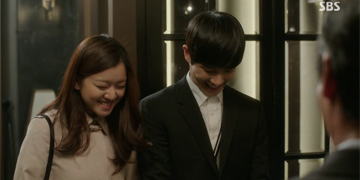 Jung Ho then introduces her to the country's legal system pillars – his precious teams who lavish him with praises. They sweetly tease the couple that it must be fun to study together. There's actually an increasing number of couple who pass the exams together. They all smile, Jung Ho smiles proudly.
Brief Comment
Finally they introduced Bom to their high level society friends, colleagues. A very important step acknowledging Bom as their daughter-in-law, mother of their grandson. It ain't that bad because Bom adapts well to the diversity & In Sang's family high standard. The perfect daughter-in-law they could ever have but beware, she's very smart & ambitious. Though Bom isn't used to high heels (yet) so hopefully she'll be okay.
It's nice to see the kids getting along well with the staffs, eating the same supper in the dining table with them. They can be like child in front of the staffs, throwing away all the masks they wear when they're in front of their parents. In Sang even admitted he acts like a baby only to the staffs and his sister, means he's very comfortable with them. He also can act very comfortably in front of Bom's father, so excited to experience many new things with him.
The noodle scene is hilarious. Repeated it over & over again. 😀 Maid Jung, you're the bomb! Who ever guessed she would serve them a very spicy noodle? 😀 I guess she also wanted them to experience diverse food that many other ordinary family enjoy. Unfortunately, they didn't but it was a great (painful) experience.
*Bonus: picture of cutie baby Jin Young 😀 [credit SBS]