Heard It Through The Grapevine Episode 13 Brief Recap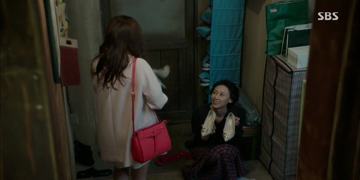 Jin Ae fixed her daughter's heels but her effort is unappreciated by Noo Ri who wears brand new shoes today, a gift from her special friend. She has gradually changes. Instead of taking public transportation to work (Seo's family live in the center of public transportation), she catches a cab simply because it's hard to walk in the stairs wearing this branded new shoes. She can easily pack her heels, wear her comfortable shoes and wear the heels at work, right? Jin Ae cites that once people get on a horse, they want a servant too. Noo Ri now wants a car with a driver who drives her to and from work. Hyung Sik who sent his plan to Jung Ho now eagerly waiting for a call from Hansong.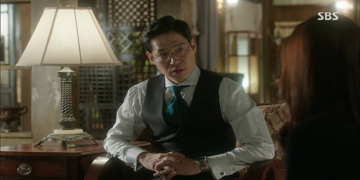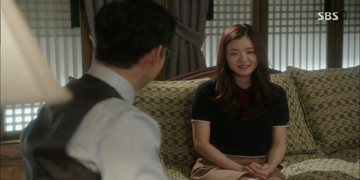 Bom is very grateful her in-laws giving her family endless opportunities but she warns them not to keep their expectations too high because they failed many times in the past. Not just once or twice but they haven't made many successes. Jung Ho precisely knows it too, yet he believes the experience of success, memories of victory will make great assets. Bom is asking her parents-in-law a favor for appointing a capable advisor for her family. She's blessed to have amazing Teacher Kyung Tae and great husband In Sang by her side but she's worried about her family hence she can't focus 100% on her study.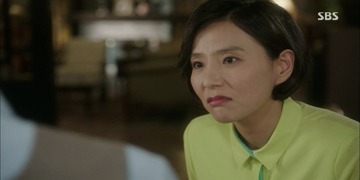 Jung Ho promises to help her family as much as he can so she can fully focus on her duties & study. Secretary Lee finally found out their little lady's biggest weakness: her family. If she succeeds alone but her family fails, she'll still be deemed as a sinner.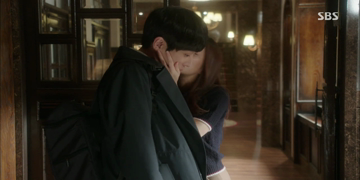 Yeon Hee is pleased Bom could honestly tell them the truth, it was a great step for them to put her name in the concert hall. For Jung Ho, it's one way of gaining her trust.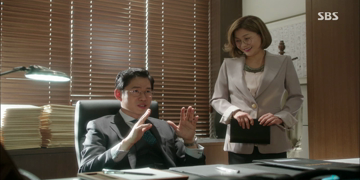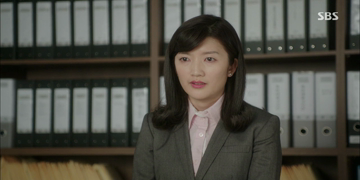 Regarding Seo Hyung Sik, Jung Ho assigns secretary Yang to manage him while Secretary Min is assigned to manage Seo Noo Ri. Although they know her act of betrayal, he wants to show that he still trusts her. It's not the right time to fire her. Because Noo Ri's family has seen her face and she also met her before, she proposes to use Seo Chul Sik to "control" his niece. It'll also prevent him to get rebellious to Hansong.
Eom So Jung planned to sell her family's painting to Yeon Hee hence she brought it today. Secretary Lee gives a heads up to Bom as everyone around Han's family knew her grandfather had deep knowledge in Chinese literature. Bom replies her grandfather usually looked in the dictionary to ensure he said the right thing. It shuts Secretary Lee up.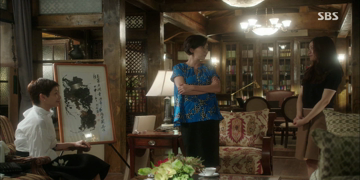 As expected, they ask Bom's opinion when she passes by the living room. She confidently analyzes this "grapes" painting, points out the word "geon" (pull up) instead of "cheom" (drape) that's commonly used. Although those words have opposite meaning, but geon written in the painting is written in poetic sense hence whether they used "geon" or "cheom", it still means the same (drape). So Jung is pleased with her explanation because she argued with Young Ra who frequently missed the classes hence she couldn't analyze the poetry properly.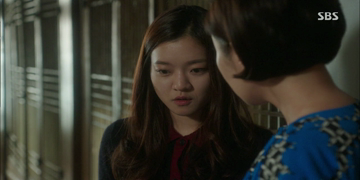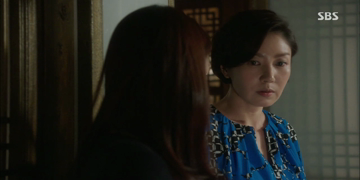 As So Jung is calling Young Ra pointing out her mistake, Yeon Hee whispers to her smart DIL that adults can be childish too. Wise Bom suggests her MIL to help her friend if she really needs the money but not to buy the painting because it's valued more as a personal keepsake rather than as an asset item.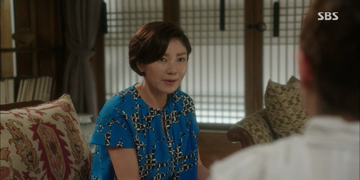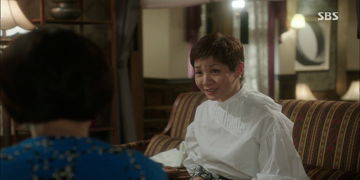 Yeon Hee took Bom's advice. She lends So Jung money instead of buying the painting giving excuses it's her friend's precious painting. So Jung is clearly curious about Bom's intuition, praising Yeon Hee's fortune to have Bom as her DIL. Yeon Hee is pleased she doesn't have to worry about what people will say about Bom anymore.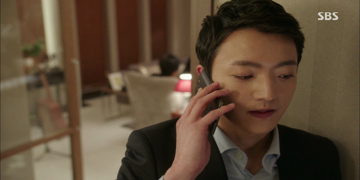 Han In Sang joins his friends & Song Jae Won at their investment club as they discuss the hardship of establishing new business / franchise because Bom's father is interested to buy a franchise business. He's shocked finding out about a legalized fraud. It's no longer a secret that only minorities make money. Branch stores? A big chunk of profit will go back to the headquarters who only care about money. People who're too desperate to make money will lose their sense of judgement.
One of them (Se Young) secretly answers Noo Ri's call, telling her to go straight to the suite room after she picks up the room's key from the receptionist. She takes the elevator as In Sang leaves the same building. Secretary Min warns Chul Sik to stop his niece.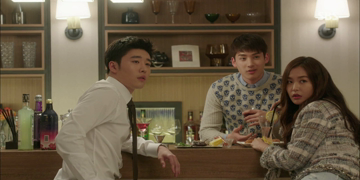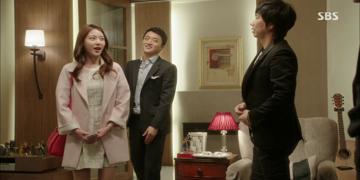 Everyone is surprised to see beautiful Noo Ri, especially Je Hoon who was interviewed by her at Hansong before. She calmly asks if Attorney Han is doing well, Jae Won is curious how did she know him? Obviously she can't say her sister is his DIL, so she replies something about "management of relatives". She texts her worried uncle that she has a meeting so she'll be home late.
Teacher Kyung Tae complements filial SIL In Sang who doesn't want his FIL to get connected with people who take advantages of their franchisee. Bom tells him not to worry and to focus on his study instead.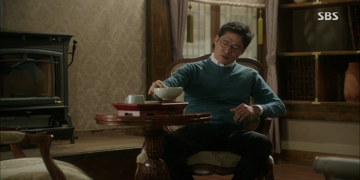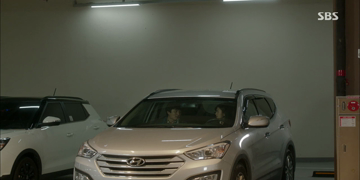 In awe with Bom's ability to differentiate the value between personal keepsake and asset, Yeon Hee plans to put Bom practicing for a collection after she passes her legal exam. But Jung Ho wants her DIL to keep a distance with her family because it worries him. He already instructed Secretary Min to be extra careful and to make Chul Sik to move first before there's any unnecessary rumor spreading. But Chul Sik who chose to believe in his niece think Hansong is too sensitive and is going too far.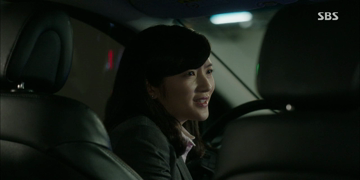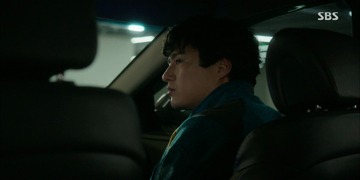 Secretary Min points out Director Song Jae Won's "investment club" room and the people who gather there are all in the privileged class. Although they invited Noo Ri, they're not serious with her. After hearing her explanations, Chul Sik wants to drag his niece out but uninvited people / guest can't enter that room. So Secretary Min pretends to be a wine seller/representative to find out if they're still there, but looks like they've moved somewhere else. Unfortunately because she's an adult, they can't report it to police so they must do something here. Noo Ri sent the same text messages to her parents who're not even worried their daughter is coming home late. While her uncle is worried because he can't reach his niece.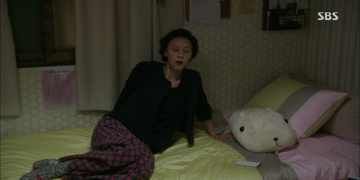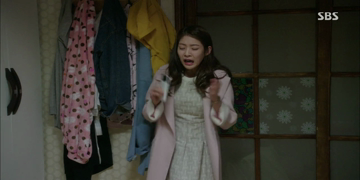 Few hours later, Noo Ri very quietly sneaks in. As she turns on the light in her room, she screams out finding her mother sleeping in her bed. She fell asleep waiting for her daughter who came home very early in the morning. Who was she with? Jin Ae reminds her daughter to work harder to repay her in-laws' kindness but Noo Ri wants to grab something more certain while she can, whether it's people or job. She then kicks her mom out of her room.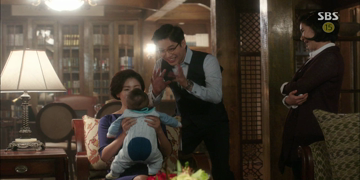 Secretary Lee and Secretary Kim are trying to hide the rumor about Noo Ri from Han's family who're in a very good mood this morning. Bom received a text from her mom but she plans to call her after all her morning duties are done. Jin Ae understands it well, she just really misses Bom, Jin Young & In Sang.

Although Jin Ae welcomes any man to date her eldest daughter, whenever she meets him but… before she can finish her sentence, Noo Ri cut her off. She doesn't want to talk about it (yet), she'll take care everything. She even refuses her mom who wants to drive her daughter to work as she chooses to catch a cab again.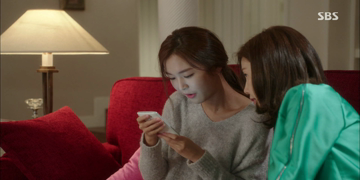 Jang Hyun Soo is jealous yet curious about the girl who Se Young introduced last night, especially because Je Hoon met her before and she knows Attorney Han. But if Se Young is dating Han's relative, they must've already heard the rumor by now. Jang Hyun notices she was bragging about her level yet she's trying too hard to be careful. Who is she? Just then, Hyun Soo receives a text saying that girl is… Rumor is already spreading at Noo Ri's workplace that she is a parachute.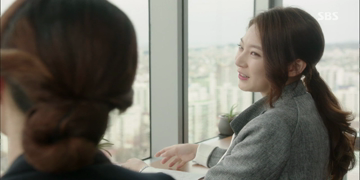 She's suddenly appointed as the reporter for the five minutes segment. Her work colleague advises nervous Noo Ri that she'll get a regular program as long as she does it with her guts. Then she'll grow. But she needs to be careful because she'll be gone in one punch. Noo Ri doesn't suspect anything at this point.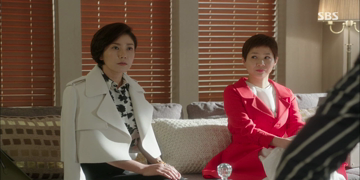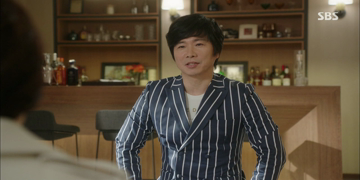 Young Ra finds out that pretty girl came after In Sang left but Jae Won pretends he doesn't know anything. When Yeon Hee and So Jung join them, they discuss about the painting she inherited and Bom's talent in interpreting old poem. Yeon Hee brags her DIL is beyond smart. But Young Ra begins bringing up about the "baggage". Everyone except Yeon Hee knows it so Jae Won decides to tell her the truth.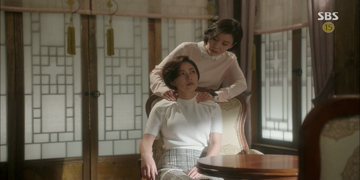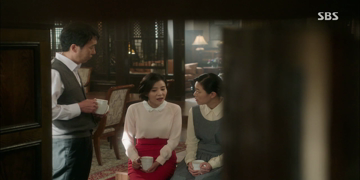 She's shocked, what should they do know because everyone knows they're in-laws. Secretary Lee suggests sending them abroad like what Joyang Textile did to their DIL's family. But nobody really knew what happened that night, they can only rely on the witnesses' story. Song Jae Won only saw them dancing. There's no concrete evidence. Secretary Lee knows it's almost impossible for their "scandal" to end in marriage because it only happened for one night. It doesn't mean they like each other, unlike In Sang & Bom's situation.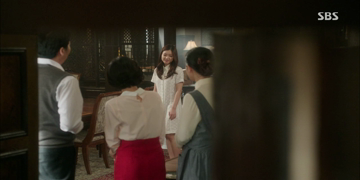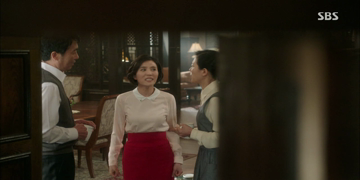 As the staffs whisper talking about this rumor, Bom who's on her break passes by. She cutely teases Secretary Lee they'll call her Mrs Park if she gets married with Teacher Kyung Tae. It drives her crazy because she dreamt to be called Mrs Park. She then sends text to Kyung Tae boldly asking him to get married. He shivers 😀 telling curious Bom it was a voice phishing.
Secretary Min & Yang remind Secretary Kim to be extra careful when he's escorting Hyung Sik today. Please don't blurt out Noo Ri nor her boyfriend. Her rumor has already reached Jung Ho but he plans to keep it a secret from Noo Ri's family.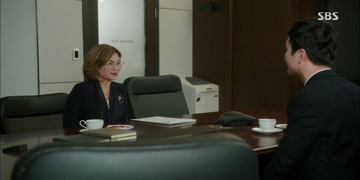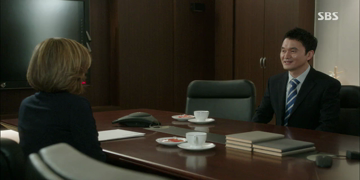 As Hyung Sik's support team's leader, Secretary Yang briefs him that the special project team has reviewed his plan. He's aware Attorney Han is too busy to handle his project by himself yet he's humbling so many people helped him by reviewing it and making detailed assessment on each plan so he can make a good choice. Secretary Yang tells him once he makes the decision, they'll deposit the money for the first step. He's utterly confused because he gave them the total budget thinking he'll receive the total sum in advanced. A naive Hyung Sik. Jung Ho can only shakes his head, people thinks too easily. It's their characteristic because they don't know how it works, is the world & money that easy for him? Secretary Yang advises her boss to be understanding.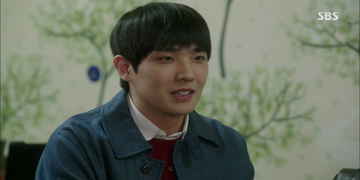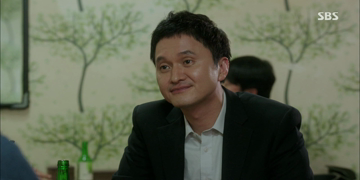 In Sang surprised his father-in-law as he dropped by to have dinner & drink with him. Hyung Sik realizes Hansong is very meticulous, unlike other companies he worked before. Well, they have to find a dot in the wrong spot & get billions back so they have to be very careful & meticulous.
As a proud father, he asks why In Sang likes his daughter. He bluntly points out because Bom was a bit weird. When he first saw Bom, she was the only one who didn't have any training abroad or was in special schools or international schools. People laughed at her because of her English's accent and pronunciation. Curious yet fascinated, he watched her to see if she'd cry but she crushed them all. That's when he went over heels with her. He got her number then had movie dates. Their relationship progressed well until that fateful night when Jin Young was conceived 😀 Hyung Sik realizes both of them are unique in their own special ways. Hyung Sik then shares the reason why they named her Bom (spring).
Flashback to the night when In Sang came to Bom's house & shocked finding out she's heavily pregnant. The night when he was too scared to take responsibility but took up the courage to introduce her to his parents. That night when Bom gave birth to their precious son, Jin Young. The night when he's worried his parents would chew her alive as they separated them. The day when they registered their marriage & his dad apologized. That day of the handrail incident. And that day when they finally accepted Bom as their daughter-in-law.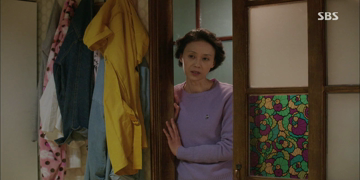 Although Noo Ri came home early today, but she must go back to work to finish up her work (of course she lies). Jin Ae is disappointed because she thought Noo Ri is home early because she felt bad of what happened this morning.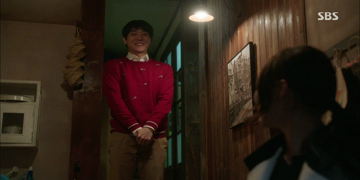 Hyung Sik took drunk In Sang home. Don't worry, he already told his family he's here. Noo Ri is going back to work (or to see Seo Young) so In Sang sees off his sister-in-law who wishes he'll have fun with her family.
Brief Comment
This episode paints Noo Ri's ambition to grab the available opportunity so she can move on from Bom and her in-laws' shadows. She selectively chooses Seo Young so she can enter the best circle of social network but the world is indeed small. Not only she meets with Attorney Han's skilled employee but she also crosses path with In Sang's friends and his mom's friend. Seo Young only flirted on her because she's pretty, it's clear why he avoided her after that night. I think she's a smart opportunistic person so hopefully nothing "bad" really happened between her and Seo Young. However, she needs to keep her distance to bury the rumor.
Bom continues to impress her in-laws and their friends. In Sang keeps growing as a mature man, father, husband, son-in-law. Nothing much happened with Han's family as they enjoy stressfree days with cutie Jin Young. It's calm before the storm because their family will be rocked with Noo Ri's scandal sooner or later. Unless, Jung Ho can bury it before it spreads and put Bom in a very difficult situation.