Heard It Through The Grapevine Episode 14 Brief Recap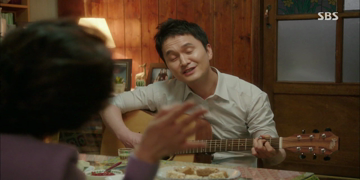 In Sang is treasuring his time with Bom's parents. They drink together, he sweetly says that right now is his happiest time. Jin Ae shares she's afraid of the world and sometimes can't stand her husband but everytime she sees him singing in front of her like this, she can forgive everything.

The atmosphere is totally different in Han's household, it's very tense. Jung Ho complains about Hyung Sik's incompetence in preparing his business proposal while Yeon Hee is suspicious that Noo Ri is jealous of her baby sister, sister rivalry. It's awesome Jung Ho wants to protect "lucky mutant" Seo Bom.

In the staffs' room, Secretary Lee is nervously waiting for Kyung Tae because he hasn't responded to her proposal – slightly blaming little Lady Bom's trick. Thanks to Bom, Kyung Tae can sneak out the house because he's clearly not ready to face Secretary Lee today.
Yi Ji who heard about Noo Ri's rumor is curious, Maid Jung told her to keep it a secret from her brother & sis-in-law. But it doesn't stop her to ask Bom about Noo Ri because she couldn't find anything about her on the net.

Drunk In Sang arrives home, singing the song Hyung Sik sang. Bom's face lights up you sang this song with my dad, right? 🙂 They dance around cheerfully but it abruptly cut short when his dad shouts out his name. Bom apologizes for not managing her husband properly, but he's cute. 🙂 Secretary Lee sarcastically talks behind their back, your cuteness isn't working today. Everyone knows about Noo Ri by now, except the happy couple. Based on his conversation with his FIL, In Sang notices he's very naive hence he's very sad for him.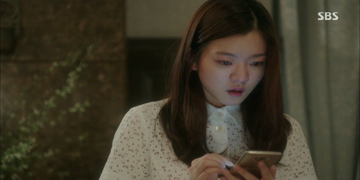 While In Sang is taking a bath, Hyun Soo sends him texts so Bom asks for his "permission" to open those messages. It basically tells him to manager his wife's sister better because she had one night stand with Jo Se Young! Shocked Bom begs Maid Jung to tell her if she heard anything (about Noo Ri) because looks like she's the only oblivious one.

Is it true her sister become a laughingstock? What should she do now? She's very smart & pretty. Maid Jung hugs tearful Bom it could simply be a rumor or if it's indeed true, maybe it was just a mistake for that moment. Bom who's been through this cruel situation understands people can be very cruel. She doesn't want her sister to go through the same painful experience. Yi Ji who overheard her SIL, silently closes the door so nobody will hear her cries. In Sang also overheard her conversation but he doesn't know in details.

Jung Ho sneaks in to Jin Young's room late that night. He push his stroller (without baby Jin Young who's fast asleep now), the confused nanny put the stroller back in his room. The next morning, Jin Young is safely strapped in his new stroller. Proud grandpa pushes him slowly, taking him touring this huge house. Jin Young helps them to forget about all their worries momentarily.
Knowing about Se Young's bad reputation, In Sang tells his wife Noo Ri should stop seeing him. If Noo Ri is his own sister, he'll kill Se Young even if it was more her fault. Things will get messier if Se Young's mom finds out.

They have emergency meeting this morning. Jung Ho addresses this rumor which started from social network that carries around all kinds of rumors. They hid it from the couple so they can focus on their study. When Bom apologizes, the parents tell her it's not her fault. Her sister is a grownup and she should be able to separate herself from her sister & recognize each other individually. Just act normally, don't meet her. But it's hard to pretend nothing happened. They prefer to hear what happened directly from Noo Ri and hopefully it won't happen again. Of course it'll be troublesome if it happens again. So the parents give their permission as long as Bom points out clearly her sister's fault because emotional consolation won't help and because of Bom's status, the meeting will take place in the special place Han's family frequently visits. As usual, Secretary Lee will follow her.

Like the little Lady who is aware of her status now, she calmly orders the family's favorite. It's obvious Noo Ri is jealous of her baby sister. Bom starts by pointing out her sister's lies and if she's that worried if people outside can hear their conversation, it's meaningless now. But should Noo Ri start advertising her private life? Even Bom hid it. Noo Ri doesn't want her younger sister to judge her private life even if nobody finds out. End of hardship, start of happiness  Yes everything worked out well, but if she wants to consider nothing happened in the past, then Noo Ri has nothing left to say. She said that too easily – it'll last for a lifetime, Noo Ri! Bom's life was changed forever, she transformed from a teenager to (almost) teenage single mom to something drastically different. It's not a scar nor medal, it's a fact.

Bom passes on her in-laws' messages that they shouldn't raise their voices in places where people know Han's family. So they should calmly discuss about this issue now. She also points out her in-laws know about her secret. No, she didn't tell them. Bom pities her sister, it's all because of her greed. Secretary Lee admits Bom is doing really well. Lunch is served, but instead of enjoying her lunch, Noo Ri can't stop crying. She caused a trouble, things Bom's in-laws really hate. If she wants to be on the good side with Hansong and In Sang's parents, she shouldn't cause any trouble. Bom really loves her only sister so she tells Noo Ri to quietly wait for her in-laws' decision and don't be afraid.

On the way home, Bom suddenly asks the driver to stop the car and tells Secretary Lee to sit beside her on the back. She wants to know how long Secretary Lee has been working for Yeon Hee and how did she start? Secretary Lee replies it's been 15 years and it started because her mother made traditional dresses for Han's family. Her older sister first worked there for 30 years, she then passed on the job when In Sang was 5 yo. It's possible Secretary Lee will work there for another 15 years like her sister so Bom wants to sort out few things.
Don't talk bad about her family. She can talk about it but please make sure it won't reach Bom and her family. If she hears it, Secretary Lee will have to take responsibility of her words. It'll be the same if she's making fun of her MIL. She knows Yeon Hee won't be able to survive without her personal secretary, but Bom won't. She makes her own decision about her own life so she won't miss Secretary Lee even if she's not around. But she wants Secretary Lee to be the real secretary as someone whose existence is needed for someone like Bom who wants to know her in-laws' family better. She's a secretary so she should act like a professional secretary from now on. That's all.

As soon as they arrive home, Secretary Lee breaks down in tears. The other staffs blame it to insensitive Kyung Tae but it's not about him. She cries out thinking that the little Lady is a scary kid. If they looked back to the past, she should be on her knees not the other way around. But she's tough because she experienced many hurtful & painful things. Secretary Lee is worried Bom will fire her, should she quit first to avoid embarrassment? Maid Jung notices her mood swings became worse after Kyung Tae dumped her. Secretary Lee cries again did he really dump me? But she must stay strong, otherwise she won't enjoy her pension later.

Bom regrets everything she said to her sister. Where did her attractive & smart sister hide? She really lowered everything for a guy who has nothing except money, making her hated her sister. Mom knows Bom is in a very difficult situation so she tells her not to cry by herself. Bom also doesn't want her in-laws to see how upset she is. It's very painful. While Bom is putting a brave face, Jin Ae can't hold back her tears anymore.

Secretary Lee is waiting for Bom outside her room, wanting to apologize. Bom doesn't want to accept her apology if it's not sincere. So Secretary Lee kneels down. Yeon Hee is clearly shocked, what did Bom do to her secretary? She confesses she holds grudges.

Although the rumor is spreading like fire, Noo Ri has no other choice but to keep continue working because she doesn't want to be labeled as a girl who went after a rich guy to take advantages of him then got dumped. It's hard, she wants to hide, but she can't. She's currently reflecting and will never chase a guy like him again. If mom isn't happy with her "reflection" time, should she just die? Jin Ae is mad.
After finding out from In Sang the connection between Jung Se Young's father and In Sang's father, Bom quietly gives a mission to Secretary Lee who immediately begs Secretary Yang to save her.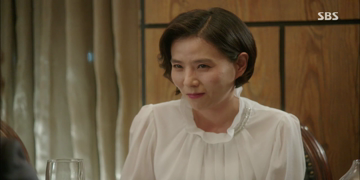 Bom's mission: punish Se Young. It's possible if they make Han Jung Ho angry, really mad. Jung Se Young's side is trying to toy around with Jung Ho's in-laws which can also be interpreted as standing against Hansong without any fear. It'll be Secretary Yang's mission to bring up Joyang Fiber's old grudges on Hansong with Jung Ho. If she doesn't want to do it, Secretary Lee plans to break their beautiful friendship by revealing her secret slush fund. *everyone has a secret* it works! Although Secretary Yang can't guarantee anything. She's researching all the old news about Joyang Fiber and the connection with Hansong to convince Jung Ho.

As his trusted secretary, she brings up Noo Ri's case blaming the guy who's the fourth generation of Joyang Fiber. He holds deep grudges on Jung Ho & Hansong because his inheritance was cut to 10% (from subsidiary sales) that's why he approached Noo Ri. He even shows off in the investment club led by Director Song Jae Won. By putting all the blame to the guy & linking him with Hansong, Jung Ho starts to get angry.

Director Song lectures Se Young that it looks like he attacked Hansong. How is it possible that he didn't recognize their daughter-in-law's sister. When Noo Ri arrives, he quickly hides and Jae Won lies to her that he flew overseas this morning. Noo Ri wants him to pass on her message that if he comes & asks for forgiveness, then she'll consider it. And he must come to her office in the morning when there're lots of people around.
Secretary Lee who didn't receive any response from Kyung Tae coolly tells In Sang that they broke up. Why? Because they don't love each other.

The next morning, Se Young comes to Noo Ri's office trying to win her heart back. Secretary Lee is there to check the progress. It's a huge success because people start believing that instead of Noo Ri, it's Se Young who's hanging onto her.

Secretary Yang passes it on to Jung Ho that he's been chasing her for months. Heard it through the grapevine, everyone now knows about it. Unable to hide anymore, Se Young decides to deceive everyone by pretending he committed suicide. He tells Jae Won the truth though, he's still alive. Jung Ho is relieved that he's okay because he'd become an accomplice to his suicide if it's true he hung himself.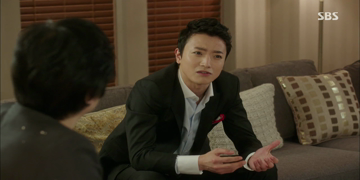 But the biggest shock comes from Se Young's mouth who admits the feeling is real. Should he try dating Noo Ri?

After successfully clearing up Noo Ri's rumor, Bom advises her sister to rise with her own ability from now on. Noo Ri is very grateful for her sister's help. She tells her to wait and see. Oh yeah. That's what Bom really wanted to hear. Noo Ri's work colleague apologizes to her, asking if she can also get invitation to the special investment club but she already dumped him.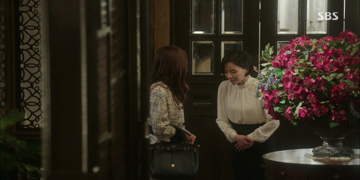 Jung Ho who saw Bom thanking Secretary Lee finally realizes she uses his sword to execute her personal plan. Secretary Yang advises it's a three-cushions as she advises him to raise her well.

Today is a daunting day for Bom, her GED's test day. She'll definitely pass the test and become a high school graduate.
Brief Comment
It's amazing that junior high school graduate Seo Bom who has yet to take her GED test is able to control Secretary Lee who's been working for Han's family for over a decade. Moreover, she could executed her plan (to punish Se Young) by using her own father-in-law, the mighty Han Jung Ho. Han's family really won a lotto when In Sang laid his eyes on unique Bom few years ago. She turned the table around… from parachute Noo Ri to worthy dependable Noo Ri. Beside giving her sister a valuable lesson, she also gives her the confidence Noo Ri really needed. No longer sisters rivalry & jealousy. She also shows her sister that although she has lots of opportunities and privileges, she's also working & studying hard. She'll rise with her own ability – not taking anyone nor anything for granted.