Heard It Through The Grapevine Episode 15 Brief Recap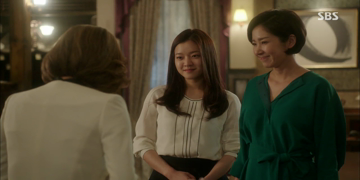 Finally today is the day Yeon Hee introduces Bom to Secretary Yang who knows many secrets about In Sang's family & Hansong group. Knowing her for more than 2 decades, she advises her daughter-in-law that although Secretary Yang completes the assigned work, it's possible she looks down on Bom and her family. The first strike is very important here. Bom totally understands her mother-in-law's wise words. After introducing them, Yeon Hee purposely allows them to talk privately. Bom thanks Secretary Yang for helping her sister, telling her that it's not the last time they worked together and she'll need her help again in the future.
It's clear Yeon Hee really likes her daughter-in-law now. She understands Yeon Hee well, she gets things done by saying only few words with a smile on her face, intimidating her opponent. Jung Ho describes Bom as if she's playing a pool. A five degree difference won't work without combined strength & direction of power.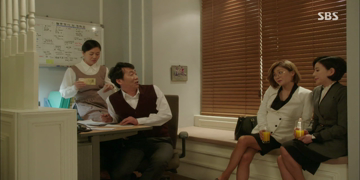 Smart Secretary Yang is aware Bom wants her to put wings on her sister, taking care of her sister's aftermath. It's expected though, they're sisters. Their bond is thicker than water.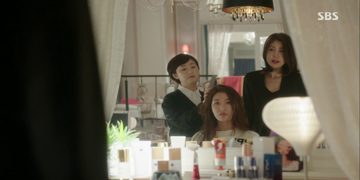 Attorney Yoo Je Hoon is finally in charge with his first big case. Secretary Yang and Secretary Min are gossiping that this man is single and Young Ra's nagging didn't work. Meanwhile, Young Ra wants her daughter to meet Je Hoon alone instead of going out with him and their friends. It's time for her to make some progress. After getting help from Song Jae Won, Secretary Yang calls to thank him, asking him a favor to be Noo Ri's matchmaker.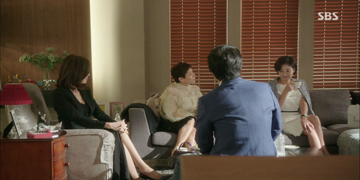 While Director Song is on the phone with Secretary Yang, the others are discussing about Noo Ri. Yeon Hee brags that Chancellor Seo and Noo Ri's father are distant relatives and both sisters have clear thoughts of their own. Her friend Young Ra can't hide her jealously that everyone keeps praising Seo sisters. Yeon Hee replies that it's acceptable to compliment things that are worthy to be praised. The rumor actually does wonder for Noo Ri's popularity and it'll be about time when people start recognizing her talent, just like what they discovered about Bom.
Yeon Hee has a bigger agenda for Noo Ri, she wants Bom's parents to find a great marriage partner after things calm down. Bom isn't worried because she believes her sister will meet a great man.

Although Seo's family keep putting off Han's family help, but Yeon Hee wants their house's repair to be done as soon as possible. Secretary Lee brought two people to inspect the house, only to be told that the house is too old and the structure is quite bad hence it'll be best to have it restructured. Jin Ae politely refuses their help, stating that she's already checked everything that needs to be fixed so it's safe for Jin Young when he comes to this house. The only thing they want is for Jin Young to visit them as frequent as he can.

Meanwhile, Hyung Sik is shocked finding out that the success rate for franchise restaurant business is only 10% and it's hard to make a living. He needs to be very determined to have a long-term success. Based on his answers, it's clear he's not ready to dive into franchise business.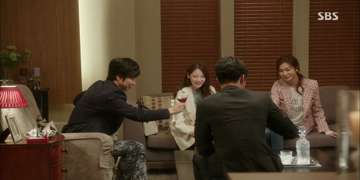 Je Hoon praises Noo Ri's "unexpected move", she blushes saying that it's her survival instinct because she doesn't want to live with that unfair tag. But she realizes she was humiliated when she tried to get on the first class seat with her economy class.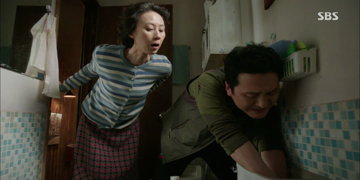 After Hyung Sik fixed their toilet, Jin Ae cheerfully calls Secretary Lee to politely refuse their help because the house is still very sturdy and strong. Yeon Hee is dismayed with their stubbornness.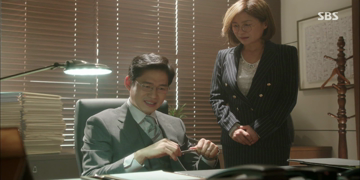 Around the same time at Hansong, Hyung Sik gives his answer to Secretary Yang. He confesses his mind was all over the place after Bom entered Han's household but he's also made up his mind. Although he's very grateful for Jung Ho and Secretary Yang who're trying to help him but he realizes it's very tough to start up franchise business. There's nothing else they can do now for a person who's afraid of everything because failure has become his habit.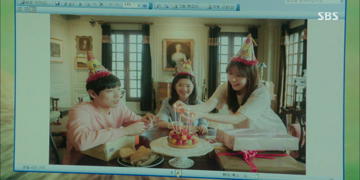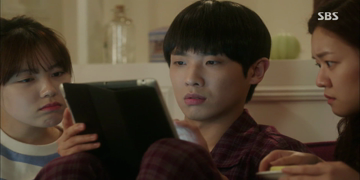 Later that night, Secretary Min sends a message to In Sang and her sister who've always been nice to her. In Sang also really trust her because he asked her to find Bom's address last time. She really misses them and want to meet Bom because they only met for a short time at the marriage registry office last time.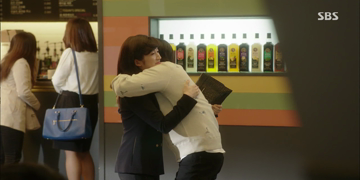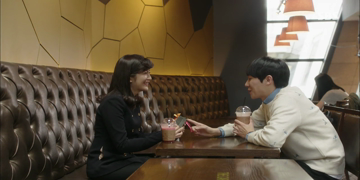 In Sang decides to catch up with his "security guard" Secretary Min, he even brought a gift that his sister and he bought for her. She's pleased to hear everything's going well now at Han's household but the reason she wants to meet In Sang is because of Bom's uncle.

While Bom is exercising, she listens to Secretary Lee's report about her sister and Yoon Je Hoon's meeting last night. It went well. Now they're waiting for Secretary Yang's report (she's in charge of Je Hoon). Kyung Tae and Secretary Lee are still maintaining their professionalism although they barely talk to each other.
"Aunt" Secretary Yang is curious to find out Je Hoon's progress. He happily tells her they're giving it another try, much to her delight.

After work, Secretary Min abruptly visits a shocked & nervous Chul Sik who shows her many things he created from a stamp to a portrait plaques worth 10million won. But the reason she's here is not to admire his signage work. She talked to In Sang because he and Bom (albeit they're still kids who become parents at such young age) are more powerful yet scary than her. Chul Sik who doesn't want them to carry his burden is upset she told In Sang before discussing it with him first. He thought she already gave up on him when Attorney Yoo turned her back on them. But she advises that it's Jung Ho's tactic – to be considerate while scaring people at the same time.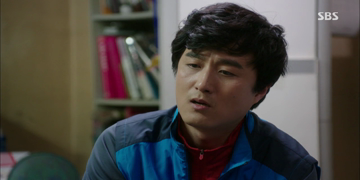 She can no longer stand Jung Ho's abrupt changes. He said he wouldn't accept her daughter-in-law but after he found out she fit his standard then he started to like her. He's the man who secretly asked his doctor to have paternity test for Jin Young but now he dotes on him.
Can Chul Sik please talk to In Sang or Bom, reminding him of what he said in the past so he'll be embarrassed. She doesn't want to be the bad girl here, she passes on the roles to Chul Sik, In Sang and Bom.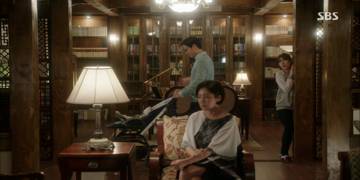 Yi Ji wants to push Jin Young's stroller too but the beaming grandpa who's in the middle of healing (looking at innocent Jin Young) tells her it's not the right time. After Bom finished today's lesson, she joins Yi Ji watching a movie in her room. Maid Jung advises In Sang for not interrupting the girls because Yi Ji has been patiently waited for Bom.
Meanwhile, Jung Ho is wondering if Bom's parents are mocking them and painting him as the cruel man although he's trying his best to help them. Well, that's what Yeon Hee thought too. But she's too tired to think about it now.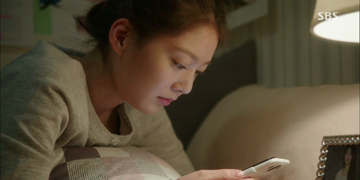 While everyone else is sleeping, Bom is studying hard. She doesn't have to wake up every few hours to breastfeed Jin Young because she's done now so she can use the extra hours to study. She texts her sister, happy to hear she's dating as she tells her she will study hard so won't contact her as frequent as she used to. Noo Ri promises to work extra harder, grasp a good opportunity and won't let it go.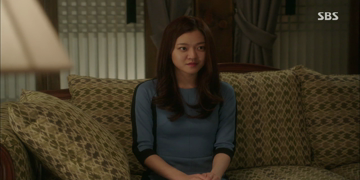 The next day, Bom advises her in-laws they don't need to give her family anything. Everything is fixed at her home and her dad will work harder at his own business. The staffs are obviously as confused as Jung Ho and Yeon Hee, now the table has turned. But if the rumor that Han's family is too cold-hearted keeps going around, it'll be more awkward. The one who holds the sword could still change the situation around.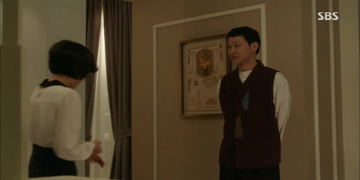 Their conversation move to dating and love. Secretary Lee believes love is something people just fall far, but it'll end when they miss the timing. She abruptly leaves as soon as Kyung Tae arrives. Secretary Kim advises him to go after her again, but Maid Jung wants him to show his true heart to her.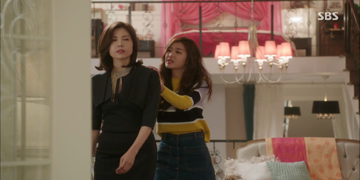 Yeon Hee is pleased finding out Je Hoon and Noo Ri are dating well. Young Ra pretends she heard it but at home, she's wondering why her daughter only has a brother-sister relationship with him. Does she still like In Sang? But no, mom. She's going crazy with her mom's persistence nagging. She only wants her daughter to get the best man, same or higher level than her. But it's Hyun Soo's life, not her mother's life.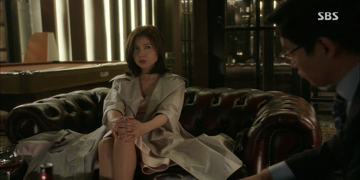 So Young Ra decides to pay Jung Ho a visit. To do what she does best, seducing her old friend who's still holding a grudge because she rejected him. He raises up his voice, Young Ra reminds him that people may hear him here so if he wants, they can move to more intimate place! But why, Young Ra? Jung Ho: Didn't you tell me last time that I'm not attractive?  She chuckles, so he's still hurting over her remarks.
He starts sweating listening to dangerous woman in front of him. Stutters, trying to gain his composure back before he's asking her to leave because he still has lots of work to do. He's clearly very nervous because he drinks his wine in one go and goes for the second glass.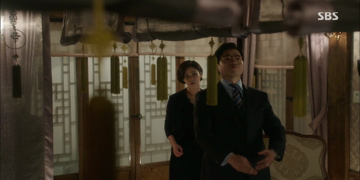 He arrives home in a very good mood, put his hand over his wife's shoulder as he asks about his grandson who's already sleeping. He doesn't have any reason to be sad because for him, nothing is impossible. Yeon Hee think he's in a good mood is because his big case is doing well.
In Sang feels uneasy after he met with Secretary Min, he can no longer handles it himself. His father… is very cruel.

This man still can't forget what Young Ra said earlier. What's the use of meeting with young friends at their age? She wasn't attracted to them nor felt excited about it because after all these years, the man she didn't do anything with comes to her mind. He's ready for another battle with this dangerous woman.

He massages his head. But when his wife wakes up, he gets confused. Jung Ho: I'm not sick. Yes I'm sick.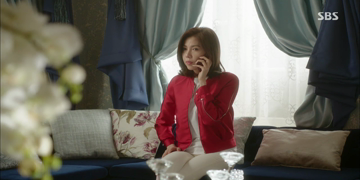 When Young Ra calls him the next day, he asks to meet her for a bit. She's playing a dangerous game as she replies they can got to an amusement park and eat churros together. But this man who's having a hard time is not joking. He needs to talk to her. Young Ra set the time and place for them to meet. She also prepares a wine… Ready to seduce him for the second round.
Brief Comment
In Sang has matured as a loyal husband, good father and filial son but his character development is pretty stagnant. Can he be as awesome as Bom, writer-nim?
From what I've seen this episode, I don't like Secretary Min's way of shaking up In Sang's relationship with his father. She has slowly showing her true colors by taking advantage of her friendship with In Sang & his sister to punish Jung Ho. Bom should crush her with her intimidating words and smiley face. But maybe this will be In Sang's chance to shine?
Jung Ho's world is shaken up pretty badly by Young Ra who plans to steal Je Hoon from his company and Noo Ri. By manipulating his emotion and dangerously bringing up the past, Young Ra is gaining an upper hand. Will Jung Ho be able to avoid the temptation and think clearly? He's acting like a teenager in love now. Someone must direct him back to the right path, hopefully it'll be his son.
It's not shocking that Bom's family politely rejected Jung Ho's help. They know their limit yet they are not too greedy to achieve the almost impossible using someone else's money knowing that one very minor mistake will put their daughter in danger. Jung Ho and Yeon Hee forget although they're not as wealthy, they still have their own pride. It'll be more satisfying for them to achieve things using their own talents & resources. I believe they'll be successful in their own ways just like Bom will make everyone proud with her own effort & talent.