Heard It Through The Grapevine Episode 16 Brief Recap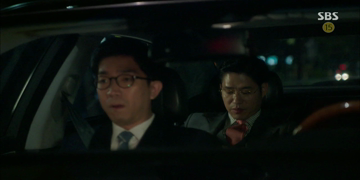 Pretending he has a secret urgent intel meeting, Jung Ho asks the driver to drop him off on the side of the road and drives away as soon as he gets off from the car. Secretary Kim isn't allowed to accompany him.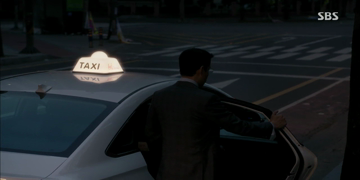 He enters a building, quickly walks to the back of the building where a taxi is already waiting for him. When the taxi passes his car, he nervously stoops down so Secretary Kim and his driver don't see him. At home, Secretary Kim reports to Yeon Hee that her husband will be home late because of confidential meeting. She isn't suspecting anything at this point, thinking her husband is working too hard. The staffs think it's a confidential meeting about Doogyung group (Hansong is currently representing this group). Secretary Lee knows something but she keeps her mouth shut. Maybe it has something to do with betraying Doogyung group to give a boost to another company's stocks?

In Sang was too suffocated finding out his father's flaws so after holding it on his own, he told Bom. As husband & wife, they should share their burden, right? Although he's heard similar rumor before but he never had any chance to ask his father the truth. He previously thought people spread those rumors out of jealousy but he started to believe it after he heard it from trusted Secretary Min. Bom is shocked that all the planning, script and directing were all done by Hansong.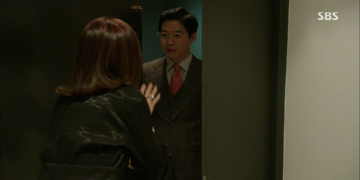 Jung Ho safely arrived at Young Ra's nice lodging (that her family usually use for foreign guests) after climbing over the mountain & crossing the river (okay, that's exaggeration). He wants to hug Young Ra but she offers him a chilled champagne instead.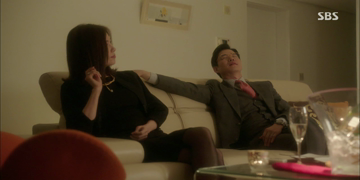 He looks around the apartment (I think it's a 1 bedroom apartment) then goes to the bedroom where he longingly put his hand on the bed cover. Thankfully Young Ra takes him back to the living room where she plays a classical music (from opera) to jog his memory making them taking a trip down the memory lane. The memory they had together where their lives were shining the most was very precious for him and he wants to keep those precious memories within themselves.
Although many girls found his relaxed posture unique & he's a gentleman, Young Ra admits she found him attractive when he sat straight making him looked so dependable and charming. So Jung Ho immediately sit upright, sipping his champagne. He's playing with fire now as he asks if she's tired and wants to lie down a bit but she declines, prefer to rest at home. She's really sorry their meeting is over (for today).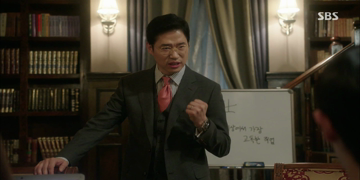 In Sang and Bom are brave enough to ask Jung Ho the truth behind Daesan Group employees' labor issues because they heard Hansong was behind this. He replies Hansong was Daesan Group's representative who overturned the verdict of the lay off annulment. To make it clear, he explains the real meaning of lawyer (a person who handles the law) and the nature of human existence. Everyone is the same, they consider their own benefit the most important and regardless of their ability, they cannot stand to lose. They become irrational when they (think) they are ignored. That's human. They cry out for justice but then they turn into angry mob. It's impossible to please everyone. Hence, in the name of continued tradition of human intellect and experience, lawyers try to find the best answer. Lawyers cannot be emotional and drenched in vain fame. Hansong resolved Daesan's labor issues stringently.
His long-winded explanation doesn't answer In Sang & Bom's question, it's actually making them more confused. But Jung Ho is pleased he can discuss about law issue with his children.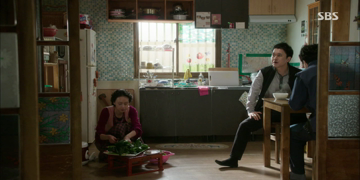 Bom's family is doing well on their own. Noo Ri is doing her own make up (by watching video tutorial), she wears sneakers to work & carries her high heels so she can take public transportation, Hyung Sik went to the market in the early morning so his wife can make fresh juice before Noo Ri goes to work. They don't need to get envious of anyone now. Bom and Noo Ri are recognized because of their own talents & can look after themselves.

Curious In Sang asks Hyun Soo if she visited his father when he was hospitalized. But she knew he faked it because it was instruction from In Sang's dad. How could he didn't know? Many people do this. He is too naive.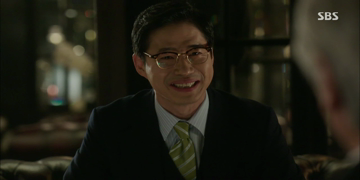 Chancellor Baek Dae Hyun heard that Jung Ho's in-laws rejected his support, advising him to convince them because people are already talking about it. He can't just watch his in-laws fall behind, right? Chancellor Baek also passes on Chancellor Seo's message – he wants to meet with Jung Ho's in-laws soon.
As a lawyer, he can only work after people tell him everything. He applies his "habit" to Young Ra who ignored his phone calls. Is she mad? Doesn't she know he's worried sick after she abruptly left last night? Is she eating & sleeping well?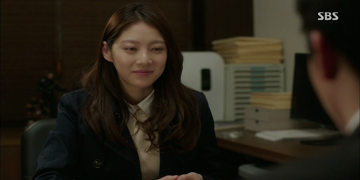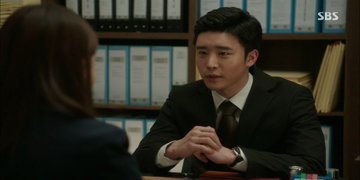 Secretary Yang is pleased to see Je Hoon and Noo Ri together at Hansong. In his modest office, he tells her to sit in his chair. They're role playing as lawyer (Noo Ri) and client (Je Hoon), Je Hoon gives Noo Ri a chance to ask him anything & he'll tell her everything. She starts by asking if he's friend with Jo Se Young. He replies no and don't worry Noo Ri, you don't have to tell him (about her rumor with him). She's moved and relieved hearing his answer. Je Hoon is also thankful for Noo Ri but he can't tell her why he's grateful, pleading for her to see him until the right time comes. He hopes she continues to be happy like she is now.
Although they're living as healthy wholesome citizens but Jin Young's grandparents really miss him. They can't even visit him during the day, can't they? T_T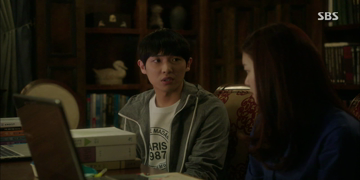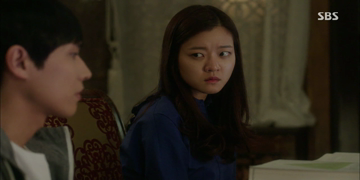 Based on what Secretary Min and Hyun Soo said, In Sang realizes he doesn't really know his father who looks perfect from the outside. He also found out Jung Ho handles discords at Hansong with lots of money that's why nobody rebels against him.
Maid Jung who knew Bom's mother called, advises her to call her back. Afraid she'll cry when she's talking to her mom on the phone, Bom decides it's better to send her a text instead.

Kyung Tae chases Secretary Lee, abruptly kisses her proving that his feeling is real. She slaps him twice – his dating style won't work on her. He doesn't like it either, but it's the only thing he learned. She insists she doesn't talk to anyone who lacks dating sense (regardless of their gender). Ability to love? What?
She explains it's the important element which serves as the basis for politics, economy, military power and determines the happiness of a country. To sum it up, they're subpar citizens of a subpar country, she'll live with this fate. Kyung Tae: But we need to talk, Scully! Wait, did he just call her Scully? 😀 He immediately apologizes, saying that they have similar image. This makes Secretary Lee assumes Kyung Tae likes her idol Scully (voice artist Seo Hye Jeong) instead of her (Lee Seon Sook)! He tries to explain he's attracted and loved Lee Seon Sook. Unfortunately she's too upset to hear his explanation, meanwhile he's very frustrated she doesn't want to listen to him.
Noo Ri knows her wings came from Bom but she's going to move the wings on her own, her true-self.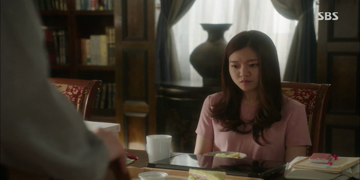 The revelation about Jung Ho is making In Sang confused. He is clearly his father but he's a father In Sang doesn't know. Bom discusses about Jung Ho and Hansong with Teacher Kyung Tae because after researching about Hansong, Bom couldn't find anything except a glowing review that anyone who wants to win their case should go there.
Kyung Tae gives illustration that people went to a temple when a fight broke out during the old days. Why? So they can reconcile with God's help. Nowadays, it's law's help. Hansong is the most effective God's help – they have the ability and skill to draw the most ideal decision. Many criticize Hansong is above the wall but using their advanced system, Hansong successfully raised the legal standards of Korea's legal system. They solve cases using their tightly-knit connections, only possible because it's Korea. Even foreign firm laws which entered Korea because of open legal market look upon them favorably. Bom's knowledge about law & justice will expand, so she'll have a more understandable perspective about Hansong and legal system.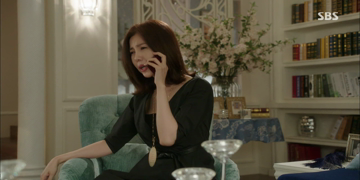 Finally Jung Ho can reach Young Ra. Pretending he needs a nice place to lie down and eat after working so hard lately, he wants to meet Young Ra. Just tell him the street she'll pass, he'll stand there waiting for her. She tries to dodge his "invitation" but his sweet words works.
Another call is coming – it's Yeon Hee video calling him so Jin Young can cheer up his workaholic grandpa. Jung Ho who is usually happy to see Jin Young, stutters. He hasn't finished talking with Young Ra so he promises to call his wife back asap giving an excuse he's in the middle of an urgent call. Young Ra ignores his call when he calls back.
Nobody else can't reach Young Ra but Director Song found out she's meeting Jung Ho. Yeon Hee and Eom So Jung think they're discussing about her unhappy marriage which may lead to a divorce. Marriage is about settling down, isn't it? Song Jae Won is busy reading the rumor about Jiwon Holdings which will take over Doogyung Industrial. Yeon Hee is wondering why her husband never mentioned it although Hansong is representing Doogyung. This prompts So Jung to ask if Jung Ho still shares everything to his wife. Well, based on what they've just seen, looks like he doesn't.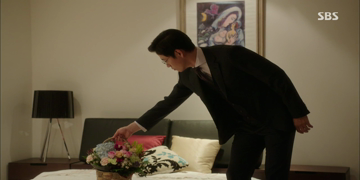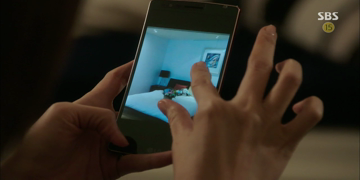 Jung Ho comes to the lodge with a bouquet of flowers. He first put the bouquet in the living room before he decides to put it in the bed. With his sweet message, he sends the picture of this flower to Young Ra teasing her to see these beautiful flowers tomorrow. She changes Jung Ho's name on her cellphone to "flower delivery" 😀

When Young Ra and her husband had marriage issue, Yeon Hee and So Jung tried their best to stop her from getting a divorce. Yeon Hee proudly brags that unlike Young Ra and other couples out there, they're fit for marriage life. For Jung Ho, it's more important for two people to share the same values.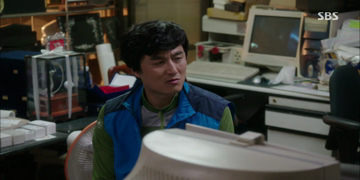 Secretary Min notices her boss' move has been ambiguous these days so she visits Chul Sik to find out if he heard anything from his niece. Chul Sik think it's norm because as a lawyer, Jung Ho deals with confidential stuffs. But he's never had any secret meeting alone, he always has someone with him.
Curious, Chul Sik read the "novel" that Bom sent to her mother earlier. Bom is wondering if her father-in-law is an alien who has the same looking family, house and work in a place that's exactly like the Earth. He keeps going back and forth to his planet and the Earth. But Bom doesn't know where his real house is.
Jung Ho is going home alone again today, pretending he was instructed to use public transportation. His secretary is clearly confused. Who is his new partner?

It's still an early evening when Jung Ho stops by in a boutique store. He buys casual outfit & changes in the shop's dirty restroom. He runs to meet Young Ra who's waiting for him in the park. She's speechless with his casual outfit. They decide to take a nice walk in the park, eating churros.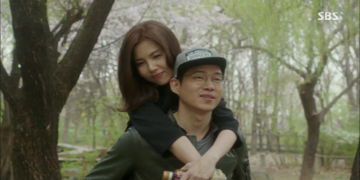 Because Young Ra's feet is hurting, he offers to give her a piggy-back ride. She initially refuses but he's too sweet so she accepts it only up to the tree in front. He cheekily points out Young Ra is his present tense, forever – carpe diem.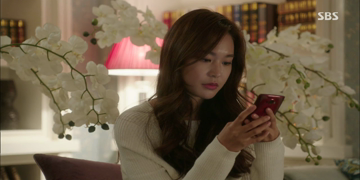 After a nice piggy ride date in the park, Young Ra's mind is all over the place. Even Hyun Soo notices her mom is a bit weird nowadays. What's going on, Mom? Both of them are depressed over men so they should go to the doctor together. Young Ra prefer to go to her psychiatrist Go Joon Ho and asks her daughter to schedule an appointment at the earliest date. While she's browsing her mother's phonebook to find the psychiatrist's number, she finds "flower delivery".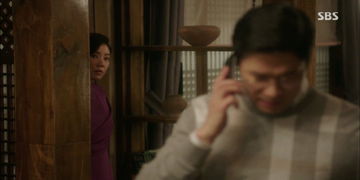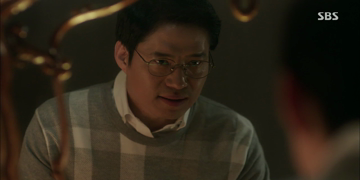 Yeon Hee also senses her husband's changes because he's always on the phone lately & getting mad without any valid reason.
He tries to call "Manager Jin" few times until someone finally answers the phone. Hyun Soo picks up the phone, asking if he delivers flower so he makes up excuses he calls the wrong number. Jung Ho is mad Young Ra changed her number without letting him know.
The next morning, worried & suspicious Yeon Hee asks if her husband is okay. He pretends to be fine but he's desperate to meet Young Ra. So he asks when his wife is going to Jae Won's place and who'll be there. After knowing she's having her wine class today, he hurriedly tells her to leave.
Young Ra still hasn't replied to Yeon Hee's messages and nobody could reach yet. But Jae Won tells her a good news: she's changed her doctor and is in Korea now. He receives a secret text that Attorney Han is currently falling in love!
Someone presses the bell, they thought it's food delivery. But surprise!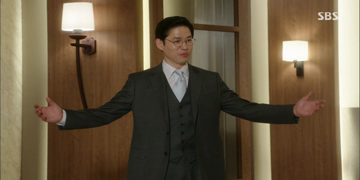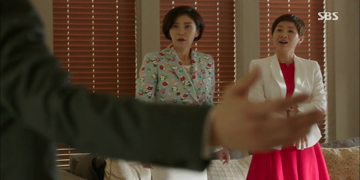 Han Jung Ho is here! Does he want to gain some brownie points by surprising his wife? Nah. He stopped by after he visited his client at the penthouse of this building. He's looking around, sad that the person he's looking for is not here. He jokingly asks if that missing person is hiding behind the bar? Yeon Hee can't hide her disappointment that her husband came here looking for Young Ra instead of her. Staring at her husband, Yeon Hee remembers her husband's changes over the last few days.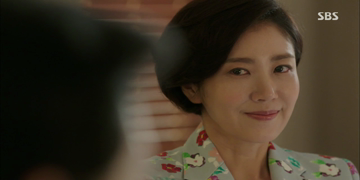 She then smiles.
Comment
The amazing, brilliant, perfectionist Attorney Han is a fool in love who can't resist Young Ra's temptation. He probably still holds a grudge over his mother who separated him with Young Ra only because she's a daughter of a loan shark and didn't meet his mother's high expectation. Present Young Ra reminds him of the sweet moments from the past and he's willing to do anything he can to experience those precious memories again although he has to play cat & mouse game with his family & staffs. Perhaps it's been years since he can be himself, wear casual outfit and freely go on dates in the park. Enjoying the freedom he can't have because he's always surrounded with his staffs. Breaking the walls he built himself for the sake of Hansong's reputation and his family's expectations. Hopefully someone can stop him before he's falling down even further and people discover his extramarital affair. Yeon Hee's smile at the end of this episode is awesome! She knows it and she will fight for her husband's affection & love. Maybe she'll ask Bom to help her this time.
Based on In Sang's reaction, it's clear Jung Ho has been wearing a mask. The real Jung Ho isn't what In Sang knows. Although I'm a bit frustrated Secretary Min is using In Sang & Bom but he has to know the truth. It's much better to find it now rather than finding it out from the net or stranger. Bom will definitely help him to discover his father's flaws.
Kyung Tae and Secretary Lee love story sometimes drives me crazy. Seriously, they need to talk and listen to each other. Secretary Lee needs to stop making her and Kyung Tae can ask In Sang & Bom to help him teaching one or two things about love. 😀