Heard It Through the Grapevine Episode 18 Brief Recap

Annoyed Jung Ho furiously grabs his pillows and blanket to sleep in another room as he punishes his wife to sleep alone. Yeon Hee calls him back to talk about his token of forgiveness aka the jewelry asking what does the other gift (he sent) represent for (that person). Of course she knows his little secret, it's only him the stupidest one who didn't know. Sarcastically mocking him that he doesn't know himself.

The Majesty gets the upper hands here & keeps punishing her husband. She cooked noodle for herself knowing that Jung Ho will scream out for Maid Jung to cook it for him. Too bad, she isn't here tonight.
Jung Ho think his wife should be thankful he apologized first but she fights back she didn't do anything which warrants his forgiveness.  As he gets up to leave, she threatens he can continue living being ignored by her. Based on her mother-in-law's advice and what she's seen in the past (her father-in-law's affair), she knows whenever the husband acts foolish, she needs to treat him as her pet & pacify him. If it doesn't work, she should ignore him. Jung Ho is shocked finding out about his father's affair! It's impossible! Moreover, it's not fair she's eating alone. 😀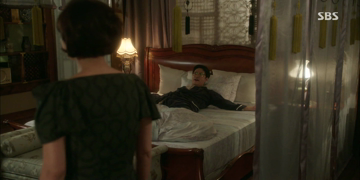 Like an immature child, Jung Ho is laying down in the middle of their bed claiming it's his bed. The Majesty keeps ignoring him.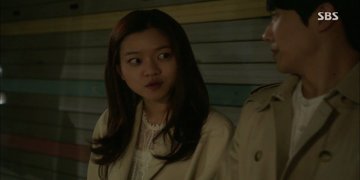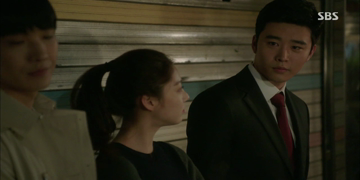 The young couple is happy to meet Je Hoon, they're curious about Hansong. When Noo Ri says he may quit one day, Bom asks isn't it good to observe how they work from a close distance. Well, that's exactly what he's doing now. He blurts out he learnt the reason why Hansong never breaks the law. But he refuses to tell In Sang the reason. If he wants to know, he can ask his dad. Meanwhile, Hyung Sik is proud his eldest daughter brought home Hansong man after he refused Hansong's help. It's their fate. He believes baby Jin Young is Seo's family lucky charm. In Sang think Je Hoon is not 100% on their side but Bom plans to have her sister on their side.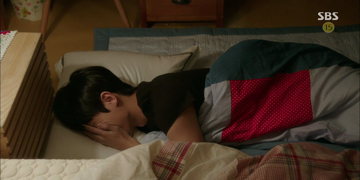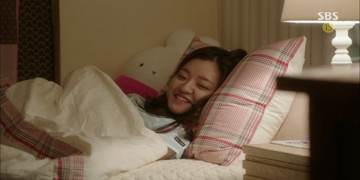 Because Bom's bed is a single bed, In Sang is sleeping on the hard floor tonight. It's a new experience which makes him happy. He's in the bottom while his wife on the top, the perfect setting for… *baby number 2*? 😀

Childish Jung Ho follows his wife everywhere so she can't sleep anywhere in his house. Fed up, she throws a pillow to him. Then he picks up a lamp. She calls out her fool husband who's ready to throw the lamp to her!
Secretary Kim predicts something huge will happen because this couple already face a big trouble in their marriage and In Sang with his wife have already fallen for Secretary Min's words. Secretary Yang washes her hands of the parents-children relationship because it's not within their control. Kyung Tae agrees. Besides, he's employed to give more power to In Sang & Bom, encouraging them especially Bom to study even harder to be true power broker. Secretary Lee praises his thinking but it's still a long way for her to accept him back.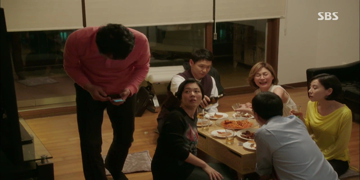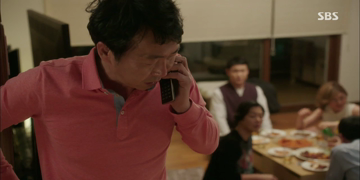 Just then, Butler Park who left the surveillance camera on because he's worried about Jung Ho and Yeon Hee's safety receives a message from the security company who monitor the videos. Notifying that Jung Ho beat his wife.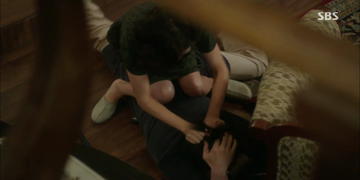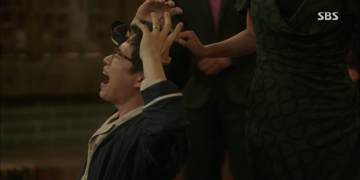 The situation is very nerve-breaking at home. Both of them hold golf cubs, ready to attack each other. Jung Ho slips on the stairs and falls down, giving Yeon Hee a chance to jump on top of him and grabs his precious hair. She firmly grabs his hair when the staffs arrive, perfect timing!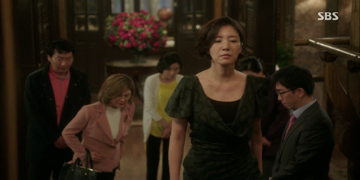 Even though Jung Ho begs the staffs to help him, but everyone knows they can't argue with the Majesty who currently holds the power. She let him go after he promises to do whatever she wants. While Jung Ho escapes upstairs, the Majesty is furious to the staffs who barged in and saw everything. It's their employers' personal lives!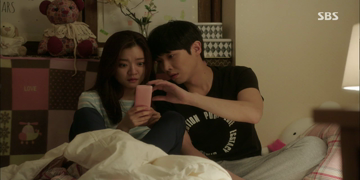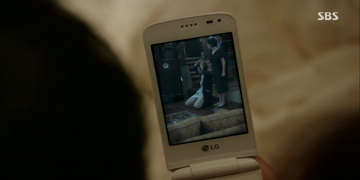 Kyung Tae recorded the fight & sent it to In Sang & Bom.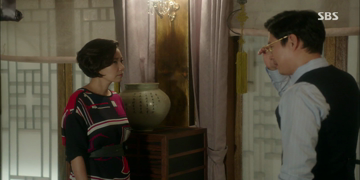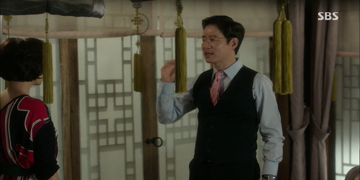 The next morning, Jung Ho pretends nothing happened. He cheerfully greets his nervous wife who established a clear hierarchy between employers & employees. last night. But it'd be great if she explained that she firmly grabbed his hair because of act of affection. But no, she wanted to establish a clear hierarchy for herself. She tells Bom she survived the long night but nothing big happened. Intuitively she walks to baby Jin Young's room so Bom put him on a video chat.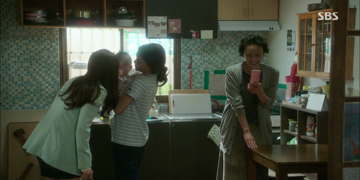 Jung Ho who listens from the back wants to coo his grandson as well but Yeon Hee doesn't give the phone to him. She then talks to Jin Ae who's grateful they got to spend the night with Jin Young. Bom sleeps in, a luxury she can't have in In Sang's house. During breakfast, In Sang blurts out he met with Chul Shik last night.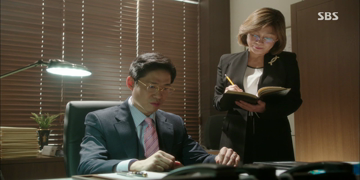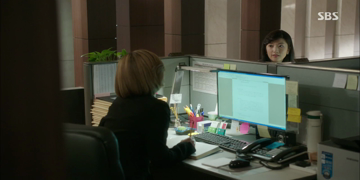 At work, Secretary Yang advises that rumors often start from the person who's involved in it. Hopefully he'll take this as a lesson, then she cancels Young Ra's flight ticket.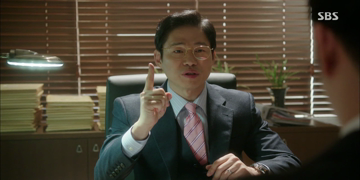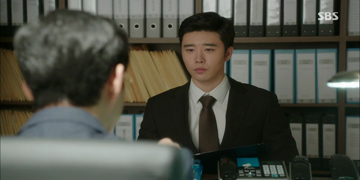 Je Hoon presents his finding that the industry standard is too low hence Jung Ho advises him to find the compromise point. Thinking he's lost in between the ideal world & reality, he asks Attorney Yoo to teach him to make second best decision. Je Hoon argues about it's legislative process but his boss wants him to learn as much as he can first.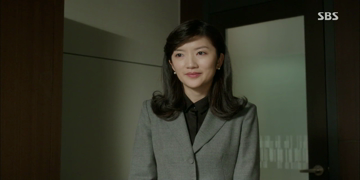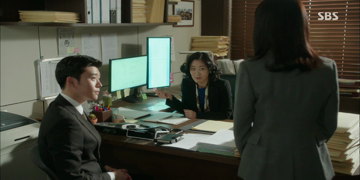 He raises up about law firms which lead the process of turning legal counseling into legislative lobbying. Attorney Yoo explains Hansong is best in the business and they call it Legislative Business. She then asks Secretary Min to get all Hansong's past records counselling on legislation. It's his first time talking to Secretary Min who he heard lavish praises from Attorney Yoo. Well, it's the reason why they try to get closer with him, so they can help each other when they're in need. As long as she doesn't betray her, Secretary Min's loyalty is hers.
Secretary Min is very capable but Je Hoon needs to be careful because she's the hidden core of Daesan labor union. He admits he's interested in this case, one reason why he accepted Jung Ho's offer to join Hansong. Meanwhile, Noo Ri is worried because it seems like Je Hoon has other agenda and will become Hansong's enemy in the future.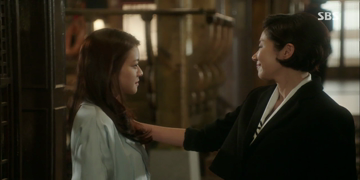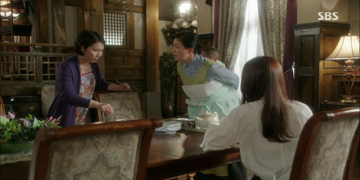 Bom & baby Jin Young come home to the happy Yeon Hee. While the staffs eat the food Bom brought from home, they discuss about last night's fight citing that they aren't completely reconciled. It's like half punishment, half reconciliation.
Bom is worried she put too much expectation for her mother-in-law to be on their side although she's trying her best to take her side. Yeon Hee is undoubtedly pleased for Bom and all her supports but she will never allow anyone to challenge Jung Ho's authority. After meeting up with Secretary Min and Uncle Chul Sik last night, she's going to pursue the union case. That's why she needs powerful people on their side. At home, Jung Ho is a father, father-in-law, grandfather. But in Hansong, he's the mighty powerful Attorney Han Jung Ho.
As usual, Hyun Soo is checking her mother's phone and sees the latest messages Jung Ho sent. Even Young Ra is confused her teasing went too far. Hence, she calls Jung Ho wanting to meet so she can end it.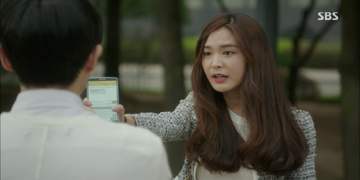 While In Sang believes it's the adult's problem, Hyun Soo confronts him by showing the text message his dad sent to her mom "Seduce me, Young Ra. I want to forget everything." She doesn't care about Jung Ho's character but she wants to protect her mom against unfair accusation if her parents' divorce proceeding starts. People will accuse her of cheating.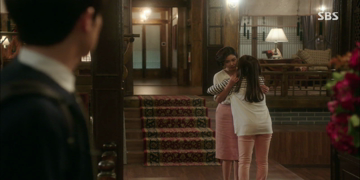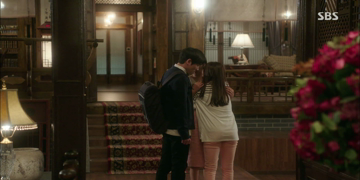 Yi Ji has also found out about her father's affair. Instinctively, she hugs her mom when she comes down and In Sang puts his hand on her shoulder to comfort her. Both kids refuse to tell why they act like this. But In Sang can't hide his disappointment in front of his wife & teacher.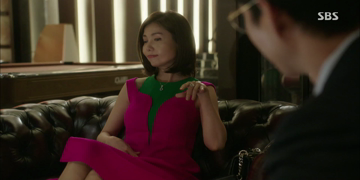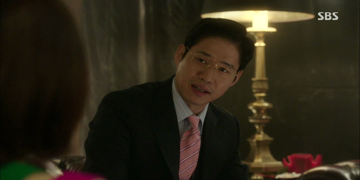 To avoid suspicion, Young Ra meets Jung Ho in Hansong's club as his client though the line is blurred between personal and business meeting because they're here to discuss about their personal relationship. She wears the jewelry he gave her. Young Ra who's afraid of her own daughter wants to end this relationship. But the ever persistent Jung Ho tells her to talk to Hyun Soo not between a mother and a daughter but as partners who get through life together so they can have mutual understanding.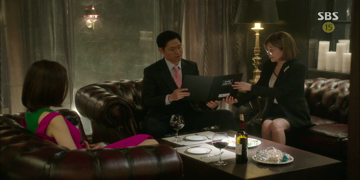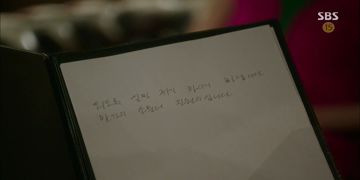 Secretary Yang interrupts their secret meeting pretending asking for his signature, but she gives him a note "Please return home as soon as possible. It's where all kinds of rumors originate" He promises to take care of her concern.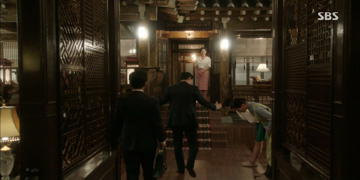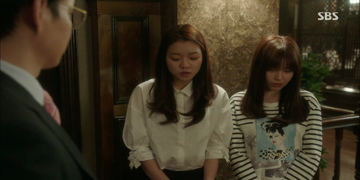 Jung Ho comes home but overly disappointed In Sang didn't join the family & staff to greet him. Bom pretends he's in the shower while in fact he's hiding in his bedroom, crying. As usual, Jung Ho is so sweet to his wife which she reciprocates so the kids and staffs still respect her husband.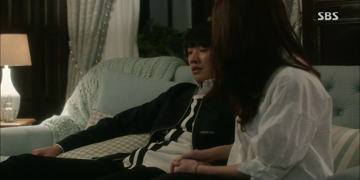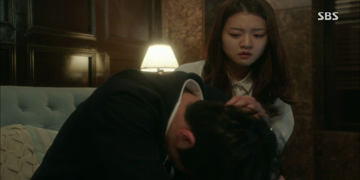 In the bedroom, Bom comforts her husband saying that boys suddenly grows up the moment they really hate their dad. He admits since he was 12 years old, he tried really hard not to hate his own dad. It's suffocating because as much as he hates his dad, he also hates himself. While the other kids wasted and used their dads' money, run away with the money, he couldn't do it. Bom must stop him from making any unintended mistake (especially after they receive the evidence about union case).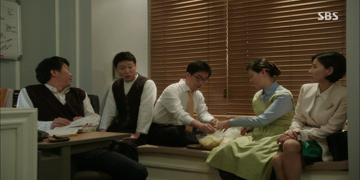 The staffs are amazed with Yeon Hee's ability to lift him up in the front yet hold him back behind. She's sweet to her husband in front of everyone but treats him coldly once they're on their own. It's the hefty price she must pay to protect their marriage. She must acts very smart to live with Jung Ho. Many people are envious with their perfect life, not understand their hard labor to maintain this "perfect" life and marriage.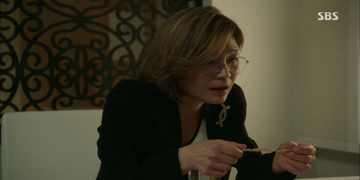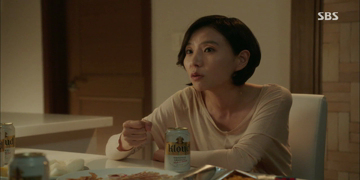 Talking behind their bosses' back, Secretary Yang & Secretary Lee are gossiping about Yeon Hee's order. She instructed Secretary Yang to give Jung Ho the warning at the club earlier. Men like Jung Ho willingly to be the women's servant because of the expectations they bestowed to the men. She wants to uphold her husband's authority yet she wants to control him. She needs to stomp that authority.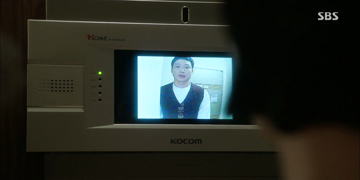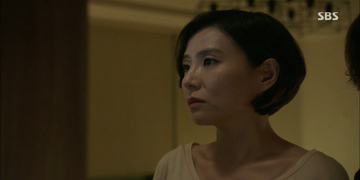 Their gossip is interrupted by Kyung Tae who talks through the intercom because Secretary Lee doesn't want to open the door. He admits he wanted to imitate Han Jung Ho but he'll try to become a good man with firm determination. She's touched with his confession while Secretary Yang can't help but laughing believing it's all men's absurd talk. Secretary Lee slaps her cheek twice to wake up from the dream.
Secretary Min sent the evidence to the young couple, believing it'll be their opportunity to take responsibility faster than the others. Although Bom wants to review the documents more and there're lots of things they have yet to know, In Sang prefer to talk to his dad alone because it's his dad and his problem. She quickly sends a text to Teacher Kyung Tae because they're not 100% prepared.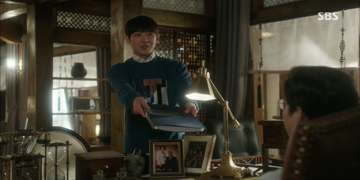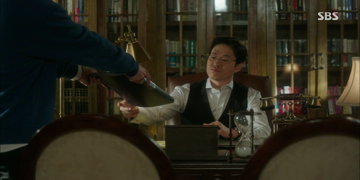 In Sang shows the evidence to his dad. It's an old case, was resolved in Supreme Court but it's still an ongoing case. Bom tries to intervene but In Sang is adamant to hear the answer today. About the accident happened while Hansong was representing the company when a lot of people got injured. They were let go right after the accident so it's clear they got the accident while still employed by the company. But it's strange the date was changed to the date after the accident.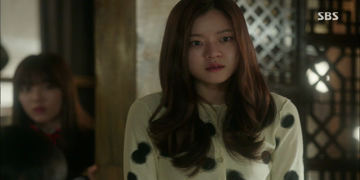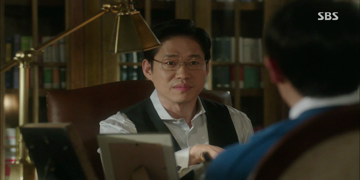 Jung Ho has a great memory so he should remember this accident. He's utterly confused what this case has anything to do with their study? Bom explains they were memorizing the precedents and came up with this question. Yi Ji overhears their arguments.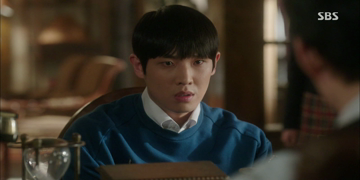 Hansong was this company's legal counsel and they haven't met serious patients or those who became disabled after the accident. Because Hansong never represented labor's side, they don't understand. But it'll be nice for him to look at them personally, at least once while making money easily.
Knowing it'll go into a mess, Yeon Hee pulls them away from the authority man who declines emotional posing of problems. She doesn't want the young couple to go up against Jung Ho. Bom explains she doesn't want to go up against him, but In Sang cut her saying they are, in fact, they should.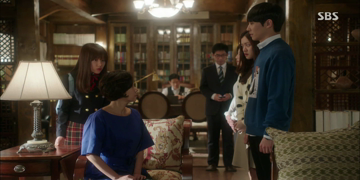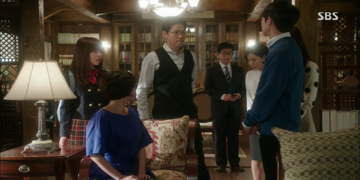 Jung Ho tries to punch his son, but he quickly ducks down before grabbing his wife's hand to escape. Maid Jung and Butler Park as usual help the young couple to run.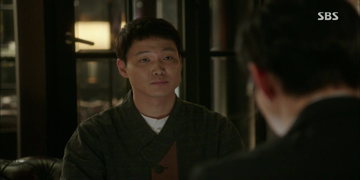 He angrily confronts Teacher Kyung Tae who failed to teach them a clear world view because they're now fallen into delusion and are doing useless things. Risking his own job, Kyung Tae boldly explains Han's new generation (Han In Sang & Seo Bom) have to make their era with their own hands. Jung Ho took over the legal market with exceedingly Korean know-how and the networks he inherited from his father, but all these will become useless and obsolete. If he wants In Sang to crawl into the foul smelling network of those in their sixties and seventies after he becomes a lawyer, he's willing to step back although he feels pity towards them. But what can they do? They're not his son nor his daughter-in-law.

Meanwhile, Bom is angry In Sang turned his mother into an enemy when they really need her & her power. It's almost impossible now for her to take their side. In Sang is wondering why his mom is so happy living as his dad's wife. It makes his dad became arrogant & doesn't know his place.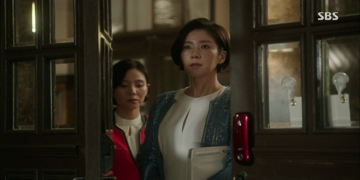 They turn over and gasp to see Yeon Hee standing there. She heard everything.
Comments
This week's episodes show how imperfect Han's household is. To maintain their dignity, reputation & normalcy, they work extra hard behind the scenes. It's suffocating that's why Young Ra's teasing worked well on Jung Ho. It's great he has many loyal people by his side who not only give him a warning but also keeping his secrets out of public consumption. Glad Young Ra finally put an end of this nonsense affair, it went too far. I'm annoyed with Jung Ho's arrogance, he needs a good one or two slaps so he can wake up from the "perfect" world he built for himself.
Yeon Hee is awesome for trying to keep the normalcy at home, ensuring everyone still respect her husband who holds the authority while putting a brave face to "cover up" her husband's dirty laundry. It'll be a huge mess if the staffs start disrespecting Attorney Han because it'll be the start of their downfall. The staffs know most of their secrets, they can easily betray their bosses. I don't think she has fully forgiven her husband, but she has stepped up to show her authority, she's not the weak Yeon Hee anymore.
Bom's greed of power is understandable. She wasn't born wealthy like In Sang and had quite a tough life before she met In Sang's family. Once she tasted the delicious taste of "power", she won't give it up even though she's fighting against the tiger. I put my trust in the writer & believe she'll use this power to help the underprivileged. Though there's a possibility once she controls the tiger, she'll be more dangerous & sly than Attorney Han & Yeon Hee. But as Teacher Kyung Tae bluntly told Jung Ho, the new generation must create their own path to succeed. They can't simply follow the old ways, the rotten ways, but with their knowledge & power, they can change the current methodology & ways to create a better world.
Though his character development moved at a snail pace, In Sang impressed me the most this episode. He's still naive and doesn't understand how scary the world is, but his sensitivity & naiveness is refreshing. I love how he makes himself home at his in-laws' place and really enjoys sleeping on the floor (even cheekily initiated… :D) And how crushed he was after finding out about his dad's cruelty and affair unlike his mother who couldn't show her emotions to "protect" her husband's reputation. Then how brave he was to challenge his own father albeit he doesn't have a strong backup nor evidence. He held it out since he's 12 years old, witnessing all his father's rotten ways in front of his eyes yet he didn't have any courage to confront him. He finally stepped up as a good son who couldn't fathom his dad's behavior yet wanted to steer him back to the right direction. It's not too late for Jung Ho to repent, fix his past mistakes and be a great Attorney who help the powerless. I think that's what Secretary Min and Uncle Chul Shik are trying to do. They know the young couple can't fight against power giant Hansong but they can gradually change Jung Ho's heart and mind. Though I'm still disappointed Secretary Min is using them as her pawn, they're just kids who don't need to get themselves involved in adults' business (like what In Sang said).