Heard It Through The Grapevine Episode 2 Brief Recap
February 25, 2015
|
Recap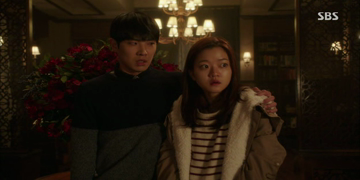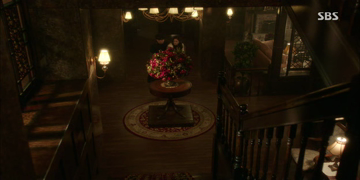 Apparently In Sang didn't tell Seo Bom that his family is very rich. He tried to impress her by lying that he's a scholarship student & was too crazy (in love) to sleep with her that he forgot to tell this important fact. They enter his huge house, the atmosphere is eerie. In Sang is very nervous after finding out his parents are still awake. Seo Bom calms him down.
The moment of truth! They politely greet his very shocked parents. In Sang then introduces his girlfriend and his fruit of love as he points out Seo Bom's pregnant belly. He explains that it's natural for two people who love each other to have a child… before he corrects himself… people have a child after they get married. But the truth is he really likes her so he slept with her once (yes it's crazy, but at least he's telling them the truth). It happened after they decided to focus on their college admission exams. Like many young couple, it was really hard to say goodbye and they couldn't hold back.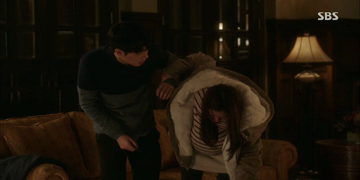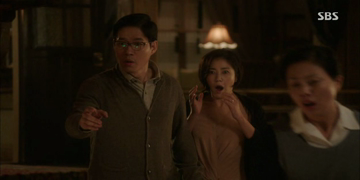 Before they can explain in more details, Seo Bom is writhing in pain. She's in labor!
Yeon Hee is still trying to digest what just happened. Didn't realize she lost her talisman. She wears earplugs to block Seo Bom's screams while Jung Ho turns on his favorite classical music (very loudly). The ambulance officers arrive so Jung Ho lies that nobody is giving birth here then he politely asks them to leave.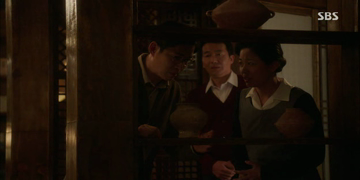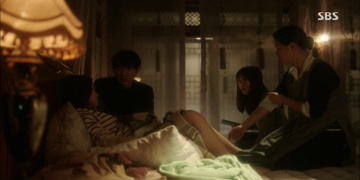 Yi Ji, In Sang's sister guides Seo Bom by reading the instructions about home birth from the net. In Sang promises to stay by her side.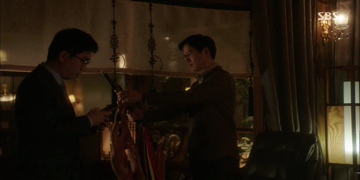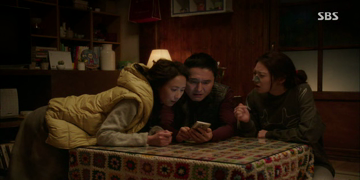 While Jung Ho is looking for any info about Seo Bom's family, Seo Hyung Sik calls In Sang's mobile phone. Obviously he can't take the call now, so on behalf of him, Jung Ho sends a very polite text message saying that Seo Bom is asleep now and his parents didn't allow him to wake her up. Seo family is relieved. From the way the words were worded, look like they treat her well.
But Hyung Sik is unhappy he ignored his call and sent a text message instead. Moreover, his parents have yet to call.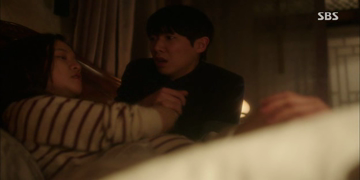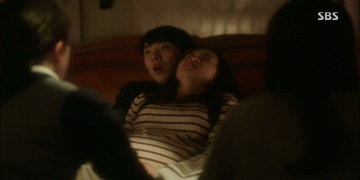 Meanwhile, Seo Bom takes control over her labor. Her back is hurt so she asks In Sang to hug her from behind to ease her back pain. She asks In Sang to help her with her breathing while her contractions are now 3 minutes apart.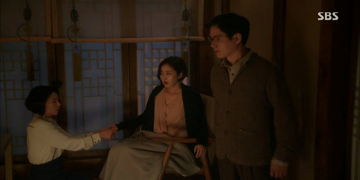 Choi Yeon Hee is furious Seo Bom is giving birth in her bedroom. Why can't they take her to hospital? Her husband advises her it's the best thing they can do now. They need to accept this reality. Yeon Hee is freaked out because never in her wildest dream she imagined her son would meet a woman like Seo Bom. She's not sure the baby is In Sang's baby. But Jung Ho prefer to be cautious, if the baby is his grandchild, they have to take extra precaution. At the moment, Seo Bom is in labor, so he only wants to help her to give birth safely, legally & ethically. Because he knows the truth will be revealed sooner or later.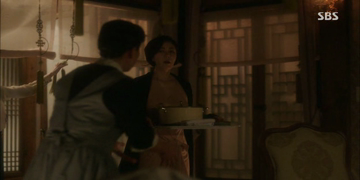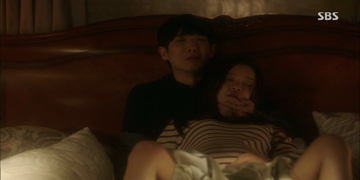 In Sang is panicked Seo Bom is sleeping but his sister assures him it's okay for her to rest for a minute or two. Yeon Hee brought the sterilized scissors, tongs, towels. She wishes Seo Bom has easy delivery, a kind gesture In Sang really appreciates. Seo Bom starts pushing as very shocked Yeon Hee quietly leaves the room.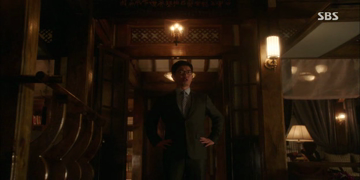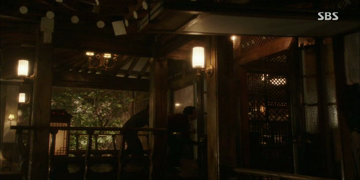 Jung Ho decides to keep In Sang's phone and to block everything. He orders his assistants to be extra cautious with communication security so they close all doors & windows.
A few moments later, they hear the baby's first cry! Welcome to the world, sweetheart. Yi Ji screams out it's a boy!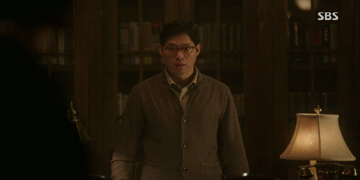 Their reactions are priceless. Disbelief and shocked.
In Sang is overjoyed and proud of Seo Bom who endured & did incredibly well. She tells him she studied about childbirth instead of preparing for her college exam, so of course she did well 😀
The family doctor are checking Seo Bom, Yeon Hee and the baby to ensure they're doing well. Don't worry, their secret is safe with him. Jung Ho asks him to do a paternity test.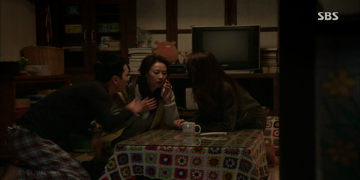 Because Seo Bom really wants to see her mom, they call her family straight away. She assures them his family is really nice and they put her in a nice room. In Sang was with her the whole time. She apologizes for hurting her mom. After going through painful labor herself, she realized her mom must've been in so much pain when she gave birth to her. She's grateful yet sorry for her.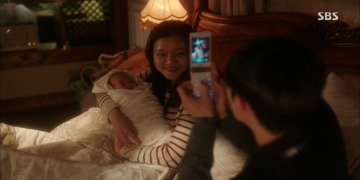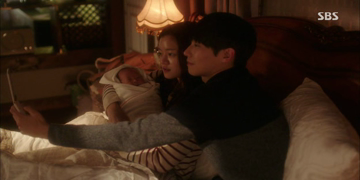 Jin Ae thanks In Sang and asks him to send her grandson's pictures. He takes few pictures of his baby, Seo Bom and their first pictures as a family of three using his housemaid's phone.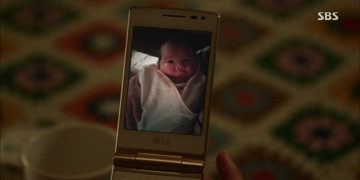 Awww everyone's crying. The baby is so cute. Seo Bom had a really hard time emotionally and physically, especially because her dad was embarrassed with her pregnancy. In this uncivilized society, a high school student gets pregnant is nothing to be bragged. But now he's also crying tears of joy.
The new parents realize now it's not the right time for their families to meet. But that time will come…  For now, they must keep this secret. The housemaid deleted the pictures after Seo's family received them. Meanwhile, Jin Ae saved that number as her in-law's number.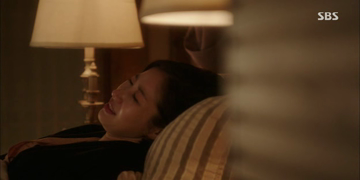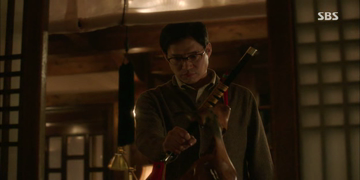 Yeon Hee's world crumbles down, her grandson arrives (much) sooner than she expected. Jung Ho smashes things with his sword.
The next morning, Jung Ho and Yeon Hee hurriedly create plans for their son, Seo Bom and their baby. They warn Yi Ji, their housemaids & assistants to keep this secret.
Meanwhile, Jung Ho is thinking the best case scenario. "Separate & control, divide and rule" – In Sang and Seo Bom. Seo Bom and the baby. Seo Bom and her parents. They also need to find the best nanny soon. Until the paternity test result comes out, they are responsible keeping her safe & protecting her with utmost care. What are their plans?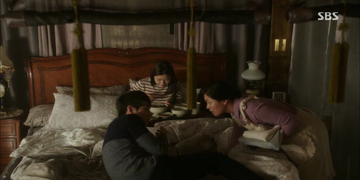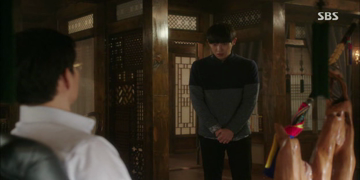 The housemaid wakes In Sang up because his father wants to see him. Anxiously he meets with his father who asks if it was tough. He assures him that he trusts his son because he's the grandfather's grandchild and he is his son. The housemaid will take a good care of his baby, so he can go to school now. Don't worry, In Sang.
He quietly kisses his baby son because he doesn't want to wake Seo Bom, then he kisses her. Seo Bom realizes his parents doesn't like her because they haven't seen the baby. In Sang assures her she'll be fine because she has him.
In Sang and Yi Ji go to school as if nothing happened last night. Yeo Hee tries to separate Seo Bom with her baby, only to receive strong objection from the housemaid. She wants Seo Bom to stay in In Sang's study room while the baby stays in the guest room.
Jung Ho's secretary doesn't want to give In Sang his phone back, pretending he couldn't find his phone.
Jung Ho's team member Attorney Yoo Shin Young is currently pregnant and she's having a hard time finding a replacement nanny who she's already reserved. So she's going to apply for a maternity leave after the hearing finishes. Without thinking further, Jung Ho proposes to send the tax law team to her house. The secretaries are curious if Jung Ho's family "stole" Shin Young's nanny reservation.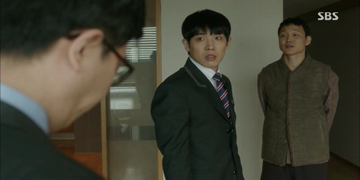 In Sang starts his first day with the best trainer to help him acing the law civil exam. His teaching method is unique as he believes in power of cramming. From now on, In Sang will live here (what??). The trainer assures him it will be okay, just think he left his wife and child in a temple. Easy, right? Of course not!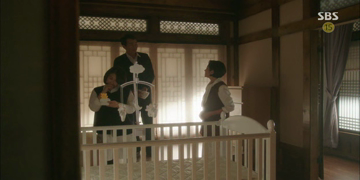 The professional nanny is here. She meticulously prepared the nursery room. It's time for her to take care the baby and for Seo Bom to go to her room (alone).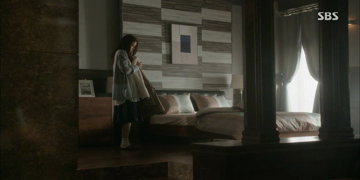 The nanny praises the healthy strong baby boy who was well taken care in the womb by his mom. But he's not eating well now. She suggests Yeon Hee to let his mom to breastfeed him.
Seo Bom wants to see her baby but she can't get out of her room because the maids are everywhere. Meanwhile, Mrs Hong is here with pictures of beautiful young girls for Yeon Hee to pick (not now, but after In Sang enters college / finishes his college).
Suddenly, the baby cries. She tries to distract Mrs Choi attention as she lies that it's the neighborhood's cat.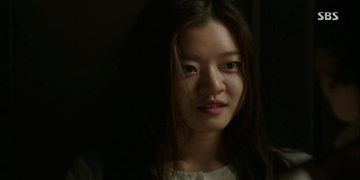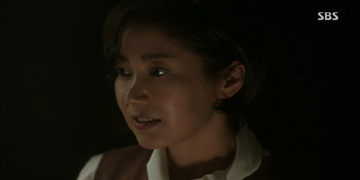 Seo Bom heard her baby's crying so she's going to see him. But before she can go to his room, Yeon Hee is here. She explains that an experienced nanny is looking after him and her experience is more important than what Seo Bom has learned during prenatal classes. Seo Bom boldly asks if she's currently punishing her because of her mistake. She assures her it's not the case. They have no prejudice. She's relieved but she begs her to let her be a proper mom & take care her own baby who she made with In Sang.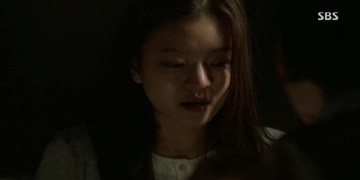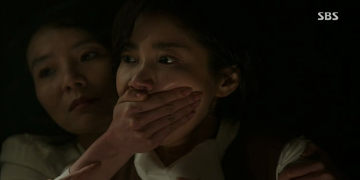 Abruptly Yeon Hee changes her tone, furiously blaming her for butting in this place and bringing shame to his family. Yeon Hee's assistant covers her mouth because everyone could hear her. Seo Bom calmly tells her she'll get over the shame which makes her erupts in anger!
Brief Comment
Bravo for a bold strong heroine, Seo Bom is more than ready to stand up against In Sang's family. She holds the key which will destroy this family's upright reputation & dignity so Jung Ho and Yeon Hee must be extra careful. Jung Ho knows it but his emotional wife doesn't realize it yet. It's suffocating for her to live with the young woman who (according) to her brought shame to her family after every perfect plan she set up for In Sang. But what else can she do now except accepting the reality and waiting for the paternity test result? Although deep down she knows this baby is her grandson because In Sang didn't deny it.
In Sang and Seo Bom's love is being tested this episode and they aced it! Young love is so pure and sweet. The childbirth scene was long but very realistic thanks to Lee Joon and Go Ah Sung's brilliant acting. I feel like I was watching a childbirth documentary! In Sang was so nervous and worried for Seo Bom who did her best to give birth to their cute baby boy.
Seo Bom's family is amazing! They understand Seo Bom had a really hard time yet they still support her wholeheartedly. I was really moved when they cried with her after they saw her baby's first picture. They set aside their anger to thank In Sang who stayed by Seo Bom's side. Unlike In Sang's family who don't even visit her & her baby son although they live in the same house. I understand their reaction though, they had a really rough night. But at least they can congratulate her. It's humane, right?
Sigh, I knew it's coming but I didn't expect them to separate this young family so quickly. But I trust In Sang and Seo Bom. Their pure love will conquer the obstacles and rocky roads ahead of them. Together, they'll fight for their young family so they can be together with their precious son.