Heard It Through The Grapevine Episode 26 Brief Recap

After losing the battle with his daughter-in-law, Jung Ho lashes out to his secretary who couldn't settle the matter with money. She lectures him about a flowering plant privet ~ beautiful flowers which have intoxicated exotic scent before stressing out his anger was caused by his high expectation to meet people who'd do whatever he wanted. Bom is different with them, although she's smart but she couldn't have a good education & grew up in unrefined family hence she has no sense of virtue. Secretary Yang scolds him over this vulgar remark – it won't do him any good if he makes statement like this during the divorce proceeding. He'll lose Jin Young's custody! There're lots of judges who aren't fond of Hansong & they aren't afraid of Attorney Han either. He must know the world is changing now.

Yeon Hee & her friends believe Bom will lose the custody because she is not financially capable to raise him up and what In Sang wants is not vital. They suggest the sooner he gets a new woman, the better. Most importantly, she must loves In Sang. Who's the best candidate? Young Ra can only smiles, it's her daughter 😀

Bom's dad and uncle don't understand that they really need to fight on principle, not simply accepting the money & give up. It's Attorney Han's sly strategy to keep their mouth shut and take Jin Young from Bom. Knowing the harsh reality, Hyung Sik asks how will his high school dropout single mother daughter will make a living? Doesn't she know how important money is?
She knows, dad. But she's disappointed her father acts like In Sang's father with a huge difference that he's poor while her FIL is rich. He realizes he just imitated Jung Ho, he might be cold but it's what a parents should do. His brother replies despite his financial condition, don't justify his thoughtlessness as a parental love. Bom recalls what her FIL said about her family – that they don't know how to take any opportunity even if if he put it in front of them. It's the reason why they never get out of poverty.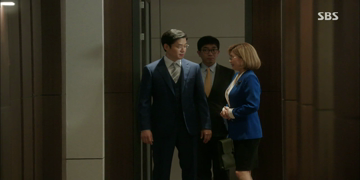 At home, In Sang screams out to his mom for letting him taking care his marriage trouble alone. He's angry after finding out his dad came to Bom's house and he's been avoiding his call. Jung Ho can't handle his son's issue himself however he refuses to seek professional help because it involves his own son. No matter how hard Secretary Yang persuades him, his anger hasn't subsided. She then warns Secretary Lee that Han Trust's overseas investment can be in trouble if they aren't careful. It's best to give up her hopes.

But there's still hope! Hyun Soo once told In Sang about the overseas account and the properties illegally acquired were related to this account. Although they don't have access to secret information like Secretary Yang, but Hyun Soo's information can become an important evidence.

In Sang is currently being lectured by his mom who doesn't understand his father went to Bom's house for his sake. He doesn't care, he only wants to know why he broke his promise. He knows Bom better than them so don't do anything without discussing it with him! Please trust them. Moreover, why did he hurt Bom's family although he doesn't have any problem with them. Yeon Hee jabs his heart deeper when she says a luxurious car doesn't hurt the poor! He knows this conversation is going nowhere so he leaves. Jung Ho doesn't want to get intimated by his own children hence he barely said anything. Only to Yi Ji In Sang admits both him and Bom are foolish because it's meaningless to fight against people like his parents. Yi Ji doesn't believe so, they should be able to express their opinion clearly to them.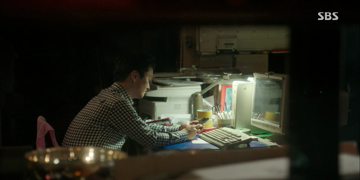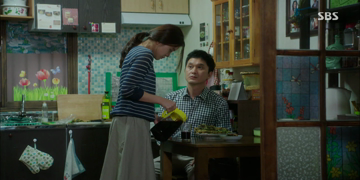 Both Hyung Sik and Bom feel bad for hurting each other's feeling. Hyung Sik contemplates to tell something to his brother but he holds back while Bom made pancake for her dad as she apologizes for being mean to him earlier. He then advises his exhausted daughter to sleep, they'll take care Jin Young tonight.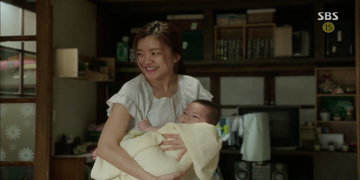 It's a very hectic morning at Seo's household. Noo Ri and Hyung Sik had to go to the nearest public bathhouse because of cutie baby Jin Young. It's true it takes a whole army to raise up a baby.

Yoon Je Hoon submitted his resignation to the HR then he bravely tells his boss himself. The reason: he wants to lodge a lawsuit against Supernova Operation company and their major investors! What about his father's job? He's aware about the risk but his father understood his intention. Of course he's also aware about his very small chance of winning this case because he only intended to start a conversation. Jung Ho approves his resignation and wishes him well. He'll work at his friend's place before he moves to Attorney Yoo's officetel as soon as it's ready. He left when the secretaries were out of the office.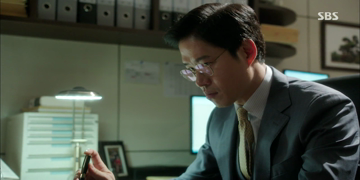 One of his best employee's resignation reminds Attorney Han of Secretary Yang's warning about the world is changing and people aren't afraid of him. She also warns him to have sense of crisis because his crisis is her crisis. But he's annoyed with all her nagging, moreover, it looks like she's hiding something from him. Confess it now before it's too late! Though he follows her advice, delegating In Sang's divorce case to Attorney Yoo. He has a hidden agenda, he wants to see how trusted his loyal attorney is.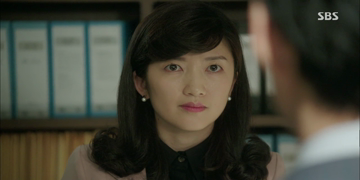 Secretary Min is up next. He starts by explaining how grateful he is to have her because she took the dirtiest works who nobody wanted to do. But has she ever felt bad about the informants? It's a mutual relationship according to her. People who feel sorry for each other will help each other. She didn't use them, she helped them financially using the investigation expenses she received from Hansong. She never dealt with government informants directly though.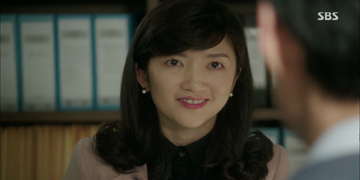 Jung Ho is satisfied with her answers. He then gives her what can possibly be her last assignment: find all information Je Hoon received whilst working at Hansong and people who received information from him. She refuses this assignment because she worked with him on Daesan case. When he brings up salary increase, she boldly threatens to resign. She can survive because she has lots of information (secret info) about this place. His smile quickly disappears. Secretary Yang advises her to think about their next move very carefully, think of a much bigger picture!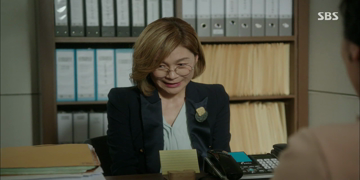 Attorney Yoo is a capable divorce lawyer but the only advantage In Sang has over his wife is only his economic power. She is aware this is Attorney Han's test (to fire her) so she'll follow his order by emphasizing his higher social and cultural status as well.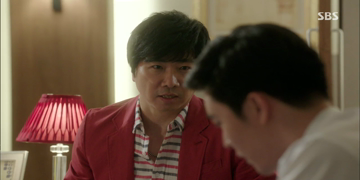 The friend's office Je Hoon wants to use is none other than Song Jae Won's place. He refuses to lend his place because he's never on Je Hoon's side. Moreover, he's not afraid when he warns his illegal investment club is on the chopping block when Hansong decides to cut off it's tail (which can happen soon). Yeon Hee, Hansong CEO's wife is a core investor! But Je Hoon bets she'll be out very soon.

Young Ra has been working hard to "help" her daughter winning In Sang's heart. She encouraged her to comfort In Sang who's having marriage trouble then she invited a shaman to "analyze" her daughter. According to the shaman, she has a great face and is mentally strong. But she doesn't say what else she saw from her.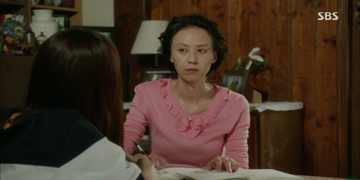 Meanwhile, Bom is having a tough time deciding the best yet cheapest formula for his son because it's too expensive for her budget. It's not easy to change his formula straight away so mom advises to change his diaper instead. She's already got a part-time job so it'll help a bit. Bom also plans to work in a nearby convenience store at night (night shift = more $) so she still can study during the day. About her civil exam, she doesn't know if she still wants to keep studying for it.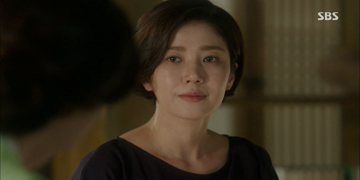 The shaman bluntly tells Yeon Hee there's a woman waiting for her son. She is perfect because she's a modern woman & is devoted for him. Without giving away the young girl's family background, she gives three names which made it to her list. One of them is someone she may knows. Yeon Hee instantly knows who she is. Min Jae and Hyun Soo were deceived by their parents to come to the investment club because of Yeon Hee. The kids are very sharp so they quickly excuse themselves when she arrives.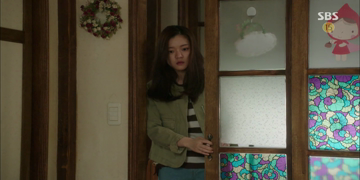 Jin Ae couldn't ask In Sang to leave after he stopped by to play with his son. Not wanting to see him yet can't ask him to leave either, Bom tries to close the bedroom's door after she saw him sleeping in her room but because of squeaky door noise, he wakes up. They both kiss and hug each other. He then goes home alone with a very heavy heart. Bom tries to hold back her tears.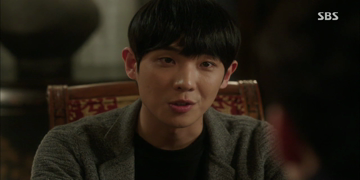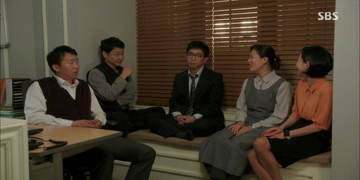 Knowing Bom still loves him, he'll fight for their marriage. He can't and won't let go of her however he can't imagine both of them living poorly. He's too scared to think of the possibility they'll live like her parents. Hence, he needs to make a strategy… The staffs are relieved and proud knowing about his smart plan! He made sure Bom really loves him so he could take this courage. Because he doesn't know how his parents will react, he couldn't tell Bom his plan.
He must acts fast though because his father has already asked experienced divorce lawyer to handle his divorce case and Jin Young's custody. Note that Jung Ho doesn't care about In Sang's will and rights. To make things worse, In Sang won't win against his father. The staffs decide to tell In Sang about his father's move.

Yi Ji wants to run away from home as far as she can, studying abroad will be awesome. Secretary Min suggests her to follow the family's tradition by enrolling in a university in Korean then apply for an exchange program overseas but rebellious Yi Ji doesn't want it. She invites her loyal secretary to join her if her parents give their consent.
Secretary Min then joins Je Hoon and Seo's family discussing about Bom's divorce case. Je Hoon is no longer employed by Hansong so he can & want to represent Bom, however she chooses to trust In Sang who promised to do anything she wanted. They know they can trust him, but they can't trust his parents. Je Hoon is skeptical In Sang can exercise his right & will and they'll look for any reason to fight for Jin Young's custody so Bom must be careful. They'll watch over her and she should call them if she needs anything.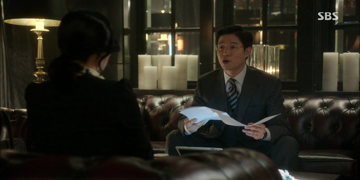 Jung Ho receives divorce settlement proposal from Attorney Yoo who brings up one case about a wife who insisted not receiving any alimony nor child support and the husband insisted of paying both. This new generation is quite strange according to Attorney Han. She's clearly surprised he respected his son's will as she tried to write a proposal favorably for Bom. After reading it, he even suggests to make it more favorable for Bom. She smiles asking if he has any hidden intentions. Of course not. If the mother wants to raise her own baby, of course he's agree.
She then changes the subject to Je Hoon, asking if he's relieved Je Hoon resigned. Reminding him that Je Hoon can represent Bom now. But Jung Ho cuts her off by redirecting their conversation back to the divorce case. Bringing up economic power as the decisive criterion in child custody case.

As a woman, clearly Attorney Yoo wants a fresh change about childcare's views and custody battle. It makes him think his family's views about custody & childcare are problematic. Well, yes it is! She bluntly wants Bom to win the custody. If he's not happy with her perspective, he can find another lawyer & throw her proposal. Knowing she's on the list for salary cuts, she's preparing herself to get kicked out from Hansong. He warns her to comply with Hansong's terms and conditions after she resigns but she can't guarantee about all information and rumors out there. They finally agree she'll leave at the end of the month. After she left, he crumples the divorce settlement proposal.
Brief Comments
Attorney Han Jung Ho may have the upper hand in financial power but this week's episodes taught him very important lessons: not everyone in this world will do anything he asks and there're many people who aren't afraid of him & his power. Two of his best employees handed out their resignations because of clashing goals and perspectives. His loyal secretary is not easily replaceable albeit she continuously betrayed her own boss. His two children disobeyed him, his eldest brilliantly made a strategic plan to give a better life for his family while his youngest kept ignoring him & wanted to run away. He must adapt to this new generation before he loses everything. Bom's parents realized this important fact, they also trust Bom (who knows her husband way better than anyone else) & the younger generation who're smarter than them. Somehow I think by instinct Bom sensed In Sang's agenda so she gave him a chance and waited for him.
In Sang may be young but he's mature enough to make his own decision, especially if it's about his life, his family, his marriage. He made mistakes, yes he did but it taught him to be a better man. The world is changing, the future generations must be smarter than their older generations. If his parents keep "babysitting" him and can't trust him, how can he grow up into a man who can take over Hansong and shape it into a better company? It's obvious Jung Ho still lives in older generation's era and refuses to accept the new era. Please open your eyes, Jung Ho! Moreover, by trying to matchmaking him with Hyun Soo, Yeon Hee will drag this divorce case to worse case scenario. The judge may think he already has another woman (aka cheating) while his divorce case is still ongoing, hence, it'll impact the possibility of him winning the case plus the custody battle.
Still confused over In Sang's plan. Will he go through with his divorce so he can get a small percentage of the inheritance although Bom will most likely disagree with his method or will he reconcile with Bom and find a way to make a living for his family without his parents' help? I prefer the latter but we'll see what'll happen next.