Heard It Through The Grapevine Episode 28 Brief Recap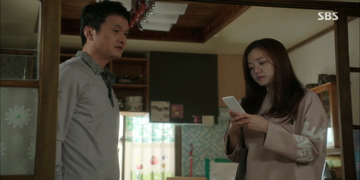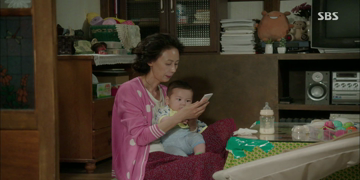 In desperation, In Sang texted Bom's mother begging her to kick out her daughter & her grandson. But of course she can't kick her own child. Are you crazy In Sang? Even your parents couldn't kick you out. He totally loses his mind because everything went terribly wrong.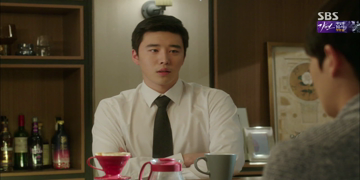 Although he never bragged about his wealth but his existence alone shows how wealthy he is. He has to choose either money or his love. If you love me then you have to sacrifice for me doesn't make any sense especially in In Sang's situation because even his parents ignored his wife. Je Hoon challenges him to survive with only $2000 per month if he wants to become a successful Han Jung Ho's successor.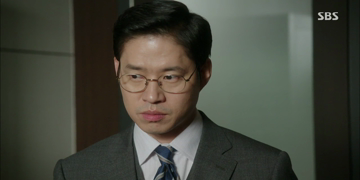 Secretary Min is willing to negotiate with Attorney Han if he needs more insider secret information. She'll use him until the end! Secretary Yang reminds her she'll lose if she's stubbornly fighting like this. Well, it's too late now. She's going all in. Meanwhile, Jung Ho is facing another crisis. Baek Dae Hyun rejects the candidate he chose, requests to select a specific candidate because of rumors Hansong paid people off for the Supernova's case.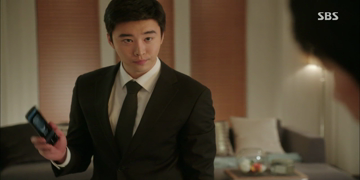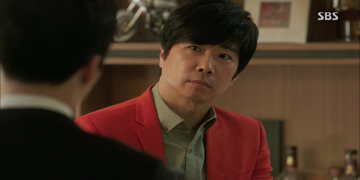 Jae Won still refuses to share the investment information he got from Yeon Hee although Je Hoon keeps giving him a chance & promises to delete their conversation he recorded few days ago. It's his last day at Jae Won's place because starting from today, he'll be based in Attorney Yoo's officetel. He believes there's always a flaw regardless how thorough he and Secretary Yang are. After watching how broken Secretary Min's mother was, they realize the most important thing is not trying to hold on but having someone who'll fight with them together. Many people think they're alone hence they give up when they're too exhausted to continue fighting for justice.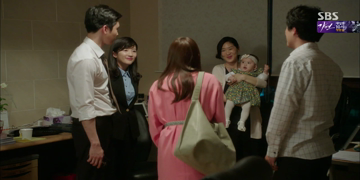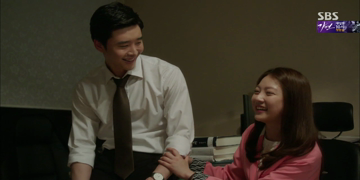 Noo Ri surprises Je Hoon at his new office. Because she's very picky with men (need to be financially stable) so she still feels conflicted about Je Hoon's new job as public defender with a salary of around $2000/month, much less than his Hansong's salary. But his height & look win her over 🙂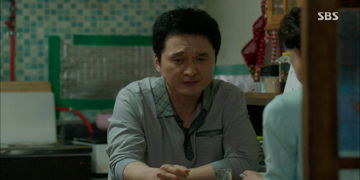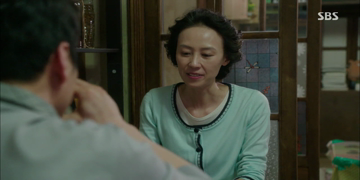 After thinking about the offer over and over again, Hyung Sik still can't make any decision. If they take the money then they will tie them up legally & take Jin Young away from them. But if they don't, realistically it'll be hard to raise Jin Young. He is aware Secretary Yang is very persistent & persuasive so he must decide soon. If only In Sang didn't chase Bom again after she got pregnant or In Sang's family is (financially) like Seo's family, things would've been easier. Noo Ri can only cries eavesdropping her parents' conversation.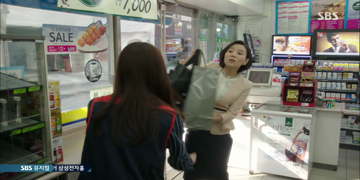 Jin Young's toys and stuffs are useless in Han's house so Yeon Hee sent Secretary Lee to bring them to Bom. She's surprised to see Secretary Lee visiting the store she works, refuses to be called young Madam anymore. She thought by calling her young Madam, Bom would've missed Han's household but clearly she has moved on. She can't help but to cry when she holds her young Madam's hand telling her to take a good care of herself. Bom initially thought In Sang sent her but he didn't & wouldn't use that kind of trick to win her heart.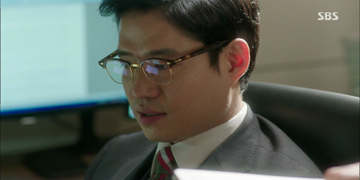 Finally the divorce court hearing date has been set. Je Hoon and Attorney Yoo insist to represent Bom who prefer to want to speak on her own. It's so annoying to hear Jung Ho mocking Bom's poor parents who'll never win with their children after Secretary Yang failed to entice them with money. Min Joo Hwan's duress case has also been settled nicely thanks to Jung Ho who took a good care of local judges & prosecutors in the past. Apparently they haven't forgotten his kindness. Next on their agenda is Song Jae Won's investment club corruption. Jung Ho can't directly advise them what's going to happen but if they can ask Baek Dae Hyun to give him a hint about the candidate of the incoming Prime Minister, he will realize his father's position is in danger and so does he. Because of these important ongoing matters that need to be resolved soon, he postpones another thing on his agenda: Han Trust. Suddenly Secretary Yang becomes nervous but maintains her composure citing this is just a minor matter as if it's just a nail. What a cool metaphor.
Hopefully Jung Ho won't see his daughter buying and serving food to his Secretary, he'll faint! 😀 It's PPL time 🙂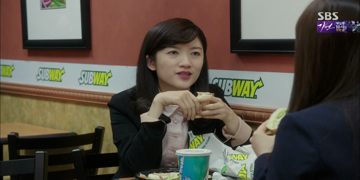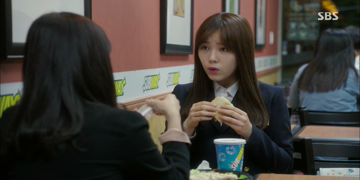 Secretary Min advises Yi Ji to proceed with her plan to study abroad but prepare for it in secret. She also shares about her brother's current situation in which her mother did sign the agreement on behalf of her son but they don't spend the money because Secretary Min keeps it as evidence, the opposite of Jung Ho's expectation. Yi Ji believes one of her father's weakness is thinking that everyone will do everything he wants.

The incoming PM candidate is briefed about his main jobs: create a team under direct control of PM's office to handle investment related lawsuits against government & hide rumors about Supernova. Hansong is currently making a proposal as the legal advisor. Baek Dae Hyun persuades him to spill all his dirty secrets so it can be handled properly beforehand. Obviously Attorney Han is one step ahead hence things are going well (as for now).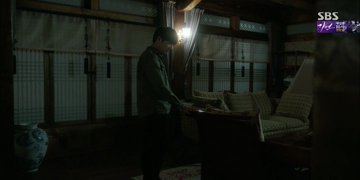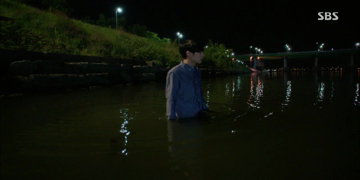 Jung Ho set a strict condition that if In Sang wants to be Hansong's heir, he should refrain himself from sentimental sympathy. After walking soullessly in his dark big house, In Sang writes a letter then he goes to the river. He can only smiles thinking about that night when he could only dip his feet there, while heavily pregnant Bom bravely entered the water alone. He was scared and cold but he chasing her in the river because he cared for Bom and his baby. Without realizing, he slowly steps into the water!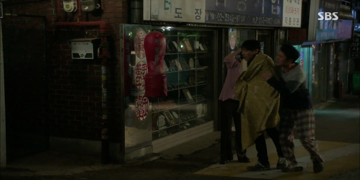 Suddenly he stumbles and almost drowns. Panicked, he quickly swims back. Thankfully two locals help him. After getting a phone call, worried Bom ran home to prepare a warm bath while Bom's parents hurriedly give him a warm blanket and take him to their home. In Sang has nowhere else to go, he's here empty handed because Bom told him to come. His sincerity melts Bom's heart, she hugs her husband.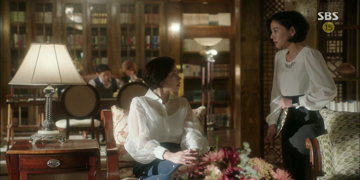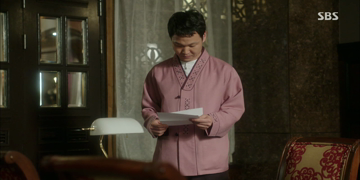 The next morning, Secretary Lee who knows In Sang is missing can't hide her nervousness in front of Yeon Hee. Teacher Kyung Tae read In Sang's letter that he typed last night. He made his decision to follow his heart, to stand on his own feet although he may become a burden to Bom and her family. No more judging his father nor following the life his parents have planned for him, he doesn't want to miss the chance. He may hurt Bom again, she will not always be happy but by living together they'll experience things together. Through his letter, he asks his Teacher to pass on his apology to his parents as he promises he will not be a failure.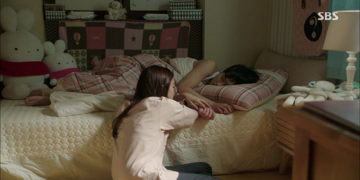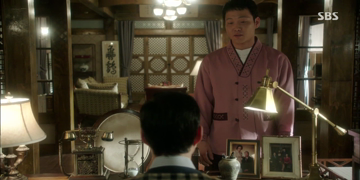 Teacher Kyung Tae breached his contract by respecting his student's decision so today is unfortunately his last day at Han's household. Secretary Yang believes it's not a big deal (In Sang running away) but the rest of the staffs don't think so. Furious Jung Ho screams out he's kicking out In Sang!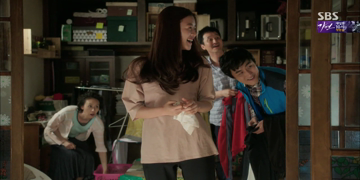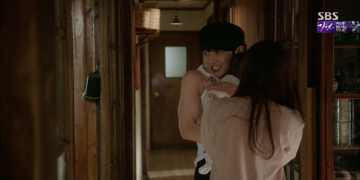 Cutie Jin Young is waking up his sleepy dad. Seo's family laugh looking at him just wearing a singlet & black pants. He came empty handed, so Chul Sik lends his clothes until he can buy his own clothes. Then the parents tell him to work so he can feed him and his family. Moreover, because he lives with her whole family in a small house, he can easily get annoyed and need to use the public bath often. Can he handle these drastic changes? He initially says he'll try before confidently promises he can.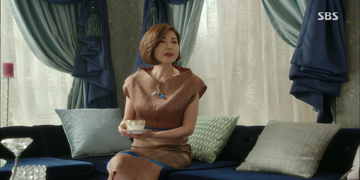 The news about In Sang running away from home has reached Young Ra and Hyun Soo. Young Ra thought her daughter provoked him but Hyun Soo wants mom to wake up from her impossible goal of protecting her assets by trying to team up with his family. Is she afraid of losing everything after her divorce is final?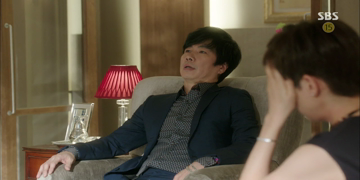 It's not the end of her crisis. Her investment in Jae Won's investment club is also in jeopardy. Thanks to Jung Ho, Jae Won won't be arrested if he leaves the country for one year. Jung Ho is wondering if there's anybody who'll sway him to stay in the country but Secretary Yang assures him that nobody can influence his own decision except Yeon Hee. It's easy then, Jung Will will take care his wife.
Now the only thing left is Han Trust. They must clean up any suspicious activity in Han Trust which makes Secretary Yang very nervous. She quickly wants to make a deal with Secretary Min.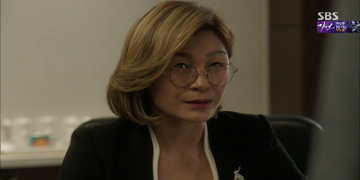 She's aware Jae Won down to all his related people will be swept clear. Attorney Yoo and Je Hoon's licenses will also be suspended. But her biggest worry is Han Trust which serves as Han family's slush funds. She wants Secretary Min to cooperate with her, hiding Han Trust's corruption in exchange of her possible imprisonment due to invasion of privacy for stalking people. She paid her informers with Hansong's investigation funds but there's no evidence. It's best for her to stop now if she still wants to use Hansong until the end. But she's not going to stop. She even invites Secretary Yang to move to her team. Secretary Yang bets who will be smiling tomorrow? Secretary Min isn't afraid!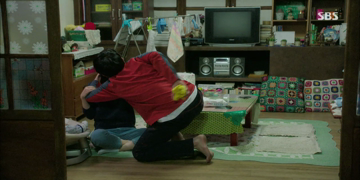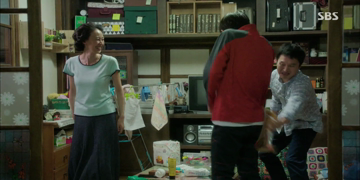 In Sang will start private tutoring next month but he plans to take Bom's job temporarily. Night and weekend shifts hourly rate is 50cent more than the normal shift. His dad has cancelled his family's credit card so extra cents per hour matters. He kisses Jin Young then Bom reassuring her he's not afraid although he's penniless now. When Bom's parents arrive home, he panics 😀 Sweet Jin Ae encourages him to keep showing his affection like he used to, but he shyly says he'll be careful. The parents can only laugh 😀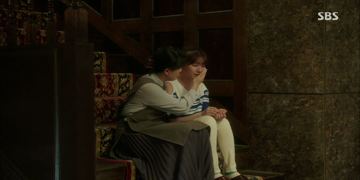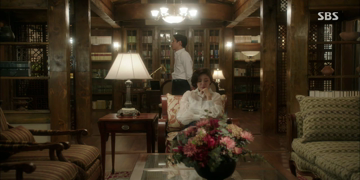 Yi Ji is upset she didn't take her chance to leave. Now it's too late. The house is eerily quiet. Even Jung Ho comments it's quiet.
Brief Comments
When In Sang stepped into the water, he left his privileged life behind and grew up into a man for his little family. Such a daring move for a chaebol son who escaped from aristocrat Han's family's expectations, burdens, pressures, money to a humble loving Seo's family where he must work hard to feed himself & his family. For someone who's never worked in his entire life, it won't be easy but his sincerity, determination and Seo's family will cheer him up & support him to achieve his dream. So proud of In Sang who knew the risks but still took a leap of faith to prove he will make them proud although he's not following the family's tradition. By cutting himself off from his family, it's possible he won't get dragged by his family's slush funds and all other crisis.
Hansong Trust, Secretary Yang, Secretary Min are so complicated but it'll wrap up really soon. Both Secretaries are very stubborn and sly, though Secretary Min frustrates me the most. I understand her mission fighting for justice but please try to put herself in her mother's position and be a good daughter for her. Be there for her, lessening her burden and reassuring her that she's not alone.
It's very easy for powerful company like Hansong with extensive amount of network to resolve difficult cases, hide rumors, cut off unneeded branch and reshuffle the government. Yet it's very scary if we look at it realistically. This drama has once again shows how scary the world is and how upright people with less power will lose against powerful people. It's like David -v- Goliath. But everyone, every company regardless how thorough and powerful they are, still have a flaw. 2 episodes left, this drama is near the end. I can't wait to see In Sang, Bom, Je Hoon and Attorney Yoo to crush Hansong with their own flaw. Most likely it's Han Trust!