Heard It Through The Grapevine Episode 30 (Final) Brief Recap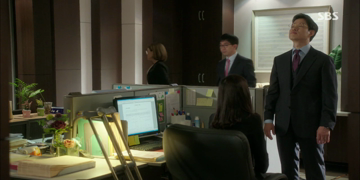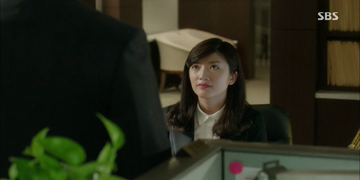 Secretary Min is officially resigned from both Hansong and Attorney Yoo & Jae Hoon's team. As the parting gift, she advises her boss to use this good opportunity to get out of the jail he built himself before warning that his son will spread his wings without his parents' shadow and won't return home.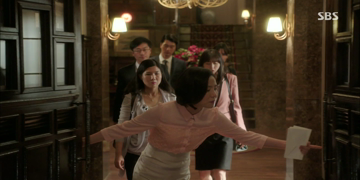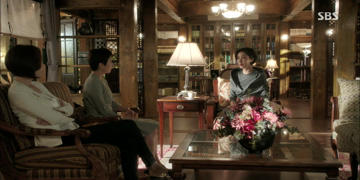 At Han's house, Secretary Lee finished interviewing her successors & Maid Jung's successors but none of them are good enough due to many reasons & rumors about their previous employment making them unsuitable to work in this house. They were given interview fee which I presume rarely happens in real life. It's clear Yeon Hee rejected them all because she doesn't want to let her current staffs go. Yeon Hee can't tell her friends the real reason In Sang moved out or was kicked out hence she explains he temporarily moves to experience middle-class life like his ancestors used to do.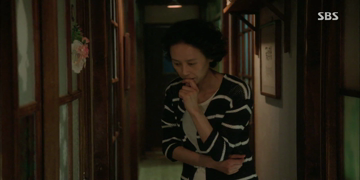 The young couple is still having a hard time deciding about their plan. In Sang is already suffering from working & going to school that he slept in and didn't go to school. He prefer Bom to study alone while he's working because all their sacrifices will be useless if both of them give up studying. Passing the bar exam was one of Bom's goal because she wanted to be accepted by his parents and it'll give her a chance to climb the society's ladder. But has their goal stayed the same? What is their goal now? Because it's already late at night (their loud voices woke Bom's parents & Jin Young) so they decide to continue discussing by texting each other.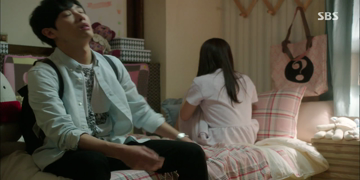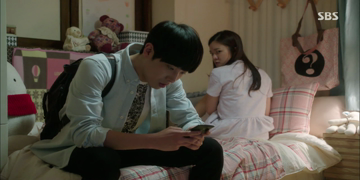 Bom doesn't have enough reason to study now and doesn't want to continue only to justify their (precisely) In Sang's hardship. He reminds her goal of wanting to pass the exam & live a different life than his parents however he forgot she didn't want to do it to show off to his parents. If it clashes with his goal, then In Sang can continue studying, pass the exam, show off to his parents and let them worship him. It's totally up to him to decide if he should go back or stay here. Fed up, he goes to work & politely greets Jin Ae and Noo Ri who were eavesdropping outside the room.
Their teacher and Secretary Lee think it'll be a waste if they stop studying, hence they brought up the subject. He's willing to support them financially as long as they have firm motives but he held back because if Attorney Han finds out his son's private tutor will provide financial support, there'll be world war 3 (・へ・)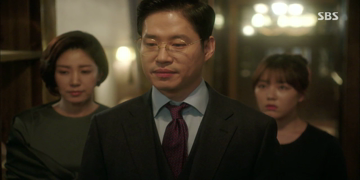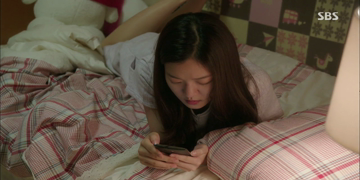 Yi Ji updates her brother about the staffs' resignation and her father's remark calling them the same type of bad apples. Because In Sang forgot to bring his phone, Bom read it before calling Yi Ji to let her know about their fight which caused by feeling sorry for each other. She promises to apologize to In Sang soon because after he left, she's been crying regretting what she said earlier.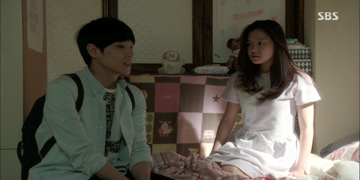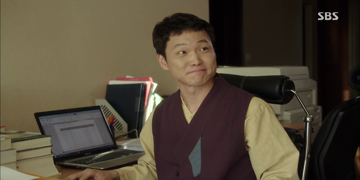 Few hours later, In Sang comes home with a heavy heart. He feels extra bad after knowing Bom slept at dawn thinking about In Sang and Park Kyung Tae. Without Bom's approval, In Sang has told their teacher that both of them will continue studying! Teacher Park is settling well in Attorney Yoo's officetel but there're two things bothering them. His work clothes & his salary. Don't worry, he'll change it to suit his client's taste (⌒▽⌒)About his salary? Don't worry he's fine with a minimum salary. Both Attorney Yoo and Je Hoon are grateful with their new team member.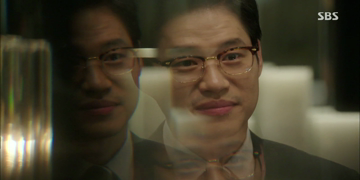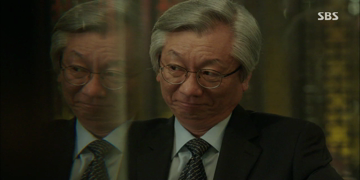 Secretary Yang suggests CSR program should be stipulated as part of the Hansong's foundation rather than division of Hansong. This program (which receive $20million from this year's budget) will give a nice boost to Advisor Baek Dae Hyun's reputation hence Attorney Han put him in charge. Advisor Baek's daughter-in-law specialized in this area hence after asking permission, Jung Ho will create a managerial position for her.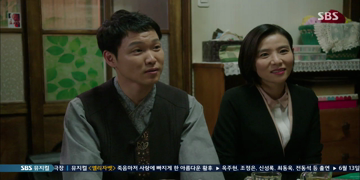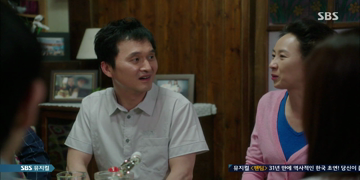 Bom's parents are bewildered Park Kyung Tae offers to teach the young couple for free and provide a place for them to live & study. Thanks to them, Kyung Tae & Secretary Lee learnt & changed a lot so they deserve this very amazing opportunity. Now they just need to tell In Sang's parents about personal scholarship they've received from Teacher Park.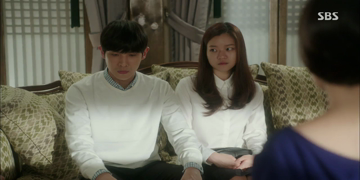 As expected, the parents are puzzled. The first question Yeon Hee asks is he rich? In Sang boldly gives up his inheritance. About the bar exam, if they fail the exam, they'll go to law school if they still want to be lawyers. If they pass with flying colors, they will not work in a place like Hansong. Awesome!
Jung Ho criticizes Kyung Tae for taking advantage of the families who paid exorbitant amount to give their children the best opportunity in life & got rich, but now his kid will use that money to pursue their goal. The young couple is determined to achieve their goal. They're not kids anymore, In Sang is no longer the heir hence he will take a different path than his father.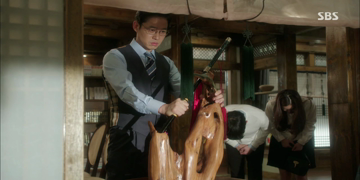 The parents both leave the living room, Jung Ho to his study room while Yeon Hee is crying in the corridor. In Sang hugs his mother letting her know she can visit them anytime if she changes her mind but she vows she won't. Jung Ho think they've been brainwashed however they didn't. They like the given stipulations hence they've accepted the challenge & made their decision. Unable to change their mind, Jung Ho uses his precious sword to smash things around his house, releasing his anger.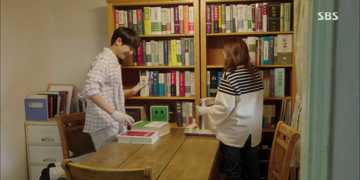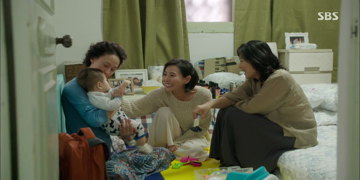 Finally the young couple move in to place provided by Teacher Kyung Tae. It's close to his place, Maid Jung & her husband's place and Bom's parents' place. They can easily go to their apartments for food or even support. Secretary Lee wants to learn looking after Jin Young (not because she's pregnant but she will hopefully soon :D) to pursue her dream of working as a nanny.
Bom and In Sang have strict study plan & schedules to catch up and they'll have mock exam in 10 days. Based on the results, they'll think of their next strategy. They still can enroll in law school if the results aren't satisfactory.

It's fun to see them eating together and enjoying their togetherness. Things are totally different in In Sang's house. Yeon Hee isn't happy with the new staffs so she wants to escape to their villa. Jung Ho's answer is simple: no, you can't. But his reply to Yi Ji who's applied for study abroad is a silent whisper just go.
Hyung Sik realizes a celebrity teacher is highly sought & lucrative that Kyung Tae could provide his kids with amazing opportunity. Things are working out so well that it feels like he's dreaming. Je Hoon once had a brawl with Teacher Park after knowing he made so much money. This job is very lucrative that even his colleagues secretly worked as private tutors. But isn't it illegal? He emphasizes it's illegal if you get caught but it's a habit if you don't get caught! He was too chicken to break the rules so he didn't do it.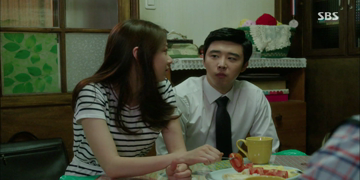 Conversation moves to his relationship. He hasn't took Noo Ri to see his parents because she's still concerned about his low salary. Chul Sik advises he'll have depressing life as Hansong slave if he stays regardless of the high salary hence it's better to live an exciting life despite his low salary. Noo Ri doesn't want to follow his exciting lifestyle but if they really care & love each other, they shouldn't care much about earnings. They beg the concerned Seo brothers to trust them & give them more time. Anyway, Hyung Sik is relieved they're still dating well.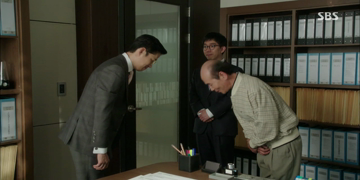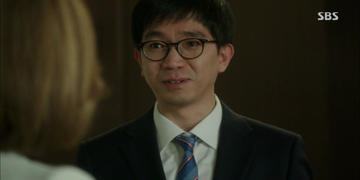 Secretary Kim's father visits his office because he couldn't contact him citing he's busy working about top secret stuff in the intelligence department. Attorney Han introduces himself as "Attorney" Kim's ex-college-mate before escorting him to meet his very talented professional son. It was a very close call but knowing how manipulative Attorney Han is, Secretary Kim knows it's time for him to tell the truth to his father & resign. Although his stupidest employee resigned but Attorney Han feels incredibly empty. He's already missing his presence. Where did Secretary Kim go? Of course Attorney Yoo & Je Hoon's team! There's always work for anyone here. People may mistake them as Hansong's branch. 😀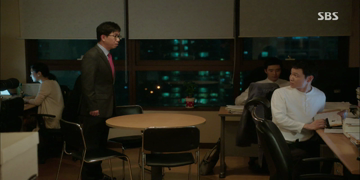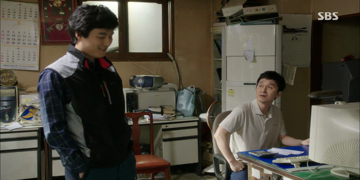 What about Secretary Min Joo Young? She returned to her hometown, leaving behind two men who adore her 😀 Fortunately one of them decide to chase her, thanks to the encouragement from his brother.
After losing his two trusted secretaries, Attorney Han cannot lose Secretary Yang. Her crime with Han Trust is huge enough so he'll use her brother as the scapegoat. It's amusing how two secretaries' brother have conflicting fates. Secretary Yang's brother is going to prison (although it's possible he'll receive suspended sentence) because of his sister while Secretary Min's brother will be cleared from false accusation. Will Secretary Yang resign and join the good side?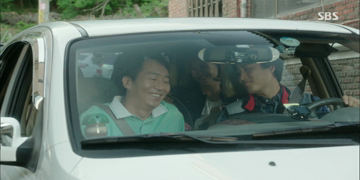 Most likely she will. Attorney Yoo and Je Hoon will once again fight against Hansong with new pieces of evidence but Attorney Han believes it's better to let Secretary Yang go because she won't say anything.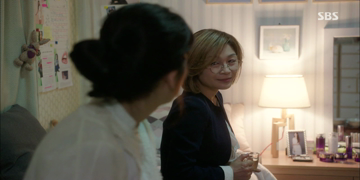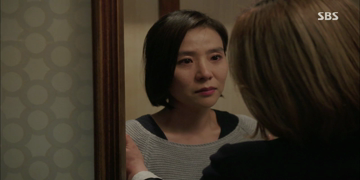 Meanwhile, Secretary Yang tries to convince Secretary Min to end her brother's case because it'll work out by itself in the end if they choose Attorney Han's side. But it's not entirely about her brother, that's why she persistently keeps going. Secretary Yang admires her fighting spirit, she's alone is a winner. Although it looks like she's alone but she has people who help her. She advises Secretary Yang to give up now, it's not too late. But once she leave, she may not be able to return. To make things worse, there's no guarantee her brother will be released. Secretary Lee wants her to live together & forget about the past.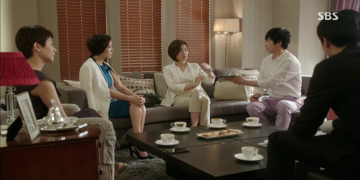 Thanks to In Sang, Min Jae join hands with Je Hoon's team as intern. The job is tiring and doesn't have any future but he likes the working environment. Moreover, non-profit internship will be good for his resume.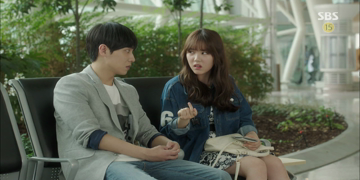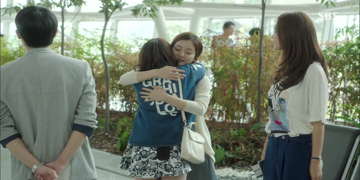 Hyun Soo is going to study abroad with Yi Ji. While Yi Ji and In Sang are worried about their parents living with strangers (new staffs) in a very huge house. While Yeon Hee is swayed to move to a smaller place, Jung Ho insists staying to protect that house. Hyun Soo plans to live a wild life & date around unlike her mother. Yi Ji cutely gives her SIL a hug then Bom coolly asks if Hyun Soo wants a hug. 🙂 She does. Both of them are wishing the couple well, don't break up! 😀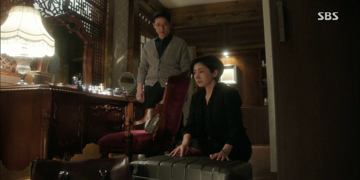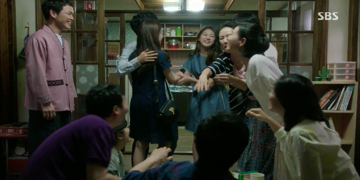 Stark contrast between Han's couple & InSeo. Han's couple marriage is on the rocks with Yeon Hee packs her bag to travel without promising she'll return while InSeo got higher points on their mock exams! Everyone congratulating them. Hyung Sik hails Teacher Park Kyung Tae as God! 😀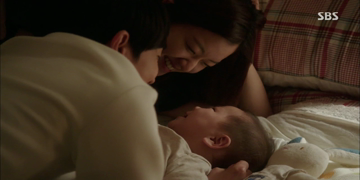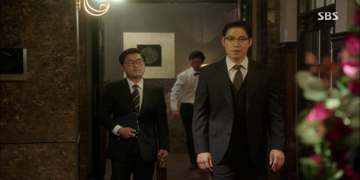 A very happy young family celebrating their achievement with their cutie Jin Young while Jung Ho wearily arrives home accompanied by his new secretary & greeted by his new staffs.
—THE END—
Comment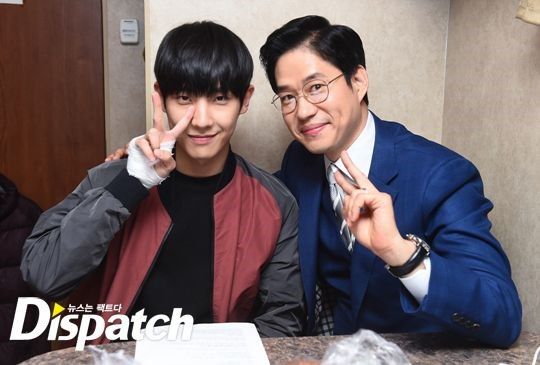 Heard It Through the Grapevine is a good ride. It faltered a bit in the middle (30 episodes are way too long for this genre) but it's satisfying to see the writer wrapped up this black comedy drama poignantly. InSeo got their happiness after firmly choosing the right path for their little family while top 1% Han's couple got their slice of setback because they no longer had the same marriage goal. Ego Jung Ho may be very influential & can manipulate many people but without his family & loyal staffs, he's just Han Jung Ho who needs healthy human interaction. It's depressing to live in a huge house with strangers, how long will he last before he gives up? I wish we'd see him changing his mind & apologize to InSeo but with he's too prideful to apologize to anyone. A very realistic ending for him who stubbornly followed old-tradition & too prideful to accept the fact that world has changed.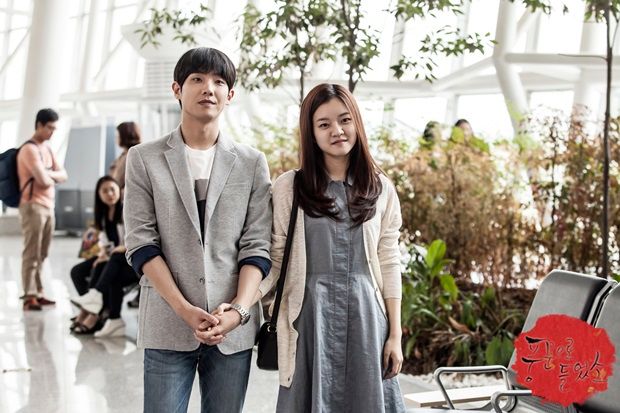 Bravo for InSeo who never gave up despite having a roller coaster journey fighting against aristocrat parents. They've come a very long way. Ever since In Sang chose to bring Bom to enter his house, life has been incredibly hard for them especially for Bom who was tempted to taste power & money. It's great she realized power & money wouldn't bring them happiness, but instead it'd suffocate them because they'd have to follow the "owner's" orders. They'd trapped like a bird in the cage without any freedom to pursue their own goals. But having / meeting someone from rich family have it's own benefit which make other ordinary people envious of them. Opportunity, influence, power, money. Money = greater opportunity. Power = greater influence. Bom would never be taught by celebrity Teacher Kyung Tae if she didn't know In Sang and she would never dreamt to take civil exam & become a lawyer. I think it's a bit unrealistic for Teacher Kyung Tae to provide financial support to the young couple but this is a drama hence I support his decision to support them to pursue their goals.
Loyal staffs escaped from the prison built by Han's couple, living their lives to the fullest although they may not be earning as much as before. They're happier after they left which shows that money doesn't buy you happiness. Which ones will you choose? Power, influence, money but loneliness & unhappy marriage or Less power, happiness & freedom? Will you live under the shadow of your older generations / other people or will you spread your own wings proudly? This drama has successfully portrayed two very drastic situations and the aftermath of your own choices.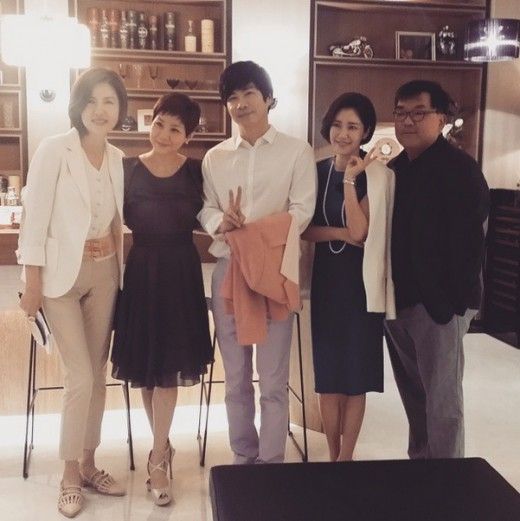 I will miss this drama and the fantastic casts. Thank you for all your hard work in the last 4 months.