Heard It Through The Grapevine Episode 4 Brief Recap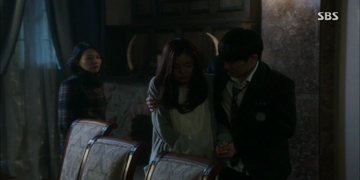 After witnessing young couple In Sang & Bom's burst of confession and requests, Jung Ho and Yeon Hee are surprised to see Doctor Eom who pays a visit at the crack of dawn.
Everyone's wondering why Doctor Eom is here. While Jung Ho & Yeon Hee meet him, the young couple go to their bedroom so Bom can rest.
By comparing a part of In Sang's cell which they kept after he was born and baby Jin Young's saliva, Doctor Eom concludes that Ji Young is In Sang's son. There goes Yeon Hee's last string of hope. Jung Ho instructs Dr Eom to destroy this paternity test as if he never asked him to do this test. Scrap Plan A, let's go straight to Plan B now.
Of course Jung Ho doesn't tell In Sang & Bom about the DNA test. It's just a routine consultation about Bom's postpartum health & her baby's health.
He addresses the young couple's burning passion to meet each other. He understands they miss each other because he went through it before but they should "treat" this temporary separation as an investment for the sake of In Sang's bright future (college admission).
In Sang knows it well too, but at the moment Bom really needs him by her side as her husband, as Ji Young's dad. She's going through difficult times as a new mom, mom should know this well because she experienced it before. Yeon Hee chuckles.
Jung Ho vows to respect and support Bom, moreover, they'll arrange a meeting with her parents soon. They can't believe what they've just heard… In Sang gives 90 degree bow to his parents, Bom quickly advises him to go back to his study place ASAP to focus on his study. He promises to leave after he sees baby Ji Young. Before they go to the baby's room, In Sang promises to listen to his parents' while Bom asks if she can breastfeed Ji Young. Yeon Hee can't say anything except a dull "yes".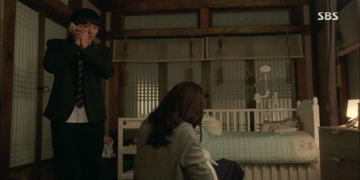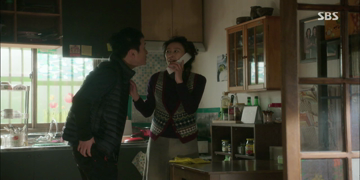 The nanny is pleased to see Bom breastfeeding Ji Young. In the meantime, In Sang calls her parents telling them his parents are going to pay a visit soon.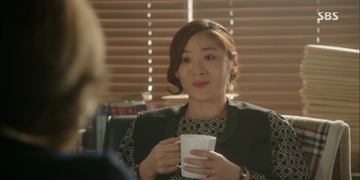 To help Jung Ho calculating the alimony amount, his secretary seeks help from Attorney Yoo who handled similar court case before (pretending his nephew caused troubles). Yoo states they need to consider all events that can happen between the mom & the baby, giving each event weight (of importance) and cost. So when they offer a settlement, they can specifically break down the reason(s) & calculation in detail which will touch the woman's parents.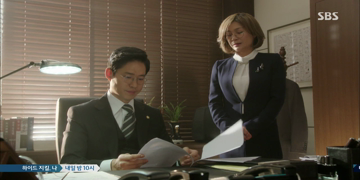 She presents her finding to Jung Ho, advising him to consider two scenarios: take the baby back in the future or In Sang will marry the mother of his baby. He confidently declares none of these will happen. Jung Ho decides to give Bom' and her parents ₩1.750.000.000 (~USD 1.5 million) alimony.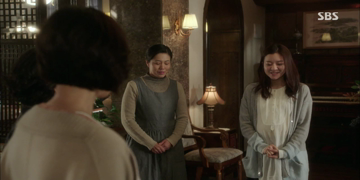 Knowing In Sang's parents high standards, Bom alerts Yeon Hee about her house's bathroom which sometimes has a weird bursting sound and the state of her house. She comfortably calls Yeon Hee mother-in-law now.
Yeon Hee scolds the butler and the maid, warning them to stop taking sides with the kids unless they want to get fired.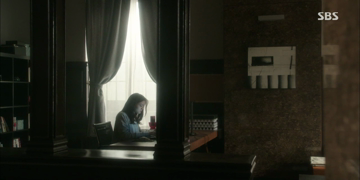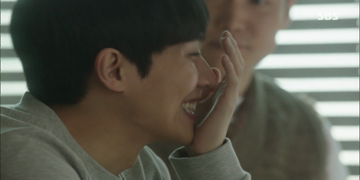 Bom writes a letter for In Sang, she's very grateful with the sudden changes like bright lights pouring down. She can breastfeed her baby, she can rest without worries because of their very capable nanny. She's very apologetic she thought bad about his parents before. Ever since she got pregnant (as a teenager), she developed an inferiority complex but she's doing better now. After reading her letter, In Sang realizes that people mature after they fall in love.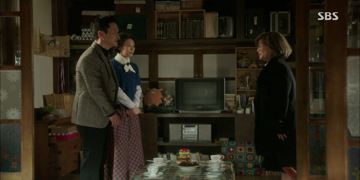 Jung Ho sends his secretary to Seo's family house. It already makes Seo Hyung Sik feels really small. Obviously they're surprised to see Secretary Yang because they expected In Sang's parents.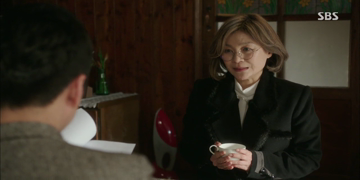 Yang presents Bom's parents with several pages memorandum prepared by Jung Ho. Noting that it'll be difficult for In Sang & Bom to get married & taking account their family's financial sitation, Jung Ho offers them alimony amount of 1.7 billion won (is this your Plan B, Jung Ho?)
Because Bom is still underage, it'll be her parents' responsibility to make the best decision for her (according to Secretary Yang). Ji Ae realizes they're trying to pay them off with money, without considering their kids' feelings.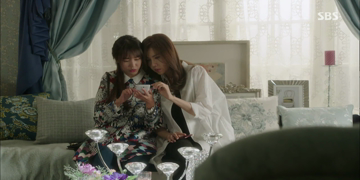 Hyun Joo is wondering if someone at In Sang's house just had a baby because Yi Ji keeps posting baby's pictures. And the baby is not their art teacher's baby because the background is In Sang's house.
Rumor starts spreading… Especially because of Yeon Hee's suspicious behavior, she's been missing in action lately. Moreover, Dr Eom's sister also noticed Dr Eom has been very suspicious, leaving home at dawn to visit a patient.
They are wondering if Jung Ho had an affair so Yeon Hee reluctantly has to accept his baby from another woman. But because they're not sure if their assumption is correct, they need to find out more about this odd rumor. Asking Yeon Hee directly will be better to ease their curiosity. Fortunately, she decided to come today.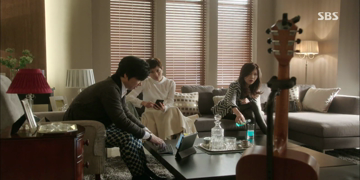 They're disappointed & hurt Yeon Hee hides something from them. If something bad happened, they expect Yeon Hee to tell them before the rumor started spreading. Yeon Hee pretends nothing happened. According to Jung Ho, no response sometimes is the best solution.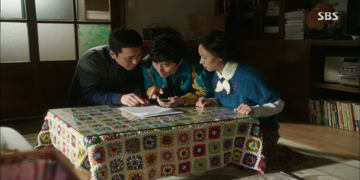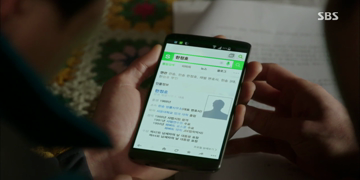 Seo's family finds out about In Sang's father. He was born in 1968, Hansong's Chairman and his family live in the house Hyung Sik visited last time (when he was chased off by the police).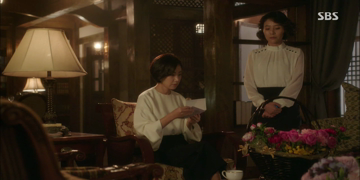 Yeon Hee receives a flower bouquet from Chairman Jang's wife with a note congratulating her on the new born baby. Angrily, she orders Secretary Lee to send it back.
Chairman Jang's wife is trying to dig info from Secretary Lee pretending she knows about the baby, a precious new life a gift from Heaven. She tells her to pass on a message that it'll be a good karma for Yeon Hee to raise him well as if he's her own son although he's Jung Ho's son from another woman.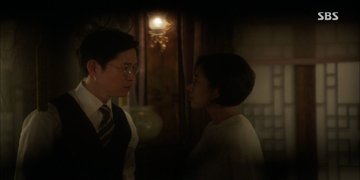 Jung Ho calmly advises her to ignore this rumor. According to Yeon Hee, it has become a fact in their circle of friends. Jung Ho is more upset that he can't admit his grandson is his grandson.
Nobody is on Bom's side now, the maid is too afraid to get fired so she's taking side with the ones who give her paychecks. Bom just wants to know if In Sang's parents first meeting with her parents went well.
Yeon Hee is annoyed Bom has changed drastically as she proudly calls In Sang's parents in-laws and spoke to her in front of everyone like she's the boss. Jung Ho believes considering their financial situation & lawsuits, Bom's parents will accept his offer and take Bom back.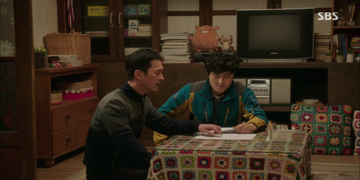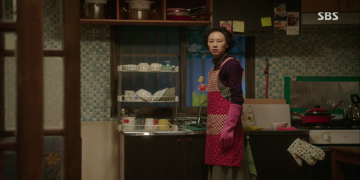 Hyung Sik realizes the kids can't easily get married even though they really love each other especially for wealthy family like In Sang who in most cases prefer to gain "connection through marriage" that Jung Ho is willing to "spend" 1.7 billion won to "remove" Bom from their lives. But even though they're together or get married in the future, nobody can guarantee they will live well because of cold treatment, etc.
Noo Ri failed her camera test because of prejudice against her look and financial situation.
Seo Chul Shik think the money Jung Ho offers will really help them financially. Noo Ri urges dad to just accept the money & bring Bom and the baby back. They'll be free from financial & money stress.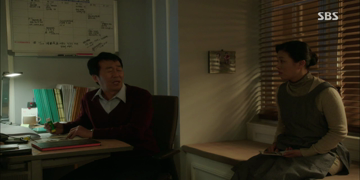 Jin Ae is very hurt with Jung Ho's offer. After she calms down, she messages the maid's phone (because Bom & In Sang sent their baby's pictures from her phone), wanting to talk to Bom. The maid knows Secretary Yang visited them with a memorandum, so they must've been upset with it. But her husband has decided he won't meddle in the kids' lives because their jobs are on the line.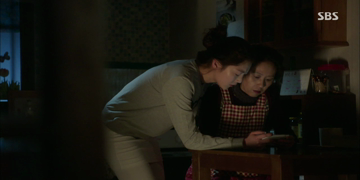 Smart Bom sent her sister an email wanting to know if the meeting went well. She assures them In Sang's family is treating her well. Noo Ri is upset In Sang's parents lied to her, she needs to wake up & face the reality. In fact, they all need to face this harsh reality.
Bom senses In Sang's parents haven't given them real permission.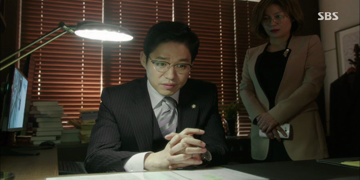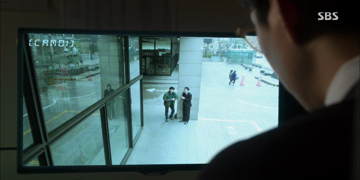 The next morning, Bom's dad & uncle decide it's time to confront Jung Ho. No luck… they can't meet him because they haven't made any appointment. They ask to meet with Secretary Yang, but she tells them Jung Ho is out so they decide to wait for him outside his office's building.
Looking over the CCTV camera, Jung Ho sarcastically states it's the price Hyung Sik has to pay because his teenage daughter played with fire. At the moment, he just needs someone to blame, giving him self indulgence before he accepts the money.
Meanwhile, Bom's mom came to In Sang's house, Yeon Hee who pretends she's not In Sang's mom. Jin Ae is hurt she's trying to avoid her. She confesses money is good and the alimony will end her hardship, giving the best future for her family & children. But how can they do this if they're human being? In Sang & Bom love each other even death can't take them apart.
Yeon Hee asks what'll happen if they'll change their minds? Jin Ae advises it's their choices, they shouldn't decide it for them.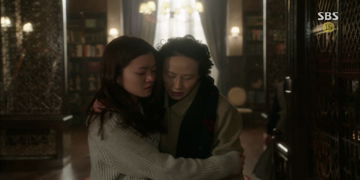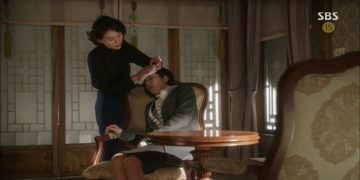 She screams out wailing, wanting her daughter to hear her. Just then, the baby's crying. Bom heard her, she embraces her mom praising her she did well.
Yeon Hee can't stand a daughter from a (crazy) woman like Jin Ae.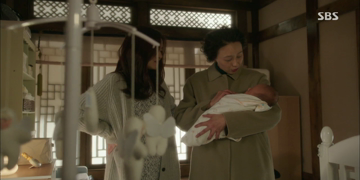 Bom invites mom to see her baby for the first time. She's wondering if it's a waste for not accepting the alimony, but she won't break up with In Sang.
Meanwhile, the secretaries, maid & butler are flabbergasted with the alimony amount Jung Ho offered. They believe In Sang & Bom won't last long, it's better to accept the money & move on.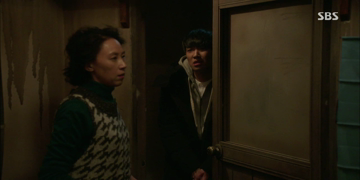 In Sang finds out about the memorandum, speechless with his parents' plan. He rips that memo, grabs his bag, politely bow to his teacher then goes to see Bom's parents. Hyung Sik is still drinking somewhere with his brother so In Sang has to face Bom's mother who asks why a young master from a famous wealthy family & influential parents likes Bom. He confesses he flirted to her first and he still likes Bom now.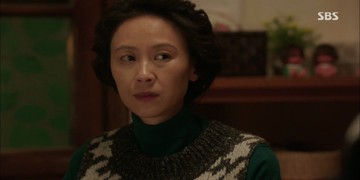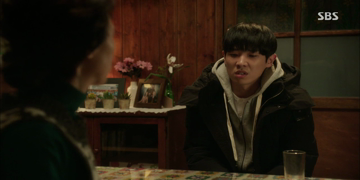 Jin Ae knows In Sang is currently very busy studying for his important college entrance exam, then he'll go to college. His grandfather & father's education were impressive so it's expected they want him to do well as well. On the other hand, Bom has to raise her baby.
In Sang who wants to raise his son together with Bom while attending his college discloses his plans. He'll follow her if Bom & the baby leave his house, then he'll become a tutor to make a living. He'll do anything he can to earn money.
He begs Jin Ae to trust him because he really loves Bom with his mind, body & heart. This is the first time he didn't receive any tutoring / instruction about what to say about Bom & his feeling. It all comes from his heart. Jin Ae is touched with his confession.
The teacher is also touched with In Sang's boldness & persistence, wishing him luck for his shocking plan.
The next morning, he barges in to his house, put on a warm jacket for Bom because they're going to get married. (What?) His mom screams out "no". Jung Ho hurriedly plans an emergency scenario, telling his wife to dress up and go somewhere. What about the aftermath of his emergency scenario? They can think about the consequences later.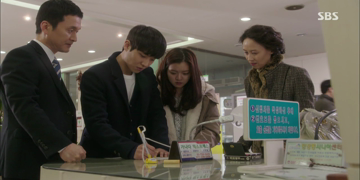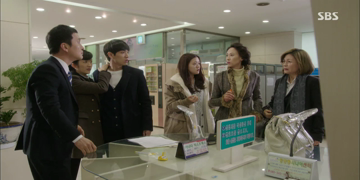 Holding hands, they go to the marriage registry office! Bom's parents arrive to be the witnesses as they officially register their marriage. But before he put the stamp on the paper, Jung Ho's secretaries arrive, advising they need blessings from both sides of parents. Oh… Jung Ho and Yeon Hee are here!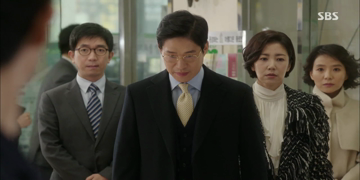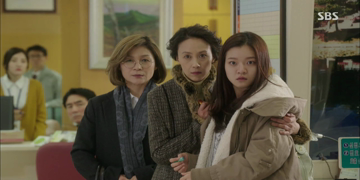 Jung Ho politely apologizes for their late arrival in this very meaningful event. Bom is shocked! So does In Sang and Bom's family.

Hyung Sik stamps the paper, Jung Ho quivers as he takes his pen to sign the paper! Congratulations newlyweds In Sang & Bom!
Brief Comment
I was pleased when Jung Ho tried to respect Bom & gave her freedom to be the best mom for her baby, but was soon disappointed with his alimony offer. 1.75 billion won is not a small amount, that's the price he's willing to pay to give his son the best possible future without the woman & son he really loves. I've seen friends who broke up with their girlfriends because of marriage connection and the benefits both sides of family receive through this connection. Their businesses grow, their profit increase while forcing their children to love each other. Hansong can earn more than 1.75 billion won if In Sang marries to a woman from a wealthy & influential family.
In love with In Sang who understands his parents' intention but he's not a robot who can easily be manipulated unlike Jung Ho who married Yeon Hee because of his family's suggestion. They surely love each other, but I got a feeling Jung Ho is envious with In Sang who brave enough to speak up his mind.
He has his own feeling and he chooses Bom, for better for worse until death parts them. His heartfelt confession touched Jin Ae's heart, she realizes In Sang isn't the same greedy calculative man like his parents. That's why she and Hyung Sik gave their blessings. On the other hands, Jung Ho who doesn't understand his son's feeling because of his strict upbringing reluctantly signed the paper for the sake of his reputation and dignity. If he didn't sign the paper, people will speculate he doesn't approve his son's marriage, it'll give them more troubles in the future. By giving his approval, people will see him as an understanding father & father-in-law who respects his son's choice. It'll reflect to his professional career, he'll be seen as a compassionate lawyer.
What a roller coaster episode. From In Sang's parents finding out Jin Young is their grandchild to a shocking alimony offer then the most shocking marriage approval from In Sang's parents. I've skipped the part about Jung Ho's secret case with the politicians though it's enlightening to see the upper hands he has to bury rumors / news. We know now he'll go extra miles to hide the facts about his grandson and his teenage son's marriage. His close friends are already suspicious about the rumor of his new baby (who they mistakenly believe he's Jung Ho's baby with another woman) so he needs to hide this rumor ASAP. The fun will continue next week. 🙂