Heard It Through The Grapevine Episode 5 Brief Recap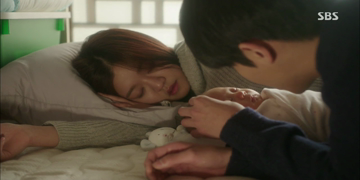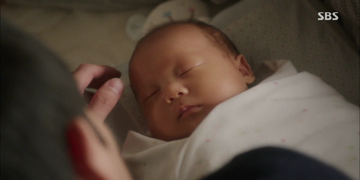 The newlyweds return home to their baby. In Sang sweetly kisses Jin Young as he counts the strands of his hair, much to Bom's amazement. Spending time together as a family like this; a father, mother and their baby. It's normal for other family, but why they're scared of getting caught?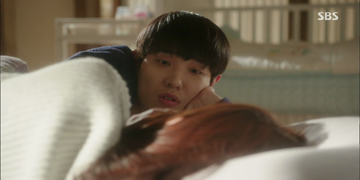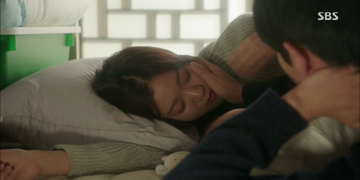 Although they're officially married but Bom is still not 100% happy although she's very grateful & thankful with In Sang's boldness. He's no longer the naive coward In Sang, he's been reborn as the new In Sang who'll protect & love Bom and Jin Young as he promised.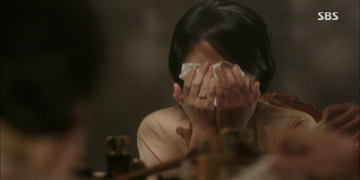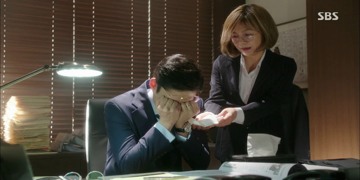 It's a victory for the newlyweds but it's not the same case for In Sang's parents. What will they tell people?
Hyung Sik is disappointed In Sang's family hasn't invited them yet although they had the opportunity when they met at the marriage registry office earlier today. He has yet to see the baby. On the other hand, Ji Ae is more than happy that her daughter who almost became a single mother got married and her grandson Jin Young's birth was registered. In Sang's family will never eat Bom alive anyway, she won't let them. She's stronger than they ever thought she'd be.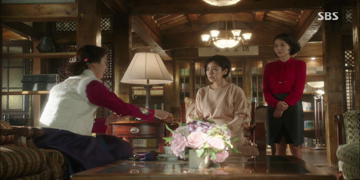 Yeon Hee discusses In Sang's marriage with the shaman who gives her a new talisman to be placed in their room. The shaman tells she doesn't need to change her grandson's name, because it is a great name. Truthful & longevity. She even advises Yeon Hee to call him Jin Young for the first 100 days then she can call him Young.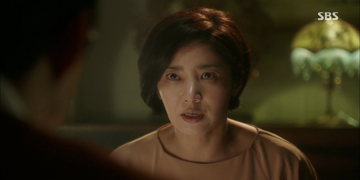 Now how will they break this surprising news? Should they say they support their children's innocent love? Should they gather anyone & show the baby? But they can't do it until Jin Young turns 100 days old and they can't wait that long. Yeon Hee proposes to send card & gift with a simple message "we had a grandchild, please congratulate us" to their closest colleagues including all employees in Hansong (all 1300 of them). It's hard to pick the right gifts because it'll be according to their positions, but the wording in the card is the same. Jung Ho is too overwhelmed with everything that he starts crying again. Yeon Hee decides it's best to give them chocolates or wines before she also starts crying.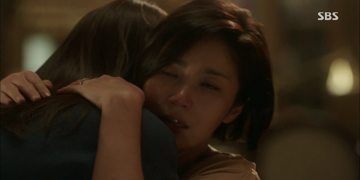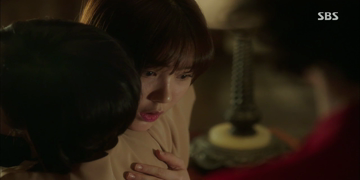 Yin Ji arrives home to find her parents crying (innocently think they're too happy with In Sang's marriage). Yeon Hee hugs her begging her for not causing troubles for her parents.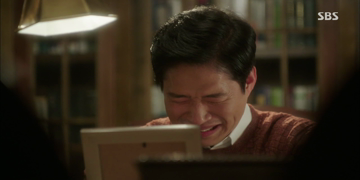 Jung Ho tearfully apologizes to his parents. He's trying to calm himself down before he goes to see baby Jin Young for the first time.
Sweet Yin Ji set up candles & brought roses for Bom. She congratulates In Sang & Bom in their room, feeling sad nobody congratulates them and they can't even go to their honeymoon. In Sang gives his phone which was confiscated to Bom who calls mom straight away. Jin Ae is relieved In Sang is treating her well.
Mom sweetly asks if she needs any postpartum pants or belts. Bom assures her she has everything here but then she starts crying. Both of them are crying, it's hard. Really hard. Ji Ae recalls the first time she met Yeon Hee (who pretended she's not In Sang's mother), furious his family embarrassed them with money. The first time she met Bom again after she gave birth. She was so happy to see her daughter but she's aware the rocky roads she's facing. Still crying, she thanks her that she is her daughter.
Mom wants Noo Ri and Hyung Sik to sincerely wishes her well. Dad starts off well, but he doesn't forget to remind her that she would be studying in a top university if she didn't get pregnant. So don't ever feel intimidated. But mom reminds him of her grade, that it's better she gave birth to Jin Young.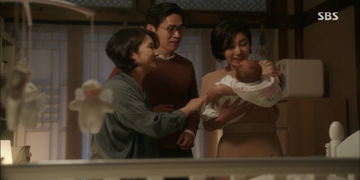 Jung Ho and Yeon Hee finally meet baby Jin Young who looks like his parents & is happy with his name. Although Jung Ho was a bit hesitant, but baby Jin Young melts his heart. Begging Yeon Hee he wants to hold him as well.
He even wants to hire a photographer & take Jin Young's pictures. Already planning his education, Yeon Hee promises to put him in the list of a prestigious kindergarten & elementary school which has a long waitlist. Jin Young is Hansong's third generation so they have the utmost priority but it'll be harder because they can't prevent people's gossip & rumor about Han Jin Young. Jung Ho plans to meet the board director and everything will be fine.
He cutely says… I am your grandfather. But Jin Young's expression stays the same. Yeon Hee says I'm your grandmother & he smiles. 🙂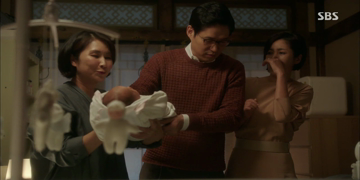 Like any healthy baby, Jin Young also poops. 😀 The grandparents are shocked with the smell, so their sweet time is abruptly cut. Jung Ho wants to set up a time with baby Jin Young but he's a baby! How can he adjust his time for his grandpa.:D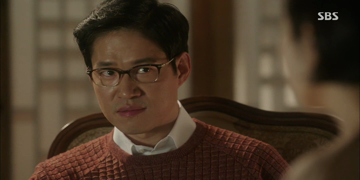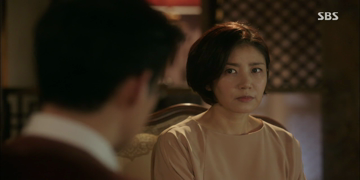 Jung Ho realizes human beings do whatever they want when after they're born. That's why discipline and education are very important. Especially because Bom is wild so they need to teach her well. Technically speaking, Bom is like hippies who mocks authority & system. Jung Ho thinks once she gets tired, she'll ask for a divorce. They can't let it happen so In Sang will still have to follow their plan and Bom will be taught to be civilized & refined. It'll be Yeon Hee's responsibility to teach Bom.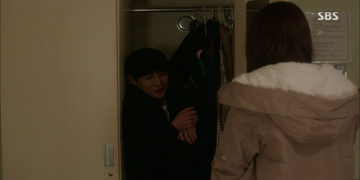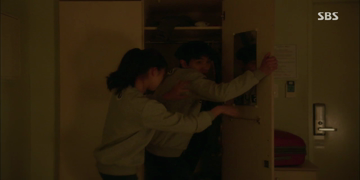 Meanwhile, the newlyweds sneak out to her dorm! A nice foreigner who's currently staying there, left them alone in that room as they're reminiscing that memorable day. She promises they'll do it again after she finishes breastfeeding Jin Young. In Sang hides in the small wardrobe recalling the time he hid there to avoid getting caught by Bom's friends.
And when he tightly hugged her afterwards as she begged him to leave because she's scared. In Sang asks if she's still scared, she tells him she's no longer scared. He thanks her & apologizes for everything, promises he'll always love her.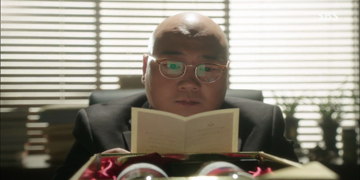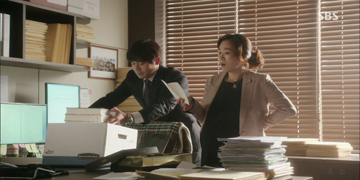 Everyone's surprised to see expensive wine, chocolates, card from Hansong advising they now has a grandchild, as a result of their son and his girlfriend's first love. Eloquently explains they support their decision & agreed without hesitation their desire to be husband & wife where the value of love & innocence in this world nowadays is denied & distorted.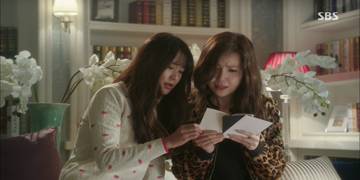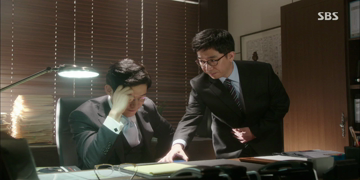 Because Bom is still recovering, they plan to hold the wedding in the next few months. They asks their friends a favor to celebrate their family's happy occasion without any prejudice. Messages of congratulations start pouring in. Congratulations gifts also pouring in.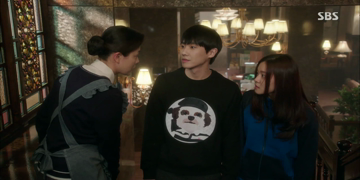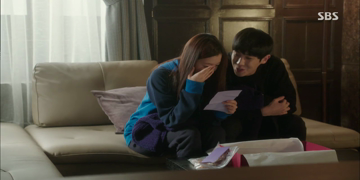 The nice maid put a special present from Noo Ri in their room. It's Bom's favorite dried sweet potato. Underneath that, a couple sweaters Ji Ae knitted.
Noo Ri wrote a sweet congratulation message. Cutely mopes that she married before her older sister but forgave her for marrying a nice man like In Sang. She warns him he cannot let her shed any tears. Of course, Bom starts crying. Noo Ri wants him to protect her, because it means he protects himself too.
When Bom saw the assistants standing there, she kindly offers them to sit with her. Yeon Hee knows it's the first thing she has to know: how to address & treat the employees correctly. Secretary Lee explains Bom doesn't need to use honorifics to them. And they'll start addressing her as the little lady, things she should get used to from now.
Yeon Hee prepares dresses for Bom so she must dress according to the occasion.  She wants Bom to learn about the family's culture while she's recovering from birth and after Jin Young turns 100 days old, to get ready for college's entrance exam. Bom promises to give it a try as long as she stays with In Sang & Jin Young.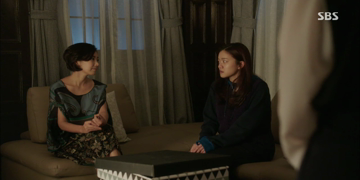 Meanwhile, Jung Ho and In Sang are in the library where Jung Ho teaches her son the concept of self-decision. He urges him to tell whatever he wants, his reply will be O or X.
In Sang wants his parents to get along with Bom's family. X It's difficult because their cultures are different.
He asks if he will send Bom to college. O. He gratefully thanks him.
In Sang inquires if he can be a normal college student because he wants to be a hands-on-dad. X. Then he holds his swords. Because he can now study at home, he requests the same teacher, Jung Ho agrees.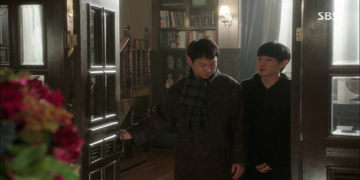 The next morning, the teacher comes. Meticulously prepares In Sang's study room where he'll spend 14 hours a day studying with less than 1 hour break. He also plans to control his entrance and exit through a number lock in the door. In Sang has to follow his order if he wants to stay here, if not, they'll force him back to his study place.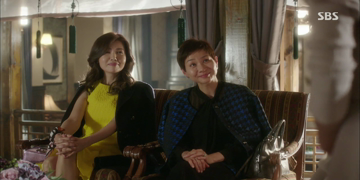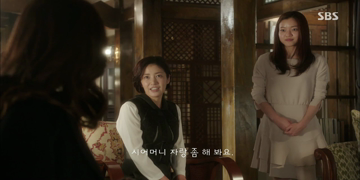 Bom's first challenge as Hansong's little lady: first meeting with Yeon Hee's long-time friends & their children. Secretary Yang advises Bom to give impression she's raised up and grew up with lots of love, to smile a lot.
She politely greets them. Chairman Jang's wife wants to test her English skill because she met In Sang at English debate competition. She starts speaking in English. Bom confidently answers it back in fluent English. She learnt English because her mother worked as a home-study English tutor.
First break for In Sang! He only has 20 minutes. When Butler Park tells him Bom is with his friends' and his mother's friends, he goes there.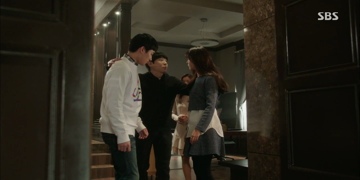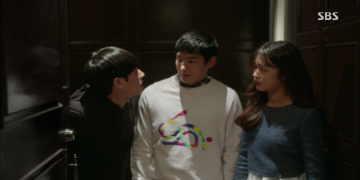 They congratulate him but he only cares about Bom who's still recovering from birth. They amaze he's grown up into adult now. His friends visit the baby, but he abruptly ask them to leave soon afterwards because he missed Bom.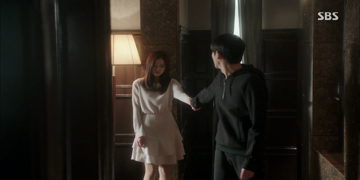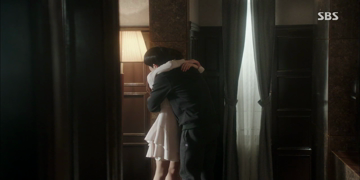 She begs them to stand for 20 seconds as he holds his hand. Then they hug. They end up sleeping. Frustrated Yeon Hee wakes them up telling him his teacher is waiting for him.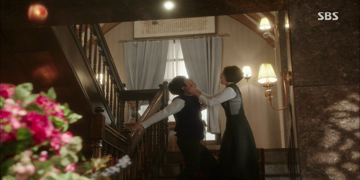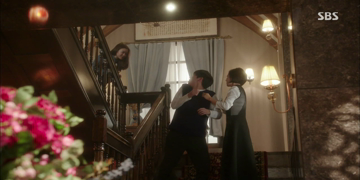 He begs his mom's forgiveness because it seems like he's the only one who's happy while his parents are suffering. Yeon Hee starts hitting him. Bom begs her to go easy on him. Yeon Hee is astounded. 😀
Brief Comment
I'm surprised Jung Ho and Yeon Hee decided to tell everyone about Han Jin Young but there's nothing else they could do except accepting the truth. Burying the truth isn't the greatest plan. It's hard now but by telling them the half truth (they haven't supported In Sang's decision 100%), Han Jin Young & Bom won't get any harsh treatment from the society. He's accepted as Hansong's third generation, In Sang can focus on his study (albeit it's hard because he keeps missing his wife and Jin Young) and slowly Bom learns & adapts to In Sang's family culture.
It's great that Jung Ho decides to support Bom's future by letting her studying for her college admission test after Jin Young turns 100 days old. It empowers her and gives her ability to be the best wife for In Sang and mom for Jin Young although I hope they won't make any excuses to separate her and Jin Young when she's busy studying. It's also awesome In Sang is allowed to study at home, close to his family despite his packed schedule. As long as In Sang and Bom follow their parents' strict plans in return of the heartaches they gave, their relationship will gradually become closer.
The grandparents the first step to get closer to cutie Jin Young… Hope we'll see more sweet moments like this again… It'll be more awesome if we'll get to see grandparents, parents and baby Jin Young together soon. Because they're family.