Heard It Through The Grapevine Episode 6 Brief Recap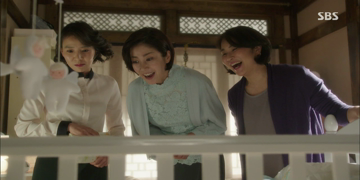 Bom isn't allowed to see Jin Young outside his breastfeeding time. 🙁 who set up this cruel rule? she's his mother! On the other hand, Yeon Hee can visit him whenever she wants because she's the rule maker. Jin Ae cheers up her disappointed & upset daughter that if her MIL is close with her grandson, she'll make an effort to get closer to Bom too.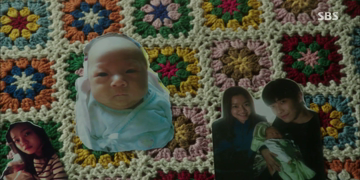 At Seo's family house, everyone is so smitten with Jin Young. They put his pictures everywhere in the house. Kiss his picture because they really miss him.
They will meet Jin Young soon after Secretary Kim invites them to have breakfast at Han's house next Monday. Not wanting to miss this opportunity, although she's still holding the grudge they didn't try to make up when they met at the marriage registry and Yeon Hee doesn't personally invite them, Jin Ae knows this family has formality that they must get used to.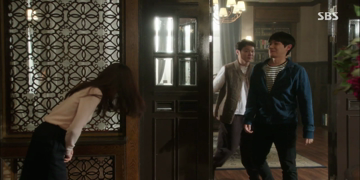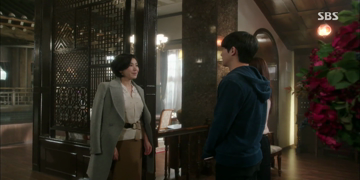 Lunch break for In Sang. Bom's already waiting outside, as soon as the door is unlock, she politely greets her husband who's excited he finally get to see Jin Young, only to be told he can't. Yeon Hee advises them to follow the strict schedule for the sake of Jin Young. Bom wants her to respect their opinions because they're Jin Young's parents. But Yeon Hee is unmoved, she believes they can't spoil him too much & they must get him into a good habit as early as they can. Moreover, they're still underage, so until they earn they keep, they must follow her rules.
Bom is disappointed & upset although she's grateful. While many teenage mothers are struggling to raise up their babies, she can rest easy knowing Jin Young has a great nanny. But it's important for him to feel his parents' love & touch.
In Sang is wondering if teenage parents can file a custody lawsuit because it feels like his parents are currently having the custody.
His teacher replies with an idiom that it's like a noise made when a kimbap bursts. Explaining it's almost impossible for an underage person like him to engage in family litigation and most importantly, the party who has a better child rearing environment (his parents) will win the custody. To sum it up, they'll lose so don't brother wasting time filing a lawsuit.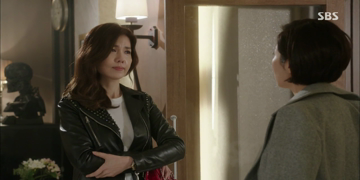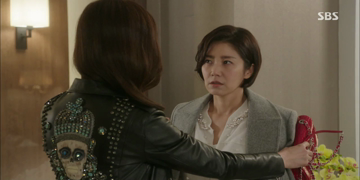 Yeon Hee explodes after Chairman Jang's wife (Ji Young Ra) told her about her in-laws' financial situation, pointing out her crudeness for enjoying other people's misfortunes.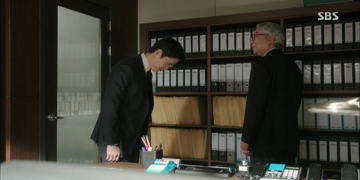 Jung Ho explains he doesn't treat his attorneys differently. From associates to partners, they use the same humble offices. He's well known as someone with noblesse oblige, his belief is noble class doesn't exist nowadays. He invites him to visit the exclusive lounge located in the top floor of Hansong's building.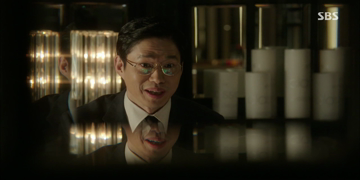 He's aware Daesan Group's slush fund will be exposed. Earlier, Jung Ho talked to his attorney to be careful with media responses & don't act too sensitive because something related to Daesan Group will come up really soon. Jung Ho pretends to be surprised as he gains the upper hand. Now they can move to their next plan: order Chairman Jang (Daesan Group) to check into the hospital & protect him with utmost security.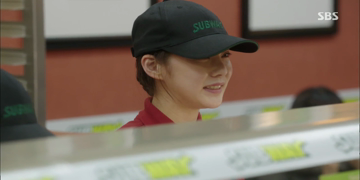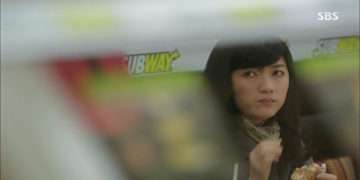 Secretary Min feels a bit guilty she has to investigate Bom's family daily life as they're working hard to make a living. Noo Ri is now working at Subway after she failed her anchor test.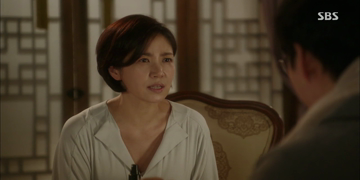 Yeon Hee is worried how she'll face Bom's parents after Jin Ae's sudden visit which ended pretty bad last time. She's scary and Yeon Hee hopes Jin Young won't have Bom's family DNA. Her husband calmly advises to approach them with generosity & rationality, he believes Jin Young inherits their DNA because he starts to become more like them. Well, hopefully he won't inherit his baldness 😀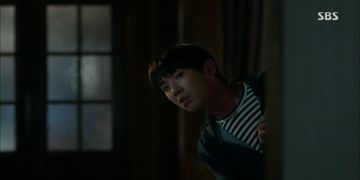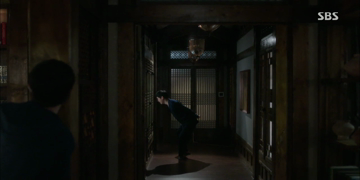 Later that night, when everyone else's sleeping, two people are sneaking in to… the nursery. Unfortunately, the father lost to his father.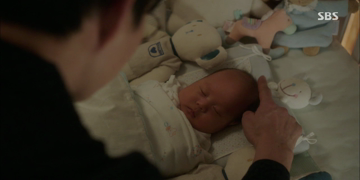 Jung Ho gentle caresses Jin Young's hair, probably counting the strands of his hair like In Sang did. Sweetly dances with him following the music from the baby's crib mobile, enjoying the precious moment with his grandson. Until the music stops & baby Jin Young almost cries so In Sang enters the room to play the music to soothe him. Jung Ho scolds him for breaking the rules, he scolds his father back for not holding Jin Young correctly.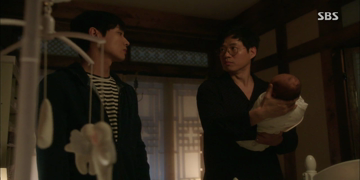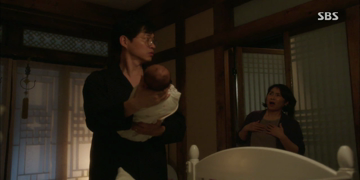 They get caught by the nanny so both men leave the nursery.
Bom finds out from the maid that her parents have been invited to have breakfast with In Sang's parents. That's a norm, right? But everything is about formality here so Noo Ri can't even come with her parents so through Bom, In Sang personally invites her. Noo Ri is elated because she wants In Sang's father to help her passing her resume and video portfolio around. He has many good connections, right?
Mom disagrees, they shouldn't do this to Bom.
Jin Ae & Hyung Sik are also anxious with their first formal meeting, especially the gifts they should bring for a family who has everything. Hyung Sik plans to give something they can afford as long as it's with sincerity. Jin Ae plans to give them 30 years old bellflower root wine.
Bom is worried about the breakfast menu. The maid kindly asks what her parents like, in which she whispers braised hairtail. Yeon Hee tells her to wear pretty dress after she breastfeeds Jin Young & greet her parents because she knows Bom is so excited to see her parents.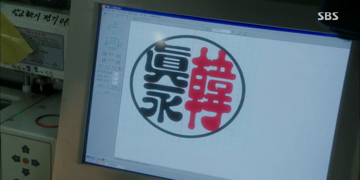 Hyung Sik creates a really nice seal for his grandson.
Everyone's getting ready for the parents' first official meeting. Secretary Kim explains what'll happen and as expected, Yi Ji is not allowed to join the breakfast. She also briefs Yeon Hee their agenda. She refuses to be left alone with Jin Ae because she's scared. So please scrap the plan of her showing the baby to Jin Ae.
After discovering Noo Ri failed all three of her tests, Jung Ho plans to include everything his secretary found out about Bom's family in the condition he'll offer to them.
Jin Ae sends text message that they'll be there soon & Noo Ri isn't coming because of an urgent matter she'll need to sort out. Bom knows the real reason though. In Sang gives her a hug in advance trying to calm her down as he asks her favor not to get sad if anything his parents say or do upset her / her family.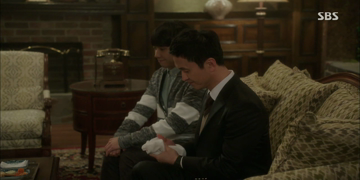 In Sang & Bom greet Hyung Sik & Jin Ae in the front door as planned by Secretary Kim. They're escorted to the living room to wait for In Sang's parents.
Finally. The moment everyone's been dreading for. Eerie music is playing in the background.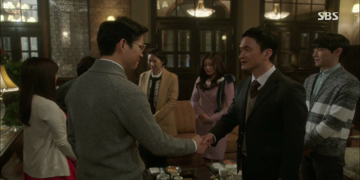 Jung Ho, Yeon Hee and Yi Ji politely greet them, thanking them for coming. A bit awkward, but it's a great start.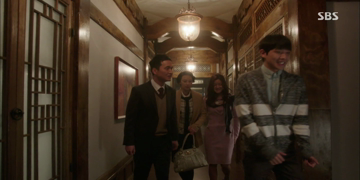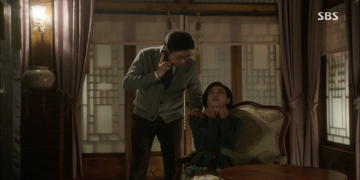 In Sang escorts the excited grandparents to see their grandson while the maids are preparing the final touch for their breakfast. Yi Ji is asked to leave.
Meanwhile, Yeon Hee is almost collapsed out out of annoyance because it's clear she's very emotional and is stressed out. She's surprised her husband has already asked his secretary to find a stable full time job for Bom's older sister. But because she failed the anchor test three times, Jung Ho believes it's not the best job for her.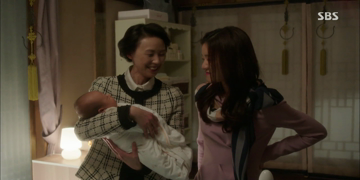 They then hear Jin Young's loud cry. He cried when Hyung Sik held him, probably scared because he hasn't seen his grandfather before. And the nanny (not his parents) always has him in her arms. Jin Young calms down when Jin Ae holds him.
In Sang guides Hyung Sik to the bathroom. While waiting for his father-in-law, he opens the gift (wine) from his in-laws and give it to Secretary Kim who tastes it first. Breakfast will be served exactly at 8:20AM.
In Sang begs dad to sincerely apologize for the memorandum & try to get along but Jong Ho tells him he can't because of their cultural differences.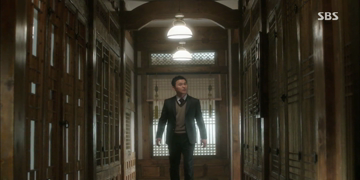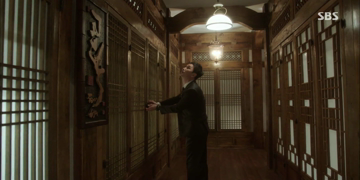 Hyung Sik is lost because the corridors and the doors are so similar. He knocks one door, goes to the next room but he can't find Jin Young's room. He wanders around until the whole household is surprised with Yeon Hee's scream!
She thought she just saw a ghost when Hyung Sik opens the door. It reminds her of the first time she saw his face in the monitor screen when he first visited this house. Everyone rushes to her room. Flustered, she tells everyone she's fine. Jung Ho laughs although he feels bad for his wife, explaining guests got lost in this huge house, so don't worry about it.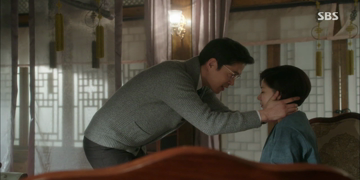 After everyone left, Jung Ho reminds a still shaking Yeon Hee that they can't show their emotions in front of Seo's family because they don't share their feelings of happiness, anger, love or joy with them. They went extra miles preparing this breakfast for them in a refined way to get what they want so they will accept their offers. They have to make sure Seo's family won't abuse their relationship and won't have any negative influence on In Sang, Bom & Jin Young. She calms herself down.
Jin Ae feels really small because of the huge house and all this formality. Hyung Sik gives Jin Young's seal he made to Bom.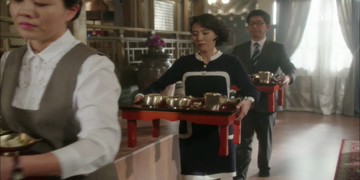 Full set breakfast plus a tea and bellflower root wine that Hyung Sik's mom made 30 years ago. Jung Ho smells the wine, trying his best to lift up Bom's parents' spirits.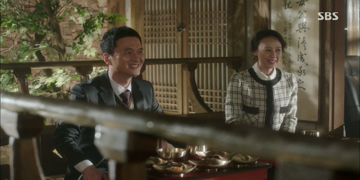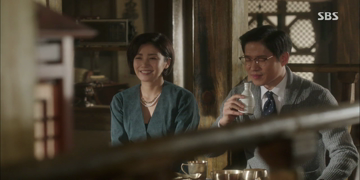 Jung Ho kindly thanks their precious son & daughter who opened a new horizon in life and give them a precious experience of facing a new world & events. Jin Ae nods, she never imagined they'd meet people like them.
Picky secretary Kim think it's a wine made 3 years ago not 30 years ago.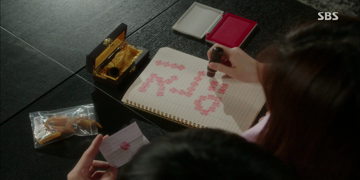 Hyung Sik tells Bom to put Jin Young's dry umbilical cord with the seal. Because of her free spirit, he advises her to listen to the elders' words. But In Sang wants his dad to apologize to her parents first before they'll listen to them.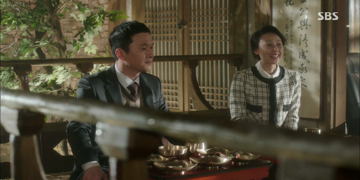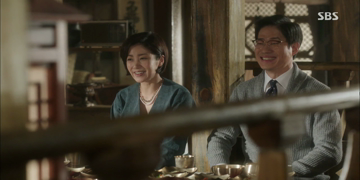 Jung Ho and Yeon Hee are bragging about In Sang's high EQ score. He also complements Hyung Sik & Jin Ae for raising up Bom & their first daughter well. Because he mentioned Noo Ri first, they mull over thinking about Noo Ri's requests.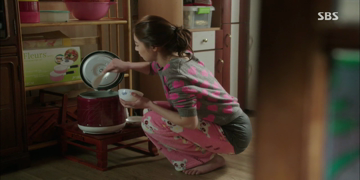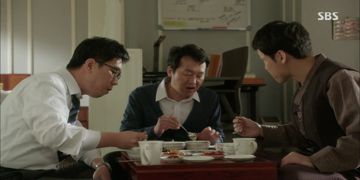 At home, she's having a simple breakfast with her uncle, still mad her parents didn't allow her to go with them.
Meanwhile, the butler, teacher and Jung Ho's assistant are discussing how much / what'll they give to Bom's parents. Probably a small building or a franchise bakery, right? Bom's parents should be thankful to Bom for their good luck.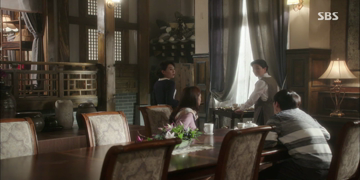 In Sang & Bom who're having breakfast in the dining room are curious yet worried because they could only hear In Sang's parents' voice. The maid apologizes she didn't make the braised hairtail but it's understandable, they can't imagine In Sang's parents eat it. Secretary Kim advises a good thing will come to her family.
Jung Ho explains after thinking deeply, they decide to lend a hand because Bom is also their family, she's her daughter so they plan to support her all the way. Bom's parents gratefully thank them albeit they're embarrassed. He also complements Hyung Sik's father who became successful as a technician on his own and his capable office worker brother. In sang & Bom sneak in.
Jung Ho understands it's hard to get a job nowadays so they'll find a stable job for Noo Ri. Hyung Sik and Jin Ae are surprised they knew a lot of things about their family, Yeon Hee explains it's because they're interested and want to help.
But it's a calm before the storm hit.
Jung Ho shockingly recommend them to live in the countryside. Yeon Hee calmly explains they also want to move to countryside someday.
Bom almost explodes, In Sang holds her hand trying to calm her down!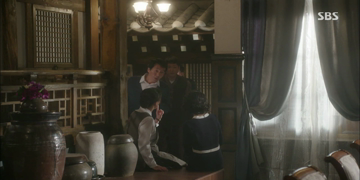 The assistants know it too well. It's clear they're embarrassed with their in-laws and their jobs so it's better for them to move faraway so nobody knows about their existence.
They plan to give them an orchard farm to manage to secure their lives and it's comparable to the amount they planned to give earlier. Hyung Sik sarcastically tells them they lifted their spirits up then smashed them just in a few minutes.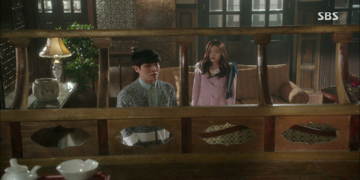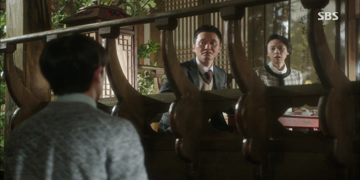 But In Sang can't stay still. He confronts his father. Yeon Hee tells him the adults are still talking so he can't interfere. But he doesn't care. He boldly apologizes to Bom's parents explaining it's sad & embarrassing.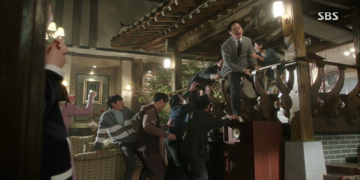 Jung Ho explodes hearing his son's sudden revolt! He throws his breakfast, flips the table then tries to climb down the handrail. Didn't realize he can use the stairs beside the pavilion. He's stuck so everyone's rushing to help him.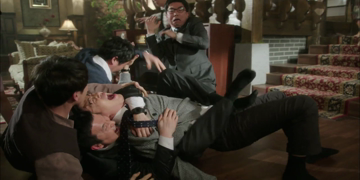 When he's finally free, Hyung Sik holds him down so he can't chase his son. Two grown up men fighting for their pride, priceless 😀
Brief Comment
An episode full of awesomeness and pleasant surprises. 😀 Just when we think Jung Ho and Yeon Hee have the upper hands, their son turns the table back. It's satisfying to see In Sang & Bom fighting back against their "perfect" plans & agenda, slowly peeling off the mask Jung Ho put. They may be rich & educated, but their son & daughter-in-law have something they don't have, empathy. In Sang most likely will grow up into emotionless man if he didn't meet Bom & her family.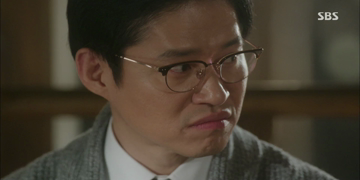 This drama also depicts the harsh reality of unemployment and how direct / good connections can help people to find a job. Noo Ri's way of thinking is understandable. After failing her anchor test three times, she knows she can use In Sang's parents help to her own advantage. They're still her family, right? Of course Jung Ho also use Bom's parents financial troubles for his own advantages. Unfortunately, Hyung Sik and Jin Ae are not like many other people who can be tied down with money. Although they're struggling, but they can't sell their own daughters nor their future for the sake of stable comfortable wealthy lives. Jung Ho needs to think of another plan before he gets humiliated again.