Heard It Through The Grapevine Episode 9 Brief Recap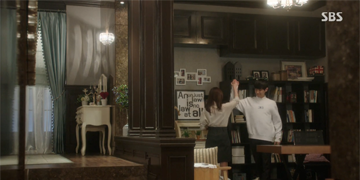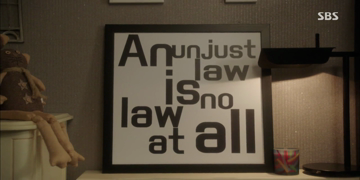 Several weeks have passed. Bom and In Sang adapt well to their new routine – get up at dawn, get dressed, ready to embrace the new day with a brand new spirit. They read out loud Augustine of Hippo's quote "An unjust law is no law at all" then they hi-five before leaving the room which now has with new furniture (a gift from Yeon Hee who didn't want her son to sleep in a small sofa again).
Bom cites two English passages from The Prince (by Niccolò Machiavelli) in front of a very pleased Han Jung Ho & her proud husband.
It's a twist today. Jung Ho asks In Sang to summarize the most important virtue from the passages she just read. Although In Sang disagrees with the author's point of view, he still explains it correctly. Bom points out it's based on the King's perspective in the 16th century (which may not work in the modern world). They strongly show their compassion about human equality but that's not what Jung Ho wants to hear from them now. He prefer them to focus on his goal (which should become their goal): pass the legal civil exam.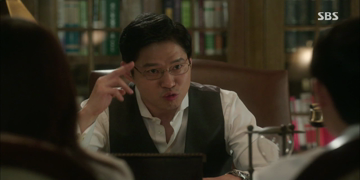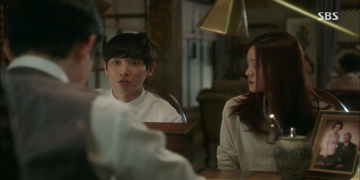 He believes "foolish public" become weak-hearted because they tend to choose services from the best specialists, doctors, lawyers, etc based on their resume points. It's norm for them to trust the best attorney who graduated from the best university for example. Hence, they must work hard to have the best resume points.
The kids argue about his POV because it seems like he ignores the public's desire or clueless about the public. It's contradictory because when we let people earn money & not control them means we acknowledge the individual's desire. These individuals make up public. Hence, the public is not foolish because they have their own ideas & desires.
Jung Ho think they're talking non-sense because they're hungry (only had vegetable juice earlier) hence he orders them to eat carbohydrate before they come to see him every morning.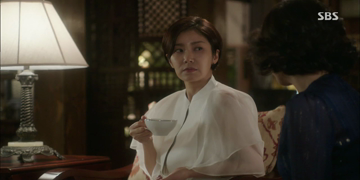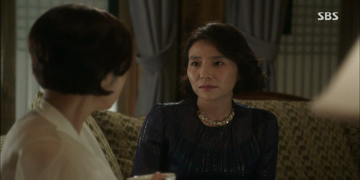 Yeon Hee acknowledges her son met a great partner. Secretary Lee reminds her that Jung Ho's mom once said she'd never considered her daughter-in-law as a competitor for her son nor her. She saw similar symptom & advises Yeon Hee for not letting her guard down.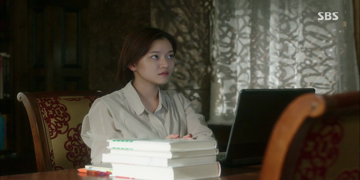 Teacher Kyung Tae advises Bom to respect her father-in-law. He knows the latest culture better than anyone but he relies on his elders' teaching (so he's a bit old-fashioned). Advising her to get brownie points from Jung Ho so he'll fell rest assured. She promises he'll relax after she passes the exam.
Kyung Tae points out Bom's perfect TOEFL score when Yeon Hee keeps doubting her daughter-in-law. But if she think it's a useless investment, he's more than ready to switch & prepare Bom for the college entrance exam instead. As an exam score specialist, Kyung Tae applies different teaching standard for his students as needed. Yeon Hee realizes they can't wash off the blemish, but they can cover it up, right? Because he's very confident, it makes Yeon Hee's expectation goes up as well. Should she start telling everyone that her daughter-in-law is now preparing for legal civil exam?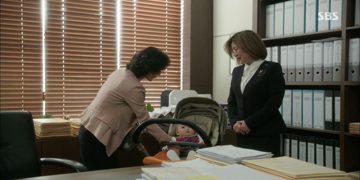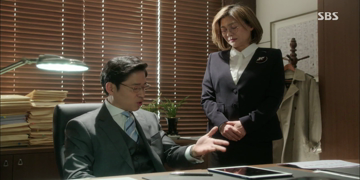 Because Attorney Yoo Sin Yeong's nanny is sick, she brought her baby to work. She holds top secret documents but it doesn't mean she can do whatever she wants. Does she hold grudges against Jung Ho (maybe since you stole her nanny). Jung Ho is still upset his kids told him he's old-fashioned this morning now he has to deal with this at work. Secretary Yang points out it's not about generational issue so he needs to be calm & turn the situation around. Jung Ho concludes it's due to the way she raised up.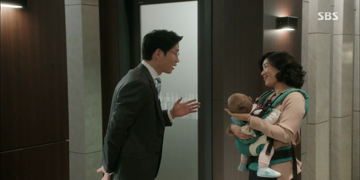 The good thing is: Hansong's gender equality score will rise when people find out their employee is allowed to bring her child to work. But he still has to deal with the elder attorneys who aren't pleased with this. Jung Ho tries explains it's normal in Western countries for attorney to bring her baby to work. But they aren't convinced since this is Korea.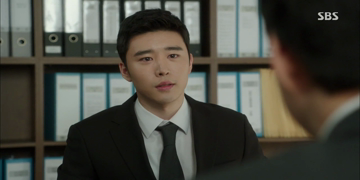 They're currently recruiting new counsels based on careful consideration of their backgrounds, family, connections, etc. He plans to meet & convince one valedictorian Yoon Je Hoon. He'll make him a technology & new material copyrights expert due to it's big market. Je Hoon nervously points out Jung Ho sent excessive generous gift (aka money) to his parents so he's here to return the gift to him. He's not declining the offer yet, but he's still carefully considering it. Jung Ho tells him his office is ready and he'll be waiting for his answer.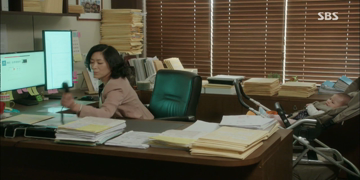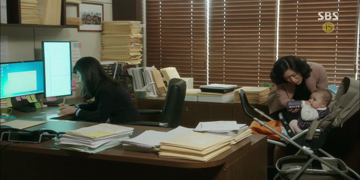 Attorney Yoo finds out she can't access the Q1 blue file, thinking they blocked her access. Unfortunately, Secretary Min can't help her so she advises her to contact the IT office. Secretary Min clearly has something to do with it, calling Attorney Yoo as a weed who acts like an orchid.

Yeon Hee is bragging about Bom to her circle of friends praising her intelligence & she's currently preparing for legal civil exam. It's Jung Ho's dream project. Ji Young Ra advises her to stop being delusional although she understands how she feel because Bom is her daughter-in-law hence she wants her to have the best resume. Yeon Hee explains they'll help people who need help regardless if they're her daughter-in-law or not.
Young Ra leaves to meet Jung Ho with her husband, telling her friends to have fun talking behind her back. 😀 As soon as she leaves, Yeon Hee starts complaining she can't stand her friend. Jae Won put more oil into the fire telling her that a man keeps someone he couldn't conquer in his heart for the rest of his life. They keep teasing Yeon Hee.
In Sang also brags to his friends that his wife is going to take legal civil exam. He also tells them it's awesome planning their future life. What is his plan?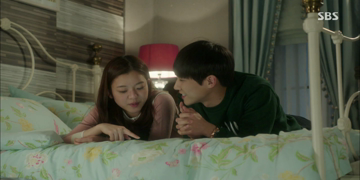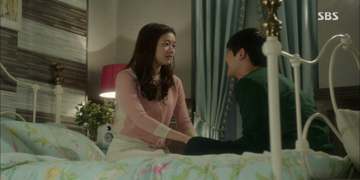 Bom & In Sang are browsing Harvard university's pictures as she imagines they get to study in the place like this. He believes his father will let them to study abroad after they pass the exam which makes his wife so happy he's studying hard to pass the exam.
They're so excited thinking the freedom they'll have living & studying overseas, raising up Jin Young there. Bom wants to invite her parents. They also can have their articles published in law journals then they'll come back fully capable. He teases her imagination yet so happy imagining their future life.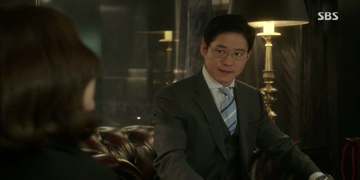 Jung Ho is mad Young Ra arrives alone & tries to "seduce" him. Chief Secretary Kim who's there reports it to Secretary Lee who passes it to Yeon Hee, assuring her nothing scandalous will happen. Secretary Lee comforts her advising he can meet his client anywhere anytime so she must be stronger.
Young Ra confesses she doesn't find Jung Ho attractive hence she's curious why both him and Yeon Hee are so nervous to meet her. She sarcastically tells him only his mother who matched him with a princess like his style, like a cosplay of aristocrats. For her, Jung Ho is a heodang (empty-head!). He screams out: how did you know?
Of course Secretary Lee tells Yeon Hee everything! But Yeon Hee nervously interprets it as a man's heart will be torn apart after hearing those statements, like a denial of his existence!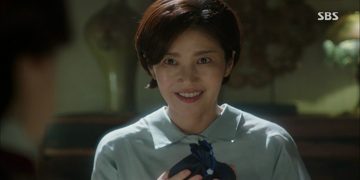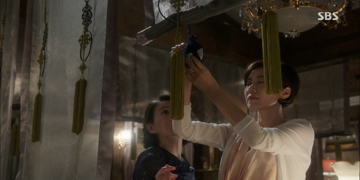 The shaman gives Yeon Hee a new talisman (poppy seeds & musk). She needs to be confident and believes it'll work otherwise it'll be no use. She hangs the talisman in her bedroom, Secretary Lee advises men are slow to pick up these kind of things so she'll be okay. 😀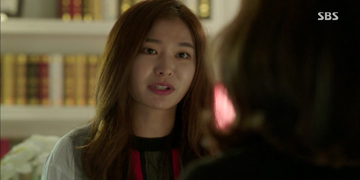 Ji Young Ra accidentally read the messages on her daughter's phone, shocked finding out her daughter is in love with In Sang!
They start arguing in English. Hyun Soo is upset mom looking at her phone without her permission while Mom is wondering why her daughter has a one-sided love with a guy who impregnated his girlfriend and is an embarrassment to the community. Hyun Soo is in fact jealous with his wife because of In Sang's personality & he's the only one who treat her like a friend while everyone else treat her like an outcast. Her mom sent her abroad when she had a hard time dealing with her "fake" marriage then abruptly brought her back. Has mom ever experiences the real love?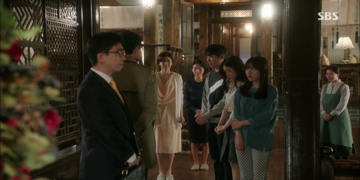 Jung Ho scolds his son & daughter-in-law for not focusing on their study, not appreciating the privileges he gave them after finding out they visited Jin Young. Although they've done things people does when they become adults (marriage & have a child), but they still haven't mastered the quality knowledge & proper sense of value. Yeon Hee apologizes she didn't pay extra attention, while In Sang tries to let dad knows he didn't see his son for hours while he was in school today. Bom promises to be careful next time.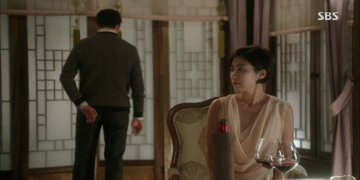 Jung Ho's mind is still too pre-occupied with Young Ra's confession that he ignores his wife's sweet wine date, much to her disappointment.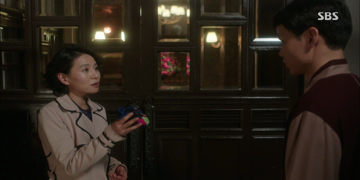 Thinking the talisman doesn't work, she gives it to Secretary Lee to throw it away. But because it's expensive, Secretary Lee gives "wonder drug of love" to Teacher Kyung Tae after asking if he has a girlfriend 😀
Jin Ae makes red bean rice cake for Jin Young's 100th day celebration although they're not invited. Even if Han's family won't eat it, at least Bom & In Sang will.
Hyung Sik & Jin Ae are grateful for Han's family but she's also worried what'll happen if she doesn't measure up to their high expectations. Will she mistreat her? Hyung Sik keeps complementing his in-laws who has clear goals & set up perfect plans for his daughter that's why they're ahead of them.
Yeon Hee explains the family's 100 days celebration tradition. First of all, Jin Young's umbilical cord & the certificate of trust from In Sang's grandparents will be put in a time capsule & they'll put it in a safe box deposit in bank. Then a donation ceremony where they'll make donation to charities under Jin Young's name and afterwards, they'll go to concert hall where the seats already have their family members' names engraved. Impressive! Bom understands the reason why her parents aren't invited to this "simple" celebration.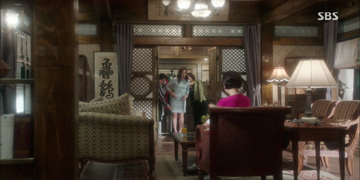 Yeon Hee prepares new clothes for Bom for the 100th day celebration with the help of fashion designer. She's quite fussy and prefer her dress to be knee-length. She finally chooses the blue dress.
So Jung comes to bring the good (or bad) news that Young Ra's daughter likes In Sang as she believes if they knew it earlier, it'd best for In Sang and Hyun Soo to date before he had the "accident" with Bom. But Yeon Hee clearly doesn't want her son to be with the daughter of someone she dislikes.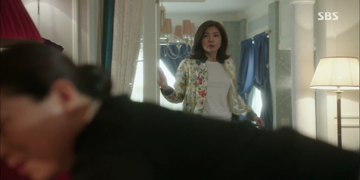 Meanwhile, Young Ra is wondering why Yeon Hee can't accept the reality in front of her (accepting stranger as her daughter-in-law). She doesn't realize she also needs to accept the reality that her lovesick daughter who refuses to eat & sleep is in the brink of depression.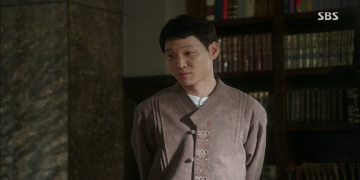 Bom gratefully thanks her teacher for saving her because of what he said to In Sang's parents that she can be the youngest who pass the exam. It elevates her status & gets her accepted by her in-laws. Teacher Kyung Tae is also curious where this family get their immerse power from, a question Bom has been asking forever. It's Korea's legal mind & they'll find out the answer soon.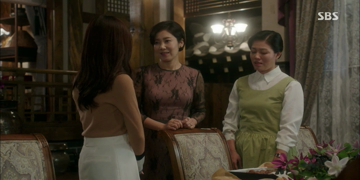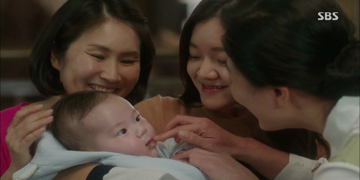 Jin Ae left Sorghum red bean rice cake in front of the house very early in the morning, Bom is upset mom left without saying a word nor seeing her. Jin Ae realizes they can't get along so it's weird to be friendly, her in-laws may even think bad about them. Yeon Hee refuses to eat the rice cakes because she doesn't like it.
Maid Jung's family tradition is they take a little piece of the rice cake & put it on the baby lips. Because Yeon Hee doesn't believe in this kind of superstition, they wait until she leaves the room before putting it in Jin Young's lips praying he'll be healthy. Maid Jung then feeds it to Bom. In Sang, Yi Ji and the staffs join the simple celebration in the dining room.
Yi Ji records this memorable event on her camera. Such a joyful occasion.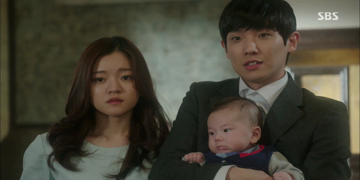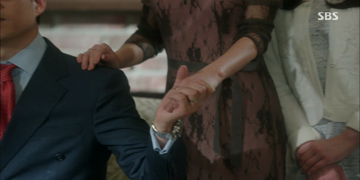 Jin Young's official 100 days celebration begins. It starts with a very tense family pictures.
Jung Ho put Jin Young's umbilical cord time capsule and the trust certificate in the safety box. He then gives several donations to charities, all documented by a photographer. It ends with going to the concert hall with the seats engraved with their names.
Brief Comment
In Sang & Bom's life plan is my favorite scene from this episode. It's adorable watching them imagining & building their life together as a family of three. It gives them a boost & motivation to do well, to study hard so they can escape from the bird cage aka In Sang's parents to live the lives they've dreamed of. Most importantly, to create & treasure little moments with Jin Young.
Teacher Kyung Tae is definitely one of Bom's savior. His words of wisdom elevated her status in In Sang's family, giving her many opportunities to be the best person she can be. The best wife, mother, daughter-in-law, daughter. After teaching many students, Kyung Tae saw the confidence and the talent that he couldn't help but to tell the truth to Jung Ho and Yeon Hee. No matter how much Yeon Hee doubted her and "dictates" Bom's life like a fussy mother-in-law would, she knows she can't win against Bom's compassion & intelligence. It's true she's a great partner for In Sang.
Jung Ho oh Jung Ho. A confession from his ex-lover drives him insane! Yeon Hee is driving herself crazy with her own assumptions. I hope they can turn the tables around and be confident around Young Ra who has to deal with her lovesick daughter. Now we know she doesn't have a happy marriage, she pretends to be happy for the sake of money (I believe).